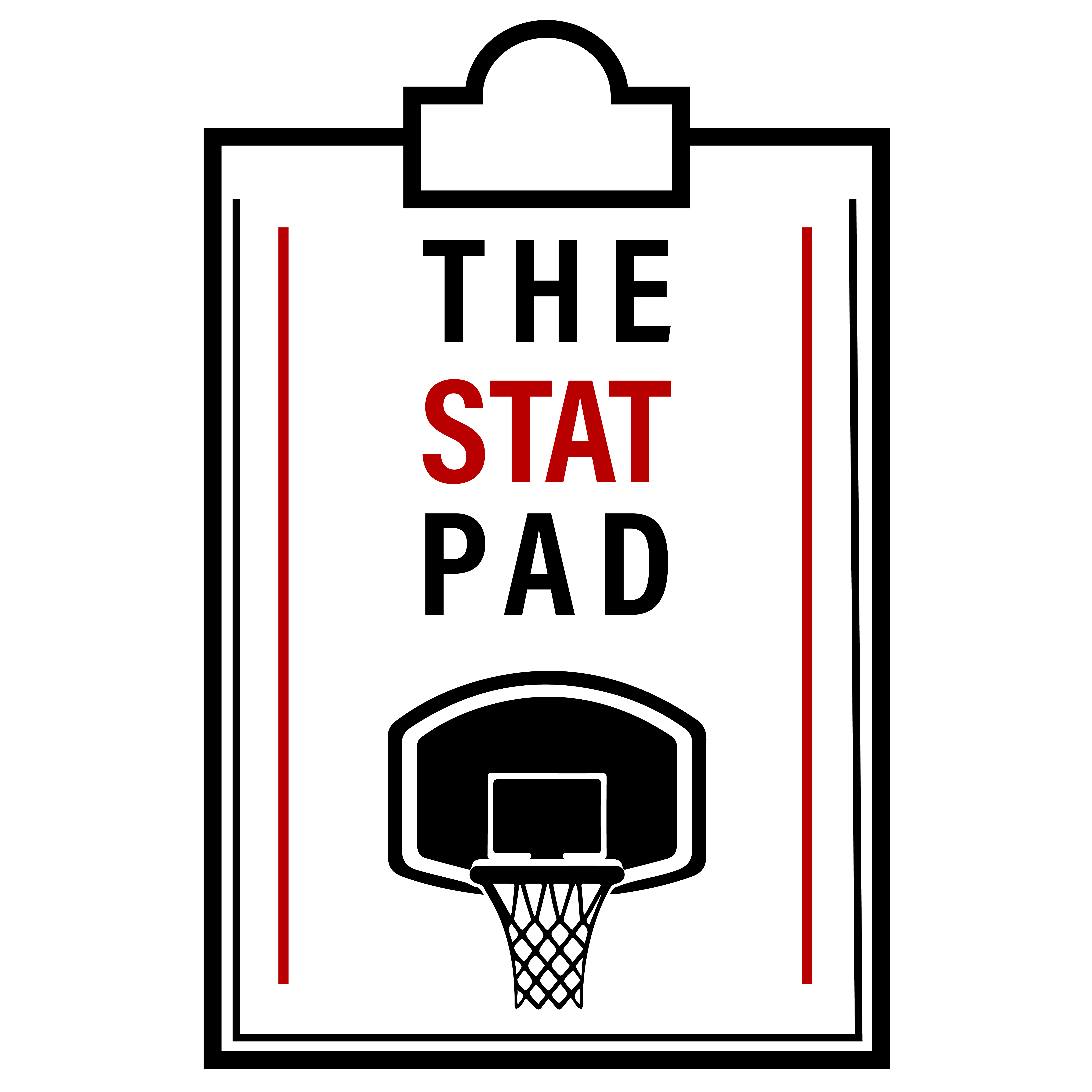 1. It's October 11. The season starts in eight days. Which teams will be the last two standing this summer, and who takes home the title?
Michael Regan: The West is simply wide open. The Nuggets and Mavs are both hoping that young stars and productive offenses can help them break through to the Finals. The Trail Blazers are trying to overcome their severe defensive issues before it's too late for the Damian Lillard and CJ McCollum pairing. The Jazz have been turning elite regular seasons into disappointing playoffs for years, but their strong technical play and the experienced core they've put around Donovan Mitchell is going to keep the hope alive. The revamped Lakers are looming, if revamped is able to apply to a rotation with an average age of "could easily be retired". The Clippers found their confidence late last season, and Kawhi will return at some point. So will Klay Thompson, who joins a Warriors team gunning to return to the top. Then there's last season's champions, the Suns, who will hope to strike gold twice as Chris Paul's days dwindle.
That's eight teams who hold, reasonably or not, championship aspirations. Throw in the Grizzlies, who have solidified themselves as a favorite to make the play-in after two consecutive appearances, and you understand why it's so hard for teams like the Pelicans, Kings, and Timberwolves. Picking one to represent the West in the Finals is largely dependent on personal preference, and here I'll go with the Clippers. They've been a theoretical contender without the necessary teeth, but I think they found something in last year's playoffs when they came back against the Mavs and then did the same against the Jazz without Kawhi. Paul George has regained his confidence and form, and they do have a very good supporting cast. This obviously depends on Kawhi being able to progress through rehab and return for the playoffs, but the Clips are my team to watch if he does.
In the East, I have to go with my Bucks. I can't really give myself credit for calling the same thing that I do every year last year, but I'm going back to the well again. Milwaukee has the league's most versatile superstar in Giannis, and he disposed of any doubts surrounding his ability to be the guy in a playoff game or series. Khris Middleton had a historically clutch postseason, and his playmaking has taken some pretty significant strides in recent years. Jrue Holiday was awful as a shooter in the playoffs, but he was still a game changer as a passer and defender, and there's reason to think his shooting will be better this time around. Donte DiVincenzo will be back, and he and Brook Lopez will lead a deep supporting cast bolstered by the return of Bobby Portis and the additions of Grayson Allen and George Hill. The Nets are the shiny object, but don't sleep on the Bucks. With Kyrie's status up in the air and Brooklyn's overall defensive issues, I'll take Milwaukee in what I see as a two-horse race barring an unexpectedly favorable conclusion to the Ben Simmons crisis in Philly. I'll take the Bucks to top the Clippers for a repeat that pushes Giannis further up the all-time ranks.
Robert Banas: In the East, I think the Nets are the clear favorites to come out of the conference. They
simply have too much star power, even if Kyrie can't play home games due to vaccine concerns.
The West is much more open, but I think the Utah Jazz finally make it to the Finals this year. I'm not completely sold on the Lakers' Big Three with their floor spacing concerns. Utah didn't lose any significant pieces, had a steal in the draft in Jared Butler, and added some key potential rotational pieces in Rudy Gay and Hassan Whiteside. Ultimately, I think Brooklyn wins it all this year assuming they can avoid injuries. Their offense may simply be unstoppable.
2. Give me some teams that will be surprisingly good this year.
Michael Regan: I think the Hornets and Pacers are two teams that could make a run at a 4 or 5 seed in the East and really surprise some people. Charlotte was on pace to be about the 6 seed if you only include the games Gordon Hayward played. LaMelo can improve after a very good rookie season. Rozier is dependably productive and a very good shooter. James Bouknight can help right away. I really like Charlotte. Indiana will be healthy after very rarely being so last year, especially in regard to TJ Warren's four game season. There are legitimate questions to be asked of the Pacers, starting with the Sabonis-Turner pairing, but there's no reason that a healthy Indiana team with Caris LeVert in place of Victor Oladipo can't push for a return to the middle of the playoff bracket. The issue, of course, is that the East is quite deep with playoff hopefuls, and that's why it would be a "surprise" to see these two rise out of the play-in zone. I also think the Clippers are a surprise candidate. They've almost been written off as contenders with Kawhi's injury, and, as I wrote above, I don't think they're out of the picture at all. 
Robert Banas: I already wrote about this, but I think the Hornets will take the next step this season. I loved their draft and think they had the best in the league this year. I also love their wing depth. You can check out more about my thoughts on the Hornets here.
3. Let's flip the switch. Who's going to disappoint with a worse-than-expected season?
Michael Regan: I think the Heat will be disappointing to anyone who views them as a legitimate title contender. They're not. Swapping out Goran Dragic for Kyle Lowry and adding PJ Tucker and Markieff Morris on the wing won't win you a title in 2022, With that said, it should make the Heat a solid 4-5 seed, and that is a step up from what they were. Miami should be better; the judgement on their season will depend on your expectations. I also think the Bulls will be very disappointing in the East. You have a potentially great offense with a dumpster fire of a defense, and I see them settling somewhere in the play-in. If they back up the offseason moves with a jump to a significantly higher seed, I'd be surprised. The Raptors aren't good, and that might disappoint some people. Then there's the Warriors and Lakers. I don't see the Warriors as top-tier contenders. Even if Klay Thompson pulls off a miracle and hits the ground as the top 15-20 player he was in 2019, you're looking at a team with an older Draymond and a younger and less cohesive supporting cast. There are a lot of barriers there. I don't believe in the Lakers either. Anthony Davis has been underwhelming outside of his bubble heroics, LeBron is another year older and clearly starting to show it despite his continued excellence, and the fit with an also-aging Russell Westbrook just doesn't make sense. Who's playing off-ball? It can't be Russ. The supporting cast is old and not very threatening defensively. This is another Lakers team facing an early playoff exit. 
Robert Banas: As I mentioned before, I'm not entirely sold on the Lakers and their Big Three. There might be too many alphas on that team, and unlike the ones in Brooklyn, the Laker's big dogs are not great shooters. Another potentially upsetting team is Chicago; while they had a solid free agency, I think there are still defensive concerns on that team. LaVine, DeRozan (sort of), and Vuc are all liabilities on that end of the floor, and if they are playing extensive minutes, they could get cooked and give up a ton of points.
4. Where is Ben Simmons playing by the end of the year, and when and how does he get there?
Michael Regan: We're in this weird situation where it's becoming both more and less likely that the Sixers trade Simmons. The general rule with drawn out superstar drama is that holding pressure for an extended period of time usually doesn't result in a trade, especially right before the season. It took AD years to get out of New Orleans, and he was a better player that happened to be coveted by the league's best player. The odds of the Sixers suddenly caving are, in a vacuum, low. If a trade were to happen, it would have already happened or they would wait until there was much less time left on the contract. And yet, the Sixers are title contenders with a (physically) fragile superstar, a win-now roster, and a massive Ben Simmons shaped hole in their rotation. How long can they allow that to be the case without cracking? If Portland struggles out of the gate, look for them to potentially concede that a McCollum trade makes sense. The same could be said for Minnesota, who will start the season hesitant to trade either Anthony Edwards, their young star, or D'Angelo Russell, their best player's best friend. Sacramento's return gets tricky beyond Buddy Hield, but they're another team that should be desperate. Behind it all looms Indiana, a team that makes a lot of sense. Something like LeVert and Brogdon for Simmons could help both sides, and I think Simmons either sees too much of his money ending up in the franchise's wallet and tries to play the season out or gets traded to the Pacers. 
Robert Banas: My sources are telling me that Simmons will report back to the team on Monday, October 11th (that's today). We will see if that comes true. My opinion on the matter is that they should have traded him two years ago, as the Embiid-Simmons pair will never work in the playoffs. Brogdon or McCollum should be the top targets for Philly.
5. What does Kyrie Irving's season look like?
Michael Regan: Sometimes I wish Kyrie Irving wasn't a central piece of one of the league's best teams because then we could get through a discussion of the league without having to stop and wonder about what Kyrie Irving thinks about the world. Yet here we are again. The Nets are an elite offensive team with defensive question marks with or without Irving, but he raises the offensive ceiling. At the end of the day, the height to which that ceiling can rise likely will determine how Brooklyn's season ends. Will he be available for home games? Will he be available for road games if he's not available for home games? Will any of those rules change at some point during the season? Is he fooling all of us right now? I don't know. Kyrie, theoretically, does. Maybe. 
Robert Banas: This will be Kyrie's last season in the NBA. Sources have told me (years ago) that Kyrie would retire at the end of this contract, and with the whole vaccine controversy, this will be a season filled with even more drama. I think he might only play road games which is a tough look for Brooklyn, but let's hope he gets the shot for some better NBA content.
6. The Suns and Hawks made the playoff step in explosive fashion last year. This time around, the Timberwolves, Kings, Pelicans, and Hornets stand out as four teams hoping to reach the final sixteen. Who does? Who doesn't? 
Michael Regan: I talked about the Hornets earlier, and I think they can make the East play-in again. The problem is that you look at the Knicks, the Celtics, the Bulls, the Pacers, the Hawks, and the Heat – let's assume the Bucks, Nets, and Sixers are safe – and it's hard to say with confidence that two of those teams get beat out by the Hornets for one of the eight playoff spots. That's also ignoring the Wizards, who could very well be better this year. Making the play-in and giving themselves a shot is a very reasonable goal though. Anything can happen from there.
It's harder for the Western Conference teams. There's almost always an opening that comes from an unexpectedly struggling team, but, right now, it looks like there's only one play-in spot up for grabs barring a disappointing step back from Memphis or a disaster for someone like Golden State or Portland. I do think the Spurs are very vulnerable when it comes to that last spot, and I'd have to favor the Pelicans taking it out of these three. I don't trust Luke Walton and the general vibes, for lack of a better word, in Sacramento. I also have very little belief in Minnesota, though I do think they will be significantly better if they can stay healthy and finally get their new core pieces playing together. I believe a little more in New Orleans. Zion and BI are as good of a leading duo as any when it comes to borderline playoff teams, and I really like the addition of Devonte' Graham. After all the noise of this past summer, Zion needs to perform. 
Robert Banas: I am not sold on Minnesota's roster yet. I think Anthony Edwards will take another step
forward, but KAT and D'Lo remain huge defensive liabilities. An exploratory trade of a package including D'Lo, Malik Besley, and picks for Ben Simmons should be explored in my opinion.
I love Mr. Fox as the leader on the Kings, but I do not think they have surrounded him with enough talent to make the playoffs yet. Poor coaching and poor management seem to be common themes in Sacramento. Trading disgruntled players like Buddy Hield and Marvin Bagley could help the roster a ton both this year and in the long run. The Fox, Haliburton, Mitchell guard rotation is intriguing in the new fast paced NBA though.
The Pelicans I am 50-50 on. I loved the Valanciunas trade to help with floor spacing. Also, getting Trey Murphy in the draft will provide a fantastic floor-spacing, 3-and-D guy to surround Zion with.
You already know my stance on the Hornets: 8 seed incoming.
7. Let's play Quick Hitters. No analysis. Just predictions. Give me your predictions for…
Michael Regan: Giannis Antetokounmpo
Robert Banas: Embiid (assuming Simmons is traded)
Michael Regan: Cade Cunningham
Robert Banas: Cunningham
Michael Regan: RJ Barrett or SGA
Robert Banas: Jaren Jackson Jr
Most Disappointing Player
Michael Regan: Klay Thompson or Kevin Porter Jr
Robert Banas: Lauri Markkanen
Fired Coaches (during or after this season)
Michael Regan: Luke Walton (other names will surely emerge but there are very few hot seats or even potential hot seats right now)
Robert Banas: Walton
Michael Regan:
East: Bucks, Nets, Sixers, Hawks, Knicks, Heat, Celtics, Hornets, Pacers, Bulls, Wizards, Pistons, Raptors, Cavs, Magic
West: Suns, Nuggets, Jazz, Mavs, Lakers, Clippers, Warriors, Grizzlies, Trail Blazers, Pelicans, Kings, Spurs, Timberwolves, Rockets, Thunder
Robert Banas:
East: Nets, Bucks, Heat, Hawks, Sixers, Celtics, Knicks, Hornets, Bulls, Pacers, Raptors, Wizards, Pistons, Magic, Cavs
West: Jazz, Suns, Nuggets, Lakers, Warriors, Mavs, Trail Blazers, Grizzlies, Pelicans, Kings, Spurs, Timberwolves, Thunder, Rockets
Michael Regan: Bucks over Knicks, Nets over Heat & Mavs over Suns, Clippers over Nuggets
Michael Regan: Bucks over Nets, Clippers over Mavs
Michael Regan: Bucks over Clippers
Robert Banas: Nets over Jazz