2019-2020 NBA PREVIEW: Southeast Division
17 min read
SOUTHEAST DIVISION (Rankings based on predicted regular season finish in conference)
Washington Wizards
Key Player: Bradley Beal 
Young Talent to Watch: Thomas Bryant, Rui Hachimura, Admiral Schofield, Moe Wagner
Key Losses: Jeff Green, Bobby Portis, Trevor Ariza, Tomas Satoransky, John Wall (injury)
Key Additions: Isaiah Thomas? Ish Smith? CJ Miles?
Projected Starting Lineup: Ish Smith/Isaiah Thomas (PG), Bradley Beal (SG), CJ Miles (SF), Rui Hachimura (PF), Thomas Bryant (C)
Major Storyline: How long will Beal be a Wizard? 
Worst-Case Record: 12-70
Best-Case Record: 33-49
The Wizards seem to be attempting a youth movement without the youth. That's really the only way to explain the barren wasteland that is this roster. It's hard to see them winning more than 30 games, even if absolutely everything goes right. This is a team that lost a ton of players after going 32-50 last season. Gone are Jeff Green and Tomas Satoransky, who played 157 of a possible 164 games and came in the top 5 in total minutes, points, assists, and rebounds for last year's team. Also gone are a number of solid players who spent part of last season in Washington: Trevor Ariza, Otto Porter Jr, Kelly Oubre, Austin Rivers, Bobby Portis, and Markieff Morris. John Wall, who went for 21 points, 9 assists, and 4 rebounds per game when healthy last season, is unlikely to play after an Achilles injury last winter. The offense was average with these guys; it will likely drop off without them. It won't be as bad as the Wizards defense, which ranked 28thin the league last year by defensive rating and allowed the second most points in the league. Pretty much everyone the Wizards added this offseason can be described as "meh". Justin Anderson is an average bench guy. So is CJ Miles, except he will probably be a starter for this team despite only starting more than 40 games in a season once, having done so in 2008. Ish Smith is a perfectly adequate backup point guard. Unfortunately, there doesn't appear to be anyone for him to back up. Wall is hurt and Isaiah Thomas is coming off a 12-game season and hasn't consistently contributed in a few years. That being said, the Isaiah Thomas comeback story could be an interesting storyline in D.C. He's easy to root for, and this team could definitely use a positive side story. Davis Bertans is an effective role player who hits 40% of his threes. He would be a good piece on a competing team. I don't know how that's going to help the Wizards all that much. Troy Brown Jr. was mediocre in his rookie season. Moe Wagner and Isaac Bonga are still complete mysteries after spending their rookie seasons on Lebron's Lakers. Rookie Admiral Schofield has an NBA body and game that should eventually transfer, but it would be pretty surprising to see him make a huge impact this year. This sounds like a pretty iffy NBA bench, but it's basically the entire roster. Rookie Rui Hachimura is gifted physically, and he could contribute some scoring and defense right away. He probably needs some time to really develop his game though. The other bright spot outside of Bradley Beal is Thomas Bryant, a baby-faced big man with great shooting numbers. In his second year, Bryant placed in the top 5 in the league in FG%, eFG%, two-point FG%, offensive rating, and TS% while shooting a solid 33% from behind the arc. If Bryant can maintain his production while taking on more minutes, he could be a solid 20-10 player. Unfortunately, that might be a big if, and despite Bryant's clear positives, he should not be the second-best player on an NBA team. All of this adds up to a pretty weak supporting cast with little hope around Bradley Beal. On the bright side, Beal is pretty dang good. The 26-year-old finished tenth in points per game, and also contributed 6 assists and 5 rebounds each night with slightly above average shooting and efficiency numbers. All of this came while leading the league in minutes played. The problem for Washington is that Beal alone is not enough to carry a franchise, especially this one. As we have seen in the past, Beal and a healthy Wall might not even be enough. As a result, Beal has become a popular subject of trade rumors. He would help pretty much any team in the NBA, and a trade would help the Wizards move on from this currently directionless team. Detroit, Orlando, and Miami could move up the conference ladder with Beal, but they probably don't have the assets to acquire him. The Lakers would probably love to have Beal, but it's unlikely that they can or would offer anything the Wizards would love to have in return. Minnesota is a team to watch here; they will need more to stay afloat in the West, and they have some pieces to offer. The same goes for Denver, although they are much higher up the conference ladder than the Timberwolves. Still, it seems that Washington's owners won't be willing to part ways with Beal for anything less than a massive package. Is Beal worth a superstar's return? Maybe not, and for that reason he may stay in D.C. for the time being.
Charlotte Hornets
Key Player: Terry Rozier?
Young Talent to Watch: Miles Bridges, PJ Washington, Malik Monk
Key Losses: Kemba Walker, Jeremy Lamb, Tony Parker, Frank Kaminsky
Key Additions: Terry Rozier, PJ Washington
Projected Starting Lineup:Terry Rozier (PG), Malik Monk (SG), Nicolas Batum (SF), Miles Bridges (PF), Cody Zeller (C)
Major Storyline: Looking for any promising signs
Worst-Case Record: 12-70
Best-Case Record: 30-52
The Hornets might struggle to win 15 games. There's really not a whole lot of positives here. They won 39 games and finished 2 games out of the playoffs last year. That's not terrible. The consensus for most of the regular season was that they would be running it back this year, led by All NBA third teamer Kemba Walker. That didn't happen. Instead, Walker is in Boston, and Charlotte is probably screwed. Kemba carried the Hornets last year. He led the team in games, starts, minutes, field goals, attempted field goals, three pointers, attempted three pointers, free throws, attempted free throws, assists, steals, and points. To make matters worse, Jeremy Lamb is gone too. He was top four in all of the categories listed above, and he also led the team in rebounds (yikes) and free throw percentage. Tony Parker and Frank Kaminsky were decent off the bench last year. They are gone this year. Somehow, the only free agent brought in to replace these four was Terry Rozier, a fifth-year point guard who has never started consistently and boasts below average shooting and efficiency numbers across the board. He's a good rebounder, but there's just not a lot to love about him as a starting point guard. He is one of the Hornet's best players. Backup point guard Devonte Graham was pretty awful in limited minutes last year, and very little should be expected from rookies Cody Martin and Kobi Simmons this year. Dwayne Bacon showed signs of being a good shooter last year, shooting 43.7% from deep with above average advanced shooting stats, but the rest of his game has been average at best so far. Malik Monk hasn't played all that much and hasn't made a great case for more minutes. He's been an average shooter, and there's not really anything else to like about his game. Nic Batum is now on the wrong side of 30. He's still a decent shooter, a decent passer, and a decent rebounder. His defense is fine. He is nowhere near good enough to carry this team. Miles Bridges is okay. His shooting numbers should improve in his second year. Bridges just didn't do much last year, despite playing over twenty minutes a game for a team in desperate need of production. He's not bad, and maybe he becomes a little more assertive and comfortable this year, but it's hard to see Bridges having a special year. Marvin Williams has been a fine role player for the Hornets for a while now. He's a decent scorer, shooter, and rebounder, but he's also 33 and not the difference maker this team needs. Michael Kidd-Gilchrist is a younger, less effective version of Williams. Cody Zeller is Cody Zeller. He won't lose the Hornets many games, but he won't win them many either. He's ideally not a starter, but Charlotte likely won't have a choice, as Bismack Biyombo is even more limited than Zeller. He has never shot a three, and only gets assists by accident. The only potential bright spot among the Hornet's big men is PJ Washington, who was very good for Kentucky in his final college season. He needs to show that his progress beyond the arc is for real, improve as a passer, and get stronger. He has a bright future, but his rookie year will likely be a grind. Unfortunately, pretty much everything will be a grind in Charlotte next year. If Beal doesn't leave D.C., the Hornets might easily win the race to the bottom. Here's to drafting someone better than Michael Kidd-Gilchrist with that low pick.
Atlanta Hawks
Key Player:Trae Young
Young Talent to Watch: Trae Young, Kevin Huerter, De'Andre Hunter, John Collins, Cam Reddish, Bruno Fernando
Key Losses: Kent Bazemore, Dewayne Dedmon, Taurean Prince 
Key Additions: De'Andre Hunter, Evan Turner, Cam Reddish 
Projected Starting Lineup: Trae Young (PG), Kevin Huerter (SF), De'Andre Hunter (SF), John Collins (PF), Alex Len (C)
Major Storyline: How high can the young guys fly? 
Worst-Case Record: 33-49
Best-Case Record: 45-37
The Hawks finished last year going 22-30 after a pretty awful start. That's 36-46 over the course of a full season, which is pretty good considering how young this team is. Atlanta was not remotely close to being good on defense, but they played faster than anyone in the league and had a decent offense that should only get better. Trae Young is already an elite passer (4th in assists per game), and another year of experience should help him bring down the turnovers. He can score from pretty much anywhere. His shooting stats weren't great last year but should improve at least slightly in year 2, and his ability to score from all over was still a major problem for opposing defenses. On the other hand, Young struggles as a defender. The advanced stats are mixed on how bad he really is, but they agree that he's not great on that side of the ball. He likely never will be, but another year should at least make him more comfortable. He doesn't need to be a plus defender with the offense he brings to the table. Kevin Huerter can shoot, has shown good effort and ability on defense, and is a decent passer. He's a solid partner in the backcourt for Young. Rookie De'Andre Hunter should step in as a plus defender from day one. He has yet to show much of an ability to make plays for others on offense, but he can shoot (44% from deep last year at UVA) and create his own shot. That should be more than enough to fit well into an offense with Young at the point. He also doubled his assist numbers between his freshman and sophomore seasons. Going from one per game to two per game isn't all that impressive, but Hunter's passing ability shouldn't be buried quite yet. John Collins is a beast, coming just short of dropping 20 points and 10 rebounds per game last year on solid shooting numbers, including 35% from deep. He's missed 29 games in his first two years, which is slightly concerning, but he is a very good offensive player when on the court. Alex Len doesn't play many minutes, but he's a solid shooter for a seven-footer. He's does what he needs to do for about twenty minutes a game. Free agent signee Evan Turner has never lived up to being the number 2 pick, but he pitches in a little bit of everything off the bench. His shooting is inconsistent at best, but he's solid and is a decent playmaker. He should be a good veteran presence for this young team. DeAndre' Bembry is another solid bench contributor. His counting stats have improved in each of his first three seasons, he's an okay shooter, and he plays solid defense. He probably won't be a huge difference maker, but he doesn't need to be. Rookie Cam Reddish never really inserted himself at Duke, but he could be a solid NBA player. He's supposed to be able to shoot, and he has the body to play solid defense. We'll see if he's able to live up to his potential at the next level. Allen Crabbe was sent to Atlanta in a salary dump used to gain a few picks, and he should probably be dumped onto the bench. He can still shoot and isn't a liability on defense, but he shouldn't be taking minutes from Reddish and Bembry. It's not clear if new Hawk Damian Jones is any good after he played 49 games over three years for the Warriors. He can't shoot or pass, but he showed incredible finishing potential (72% FG%) last year. Still, that was on only three shots a game, which is also right around the number of feet within the basket that Jones can score from. Rookie Bruno Fernando should be a more promising prospect at center. In his sophomore year at Maryland, he went for 13 and 10, shot 30% from three, finished well, and bumped up his assists to 2 per game. He also recorded nearly 2 blocks per game and should contribute in some capacity right away. Also on the Hawks this year are Chandler Parsons and Jabari Parker. Parker can still put up counting stats on average shooting numbers. His defense is pretty bad, but he will likely get some minutes if he can stay healthy. Parsons, on the other hand, might not. He's only played 95 games over the past three seasons, and outside of a surprisingly good shooting year two seasons ago, his numbers are down across the board. It's not clear that he has anything left in the tank to help overcome nagging injuries. If he does, he might be able to provide some decent wing play for the Hawks. That's a huge if, but it's at least worth a shot. The Hawks should have a good offense, and Hunter, potentially along with Reddish and Fernando, should help improve a defense that was near the bottom of the league last year. Those improvements might not be enough in Year 1, but they should at least take the Hawks a few spots up the standings. The future in Atlanta is undeniably bright. 
Miami Heat
Key Player: Jimmy Butler 
Young Talent to Watch: Bam Adebayo, Tyler Herro, Justise Winslow, Derrick Jones Jr. 
Key Losses: Rodney McGruder, Hassan Whiteside, Dwyane Wade, Josh Richardson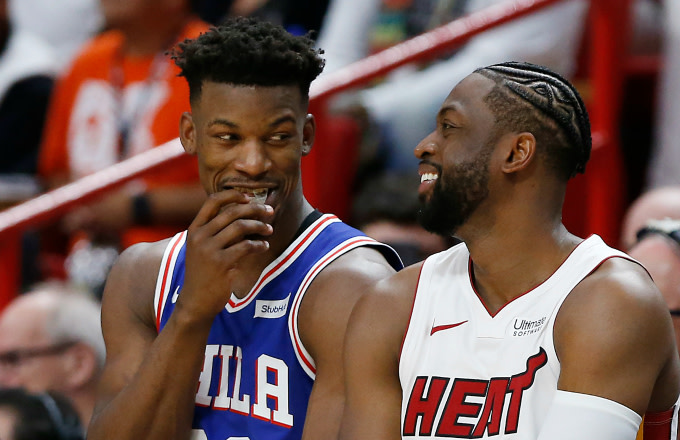 Key Additions: Jimmy Butler, Tyler Herro, Meyers Leonard
Projected Starting Lineup: Goran Dragic (PG), Dion Waiters (SG), Jimmy Butler (SF), Justise Winslow (PF), Bam Adebayo (C)
Major Storyline: Butler gets his chance
Worst-Case Record: 35-47
Best-Case Record: 48-34
Jimmy Butler will be the engine that makes the Heat run, and a pretty good one at that. His scoring took a slight dip in Philly last year but should rise back to the lower twenties with a bigger role in Miami. He has thrown in around ten combined assists and rebounds per game for the last four years. He's never been a fantastic shooter, but he's good enough to be an efficient scorer. He brings good defense and the clutch gene, and his intensity should be less of a problem in a locker room used to Pat Riley. The big problem is that the Heat might not have the firepower around him to contend for anything beyond a low seed despite the workings of Eric Spoelstra. Rodney McGruder, Hassan Whiteside, Dwyane Wade, and Josh Richardson are gone. That's 283 games, four of the top eight rebounders, two of the top four in assists, and the top two scorers. The remaining pieces aren't bad, but there just aren't that many of them. Goran Dragic was a replacement level player last year, but he struggled with knee injuries and missed 46 games. If he comes back healthy, which his prior six seasons suggest is likely, he's a solid player across the board. Dragic is 33, but his game doesn't exactly live and die with athleticism. He should be fine. The Heat will need him, because none of the other point guards on the roster can contribute right away. This should lead to more minutes at multiple positions for Justise Winslow, who has said that he wants to run the point himself. Winslow has been a solid defender from the start, and his offensive numbers have steadily improved in the first few years of his career. He was still pretty average on that end last season, but another full year could lead to even more progression. The Heat will need Winslow to take some major strides if they are going to do anything beyond fight for a playoff spot. Dion Waiters will likely start the year as the number one shooting guard after the departures of McGruder and Richardson. Waiters hasn't played in 50 games since 2015, which is worrisome. He is what he has always been: a slightly below average player with occasional bursts of impressive play. Over the last couple years, he has probably gotten a little worse. He's not going to kill the Heat, but ideally, they will be able to replace him at some point with Tyler Herro and Duncan Robinson. Herro might not step in and be a major contributor from the start. He's a good scorer with a nice shooting touch. The Kentucky product has the potential to be elite at putting the ball in the basket, and he has the tools to be a good, all-around player. That might take some work, but he figures to at least produce some points immediately. Robinson's ceiling is lower, and he barely played last year. However, he could be a decent role player. Like Herro, he has the shooting touch, and he has the tools to contribute in a variety of areas. Derrick Jones Jr. is another raw talent. The athletic forward showed positive signs of improvement last year, but he needs more time and experience to hone his skills. He should get it this year. Young center Bam Adebayo is another player that should benefit from more time on the court. He has legitimate promise as a plus defender and double-double machine, and he has shown signs of being a decent passer. Kelly Olynyk is a decent stretch big that will likely get some run alongside Adebayo in what was a very productive combo last year. Seven-footer Meyers Leonard is a fantastic shooter by any standard, even if he can't do a ton else. He's never played major minutes, but the relative lack of depth in Miami might give him a chance to show he can contribute more. James Johnson improved his perimeter shooting last year, but every other statistic went in the opposite direction. He's now 32, and his days of major impact in Miami may be over. Still, he's a grinder and an energy guy, and he will get his chance to contribute. It's hard to see this Heat team doing terribly, but it's also hard to see them being really good unless a number of things break their way. Butler isn't a superstar. Dragic is no longer an all-star. Winslow, Adebayo, Jones, and maybe even Herro will need to take giant strides to carry this team beyond the fight for the eight seed that they will likely be locked in. 
Orlando Magic
Key Player: Nikola Vucevic 
Young Talent to Watch: Jonathan Isaac, Mo Bamba, Markelle Fultz
Key Losses: None
Key Additions: Al-Farouq Aminu, Markelle Fultz
Projected Starting Lineup: DJ Augustin (PG), Evan Fournier (SG), Jonathan Isaac (SF), Aaron Gordon (PF), Nikola Vucevic (C)
Major Storyline: Running it back
Worst-Case Record: 37-45
Best-Case Record: 47-35
The Magic are pretty mediocre, and that's okay. They finished 14thin the league in both SRS and expected record, with a good defense and a below average offense that was also one of the slowest in the league. A year after going 42-40 and earning the seven seed in the West, they're running it back. This is basically the same team, with the addition of a solid wing in Al-Farouq Aminu. We will also get to see a bunch of Markelle Fultz hype tapes that will lead to a bunch of discussions about how he has changed his shooting form from bad to still bad. It should be a fun year in central Florida. Nik Vucevic is secretly very, very good. He still hasn't hit 30, and he went for 20 points, 12 rebounds, and 4 assists per game last year with above average shooting numbers and absurd efficiency numbers (ninth in the league in PER). He ranked in the top ten in defensive rating, defensive win shares, and total win shares, and he should be set for another monster year. That being said, he's not the sort of transcendent superstar that can make everyone around him shine, and for that reason there should be a pretty hard ceiling on the Magic this year. DJ Augustin is still kicking at 32. He's a solid defender, and he runs the offense nicely. He put up great numbers from deep last year and ranked 11thin offensive rating. It's not really clear that that stat means anything, but Augustin was very good in his role last year either way. He's almost guaranteed to see some regression, but he should continue to be decent at the 1 in Orlando. Evan Fournier did a little bit of everything last year. He's a decent scorer and defender, but he probably tops out at slightly above average. Luckily, that's all the Magic need to contend at the bottom of the East. Jonathan Isaac and Aaron Gordon should hold steady at the forward positions. Isaac has been pretty poor offensively in his first two seasons, but his advanced numbers ticked up last year, showing that there is potential for improvement. Additionally, he showed plus defending ability last year, and his length and athleticism suggest that should continue. Gordon has never quite become the star he was supposed to be, but he has put up around 17 points and 8 rebounds per game the past two seasons. His assists nearly doubled last year, showing an improved ability to make plays for others. His perimeter shooting has also improved by roughly 7% since he entered the league. Gordon may never be a star, but he has turned himself into a solid NBA player. Orlando also has a decent bench that should go five or six deep. Michael Carter-Williams is a fine backup point guard. He can't shoot but does pretty much everything else fairly well. Terrence Ross can score and is solid across other areas of the game. New addition Al-Farouq Aminu is a defensive stopper, and he does just enough offensively to stay on the court in the regular season. Like Isaac, second-year center Mo Bamba is subpar offensively. That should improve in time, and he has promise as a solid presence in the defensive paint. If he can't pick it up, he might again lose minutes to Khem Birch, a solid but unspectacular rebounder, defender, and inside scorer. 24-year-old Wes Iwundu isn't particularly good, but he can provide average play in double digit minutes off the bench. I love Chuma Okeke, the first rounder out of Auburn. Unfortunately, he tore his ACL in March and likely won't be a factor this season. That brings us to Fultz, the former number one pick who was sent packing by the 76ers only two years into his career. He's played in 33 games. After shooting very well in college, his perimeter shooting numbers have been abysmal in the NBA, and he hasn't made up for that in other areas of his game. He has been no better than a replacement level backup point guard so far, and it's hard to see any real progress happening. If the Magic are to make some upward movement in the East this year, he will need to prove people wrong. Regardless of Fultz's status, this is a solid Magic team. Again, they won 42 games last year, and they added a good defensive wing without losing anybody. There doesn't really appear to be a ton of room for upward movement unless Fultz or Isaac come out of nowhere to blow up offensively, but Orlando should be a solid bet for one of the last two playoff spots in the East.