Mike Bets #169: Four Games In
8 min read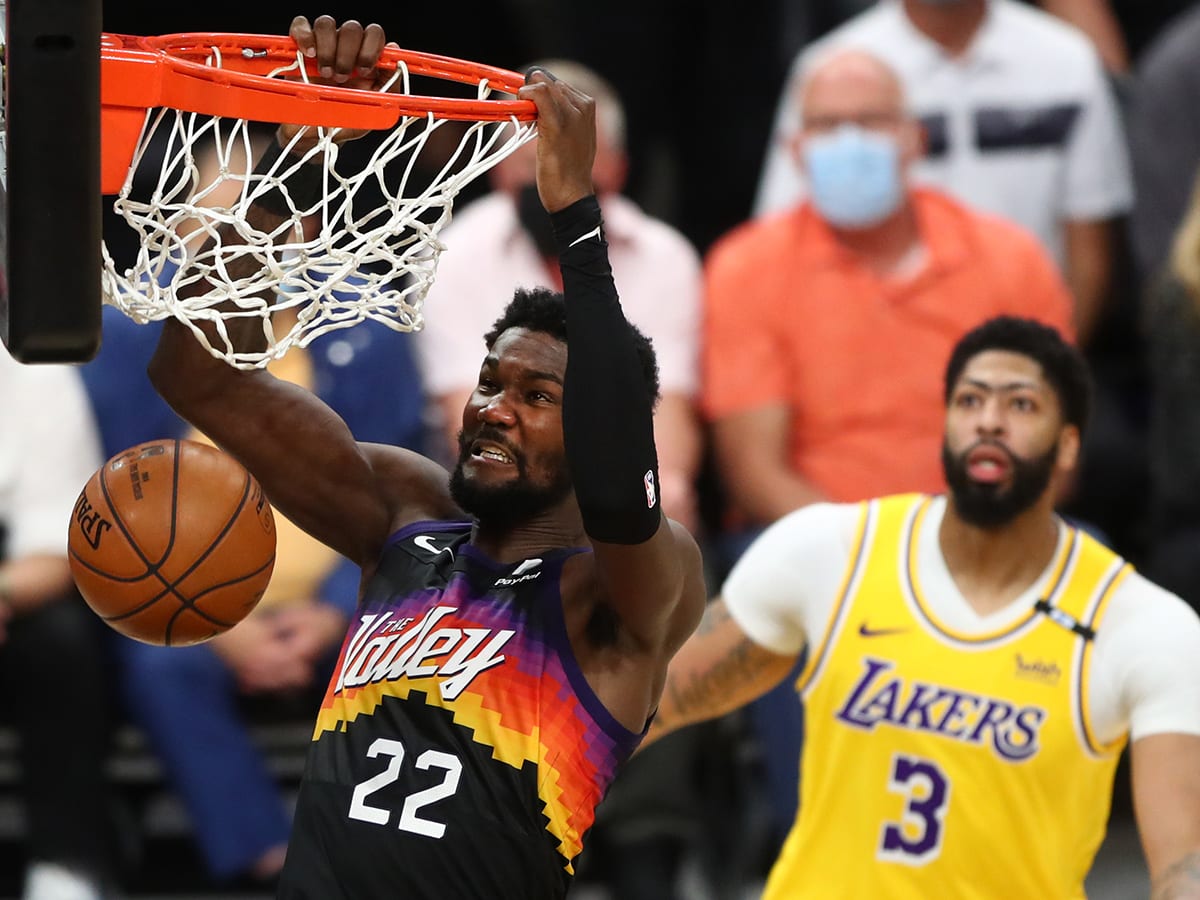 With the Wizards and Jazz picking up Memorial Day wins yesterday, we're officially four games into every first round playoff series. One is over after a sweep, four have teams up 3-1, and three – all in the Western Conference – are all tied up at 2-2. Like we did the other day after two games, let's take some time to run through each series and look at where we are. Instead of tiers, we'll just go series-by-series here, starting with the one that's already over.
Cue the music. The Hollywood script started off with a tragedy – Milwaukee's five-game destruction at the hands of the Heat in last year's bubble. Then came the Giannis extension (a direct turn against recent NBA trends), the trade for Jrue Holiday, and the reworking of the team's depth, all sparking sweet revenge in the form of this year's four-game sweep. It was over as soon as Khris Middleton's game-winning fadeaway hit net. That was the last time that Miami had any sort of confidence in their ability to win this series. Harder tests await the Bucks, including facing the offensively magnificent Nets without Donte DiVincenzo, but they'll take them on having conquered a significant mental hurdle. Fear the Deer.
This was Brooklyn's series to lose as soon as it was finalized as the 2-7 matchup, and, despite some underwhelming performances and Jayson Tatum's Game 3 heroics, that has never changed. The Nets are the better team, and the Celtics simply can't keep up in their current state. With both Kemba Walker and Robert Williams expected to be sidelined again tonight, it's just very hard to see this going beyond five games. Tatum dropped 40, 7, and 5 on relatively efficient shooting numbers in Game 4, and it was still over in Brooklyn's favor by halftime. That was in Boston too.
KD is averaging about 35 points and 8 boards per game in this series. Harden is averaging roughly 26 points, 11 assists, and 6 boards per game. Kyrie dropped 29 in Game 1 and 39 in Game 4, though he did combine to score just 31 points in the two in-between. He's also averaging more than 7 boards per game. There's only so much you can ask of Evan Fournier and Marcus Smart, and Tatum failed to deliver himself in Games 1 and 2 (31 total points on 9-32 shooting). Nets in 5.
Credit where it's due: Trae Young backs his talk up. "See you in the A" turned into a foreshadowing of unfortunate events for the Knicks, who have just not been able to score enough to compete for 48 minutes in this series.
Before a little more detail there, we can start with the Hawks, who deserve the first look. Young is averaging 27 and 10 and capably leading his team despite not shooting particularly well from three (11-30 on the series). Bogdan Bogdanvoic has scored at least 12 points in every game, and he's made 11 of 22 threes in Atlanta's three wins. John Collins and Danilo Gallinari shook off slumps to combine for 43 in the Game 3 win. Clint Capela is averaging 13 rebounds per game, and he's made 16 of 26 field goals. Kevin Huerter made 6 of 9 three-point attempts in the two games in Atlanta. Regardless of New York's role in their playoff failures, there's no denying the Hawks can, and should, be given plenty of credit for this 3-1 lead.
The Knicks certainly aren't helping themselves offensively though. Reggie Bullock missed all eight threes he took in Games 1 and 4 (both losses). Julius Randle made just 7 of 19 shots in Game 4, and that was clearly his best shooting game of the series. He's shooting an absurd 20-73 so far. RJ Barrett has been better – he's made 6 of 22 threes and is 21-53 from the floor – but the fact that that's better says far more about Randle than Barrett, who is still struggling mightily as far as efficiency goes. Alec Burks is just 10-33 from the floor since a great Game 1. Derrick Rose is really the only one that has combined productivity with efficiency so far. The Hawks surely deserve some credit for this, but the simple reality is that the Knicks' shot-making has been awful. If they want to put some pressure on Atlanta by winning Game 5, that will need to change.
Will Joel Embiid be okay? That's the only question of any importance here. His right knee soreness kept him out for the majority of Game 4, and it has his Game 5 status in doubt with an MRI pending. Rui Hachimura went for 21 and 13 yesterday. Russ Westbrook grabbed 21 rebounds. Daniel Gafford and Robin Lopez combined for 28 points. With Embiid out, Philadelphia's defense isn't the same. Neither is their offense. Tobias Harris was the only Sixer with more than 3 assists. He was also the only Sixer with more than 15 points. It goes without saying, but Philly needs their MVP candidate. They might be able to survive this series without him given their 3-1 lead, but their lofty goals will require Embiid at his best.
The Grizzlies have made the Jazz work for everything they've gotten in this series. Dillon Brooks is averaging 26 points per game. Ja Morant is averaging 31 points and 7.5 assists. Jonas Valanciunas is averaging a strong 14 and 11 double-double. Jaren Jackson Jr, Grayson Allen, De'Anthony Melton, and Kyle Anderson have all stepped up at various times. It's a good sign for Utah that they've fought through those challenges to take a commanding 3-1 lead. That's the mark of a team that is simply better than the competition, and that's what you want from the 1 seed in the first round.
Utah's true tests were always going to be later on in the postseason, but it's obviously a solid sign that they're well on their way to the second round only four games in. And they are playing very well. Donovan Mitchell is matching Brooks since his return with 28 per game. Mike Conley is putting up 20 points and 10 assists. Rudy Gobert is topping Valanciunas with a 16 and 12.5 double-double average. Bojan Bogdanovic has been a key difference maker that the Grizzlies can't match with his roughly 19 ppg, and you could say the same of Jordan Clarkson and his roughly 17 ppg. This is a really good basketball team. Now they just need to protect the 3-1 lead they couldn't last year, and it will be on to Round 2.
I've talked about this series pretty extensively because it's an interesting dynamic. The supporting casts have been massive with Jokic and Dame playing to a relative standstill so far. Both had been great (outside of interestingly low assist numbers from Jokic) until limited Game 4s, but the key point is that they've played at a similar level in each game.
In Game 1, Melo, CJ McCollum, and Anfernee Simons nailed their threes to give Portland an edge. In Game 2, Denver largely shut down the non-Dame Blazers in a win. In Game 3, Denver's depth went a little deeper in a game where practically everyone played well and produced. Then there was Game 4, where CJ and Norm Powell combined to easily outperform everyone in a Nuggets uniform. In other words, we've been all over the place in this one. I think Denver – by virtue of their superior defense and ownership of a rotation that likely goes a little bit deeper – should have the edge, especially with two of the last three being played in Colorado. With the way these games have gone so far, that's far from a given though. Anything could happen tonight and the rest of the way.
With Anthony Davis likely out tonight for Game 5, the Suns will have the opportunity to reclaim the series lead at home. This is the second time we've seen this matchup marred by injury with Chris Paul limited to just twenty points on twenty-one shots in Games 1-3 after a shoulder injury. He stepped up with 18 points and 9 assists in a huge Game 4 win, and the Suns will be hoping he's even closer to 100% tonight. DeAndre Ayton will be feeling extremely confident heading into this one after averaging 19.8 and 13.5 in the previous four games. He'll have even more room to dominate with Davis sidelined. The big question for Phoenix is Devin Booker. He played two great games in Phoenix before struggling in inefficient showings in LA. Can he be better tonight? The same goes for Jae Crowder, who finally started to hit some playoff threes in Game 4.
Then there's the Lakers. Does LeBron have it in him? Can Dennis Schroder continue to score at a high rate? If the answer to either of those questions is "no", then LA is in trouble. Either way, they will need someone in the Kuzma-Drummond-Caruso camp to really step up. KCP is another option if he's able to go. The Suns would deserve the edge even if Davis was a full-go tonight and moving forward. With him out, the Lakers have a lot of ground to make up.
The Mavs dominated the first 100 minutes of this series. The Clippers couldn't stop them. They had no answer, and they were on their way to a postseason exit. Then the flip switched, and LA took their turn on top for the rest of the activities in Dallas. So what exactly happened? The simple answer is that the Clippers started to actually do something about the Mavs offense. Here's the scoring breakdown for the key Dallas players before and after that 30-11 Game 3 lead started to collapse. Note that the before will be across just over 103 minutes while the after includes just under 90.
Luka: 81 before, 52 after
Porzingis: 40, 21
Hardaway: 55, 10
Kleber: 22, 14
Finney-Smith: 23, 12
Brunson: 26, 19
Richardson: 17, 9
The slight difference in total minutes between the two groups accounts for zero of these discrepancies. It's a downward trend across the board. The three that should jump out more than any of the others are the first three. Dallas's three best scorers have stopped scoring. Luka's still scoring at a rate that would be incredible for most, but he's down 25-30% (taking the minutes difference into account) from where he was earlier in this series. KP is almost 50% down. Hardaway Jr is scoring at just 20% of his beginning clip. That is just not going to get the job done. If the Mavs have any chance of turning this around, it will start with these three. They need to dictate the terms offensively. For the last two games, that hasn't happened.
With Luka hampered by injury and the series returning to the West Coast for two of the last three games, many will feel that this is now the Clips' series to lose. That's probably true. The ability to shift that narrative lies in Dallas's ability to counteract the series-changing adjustments LA was able to make defensively.
With that, we can turn our focus to today, where we will have three Game 5s. That starts with one series that should wrap up tonight – Nets v. Celtics. Then we have two very crucial Game 5s that will give one team a 3-2 lead – Suns v. Lakers and Nuggets v. Blazers. I set the stage above; now let's find some winners.
TODAY'S PLAYS
Nuggets -2
Suns -4.5