Mike Bets #170
4 min read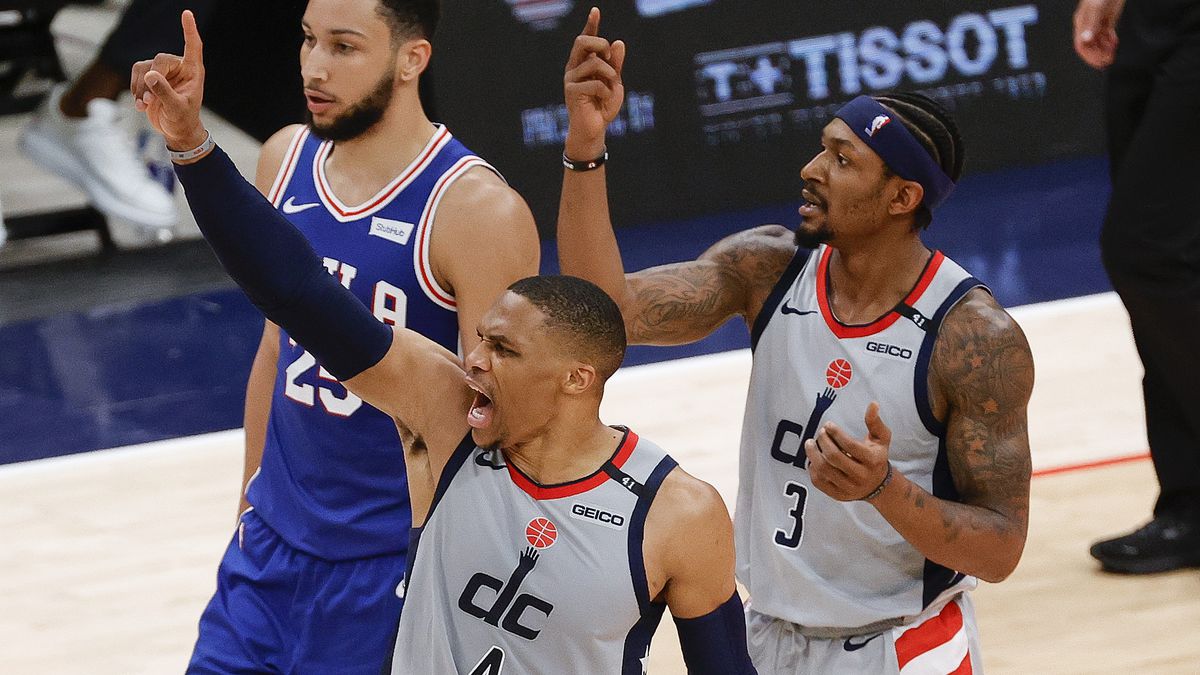 We got our first three Game 5s yesterday – the final game of the Nets-Celtics series, a Dame-Nuggets showdown that ended in 2OT, and a massacre in Phoenix. That leaves six series still alive, but we could see three more end tonight if the teams up 3-1 take care of business. Before we take a quick look at those games, let's go back to last night.
No one expected a different result with Jaylen Brown, Kemba Walker, and Robert Williams sitting for Boston, and the Nets won the first quarter by seven and never really looked back. Jayson Tatum led the Celtics with 32 to give him his third consecutive good showing after a rough start to this series. Evan Fournier had 18 points and 6 boards and Marcus Smart went for 14 points, 4 assists, and 7 boards ahead of potentially big off-seasons for both. James Harden (10 assists and 10 rebounds), KD, and Kyrie combined for 83 to push Brooklyn across the finish line. The Nets will be looking for better defensive performance and a little more help from the supporting cast in the second round. Outside of a Game 2 show from Joe Harris, there wasn't a whole lot to speak of in this series when it comes to the latter.
The big news in Boston is the retirement of Danny Ainge and his replacement with Brad Stevens, who will now need to find a new head coach to run the team. This is a fascinating off-season for Boston as they try to build a roster that best complements Brown and Tatum. Stevens will need to hit the ground running.
Nuggets 147, Blazers 140 (OT)
This game was absolutely insane, and the ultimate difference was that Damian Lillard provided much of the craziness for Portland while Denver was able to spread the goods around a little more. It took quite a while for that to definitively tilt the score in their favor though, as Lillard hit shot after shot down the stretch and into overtime to keep his team alive. He scored 55 on 17-24 shooting, and 28 of those points came in the last 17:20 of regulation and overtime. He scored 12 in the first overtime alone, creating an unbelievable scene for anyone watching the game. The man couldn't miss, and then the Nuggets forced his teammates to make some shots in 2OT. That strategy clearly worked.
Dame will – and should – get plenty of attention for what he did last night. But don't forget about the Nuggets, who outpaced Lillard's shotmaking with some brilliance of their own. Monte Morris was fantastic, scoring 28 off the bench and getting to the line repeatedly for 11 free throws. Austin Rivers joined Morris in making four threes, and he finished with 18 points. Michael Porter Jr had 26 and hit a key triple late. He also pulled down 12 boards, joining Aaron Gordon (14 and 10) in the double-double club. Then there's Nikola Jokic, who scored 38, pulled down 11 boards, and dished out 9 assists in an MVP-level performance. The Nuggets are now in the driver's seat, needing just one win in two games. Don't count out Dame until that final whistle blows though.
This was a demolition in every sense of the word. The Lakers managed just 10 points in a destructive second quarter. LeBron left for the locker room with more than five minutes remaining (he was the only Laker to score more than 15 or produce more than 2 assists). Devin Booker paced the Suns with 30 points, 5 assists, and 7 boards. It's advantage Suns, and the Lakers might be dead in the water if AD can't return.
That brings us to today. Let's run through what we have going tonight.
First, the Sixers – minus Joel Embiid (day-to-day) – will look to close out the Wizards. Philly is clearly the better team, but the Embiid injury complicates things. Without him, they really struggle to move the ball offensively and protect the paint defensively. You want to finish this in five so the doubt doesn't start to creep in ahead of a potential Game 6 in Washington.
The Knicks will look to protect MSG and keep their series with the Hawks alive. The offense will be key. Here are the numbers we went over yesterday –
Reggie Bullock missed all eight threes he took in Games 1 and 4 (both losses). Julius Randle made just 7 of 19 shots in Game 4, and that was clearly his best shooting game of the series. He's shooting an absurd 20-73 so far. RJ Barrett has been better – he's made 6 of 22 threes and is 21-53 from the floor – but the fact that that's better says far more about Randle than Barrett, who is still struggling mightily as far as efficiency goes. Alec Burks is just 10-33 from the floor since a great Game 1. Derrick Rose is really the only one that has combined productivity with efficiency so far.
If the Knicks haven't figured out a way to create and convert their looks at a better rate, Atlanta will end this series.
Then there's Grizzlies v. Jazz. Both teams have played relatively well, but the consistent presence of Bojan Bogdanovic and Jordan Clarkson has been the X-factor for the Jazz. The Grizzlies have only been able to hang tight since the return of Donovan Mitchell, and it will require one heck of an effort to change that on the road.
Last up is Mavs-Clippers. The key to the LA turnaround has been defense –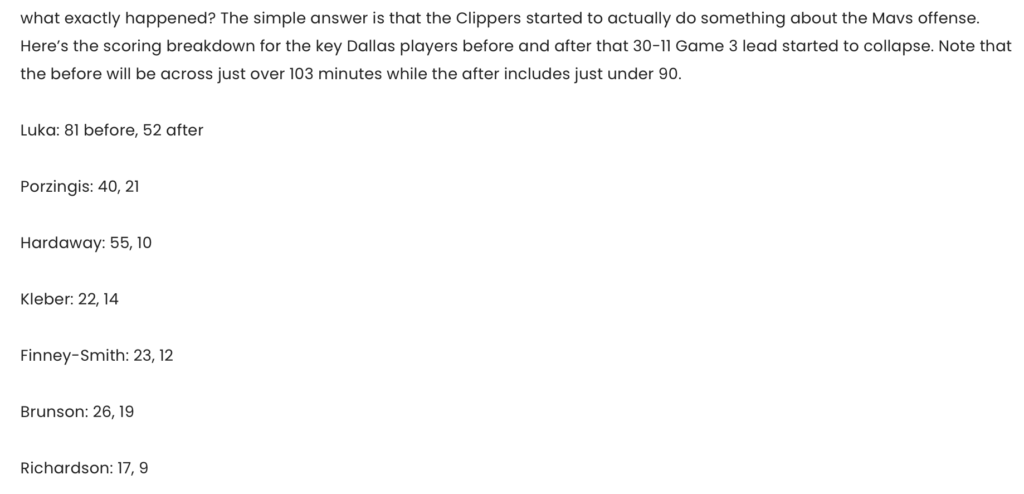 If the Mavs can't get offensive production, they won't win. It's as simple as that. This series is in the Clippers' hands now.
TODAY'S PLAYS
Knicks -1.5
Mavs +260
Grizzlies +9.5
Wizards +6