Mike Bets #182
7 min read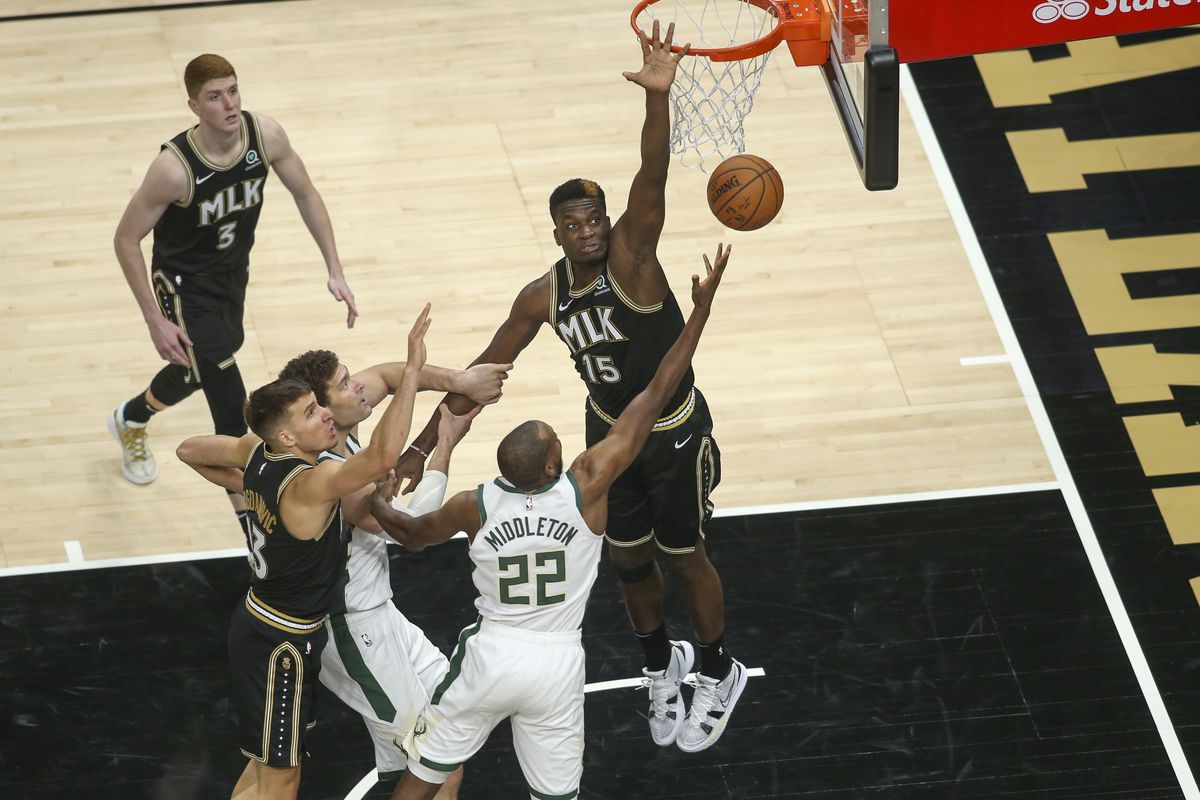 Last night, the Suns and Clippers played another great basketball game that ended with the same result as the first – a Phoenix win. DeAndre Ayton's last second slam off of Jae Crowder's inbound pass put the Suns up 2-0, and the Clippers will have difficulty in making it three comebacks in a row given that Chris Paul is more likely to return than Kawhi Leonard before the series is over. This is the kind of loss that really stings; the Clips were in perfect position to steal a road game and even things up when Paul George went to the line up one with about ten seconds left. Then be missed both free throws, and the Suns took advantage. LA is still in position to defend home court and make this a series, and it's a good sign that both of these games were so competitive. But three 0-2 comebacks is a lot to ask for. At some point, you run out of magic.
Tonight, the Bucks and Hawks will kick off the ECF in Milwaukee. There's a clear favorite here, but the Hawks have been there and done that. Can the Bucks do what the Sixers couldn't? Let's run through some keys to the series.
Bucks' Strategy for Young
I've talked about it a few times now – Young, despite subpar efficiency, has been absolutely fantastic in these playoffs. Milwaukee can beat Atlanta even if that doesn't change, but limiting Young's impact would go a long way towards making things easier. Against the Knicks and Sixers, the Hawks were too often allowed to play on their own terms; the Bucks need to dictate how these games are played.
Dan Devine took a good look at this for the Ringer, but the general idea with Young is that there are two key approaches to limiting his production. The first, putting him in tougher situations offensively, is an obvious easier-said-than-done solution for any player. The Bucks will want Young to live in that 3-10 foot range with floaters and similar shots, and they'll aim to accomplish that by having Jrue Holiday hound him on the perimeter while Brook Lopez and Giannis lie in wait to protect the rim. Young, in his best season yet, made about 47% of his shots in the 3-10 zone. That's good for just 0.94 points per possession (the Thunder were last in the league with 1.028 points per possession as a team), and it's the equivalent of shooting a measly 31.3% from deep. There's a reason teams want to funnel offensive players into that area, and the Bucks will attempt to get Young to take as many contested twos as they can. Holiday is one of the league's premier perimeter defenders and a much better match-up for Young than he was for Kevin Durant, and with him on the outside and the twin towers of Lopez and Giannis on the inside, Milwaukee is as capable as anyone of fitting Trae where they want him to be.
The second way to limit Young is to attack him on the other side. Trae is still 6'1″ and 180 pounds and iffy on the defense fundamentals, and the Bucks can make him work far harder than either the Knicks or Sixers did. Using the pick-and-roll or ball handoffs to get Young switched onto Holiday or Khris Middleton is an ideal plan of attack, as both would be able to get pretty much whatever shot they want in isolation. The more common method, when that doesn't work, is going to be off-ball movement from Young's man. Whether it's PJ Tucker, Pat Connaughton, or Bryn Forbes, the Bucks should have them running around as much as possible, making Young work with his legs, eyes, and mind on defense. That will both tire him out, and, if things go well, start to really put a dent in his overall impact. The key will be focusing on Young. If you're going to take advantage of his defensive weaknesses, their needs to be a consistent, concentrated effort on exposing him. Milwaukee needs to hunt Young, or he'll be just fine hiding as well as he can.
Young is a great offensive player with some significant flaws defensively. If the Bucks commit to it, they can limit his impact on one end while exposing him on the other. Knock Young down a bit, and you've got yourself a massive advantage.
Jrue Holiday
Holiday's play on Young will be significant, but his production on the other end is just as important. At his best, Jrue is a fantastic playmaker capable of playing bully ball on the inside and knocking down threes at a decent clip. We saw some of that against the Heat with his 39 assists in four games, and the rebounding and passing have been solid across both series. The issue, outside of a few bouts with turnover issues, is that he's been largely disappointing as a scorer in the playoffs so far. The 15.2 points per game is rather underwhelming, and the efficiency has been horrific. Holiday is shooting below 40% from the field, and he's not even making a quarter of his threes. Here's some additional context –
Eric Bledsoe showed us the difficulty of playing with a black hole on offense in the playoffs. From what I've seen, Holiday's versatility has prevented that from happening despite the shooting struggles. He also hit some key shots down the stretch in Game 7, which should have offered a nice confidence boost. We'll see if it carries over. The key idea here though – Holiday needs to find himself before teams start playing him differently. The Bucks gave up too much for this to be the player they get when it matters most.
Hawks on Giannis, Brook
The Bucks aren't exactly coming off of an offensive showcase, so Atlanta will rightfully have some hope that they, like Brooklyn, can slow Milwaukee down on that end. The way they play here will be interesting. With De'Andre Hunter out and Cam Reddish a question mark, the defense is a little suspect. We're looking at Danilo Gallinari being matched with Khris Middleton, John Collins getting Giannis, Clint Capela covering Brook, and some combination of Kevin Huerter and Bogdan Bogdanovic being tasked with Jrue Holiday. That's far from a death sentence given what we just saw last series, but it doesn't exactly inspire confidence either. Middleton will have a far easier time without Bruce Brown chasing him around, and Collins and Capela simply aren't big enough to handle Giannis and Brook. Holiday has the room to find himself here as well.
One thing to watch here – what exactly do the Hawks do with Giannis and Brook? Guarding Antetokounmpo one-on-one with Collins is a no go for any extended period of time, so who gets thrown in his direction? Capela figures to have his turn, and Solomon Hill might be in line for some minutes as well. It will be difficult to double or triple team Giannis with the pieces around him, but the Hawks will surely try something. Then there's Lopez, who can both drag Capela away from the rim and pound away at any Hawk down in the paint. Bobby Portis can fill a similar role, and he should play more in this series after being shelved against the Nets for his defensive shortcomings. Before they even consider the problems Holiday and Middleton represent, Atlanta has a lot of work to do in figuring out Milwaukee's bigs.
Bogdanovic, Gallinari, Collins, Huerter, Capela etc.
Regardless of Young's performance, the Hawks are going to need their other guys to step up. The good thing for them is that they've done exactly that so far in these playoffs. Now the question becomes whether or not Atlanta can rely on that to continue. Bogdanovic's knee is a real issue. Lou Williams will struggle to stay on the court against Milwaukee's offense. Huerter, Gallinari, and Collins have been relatively inconsistent, each posting multiple single digit scoring efforts against the Sixers. Capela was (and will remain) a fantastic addition, but the offensive versatility simply isn't there. All of this is a long way of saying that the Hawks, despite having combined to do what they needed to do, have a few more flaws in the system than the results would indicate. The Sixers lost that series more than they won it. It's going to take one heck of an effort to get the same result against the Bucks.
TODAY'S PLAYS
N/A
I like the Bucks to win, but I won't bet a -8 line in the playoffs. There's too much room there to be mad with a win, and we can't have that. Go Bucks.