Mike Bets #187 – Finals Storylines
12 min read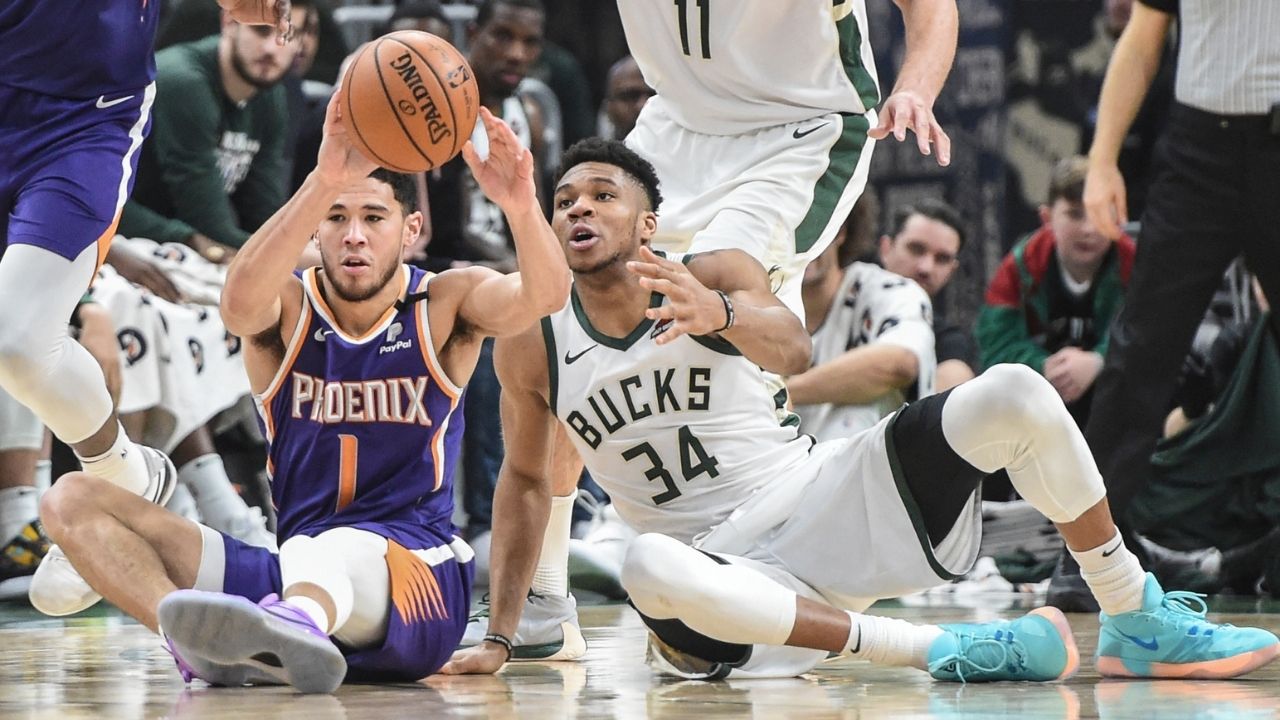 The Finals start tomorrow night in Phoenix. That means that today, Final's Eve, is a great time to set up some storylines for the next two weeks. It should be one heck of a series after both regular season games were decided by a single point. Let's get to it, starting with the soon-to-be Hall of Famer standing four wins away from his first championship.
1. Paul's Midnight Dance
Two things are true for Chris Paul –
1. This may not be his swan song. He's still playing at a level that anyone could be proud of, and he has shown multiple times in these playoffs – including the close-out game against the Clippers – that the ultimate high gear still exists. He has achieved the type of career that affords a player far greater control over their exit from the league, and talking about retirement now might be a slightly ridiculous notion. The Suns are young around Paul and Jae Crowder, and that's one great reason to hang on for a few more seasons.
2. There is no doubt that his ability to produce numbers day in and day out over a full season has fallen off. Just look at the counting stats. At some point, the grind simply isn't doable, never mind enjoyable, and there are worse fates than walking out at the highest point of your career, which this would be regardless of result.

In any case, one thing is clear – nothing is guaranteed beyond this moment. It took Paul sixteen seasons to get here after all. He, as well as anyone else, understands that this trip to The Finals must be taken like it's the first, the last, and everything in between.
These things are also clear. Paul is one of the best point guards in league history, and very much deserving of his reputation as someone who immediately jump starts a franchise upon his arrival. He's one of the smartest players in league history, and he cares so much that it almost becomes annoying to see some of the ways by which he seeks that crucial edge. He deserved a shot at a ring with the Rockets back in 2018, and it's good to see him fight back and earn this one instead. But the job isn't done yet.

Chris Paul finally made his way onto the dance floor. It's 11:55, and that midnight bell is about to strike. What does he do with his five minutes under the brightest of lights?
2. Giannis's Knee
We know that the hyperextension of Antetokounmpo's knee led to far less severe consequences than we all assumed after watching that knee move the way it did. It's also likely fair to push that even farther and say that he will be on the court for most of The Finals, potentially as soon as Game 1. In other words, the question is not availability but ability.
We've seen both James Harden and Trae Young come back against the Bucks in these playoffs, and they just weren't the James Harden and Trae Young we're used to seeing. The same could be said of Paul in the first few games after his covid return and of Booker immediately after his nose injury. We saw Anthony Davis come back when he wasn't ready against the Suns, Joel Embiid fight through a meniscus injury that often left him sapped of energy late in games, and Donovan Mitchell go through a roller coaster of a journey after coming back from his injury a game into the playoffs. To summarize: some sort of negative effects in the immediate aftermath have been a general rule, but the extent of those effects has been all over the place. What do we see from Giannis? The answer will determine how much room for error Khris Middleton and Jrue Holiday have.
3. And His Own Legacy Quest
At just 26, Giannis is already one of only fourteen players with multiple MVP awards. To put that achievement in greater perspective, only Kareem reached two MVPs faster (by age 24) than Giannis, who's tied with LeBron as the second youngest to do it (age 25).
Antetokounmpo also already has four seasons of 25 or more points per game and 10 or more rebounds per game, the fourth most in league history by the age of 26. Only Shaq, Kareem, and Bob McAdoo had more than Giannis, who is tied with Wilt and Elvin Hayes. When you add in five or more assists per game, which he has achieved three times, Giannis is tied with Oscar Robertson for the most ever by the age of 26. Only Nikola Jokic and Elgin Baylor have also accomplished that type of season by that age, and they both did it just once.

To put it simply, Antetokounmpo is on track to have one of the best individual careers of all-time. The only question – beyond his ability to sustain this current pace well into the future – is whether or not he'll be able to win the rings that will put him in the conversation with MJ, LeBron, Kareem, Magic, Bird, and the rest of the greatest basketball players of all-time. This is a prime opportunity to get the collection started at an age very similar to guys like Lebron (27), Shaq (26), and Jordan (27).
4. Devin Booker Looking to Fully Reverse the Narrative
After Booker's 40-point triple-double opened up the Western Conference Finals, I wrote this –
For the first few years of his career, Booker…occupied the role always filled by a few young stars (think KAT). These are the young guys who put up great numbers on a terrible losing team, leading to the inevitable question – is the team bad because the star is producing empty stats and failing to meet their potential or because the supporting cast around them isn't up to snuff? Like most situations, the answer usually falls somewhere in between, but Booker [has] taken gigantic steps to minimize [his] flaws this season.
Booker's 40-point triple-double in Game 1 of the WCF, the first triple-double of his career, feels like a clear statement of his progress. The scoring ability has never been up for debate, but you need the other pieces of the game to develop into the kind of player he wanted to be. This kind of performance on this kind of stage is pretty solid proof that Booker has found the pieces he needs to complete the puzzle. After years of languishing on bad teams that asked him to fill a point guard role that he wasn't really ready for, he has greatly benefited from spending a year alongside Ricky Rubio and Chris Paul. They've allowed him to take a mini step back in the burden he carries, and that has led to the full blossoming of his skill set. Sometimes all it takes to be the man is the assurance that you have the support you need behind you. Both Booker and the Suns are reaping the rewards.
Five games and a brutal nose injury later, and we're still in the same boat. Booker's "losing" basketball is behind him, and a cool, collected, and highly impactful star has emerged to help take Phoenix through the Western Conference. Now, can he do it on the biggest stage against Holiday, Middleton, and a Bucks defense that has easily been the NBA's best in these playoffs? For Booker, the difference between emerging star and full blown superstar is a premier Finals performance.
5. The Stage is Set for Khris and Jrue
Reputation is a dangerous word in the NBA, and it's one that rarely ends up matching what a player actually deserves. Just ask Paul George – who has more points, minutes played, free throws, and shots attempted in these playoffs than any other player. He poured his heart out and played really well, and yet that won't be the enduring takeaway for many NBA fans. He's "Playoff P", the man who can't show up when it counts. Or ask Giannis, whose credentials we ran through above. He's Run and Dunk Man, and another guy who can't make the most of the important moments (listening to every take out there will soon show you that seemingly no one is capable of thriving under the brightest lights).
The only way to quiet that storm – if only for the most part and temporarily – is to take home the ultimate prize. That's the position Middleton and Holiday find themselves in here. The former has heard countless questions about his contract, his ability to be a #2 option, his status as an All-Star, and more. The latter has been compared to Eric Bledsoe throughout the playoffs amid a rough run of shooting nights, and he's heard similar questions about his own contract and the package of picks the Bucks gave up to acquire him.
Khris and Jrue certainly haven't made every effort to quiet the doubts with their playoff inconsistencies. Both have been all over the place this postseason, ranging from offensive negatives with significant efficiency and turnover problems to all-around world beaters at various points. The Bucks will need more of the latter in these Finals. It is clear that both are capable of giving them that, of shining at the highest peak basketball has to offer. Middleton was massive down the stretch of the conference semis, and he singlehandedly destroyed the Hawks in the fourth quarter of Game 3 and the third quarter of Game 6. He's the only player with multiple 20+ point quarters this postseason, and only nine others did it once. Holiday has been giving the Bucks everything they can ask for defensively, and he's had a knack for the big shots these last few weeks. His offense hasn't always been there, but it's often been present at the times of greatest need. Ultimately, that's what matters. You need your best players to make just enough plays to pull you over the finish line. So far, Middleton and Holiday have been up to the task. But the job isn't done yet.
6. What's Left in Ayton's Tank?
Ayton has been superb so far in the playoffs, scoring 16.2 points per game, pulling down 11.8 boards per game, and making more than 70% of his shots. He's also playing over 36 minutes per game. The man has been an absolute stud in the middle for the Suns, and he's adjusted from opponent to opponent as they've moved through each round. Can he do it for one more series?
Ayton has played 35+ minutes in eleven of sixteen playoff games after doing it just thirteen times in sixty-nine regular seasons games. That's a jump from 20% to 68.8%. It's obviously not out of the question that he can maintain that workload given the shortened length of the playoffs, but it's also very possible that we see him tire out a little bit here. He's young, but he's also never played this many games and minutes in a single season.
Then there are the counting stats. Ayton has grabbed double digit rebounds in 68.8% of his playoff games as well, up from 56.5% during the regular season. He's also scored 15+ in 62.5% of these postseason appearances, up from 46.4% during the regular season. The stage and the minutes increase are both reasonable explanations here, but, again, the door for some Finals regression is open. The same could be said of his FG%, which is up roughly eight percent since the postseason started.
The Suns wouldn't be here if Ayton hadn't taken this playoff step, and it will be a significant blow if he can't maintain that progress and compete with Giannis and Brook Lopez over the next two weeks.
7. Tucker and Crowder in the Grizzled Veteran Showdown
There are a lot of parallels here. PJ Tucker and Jae Crowder are two of the toughest guys in league. Both are inconsistent perimeter shooters. Both are playing their first season for their respective teams. Neither has won a championship. Both their teams rely on these two for their grit, their defensive effort, and their basketball I.Q. If one gets hotter than the other – or if Tucker is really able to make his mark defensively – we might see a dramatic shift in one team's direction. As they often are, Crowder and Tucker are side shows, the surrounding act to much bigger stars. That doesn't mean they won't have their say in how this series turns out. Like Paul, they know all too well what's at stake with this singular chance at a ring.
8. Budenholzer's Chance to Send a Message
Mike Budenholzer has now been to three conference finals in just eight seasons. He trails only Steve Kerr in that regard over that span (both Ty Lue and Brad Stevens also sit at three). That's not bad for someone who is supposedly one of the worst coaches in the league.
There's no doubt that Budenholzer's in-game adjustments leave something to be desired at times. His rotations fall in the same boat, though both have fared far better so far in this postseason. It's hard to argue with pure results, however, and there's really no beating Bud there. He's been as successful as anyone outside of Kerr since his head coaching debut, and this is his chance to earn the capstone that no one can ever take away. The jokes tend to matter much less when you have a ring on your finger.
9. The Paint and Perimeter Battles (and Brook Lopez)
It's not much of an insight to say that the paint and the three-point line are going to be important here, but it is true.
In the paint, a lot rides on the back of DeAndre Ayton. Dario Saric is the only other player taller than 6'8″ to have played more than 50 minutes in the playoffs, and he's topped 15 minutes in a game just twice so far. Frank Kaminsky and Jalen Smith have played just 56 playoff minutes combined. The Suns simply need Ayton to play at a high level, or they might get murdered at the rim. The Bucks are capable of doing it to any team too. Running and dunking are useful skills for rim domination, and Lopez has shown off his own interior skills in recent weeks. Jrue Holiday is capable of muscling his way inside, and both PJ Tucker and Pat Connaughton have been fantastic on the offensive glass. Don't forget about Bobby Portis either. Milwaukee is far better equipped to handle the inside, and only Ayton stands between them and complete domination.
Then there's the other side of the arc. Can the Bucks finally turn it on from three? The numbers are jarring. From Saturday –
This is a team that has broken 40% shooting from the perimeter just three times this postseason, the first being that Game 2 against Miami and the second and third coming in Games 5 and 7 against the Nets. They've made more than 42% of their threes zero times so far. That's an absurd result from a team that came just short of shooting 39% from deep during the regular season – a number that they are nearly nine percent below so far in the postseason. 
The Bucks have shot below 30% from three in seven of their playoff games, below 25% in six, and below 20% in three. Remember that this is all in just sixteen [now seventeen] games. In seventy-two regular season games, Milwaukee shot below 30% from deep just nine times. They hit less than a quarter of their threes in just three games, half of the total they've achieved this postseason in fifty-five less chances. We can talk about factors that hurt their shooting in the playoffs – lack of truly elite shooters, enhanced spacing issues, etc. – but the simple truth is that a downward shift of this magnitude is inexplicable.
If Milwaukee finds their stroke – something that starts with Holiday, Tucker, Portis, and bench sharpshooter Bryn Forbes – that will be a massive advantage for them. On the opposite side of things, the Suns will look to continue to shoot relatively well from deep (above 37% so far in the playoffs). They'll need Crowder, Mikal Bridges, Cam Payne, and Cam Johnson to perform.
The other question that doesn't really fit into this category but will be included anyway – how does Lopez look against Booker and Paul? The Bucks have been far more versatile with their defensive coverages despite occasional difficulties with the typical drop coverage, and Lopez's ability to keep making those adjustments might end up defining the series.
10. A Long Time Coming
The Bucks haven't won a title since 1971. They haven't played in The Finals since the mid-seventies. The Suns have never won a title and haven't played for one since 1993. These are two great and hungry teams backed by two great and hungry fanbases, and this is why we love sports. There's so much on the line, and someone will walk away with the accomplishment and thrill of a lifetime.
One last note here – you can talk about injuries until you're blue in the face. The bottom line, as it always is, is that the Bucks or Suns will win a title, and not much else matters. The context is always there, and it always fades far before the memory of the championship celebration.
Bucks v. Suns. Two teams, two great seasons. But the job isn't done yet. Let's enjoy the ride.