Mike Bets #188 – Game 2 Keys
5 min read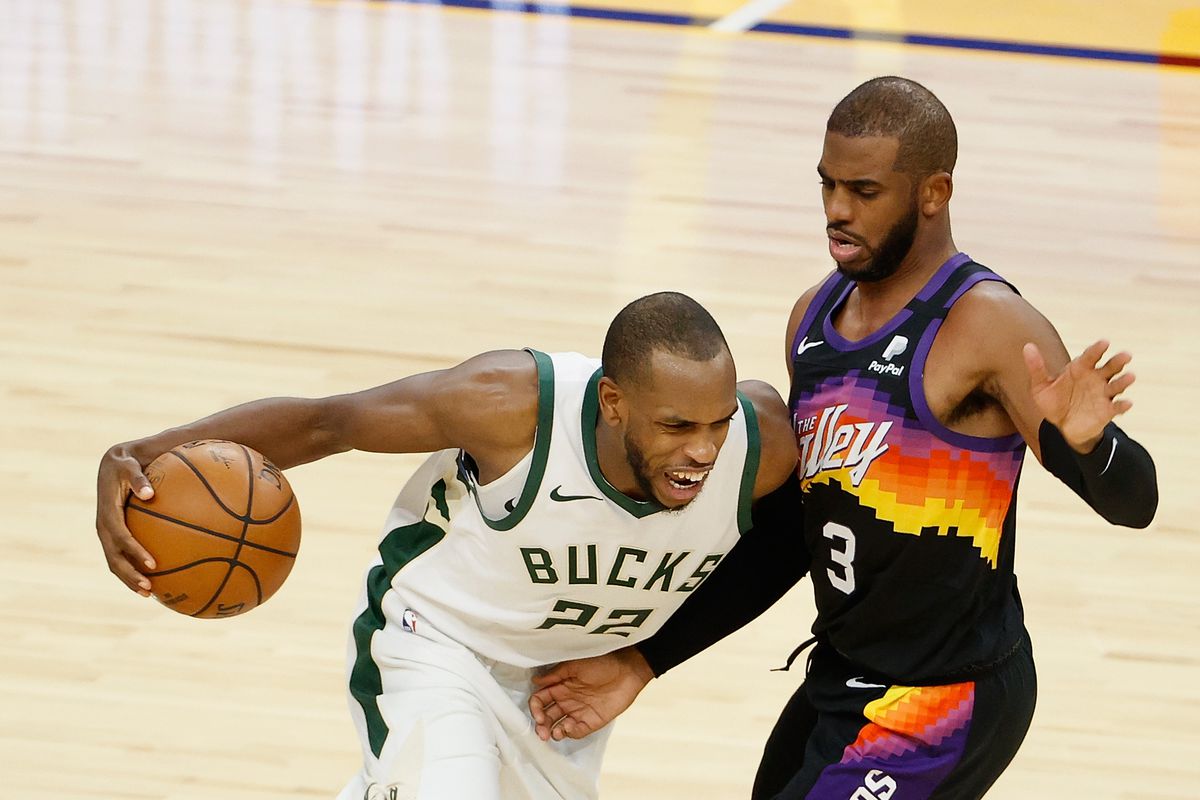 The Suns held off a late Bucks run to get The Finals started with a relatively comfortable home win. Chris Paul was fantastic while Jrue Holiday struggled mightily as a scorer, and both Giannis and DeAndre Ayton had at least 15 points and 15 rebounds in their Finals debuts, only the second and third such games in that circumstance in NBA history (Tim Duncan). There was a foul discrepancy in Phoenix's direction, with Khris Middleton notably shooting 0 free throws despite taking 26 shots (12-26, 29 points). Tonight, the Bucks will look to steal a road win and even things up. They'll need more from Holiday, and they'll need a better defensive return on Paul and Booker, whether that comes from scheme, execution, or a mix of the two. Let's run through some keys for Game 2.
SUNS
1. Get Booker going
Booker lived at the line on Tuesday, hitting ten of ten free throws. That gave him an impressive 27 points on the night, and it put his poor shooting night on the back burner. Despite the pretty scoring total, Booker missed seven of eight threes and nineteen of his twenty-seven shots. The Suns will need more tonight. Paul is coming off a very impressive showing, and it's unrealistic to expect a repeat performance in this one. The effort to pick up some of the slack can – and should – start with Booker being more efficient from the field. Players of his caliber don't tend to stick around a 33% shooting percentage for long.
2. Focus on Middleton
Middleton played very well in Game 1, making just about half of his shots and threes and falling just short of thirty points. He was especially productive in the second half when the Bucks started to make up some ground, and he likely should have had a few more points here and there at the line. If Phoenix lets him stay comfortable, the Bucks could end up in a nice position with the expected Jrue Holiday bounce back. The Suns need to hone in on Khris and find ways to knock him off his game.
3. Keep Ayton Thriving
Ayton has been absolutely fantastic in these playoffs, and he's now averaging 16.5 points and 12.2 rebounds while shooting 71.1% from the floor. He went for 22 and 19 in Game 1, making eight of ten shots. His play helped the Suns keep things pretty even in the paint and on the boards. Now, can he keep it rolling? As I mentioned the other day, he's playing significantly more minutes now than he did during the regular season (+4.5 per game). With Dario Saric now out for the series, that role might get even bigger. The final stretch can be the hardest part, especially when you've never run the race before. The Bucks would love to see a weakened Ayton at some point here.
BUCKS
1. Jrue
This one is obvious. Holiday tends to play well as a playmaker and defender regardless of his shooting, but he was dreadful from the floor (4-14, 0-4 from deep) in Game 1. He simply needs to be better. The Bucks can win with just two of their stars producing points at a high level, but the margin for error is a lot smaller. It was too small the other night. Milwaukee needs Holiday to be aggressive and put the ball in the basket.
2. Figure out the defense on Paul/Booker
The Suns were smart and aggressive in chasing matchup advantages in Game 1, and both Paul and Booker had success in scoring on contested looks against Brook Lopez. There are a few things the Bucks can do –
Rely more on Pat Connaughton, who has really stepped up in the playoffs. Giannis plays the 5 here, and you surround him with Jrue, Khris, Pat, and either PJ Tucker or Bryn Forbes. Missing Donte DiVincenzo limits the options here somewhat, but you can run with this lineup for a decent amount of minutes. This gets rid of the "attacking the big" problem.
Keep doing what you did in Game 1 while doing your best to boost aggressiveness, toughness, etc. Hope Paul starts to miss some of those tough shots (Lopez was relatively good at making him take hard ones), and try to influence that by being as physical as you can with him off the ball.
Ask Jrue, PJ, Khris, etc. to fight harder to stick to their man. Avoiding the switch when you're in that type of defense is impossible to a certain degree, but there was definitely more the Bucks could have done to prevent the Suns from getting where they wanted to be.
Pursue some different looks – zone, the drop back defense, etc. Paul isn't the greatest guy to test with things like this, but a few random possessions here and there might be enough to disrupt the Suns' rhythm.
The typical drop back defense might be an option at some points. Paul isn't especially prone to quick pull-ups, and this might allow a little more time for the Bucks' primary perimeter defenders to adjust.
One other issue is that Bobby Portis looked virtually unplayable last night. He's an awesome energy guy with a lot of offensive tools when he's going right, but he just got cooked by Paul and Booker. Lopez saw those guys hit tough shots in his face; you almost started to feel bad watching what they were doing to Portis. If he plays, the Bucks will need to be a lot more aggressive in avoiding the switches.
The answer Mike Budenholzer cooks up will likely be a mixture, and a little bit here and a little bit there is probably what it will end up taking anyway. There's a thin line between elite and questionable defense. The Bucks just need to re-locate that line.
3. Get some more from Giannis
Considering the circumstances, Antetokounmpo's 20 and 17 performance with the all-time great block was a pretty sensational way to start his Finals career. This isn't a complaint as much as it's a recognition that he has more to provide at his best. Getting more than 20 points and 35 minutes from your MVP would be nice if the body cooperates. Milwaukee needs all hands on deck here.
TODAY'S PLAYS
Bucks +165
Jrue O33.5 points, assists, rebounds
Jrue O18.5 points
Booker O2.5 threes
Pat O1.5 threes