Mike Bets #246
9 min read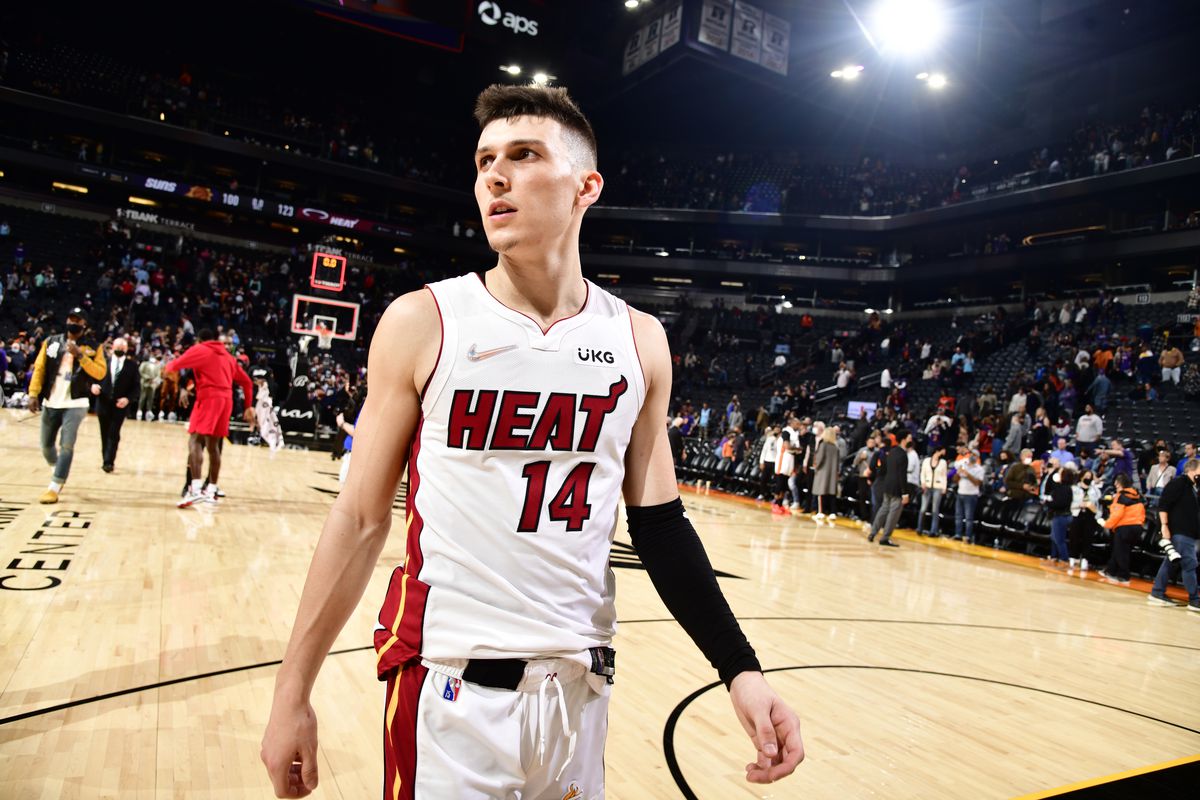 Happy Wednesday. Yesterday was a solid 1-1-1 NBA and 5-4 CBB day. Miami (+245) falling short by a point was tough, but we'll still walk away in the green. Before we try to find some more winners, let's get to yesterday's recap.
NBA
SGA dropped 32 and dished out 8 assists to give the Thunder a shot against a Wizards team playing without Bradley Beal, but Kyle Kuzma and Spencer Dinwiddie were ultimately just a little too much. That's two in a row for the Wizards, and like I said the other day after they beat Orlando, these are the types of games they'll need to win to stick in the play-in picture. You have to take advantage of the bad teams. Another game against the Magic awaits tonight.
The Suns pulled a close one out in Toronto, ending a six-game winning streak for the Raptors. All five starters scored in double figures for Phoenix as they reclaimed sole possession of the West's 1 seed with the Warriors' loss. Toronto got 20+ points each from Pascal Siakam, Fred VanVleet, and OG Anunoby and a 16/13 double-double from Chris Boucher, but the team around those four largely struggled to produce with Scottie Barnes out. Having to settle for your first loss in a few weeks isn't the end of the world, and the Raptors get a nice bounce back opportunity in Detroit Friday night. They're still right in the middle of the East playoff picture, within a game and a half of both the 6 seed and the 11 seed on either side.
The Grizzlies made a huge statement, finishing the Warriors off in the fourth after losing their lead in the third. Steph's triple-double wasn't enough for Golden State, who will fall back into the 2 seed for the time being. They're only 2.5 games up on the Grizzlies, who are now tied with the Jazz for the 3 seed out west. It's been one heck of a run for Memphis. They've won ten in a row and are 20-4 in their last twenty-four. This just about sums it up –
It's always fair to ask how a team with limited postseason history will fare once the bright playoff lights turn on. These Grizzlies still haven't won a playoff series, something that wasn't even true of the Mark Jackson Warriors, who won one series before the Kerr era explosion. Winning that first series, more than reaching the WCF or beyond, was the reasonable breakthrough goal this year. But progress is rarely linear, and this looks like a team that took a much greater leap. They're as good as anyone right now, and it'd be dumb to fully count them out on the basis that they haven't done it before.
The Pistons played a decent first half in Chicago, trailing the Bulls by just nine in a 52-61 game. They ended up losing by forty-six. That's bad. Detroit managed just 35 second half points, which was lower than the 36 points the Bulls scored in both the third and fourth quarters alone. It's generally hard to win a basketball game when a team scores more points in two individual quarters than you did in one half. The Bulls move to 27-11 with the win, and they're 2.5 games clear at the top of the East ahead of a crucial six game stretch – Nets, Warriors, @Celtics, @Grizzlies, Cavs, @Bucks.
Brandon Ingram finished his 33-point, 9-assist night with a bang, sending the Timberwolves home losers with this shot –
Somehow someway, the Pels are just 1.5 games back of the West's 10 seed, and picking up wins like this will help them stay alive and maybe even make a run for it down the stretch. For Minnesota, this is a backbreaker of a loss. Despite various strong individual performances – KAT and Anthony Edwards combined for 54 points and 10 assists, D'Angelo Russell posted an eighteen-point double-double, Malik Beasley scored 18 points – they fell short against a team they would ideally beat. With space in the play-in race at a premium, every win, and loss, counts, and Minnesota will fall down to the 9 seed with just 3.5 games of separation from the Blazers and the 10 seed.
After scoring just 28 points in the first half, the Clippers pulled off an insane comeback to beat the Nuggets. Reggie Jackson sparked things in the fourth to overcome big efforts from Aaron Gordon (30 points, 12 boards) and Nikola Jokic (21 points, 8 assists, 13 boards). Both teams are now within half a game of each other in the West standing. With a clear top four – so far – in Phoenix, GSW, Utah, and Memphis, someone needs to take those other two guaranteed playoff spots. Dallas has been separating a little recently. Can Denver, LAC, or LAL find the momentum to join them?
NCAAM
There were a massive amount of college basketball games last night. Some of the highlights, sorted by conference –
A10
A short-handed St Bonaventure team needed OT, but they took down La Salle in their first conference game and their first game overall in almost a month. VCU (George Washington) and Davidson (UMass) took care of business in less dramatic fashion to move to 3-0 in conference play, and all three will feel good about their current positioning. VCU has a massive stretch coming up – @Bonnies Friday and v. Davidson Tuesday before traveling to Davidson and Richmond and hosting Dayton by February 2nd. This is the kind of run that can really put them in a great spot, or drop them to the point of needing to do a whole lot of work in February and March.
Dayton topped St Louis in a game between two teams a little worse off in the at-large race. Dayton has a really great collection of wins (Kansas, Miami, Belmont, St Louis, Virginia Tech) but is also 10-6 with early losses to UMass Lowell, Lipscomb, and Austin Peay. Keep winning games like this, and those losses will be easier to get around. For St Louis, this drops them to 10-5. They have better losses than the Flyers but their best wins – Boise State, Richmond, Iona, Boston College – aren't as impressive.
ACC
Syracuse topped Pitt. Never count out Syracuse, but 8-8 won't get you many places, especially in a weak ACC.
Miami just missed a chance to get to 5-0 in ACC play, falling to Florida State 64-65. The Hurricanes have played well enough so far for every single loss to not be a referendum on their tourney chances, but this one will hurt in their chase of a conference championship. It's a huge win for the Seminoles, who need all the help they can get after an unspectacular start. They're now 9-5, and props to them for taking advantage of a big opportunity at home.
ASUN
Liberty, Jacksonville State, Jacksonville, and Bellarmine are all of to 2-0 conference starts. Were it not for covid, Liberty would be 3-3 in representing the ASUN in the Big Dance in its three years with the conference. We'll see if someone can knock them off the throne this year.
Big 12
Baylor finally fell, losing in Lubbock to Texas Tech. They brought a five point lead into the half but couldn't hold it. Both these teams are going dancing; this win and their recent win over Kansas will give the Red Raiders a sizable boost up the seed line.
West Virginia moved to 13-2 with a win over an Oklahoma State team that has a lot of work to do.
Texas picked up a really nice win over Oklahoma to boost their (early) chances in the Big 12 title race.
Kansas stole one from Iowa State late, winning 62-61. This is the kind of game here and there that'll help a team win a conference championship, and it's a nice bounce back from the loss to Texas Tech the other day. For Iowa State, that's now 1-3 in conference play. They've hung with Baylor and now Kansas but have nothing to show for either effort. They're in a fine spot overall, but you do need to start winning some conference games at some point. That won't be any easier this week with Texas visiting on the weekend and a trip to Lubbock coming next Tuesday.
Big East
Marquette rolled past DePaul. It's been a great little stretch for Marquette here, and they're much better off as they look to return to the tournament for the first time in a few years. We can probably count out DePaul at this point. After another promising non-conference start, they're 0-5 in Big East play. It hasn't been a total trainwreck, but 0-5 is 0-5.
Providence-Creighton was a late postponement.
Big Ten
Illinois is off and rolling in Big Ten play at 5-0. Nebraska hung relatively tough last night but just didn't have enough in the tank. I'm high on the Illini; they've looked very good since their weak start.
Rutgers was stomped by Penn State in PA. I think the read on both teams so far is that they're solid basketball teams that are going to play some very frustrating games, especially away from home. Rutgers is 8-1 at home and 0-5 away from their building, including a 51-86 loss to Illinois and dropped games against UMass and DePaul. Penn State, who also coincidentally lost to UMass, is less prone to the home-road swings, but has still produced some very good and very questionable performances. Whether the good will outweigh the bad for either team by the end of the year is the key question.
MAC
Toledo picked up a big win over Miami (OH) to move to 4-1 in conference play, Akron edged Ball State to move to 2-1, and Buffalo has bounced back to 2-2 after beating Western Michigan.
Those three are all chasing Ohio – 13-2 (4-0) – who continued to roll with a win over Bowling Green last night.
MVC
Loyola Chicago needed OT, but they got past Valpo to move to 3-0 in conference play. They're the clear favorites and the only team with a good chance at an at-large bid.
Northern Iowa might be a team to watch in the conference tournament. They're off to a 4-1 start in conference play, and they're likely better than their overall record would suggest after playing a tough non-conference schedule.
Mountain West
Fresno State bounced back from an opening conference loss to cruise past San Jose State and move to 11-4. They have a lot of work to do to chase an at-large bid, but winning games like this against the bottom of the conference will go a long ways towards giving themselves as much of a shot as possible.
Pac 12
The other remaining undefeated fell last night too when USC lost to Stanford. For Stanford, this is a huge win that will provide a huge boost to their at-large hopes. For USC, this should be a bit of a wake-up call after their 13-0 start came against a relatively weak run of teams. 13-0 is 13-0 and you could certainly play a weaker schedule than they have, but the Trojans haven't proven anything on a national scale yet.
SEC
Auburn claimed full control of the conference with a win over Alabama. They've now beaten Bama, LSU, and Florida, and they're the clear dog so far. The so far is, of course, worth remembering, but Auburn has done very little wrong this season.
Kentucky won against Vandy to keep pace a game back of Auburn. They haven't been perfect this year, but they're in a good spot. For Vandy, we're starting to get to the point where each game is really going to start to count. They're 9-6.
Tennessee rolled past South Carolina, and they're going to end the season in a relatively comfortable spot as long as they keep beating the teams they should. Their ceiling is still questionable, but the floor appears high. The Gamecocks have a big six game stretch coming up where they play none of the SEC's ranked teams (though Texas A&M may soon change that). Regardless, you need to take advantage of this stretch if the goal is playing into March.
Speaking of Texas A&M, they continue to roll. They're 14-2 (3-0). Kentucky comes to town for a huge game next Wednesday.
TODAY'S PLAYS
NBA record: 85-88-4 ATS (12-22 Underdog ML), 10-12-1 O/U, 0-1 parlay, 0-1 props
CBB record: 89-116-2 ATS (6-21 Underdog ML)