Mike Bets #305
8 min read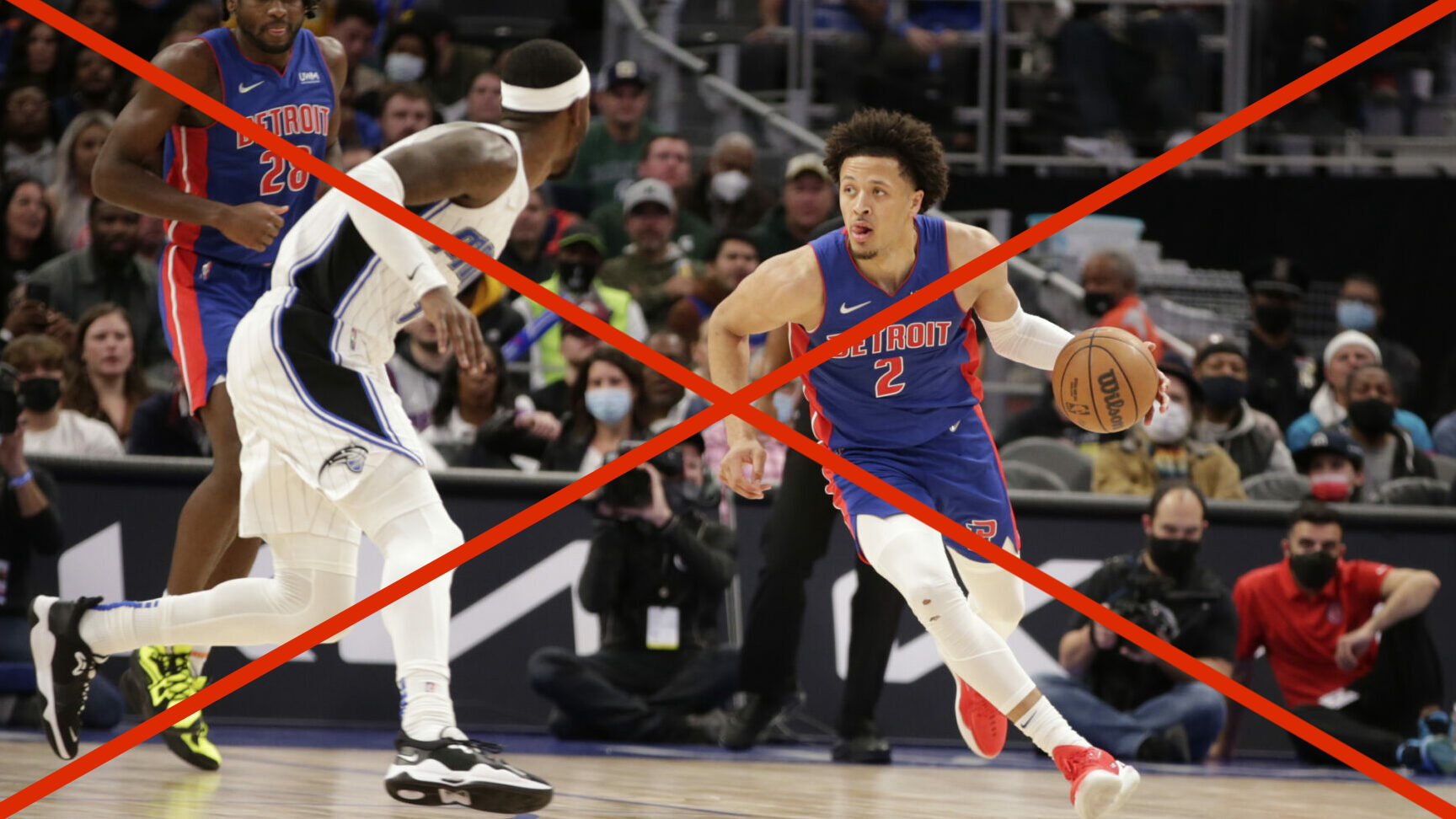 Happy Thursday. Yesterday was another solid day with a 1-1 parlay split that included a hit on the +172 cross-league lay and a 4-1 NBA record to make up for a rough 2-5 CBB day. Today is one of the best days in sports each year. The next four days are as good as any. Let's enjoy and find some winners.
TODAY'S PLAYS
NBA record: 171-162-8 ATS (19-37 Underdog ML), 13-16-1 O/U, 4-6 parlay, 0-2 props
An official statement from the desk of Michael Regan –
I will not be betting on Pistons-Magic today. Thank you.
With that, it's time for the main event. The first sixteen games of the Big Dance's first round will be played today. Here is my official (and singular) bracket –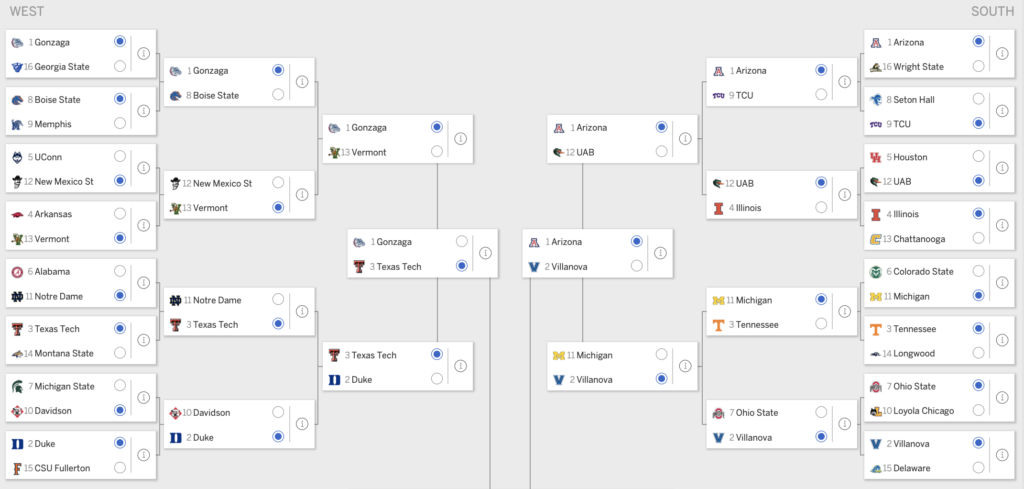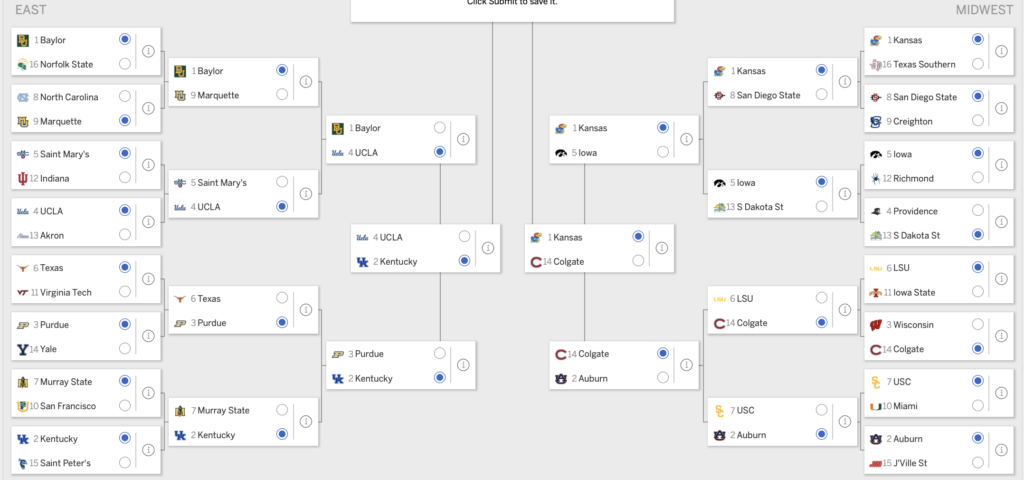 I'll have my spread picks for today below with some thoughts on each game included. Let's have a day.
CBB record: 357-375-7 ATS (57-71 Underdog ML), 12-40 parlay
Conference Tournament record: 43-43-2 ATS (7-17 Underdog ML)
NCAA Tournament record: 2-2 ATS (0-1 Underdog ML)
New Mexico State +6.5 & +240
We know 12/5 upsets will happen, and I like this one. I've been pretty high on New Mexico State this year, and I'm a big fan of the WAC. Grand Canyon, also of the WAC, put up a respectable showing last year against Iowa in a 74-86 loss that ultimately came down to their 7-26 showing from beyond the arc against Iowa's 10-22 day. NM State beat Davidson and Washington State in non-conference, and UConn is good but ultimately not all that threatening. They just never put together the run of consistency you'd like to see from a legitimate threat.
I'm all over Vermont. This team is a wagon. They've won seven of their last eight games by 17+ points and have 23 double digit wins on the year. This is a legitimately great mid-major, and it's a shame that they were matched up with another very good team in Arkansas. The Hogs were great down the stretch, but they finished just 8-6 away from home. I like the Catamounts to make some March magic happen.
Baylor is obviously winning this game, but the question is by how much. 20.5 seems like a small line. Norfolk State lost by 40 when they played Xavier earlier in the year, and Baylor won by at least 27 in all of their games against teams of a similar conference level to Norfolk in non-conference play earlier this season.
Here, I just have no reason to trust UNC. They're 1-4 on neutral courts and don't have much in the way of impressive wins outside of the obvious one at Cameroon Indoor about two weeks ago. Marquette has been up, down, and all over the place this year, likely boasting even more inconsistency than the Heels, but they've beaten more good teams. I think that translates to something meaningful in this one. 8/9 games are rarely obvious calls. I'll ride with Marquette, especially at plus odds.
Go Blue. Roddy will give Michigan problems, and the loss of Devante Jones is a bummer for both the team and the player. Jones came to Michigan to play in the tourney, and it'd be a brutal stroke of luck if he's unable to participate before they get knocked out after his mid-season emergence became one of the key pushes behind their ability to get to this point. Michigan has been wildly inconsistent all year, but Hunter Dickinson and Co. are too much in this one for a Rams team that went 1-4 against fellow tourney teams.
Tennessee is winning this game. I just don't see Longwood having enough to hang with a very solid two-way squad. That's not the hard part. The hard part is the spread. I could see Longwood hitting enough threes to keep it close, but I could also see Tennessee's defense clamping them while the Vols do enough offensively to get this one looking ugly. At the end of the day, I think you have to lean with the excitement of March propelling a good and talented Longwood offense to score the points they'll need to cover. Tennessee is improved offensively, but they likely won't drop 100 on you and run you out of the gym that way.
The Dons of San Francisco are very good. They kept it respectable three times with Gonzaga, pushed St Mary's twice and Loyola once, and narrowly beat UAB and Davidson. This team is no pushover. However, they lack top-of-the-ladder wins. Outside of UAB and Davidson, they've beaten a BYU team that fell off a cliff (twice – the beating not the cliff) and teams like Santa Clara and Arizona State. Some of those wins are solid wins; none of them are absolutely spectacular. Beating a 30-2 Murray State team will be a tough ask. The Racers swept both Belmont and Morehead State and have wins over Memphis and Chattanooga. Their only loss since Thanskgiving came against Auburn. The resume doesn't matter anymore, but they pick up another quality win today.
Give me Kentucky. I like this team a lot. St Peter's lost to St Johns by 21 and Providence by 14, which is a blowout for Providence. Kentucky gets March started off with a bang.
This is a sneaky line. Texas Southern has played four 1 or 2 seeds in the first round since 2015, and only one of those losses (a 39-point blowout at the hands of 2017 UNC) came by more than 21 points. Now, all four came by at least 16 points, so don't get too excited about Texas Southern here. But they can definitely cover this line. And darn it, I think they will. They kept BYU and Oregon to 17 points, St Mary's to 9 points, NC State to 8 points, and Washington to 7 points in non-conference play. They even beat Florida. It might involve quite the late escape act, but I like Texas Southern to cover. They have the advantage of having already played a tourney game too.
I don't love either team here, and we've already mentioned the whole 8/9 thing. But with Ryan Nembhard out for Creighton, I think you have to ride with the Aztecs. Since January 26, they're 12-3 with three one-point losses to CSU (one) and Boise State (two). Creighton murdered Providence in the Big East semis, but they've lacked consistency all year long. San Diego State has the momentum they need in this one.
Richmond has 2021 Georgetown vibes after a fairly underwhelming regular season turned into a run through their conference tournament, and they get the added disadvantage of playing one of the hottest teams of the country in Iowa. These were Richmond's last five games before the A10 tournament –
20 point loss @ VCU
13 point win @ George Washington
2 point win v St Louis
2 point loss v Dayton
7 point loss @ St Bonaventure
Credit to them for surviving Rhode Island and then running through the conference's three best teams to get here, but I don't think it will be a particularly long stay. Iowa simply scores too much in this one.
The fact that 13 seed South Dakota State is just a 2-point dog tells you all you need to know here. The Jackrabbits are electric with one of the best shooting and scoring offenses in the country. They've won twenty-one straight and finished 30-4. Providence is a good team, not a bad one, and they deserve a lot of praise for winning as many games as they did. They killed it in the clutch this year. But the 25-5 record simply isn't reflected in their +4.8 average margin. St Johns, for reference, came in at 17-15 and +5.4, and they're still just a point behind Providence if you take out their outlier of a 58-point win over Mississippi Valley State. South Dakota State is getting buzz here for a reason. They might even be the better team straight up.
This is a small line for the Zags. They've beaten the likes of UCLA and BYU by 20+; they can do it to Georgia State.
This is an awesome 8/9 matchup for just about everyone but the two teams involved, who might have deserved a better draw. Both teams are quite good. Boise State has been on their stuff since the beginning of Mountain West play after an up-and-down non conference slate. Memphis took some more time to get going, but they've been on a run since the end of January. Don't count out the winner against the Zags this weekend. I think that winner will be the Broncos. I'm not convinced that the AAC is anything better than horrific this year, which limits Memphis's shine to some extent, and I like Boise a lot. The Mountain West is tough. It's impressive to win both of its titles.
St Mary's has more than a win over Gonzaga with a sweep of San Francisco and wins over Yale, Texas Southern, and Notre Dame bringing their record against tourney teams to 6-5. Had Bellarmine received the bid they won in the Atlantic Sun tournament, that record would be 7-5. They're also 5-2 against NIT teams for whatever that's worth. Bellarmine and Texas Southern aren't Indiana, but the Hoosiers don't have a better record to stand on, coming in at 6-10 against tourney teams. Indiana has a very good defense and is playing good basketball at the right time. St Mary's is just better.
I think the Bruins have some things to prove after high pre-season expectations turned a 25-7 season and a 4 seed into non-news. They've had some slip-ups like the losses to Oregon and the thrashing at the hands of Gonzaga, but this is still a dang good basketball team. They can make some noise. That starts with a comfortable win over an Akron team that hasn't played another tourney team since the 9th of November. With Toledo (NIT) and Kent State (CIT) losing the last two nights, the forecast for the MAC's representative in the Big Dance isn't looking too good.
PARLAY: Vermont and New Mexico State MLs (+845)
PARLAY: Michigan -1.5, San Diego State -2, Murray State -2, St Mary's -2.5 (+1000)
PARLAY (ALL MLs): Iowa, Baylor, Kansas, Gonzaga, Tennessee, UCLA, Kentucky (-225) Is someone getting upset because of this? Probably.
NIT record: 7-5 ATS (2-2 Underdog ML)
NBA/CBB PARLAYS: 7-18
Let's have a Thursday.