Mike Bets #326 – Playoff Predictions
7 min read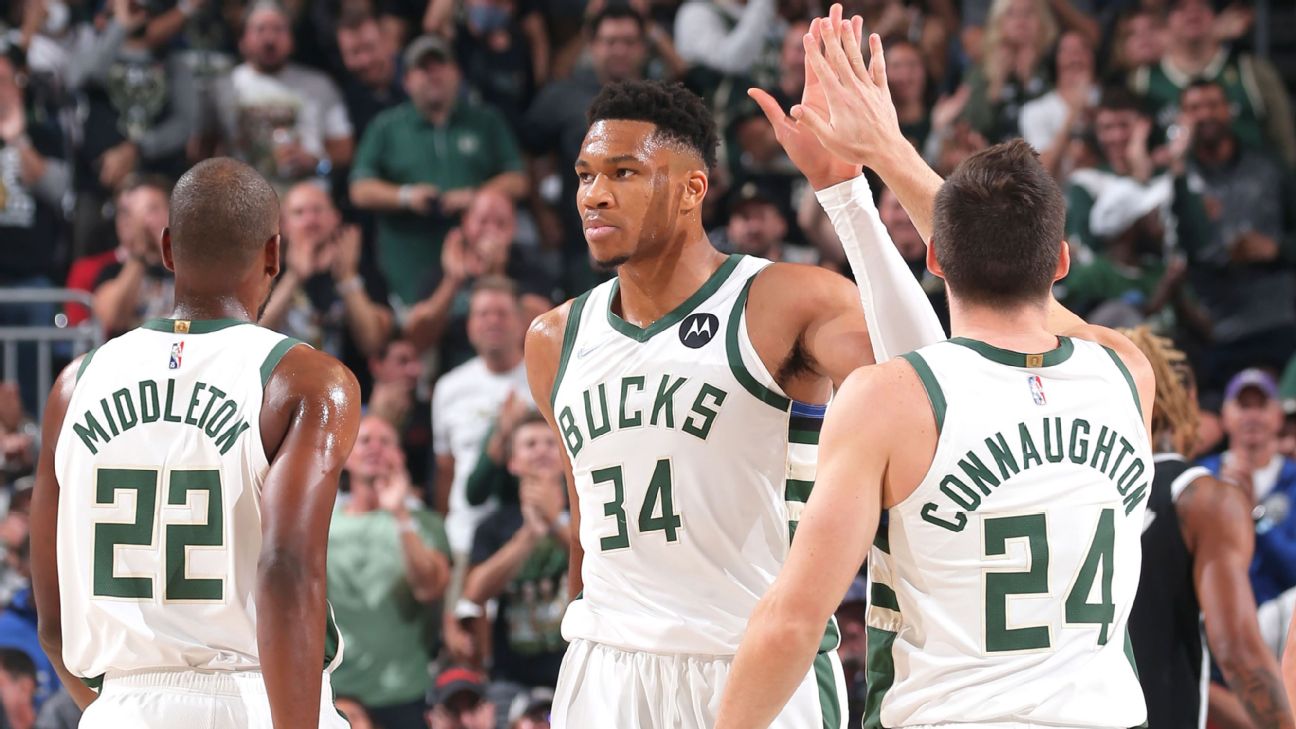 Happy Saturday. Yesterday was a solid 2-0 day to end the play-in on a high note. We're ready for the playoffs. It's time to end the year with a bang. Before we take a look at the four games going on today, I'm going to run through my full playoff predictions. Let's get to it.
FIRST ROUND
1 Suns v. 8 Pelicans – Suns in 5
Like I said yesterday, I really like the Pelicans. They're now 31-26 when Ingram plays and 11-6 when he plays with McCollum. The depth beyond those two being so reliant on young players is a good explanation for the 7-20 record in games when Ingram was unavailable, and it doesn't change the fact that we're looking at a team that could have pushed 45 wins with a little more health. This isn't quite as easy of a matchup as it might seem based on the seeds. But the Suns are still really, really good, and they won't fold to this challenge. I like New Orleans to win a game or two and look competitive, but the Suns are simply the better team.
4 Mavs v. 5 Jazz – Jazz in 6
This is an interesting series, and there's pressure on both teams, even if it's greater for Utah. I'm going to give the edge to the Jazz with Luka's health being such a question mark. The secondary creation is more present for Dallas this year with Spencer Dinwiddie and Jalen Brunson, but it's a big ask to get primary creation from those two and secondary creation from elsewhere during the first few games in Utah. And at that point, the Jazz might have an edge they won't give up. It's not hard to find problems when you look at the Jazz and the playoffs, but I think this is a good matchup for them. They may not be able to guard Luka when he plays, but the rest of Dallas's offense should be easier to guard than a team like Phoenix or Golden State. Gobert can do more here. And the Jazz's now-two-year-old offense will finally be fully healthy in the playoffs. I think they win this series.
3 Warriors v. 6 Nuggets – Warriors in 5
The Nuggets simply don't have enough in the tank with Jamal Murray and Michael Porter Jr. remaining out. Nikola Jokic, Aaron Gordon, and a band of role players can make it work during the regular season, but you just need more talent in the playoffs. You need the guys than can win you games down the stretch, and Golden State has more of those in this series. With Steph likely to return for Game 1, I don't see the Warriors having much trouble here.
2 Grizzlies v. 7 Timberwolves – Grizzlies in 6
The Timberwolves are a good team with an improved defense and three guys capable of carrying an offense on any given night. That's not an ideal matchup for anyone. They're going to be really dangerous if they can reverse some of the defensive slippage we saw down the stretch, and they play even faster than the Grizzlies. But Memphis is dang good. They have a top six offense and defense. They lived up to the moment in last year's series with the Jazz, and they've been living up to it almost all season. They've been even better without Ja, which is absurd. This is a deep, talented team, and they're not going down early.
1 Heat v. 8 Hawks – Heat in 6
The Heat are an underwhelming 1 seed as far as true contention status goes, but they're still much improved over last year. This is a good, experienced, deep team. Their defense should translate to the playoffs. They have size. They played through a lot of injuries during the regular season. Butler, Lowry, and Herro can all create offense. Miami will be a tough out, and they won't fall to the Hawks. The Heat have the tools to limit Trae, and Atlanta won't have enough to grab more than a game or two.
4 Sixers v. 5 Raptors – Sixers in 7
This is a great series. The Raptors are red hot, and they have a lot of toughness and experience. Pascal Siakam and Fred VanVleet are going to get things done, and the addition of Scottie Barnes has been massive. The Sixers haven't given us a whole lot of reason to believe in them. But I do believe in Joel Embiid, and he's going to do just enough to pull this one out. Kawhi isn't in a Raptors uniform anymore.
3 Bucks v. 6 Bulls
It's been an exciting year in Chicago. They won a lot of games. DeMar DeRozan is going to make an All-NBA team. Injury issues can take some of the blame for the shortcomings. But this simply isn't a very good basketball team. They're 11th in the East in net rating (behind the Knicks), and they haven't beaten a top four team in the conference since November 1, when they beat the early-season Celtics. Winning a game in this series would be an accomplishment.
2 Celtics v. 7 Nets
This should be a good series. Brooklyn has the star power at the top, and they've been playing quite well down the stretch. They have some shooters and defensive players to work with around their top duo. This is not going to be easy for Boston, especially with Rob Williams's status up in the air at best. But the Celtics should still win. They've been fine enough without Williams the last few weeks. They have the tools to score, and they have the defense to make this into a Kyrie and KD vs. the Celtics match-up. I don't think the math works out for Brooklyn four times out of seven there.
SECOND ROUND
1 Suns v. 5 Jazz – Suns in 5
The Suns are just really good. Devin Booker is Donovan Mitchell but better. Phoenix has a DPOY candidate on the wing to lock down some of Utah's offensive options. Gobert isn't really well-situated to prevent their bread-and-butter on the other end either. The Jazz just haven't shown anything this year to make me believe they can compete with the league's very best.
2 Grizzlies v. 3 Warriors
The Warriors are talented, and the emergence of Jordan Poole gives them some legit offensive weapons to play with. But they also just haven't been very good since the fall. Some of that can be attributed to the absences of Steph and Draymond, but you don't get to just pick up where you left off after five-six months as soon as you're full again. I think Golden State is very beatable, and a determined Memphis team that's not getting the respect they deserves hands it to them here.
1 Heat v. 4 Sixers
This is a great series. I ultimately trust Miami's depth enough here. They have more weapons top-to-bottom, and they can really irritate both Harden and Embiid. Bam can do a lot of work in this series. I haven't trusted the Sixers all year, and their play since the addition of Harden has done nothing to change that.
2 Celtics v. 3 Bucks
The Bucks are the best team in the East. They have the best player on the floor here by a significant margin. They can handle Boston's stars a lot better than Boston can handle theirs. Giannis will run free, and Boston Khris will have some daggers. This won't be a blowout of a series, but Milwaukee wins it comfortably.
ECF/WCF
1 Suns v. 2 Grizzlies
These two have essentially been equals since November. The Grizzlies are just so good. But Phoenix ultimately has the experience edge, and that lifts them back to the Finals.
1 Heat v. 3 Bucks
The Heat have gotten better since last year's embarrassing first round sweep, but so have the Bucks. This is going to be a tough series. Miami can frustrate Giannis. But Milwaukee has optimized around him, and they have enough in the tank to earn another trip to the Finals.
Finals
1 Suns v. 3 Bucks
Go Bucks. This would be an awesome series. Last year's was a lot of fun. These are the two best teams in the league at their peak. Getting them into the last round would be great. I can't pick against the Bucks though. Back-to-back.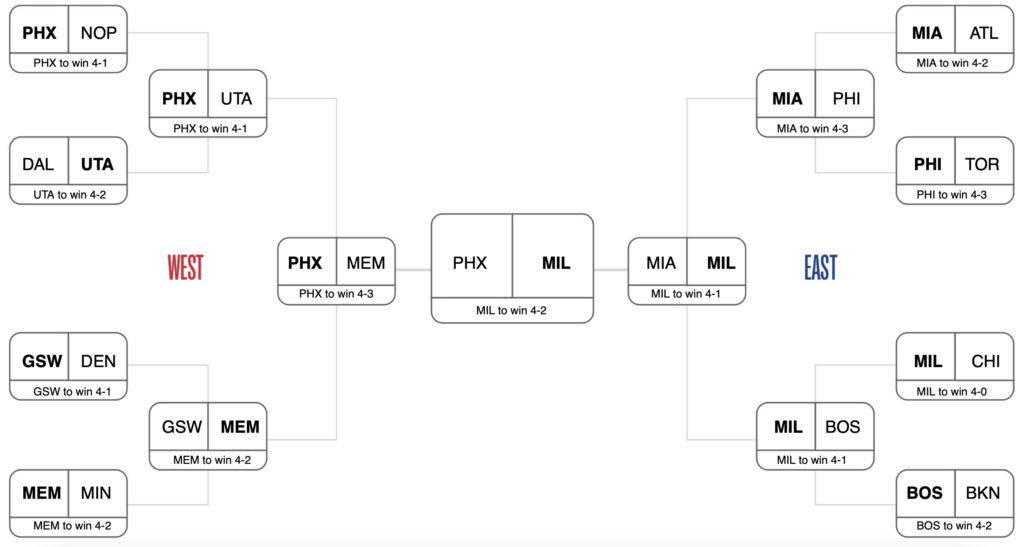 TODAY'S PLAYS
NBA record: 211-199-8 ATS (22-38 Underdog ML), 13-16-1 O/U, 5-8 parlay, 0-2 props
Regardless of how this series goes, I think the Jazz come out angry today. And Dallas, minus Luka, won't have enough to keep up.
I think this one might be a tough game for Memphis. They've had some time off, and this is their first time dealing with real expectations on this stage. Minnesota will come ready to fight, and they're going to be capable of throwing and connecting on some big punches in this series.
At home, there's just too much Joel in this one. The line is small enough. I think the Sixers open with a statement win.
The Nuggets will be overmatched down the stretch. The Warriors likely feel a little disrespect right now after they've slipped, and they have the experience and talent to answer the call in the series opener.