Mike Bets #336
3 min read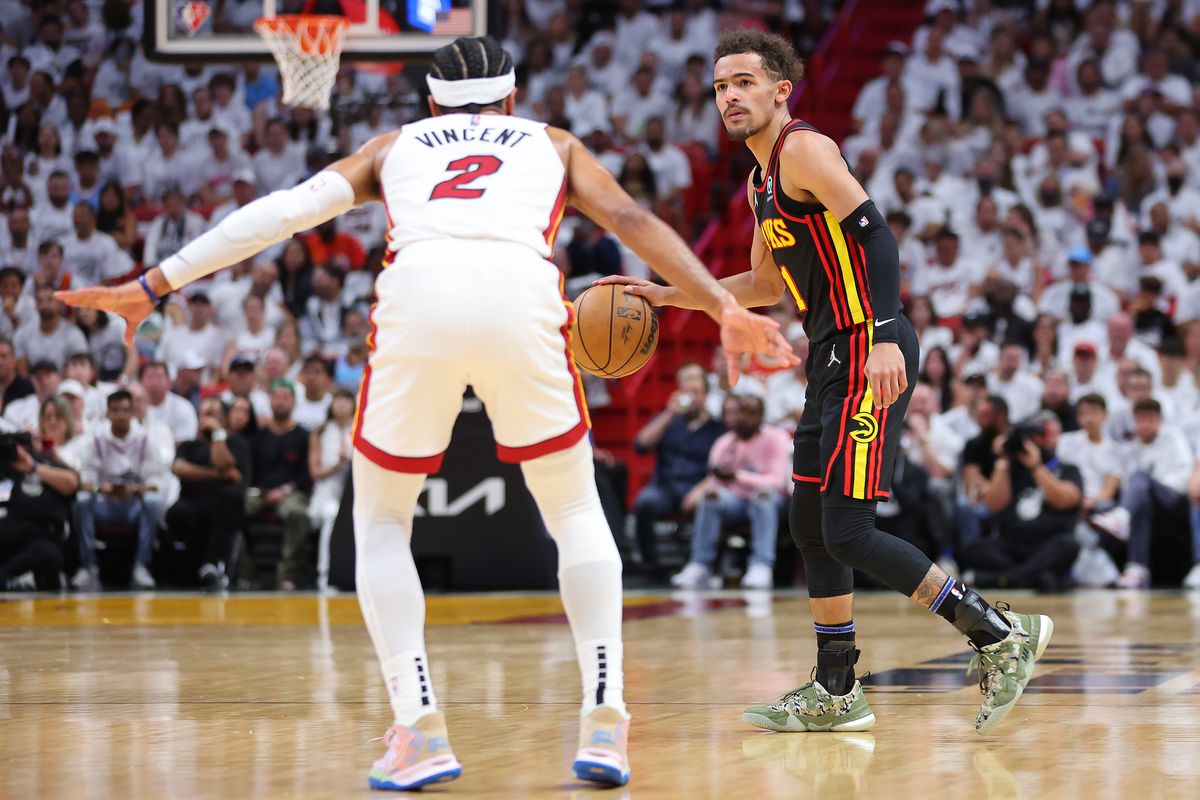 Happy Tuesday. We're rolling. The Celtics knocked off the Nets to finish off a sweep last night, and both the Raptors (moving to 2-3) and Mavs (moving to 3-2) covered easily in key wins. That put us at 3-0 on the day, an the overall playoff record is now 26-9. It doesn't get much better than that. Let's find some more winners tonight to keep it going.
TODAY'S PLAYS
NBA record: 237-208-8 ATS (26-38 Underdog ML), 13-16-1 O/U, 5-8 parlay, 0-2 props
Props to the Heat. I've said it a few times – they've been really impressive so far in the playoffs. They're playing great defense, Jimmy Butler has been putting in work offensively, and they've done a ridiculously good job on Trae Young. Young is shooting 20-57 from the floor and 7-33 from three, which are impressively low averages for a man that made 46% of his shots and 38% of his threes this year. Trae made 3.1 threes per game during the regular season; he hasn't made more than three of them in a game yet this series. At some point, that has to change. I just can't see him going out like this. With Kyle Lowry and Butler both out for Miami and a Trae everything-goes-in games seemingly inevitable, I like the Hawks to keep this thing alive for another few days.
Trying to call this series is a tricky business. Both teams have played really well and really poorly at various points. D'Angelo Russell (11 points or less in three of four games) is seemingly due for a few more good games, but Ja Morant has also really struggled more often than not. Desmond Bane has been picking up slack recently. He had a great regular season, but can he keep it up at the level he's been the last two games? Can the Timberwolves continue to get timely scoring performances from Jaden McDaniels and Malik Beasley. It's been a good series, and it's nowhere near over. But I still think Memphis is the better team, and they've been more dominant than Minnesota when they've been right in this series. In a crucial Game 5 at home, I like them to be right and take care of business.
I've talked a lot about how much I like the Pelicans, to the point that I feel like I open every one of these with some form of this sentence. New Orleans is really impressive. They have two dang good scorers, and they play really well and hard defensively. Devin Booker has his flaws, but he's the kind of player that can score – through his own efforts – with anyone night in and night out to help make up for struggles elsewhere. Phoenix doesn't really have that anymore, and the Pels have two guys that can play that role. The Suns still have home court and shouldn't be counted out, but it's going to be really hard to get out of this thing alive. The Pelicans have done this without making a whole lot of threes too. I think this line is a little big.