Mike Bets #357 – Finals Preview
7 min read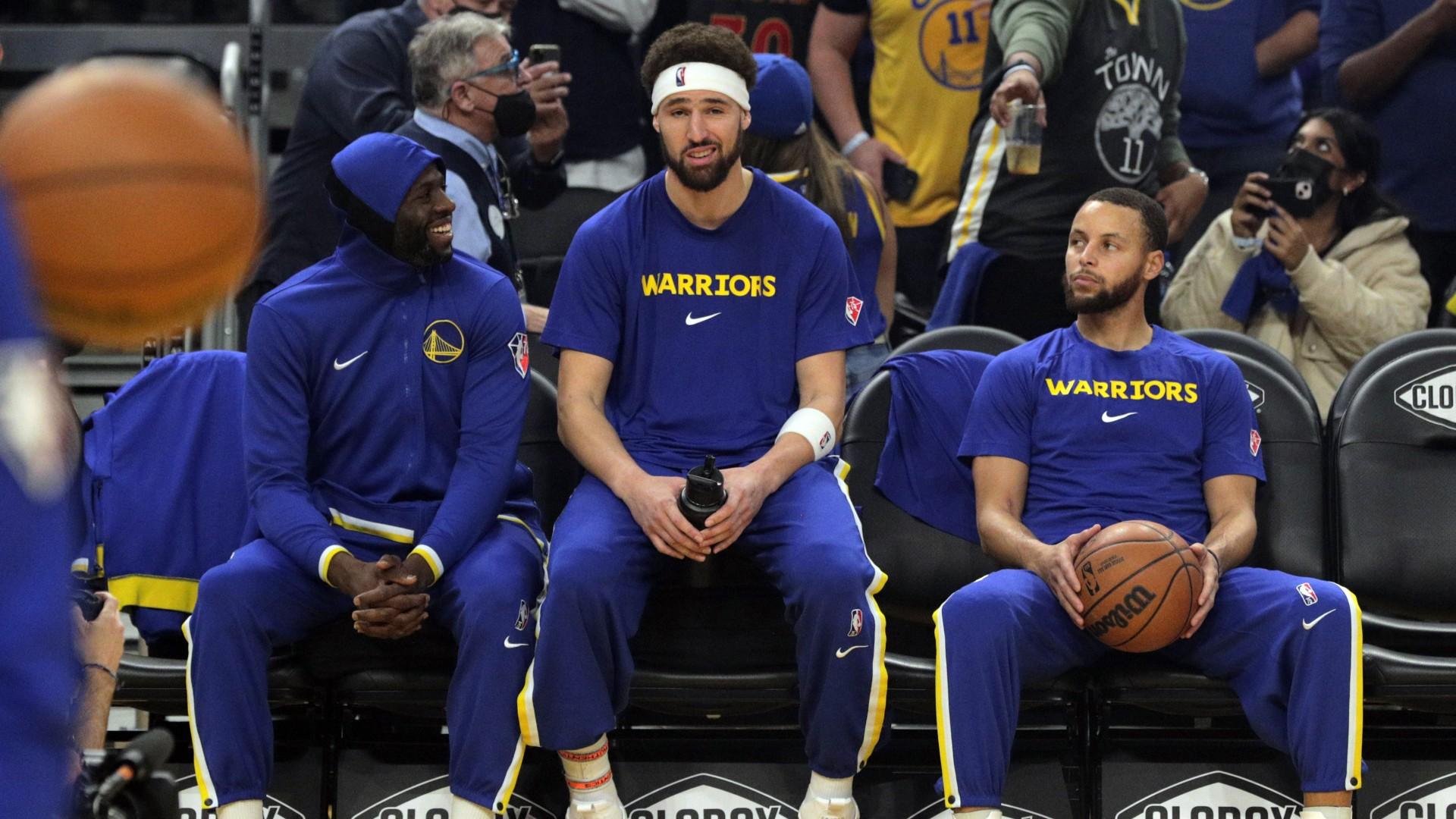 Happy Thursday. It's that time of year again. The NBA Finals kick off tonight in San Francisco. My playoff record so far is 41-29-1, which means we're looking good pretty much regardless of how the next week or two of plays go. But we're never content to rest on our laurels here at Mike Bets, mostly because we rarely have any laurels to rest on. It's time to find some more winners. Let's take a look at how the Celtics and Warriors stack up.
The Warriors haven't seen a whole lot of trouble on their way back to The Finals. They took down a clearly inferior Nuggets team in five in the first round. In the second round, they struggled a little more with a young and tough Grizzlies team, but they still pulled out the close wins they needed to win in six. Then they comfortably took out Luka and the Mavs in five in the conference finals. That's a sixteen game path to the Finals, with only eleven games coming after the first round.
That relative ease may end up being significant because we can't say the same about the Celtics. They did kick their postseason off with a sweep of the Nets, but every game in that series was decided by seven or less points. The Warriors, for comparison's sake, have just four wins of seven or less across their entire playoff run (twelve wins and sixteen games). Boston played two seven game series too, going the distance with both the Bucks and the Heat. That led to eighteen total games, with fourteen coming after the first round. Those numbers aren't very different from Golden State's, but it doesn't take much of a difference to create a significant impact when it comes to games played over the last month. And we've seen Robert Williams and Marcus Smart, among others, struggle with injuries over the course of the postseason. The Warriors are going to walk into The Finals with fresher and healthier legs.
Here's how Golden State and Boston match up in various playoff statistics –
| | | |
| --- | --- | --- |
| Stat | BOS Playoff Rank | GSW Playoff Rank |
| Off. Rating | 8th | 1st |
| Def. Rating | 2nd | 6th |
| Net Rating | 1st | 2nd |
| FG% | 7th | 3rd |
| 3P% | 8th | 4th |
| eFG% & TS% | 7th | 2nd |
| Pace | 7th | 5th |
| FT% | 4th | 13th |
| FT per game | 7th | 11th |
| Rebound Percentage | 7th | 5th |
| DREB Percentage | 10th | 7th |
| OREB Percentage | 11th | 7th |
| Turnover Percentage | 9th | 10th |
| Assist Percentage | 2nd | 1st |
Boston's defense v. Golden State's offense
The split is pretty clear. Golden State has been fantastic offensively in the playoffs, scoring at a blistering rate of 116.1 points per 100 possessions. They're making their shots, swinging the ball around with ease, and generating all sorts of good looks. And on the other end, to minimize things but still get the point across, they've been solid enough to get the job done. Boston, meanwhile, has been absolutely suffocating defensively, trailing only the Bucks in postseason defensive output. The difference between Milwaukee and Boston that ultimately decided their second round series – the Bucks' offense essentially ground to a halt outside of Giannis, especially with Khris Middleton sidelined, while Boston's was able to operate well enough to give their defense the complement it needed. The Celtics haven't been a perfect machine offensively, but they move the ball well and have been able to piece together enough strong individual efforts to make things work over a seven game series. It's easy to paint this series as one of two strengths – Steph and the Warriors on offense versus the Celtics and their team defense. That battle certainly matters. But don't overlook the other end of the court. Can the Celtics piece together buckets, or can Draymond lead the Warriors defense to the kind of stop volume that might make a hill too large for Boston's defense to climb?
One other note to make here – Boston has been much better at both getting to the line and converting free throws so far these playoffs. That's not the kind of thing that will decide seven games, but it could be a key factor in one or two if there's either a massive free throw disparity or a difference in ability to get to the line late. It's something to keep an eye on.
Some other keys and notes –
Boston tends to be inconsistent offensively. Smart has played fifteen playoff games, and he's scored 20+ five times and 12 or less five times. Tatum has played eighteen playoff games, and he's made half or more of his shots eight times and 35% or less a rather high five times. Horford has scored 20+ five times, and he's scored less than 10 seven times. Grant Williams has scored 19+ in three games; he's scored less than 10 in eleven of his fifteen other games. Brown has been more consistent, shooting below 41% just twice and scoring 18+ in all but two games, but the theme still stands. Boston, especially the last two series, has been getting massive games from individual players to carry the day and get them to four wins out of seven. Can they continue to get those individual performances they need against the Warriors?
The Celtics defense did a very good job on Kevin Durant (3 points and 9% below his career playoff scoring and FG% averages in this year's first round). They didn't stop Giannis from putting up massive numbers, but they did hold him to an uncharacteristically low 46% hit rate from the floor, a number partially due to his absurd volume in the absence of Khris Middleton but also certainly attributable to the work of Al Horford and Grant Williams. They also almost entirely shut down the non-Giannis Bucks, with some help coming from some absurdly poor shooting luck for Milwaukee. A similar theme broke out against the Heat. Each game tended to have a big individual scoring effort from either Bam Adebayo or (mostly) Jimmy Butler, but the rest of the Heat were largely shut down. Miami scraped their way to five double digit scorers in Game 1 with Bam and Max Strus scoring 10 and 11, respectively, and they never topped four the rest of the way. The team defense from Boston was sensational. Can that continue against the Warriors? Given the absence of Middleton, this will fairly easily be the most talented and versatile offense that the Celtics have faced in the playoffs. How does the defense hold up?
What do we get from Klay Thompson and Jordan Poole? Both guys have had some very good games and a number of disappointing ones. Thompson had 32 against the Nuggets in Game 4, 30 to close out Memphis, and 32 to close out Dallas, but he also averaged 15.8 points on just 29.2% shooting from deep in the other nine games against the Grizzlies and Mavs. Poole has five games of 27+ points in the playoffs, and those are the only five games (out of sixteen chances) where he's made more than two threes. He's had his share of quiet (or loud) off nights too. Things have obviously balanced out in Golden State's favor, but they might need a little more consistency from these two against Boston's tough defense.
Matchups are important here. The place to attack the Warriors is the backcourt. Jordan Poole is beatable. This version of Klay is very much beatable too. Steph isn't a turnstile, but he is an easier target than Green, Wiggins, or Looney. Getting Tatum into those matchups will be big for Boston, and they'll also need Brown to consistently win in favorable situations. He's delivered all postseason long and can't stop now. For Golden State, the challenges their spacing provides should be interesting. Horford and the Williamses are by no means targets to go after, but how will they fare in space against much smaller players than a Giannis or a Bam or a Jimmy in Steph and Poole? These are different kinds of threats. Can Wiggins be a big enough threat as an individual scorer to stretch Boston out further? Can Klay hit shots consistently to diminish the ability to help? Golden State has more tools than most when it comes to attacking Boston in the half court. Will they be the team that finally makes progress on that battle?
TODAY'S PLAYS
NBA record: 252-227-9 ATS (30-43 Underdog ML), 13-16-1 O/U, 5-8 parlay, 0-2 props
I like Golden State tonight. They've been here before. They're fresher, even after all the rest since the weekend. They have the big-time players to deliver a knockout Game 1 punch in front of a big home crowd. The Warriors get the job done.
Warriors to win series -150 (Five unit play)
Boston has had a harder path here, which isn't necessarily a sign of inferiority. Sometimes the path is just harder. And, frankly, none of it really matters when you're facing down just one team with seven games to decide it all coming down the pipe. But they needed seven to get past the Bucks without Middleton. And then another seven to get past a depleted Heat team. The Warriors haven't looked entirely convincing, especially in the first opportunity to close teams out. But those losses haven't stung because they've given themselves so much margin for error early on in these series. Golden State has the experience edge. They have the best player in Steph. The best defender in Draymond. They end Boston's run and get back to the top of the league.