Mike Bets #365
4 min read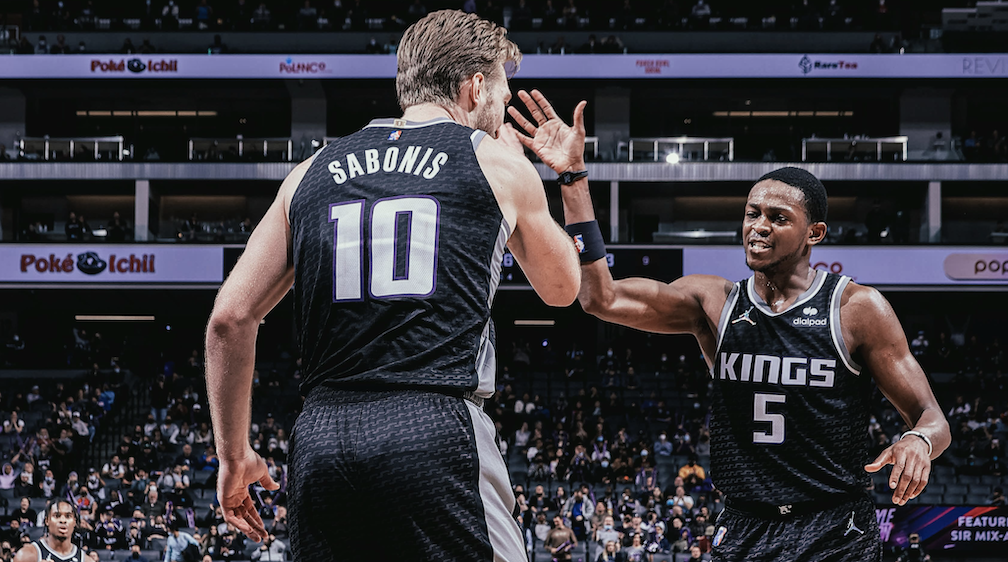 Happy Sunday. Yesterday was a 2-3 day, which happens. We can't win every day. The Cavs and Bucks took care of business, but the Pistons and Raptors fell short. The Grizzlies fell short by a lot. We'll bounce back today. We're a little off the mark so far on the season, but not by much. Throw in the 8-6 ATS record, and we're doing alright. Let's find some Sunday night winners.
First, some thoughts on last night's action –
Keldon Johnson continues to be consistently solid for the Spurs. That's three straight 20-point nights to kick off the season, and it's twelve straight dating back to the end of last season. It's a particularly impressive streak given that Johnson had never scored 20+ in even three straight games before last March.
The Sixers, meanwhile, are 0-3. That's not ideal, even if the Celtics and the Bucks made up two-thirds of that stretch. James Harden and Joel Embiid have now combined for three 30-point games on the season, but they've yet to do it together. In the opener, Harden dropped 35, and Embiid missed five of six threes despite scoring 26. Embiid then scored just 15 points while missing fifteen of twenty-one shots against the Bucks while Harden scored 31. Then Harden scored 12 points and missed fourteen of eighteen shots yesterday while Embiid had his 40-point night. They'll need both of those guys to be on as scorers at the same time a little more often.
The Celtics are still quite good, and they haven't missed a beat on the court despite the Udoka suspension and Robert Williams's absence. Jayson Tatum is averaging 33.3 points per game, and he's shooting a ridiculous 29-39 from inside the arc. Boston is 3-0.
If the Pistons are planning on making a push for the play-in, they're going to need to win games like last night's at a pretty solid clip. They fell short yesterday, falling to the Pacers despite leading by 10 after one and 4 at half. Haliburton and Mathurin continue to impress for Indiana.
Giannis scored 44 points in 28 minutes, so that's pretty cool. That's almost 1.6 points per minute. Milwaukee raced out to a big lead and never looked back against Houston, and they're now 2-0 without both Khris Middleton and Pat Connaughton.
The Heat did well to hold off the Raptors late. They've had a dispiriting start to the season, so it's good to see them pick up a win over a tough Toronto team. Max Strus stepped up, playing 37 minutes and scoring 20 points off the bench.
The Cavs ran all over the Bulls in a 32-point win despite the absence of Darius Garland. The fit with Donovan Mitchell looks really, really good early on. Cleveland has the defense behind him (and he's at least passable on that end), and he is the go-to scorer that they sorely needed last year. Chicago, meanwhile, looks rather pedestrian, which isn't much of a shock.
The Mavs crushed the Grizzlies, winning by 41. I wouldn't read into the result as much of an indicator on the status of either team in relation to each other, but it's a really nice bounce back for the Mavs after their disappointing loss to the Suns in their opener. Big character performance.
Nikola Jokic continues to be really good at basketball. The Nuggets took care of business against the Thunder, and they're now 2-0 since that rough opening loss to Utah.
Paul George joined the 40-point fun to help the Clippers outlast the Kings and get to 2-0. The 0-2 start won't feel particularly great in Sacramento, but there are positives to take from both losses. They've been competitive, and Keegan Murray went for 19 in his debut last night.
TODAY'S PLAYS
NBA record: 8-6 ATS, 0-2 ML, 1-2 O/U, 0-0 parlay, 0-1 props, -3.27 units
I'm not a big fan of the board tonight, but let's see what we can cook up.
The Kings did play last night, and it's not easy to go play the Warriors on the road. But this is a lot of points, and Sacramento will come out hungry after their two opening losses. If they're a decent team, they make this a game more often than not, and I think that's what they are.
The Timberwolves haven't exactly been convincing so far this year, and the Thunder have just a -12 point differential across two games. They also played last night, but, at home, I like them to cover here. Minnesota only beat them by 7 in Minnesota earlier in the week.
The Jazz have scored 123 and 120 points (in regulation) in their two games. The Pelicans have scored 130 and 124 so far. Give me the over.
I'm not going to play Suns-Clippers, but that's a game to keep an eye on. It's a big chance for the Suns to play a good game and send an early message that their off-season issues don't need to carry over into the new season.