Mike Bets #399
5 min read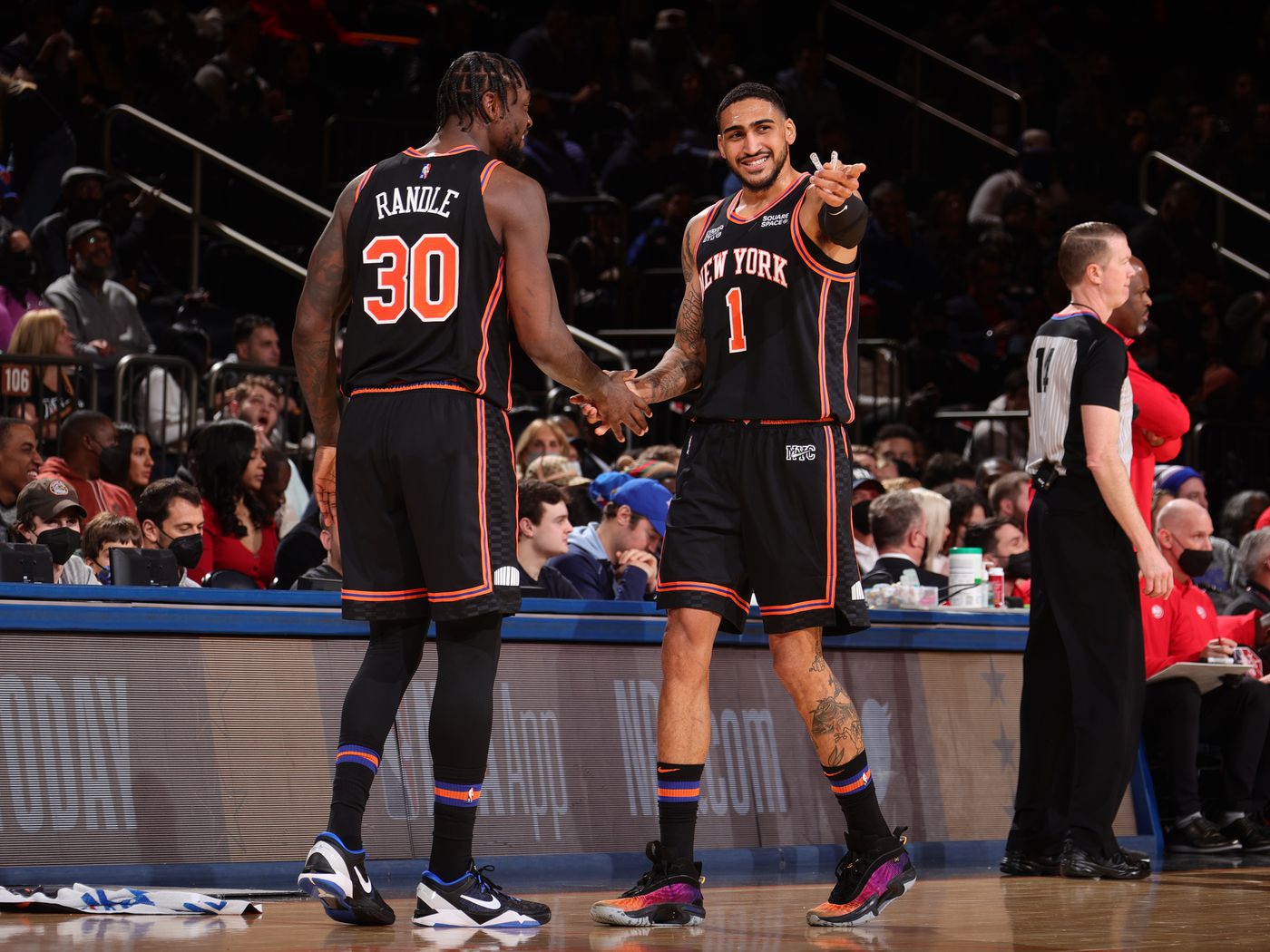 Happy Wednesday. Yesterday was a solid day; we went 2-1 on NBA plays and 3-1 on CBB plays. We'll take that every day of the week. Let's keep it rolling tonight. But first, a few takeaways from last night.
NBA
The Knicks have won eight in a row, and they're now in the top eleven in both offensive and defensive rating on the year. Randle, Brunson, and Mitch Rob have been great. New York is a top ten team, and only the Bucks, Celtics, Cavs, and Sixers have been better by net rating in the East. There's still a gap between the Knicks and the true title contenders, and there are enough really good teams in the East that a first round series win will be tough to come by. But New York is headed towards having a good opportunity to challenge for one.
The Warriors are a league-worst 3-15 on the road. Making the playoffs might be a tough ask.
The Bulls beat the Heat in the battle of two disappointing teams that probably should be making some moves geared towards the future. The Bulls are certainly both more disappointing and less promising moving forward, but, hey, at least they have 12 wins now.
Devin Booker and Kristaps Porziningis were out, and the Wizards picked up a nice win over the Suns. Washington will need Brad Beal to stay healthy if they're going to compete for a play-in spot.
Nikola Jokic put up a 13, 13, and 13 triple-double, and Denver pulled into a tie with Memphis for the West's top seed. They're still just tenth in the league in net rating – behind Sacramento, Memphis, New Orleans, and Phoenix – but Denver figures to play a role in the chase for the top seed.
NCAAM
Providence kept fighting, and they pulled out an overtime win over Marquette. That's a huge win; it's their best of the season so far.
UConn still hasn't been played within single digits this year. They needed some time to get away from Georgetown, but they ended up winning 84-73.
Miami (props to me for playing them) picked up a great win over Virginia. The Hoos have won a lot of games while never looking beyond vulnerability, and that caught up with them in recent losses to Houston and now Miami. Their last five games have been decided by 5 or less points. Miami, meanwhile, is 12-1 and 3-0 in the ACC.
Wake Forest took advantage of a big opportunity, beating Duke at home. That's the kind of win that can be the difference between a happy and sad Selection Sunday. Wake still has work to do after a disappointing few weeks, but 9-4 with a win in Madison and a win over Duke is a decent place to be.
Mississippi State finally tumbled, falling to 11-1 after the loss to Drake.
Wofford knocked off Texas A&M. The Aggies have been pretty disappointing so far and will have a lot of work to do in SEC play.
Ole Miss hasn't been too disappointing, but a loss to North Florida will put the 8-4 Rebels in a position of need heading into the conference schedule too.
Louisville is 2-10 after losing to Lipscomb, and 5 wins seems like too lofty a goal at this point. Trips to North Carolina State and Kentucky await.
Pitt picked up a nice win over Syracuse. The Orange haven't been particularly impressive, but it's never super easy to win in the Carrier Dome. Pitt has looked awful at times and pretty good at others. Their conference slate should be interesting at the very least.
Northwestern is 9-2 and rolling.
Florida is 7-5 after losing to Oklahoma, and they're not in a great spot with a loss to Florida Atlantic and no great wins. A big trip to Auburn, and an early chance to flip the script, is a week from tonight.
Oregon is also in a rough spot. They now have losses to UC Irvine and Utah Valley. Neither loss is truly terrible, but it's hard to make the tournament when those pile up, especially in a Pac 12 that tends to be light on quality teams and heavy on potential bad losses.
TODAY'S PLAYS
NBA record: 53-53-2 ATS, 13-15 ML, 2-6 O/U, 0-4 parlay, 0-1 props, -16.40 units
The Bucks are one of the few teams in the league with a positive road record. We always bet on Milwaukee when the odds are plus.
The Celtics have lost four of five, and the Pacers have played eight games since their last double digit loss. I like Indiana to cover here.
The Knicks are rolling. We'll stay on the train until it stops.
The Blazers lost at the buzzer in OKC two nights ago. I think they get revenge in this one, and the line is small enough to take.
The Magic have started to play some decent basketball, and if there's a bottom five with the Rockets, Spurs, Pistons, Hornets, and them, they're very clearly the best of the group. They were 1-11 on the road as of last Wednesday, but they've gone 2-1 with two wins in Boston and a one-point loss in Atlanta since. I like them to keep that momentum going.
Los Angeles has been really good with Kawhi in the lineup, and the Hornets are prone to blowout losses.
The Kings have stalled a bit their last few games, and the Lakers are playing pretty well. I think this line is a little inflated.
PARLAY: Clippers, Celtics, Kings MLs (+107)
CBB record: 35-38-1 ATS, 3-8 ML, 3-2 O/U, 2-1 parlay, -7.3 units
Boston College is really bad.
Villanova is getting this line by name alone. St John's is the better team. They cover.
Go Blue.
Clemson hasn't been perfect so far, but I think they're a good level or two above Georgia Tech. I like them to get it done tonight.
TCU has started to find a groove. I like them at plus odds here.
ASU is 11-1 and unable to find respect. They find a little more tonight against a good San Fran team.
PARLAY: Michigan & St Johns MLs (+670)