Mike Bets #436
6 min read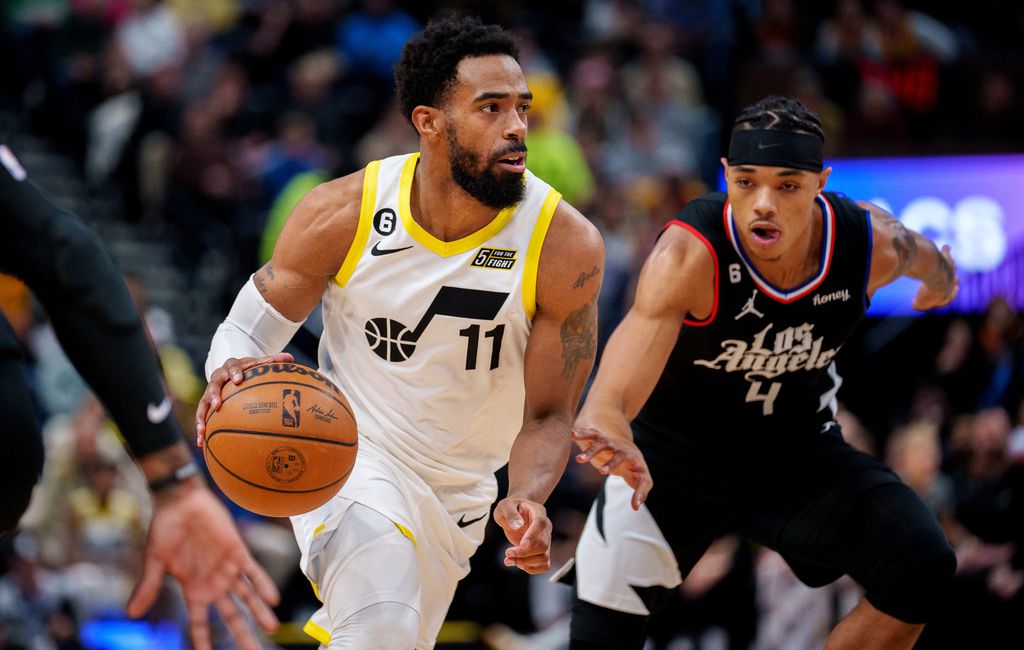 Happy Wednesday. Yesterday was a day in the red. The NBA record was 3-4. The CBB record was 6-8. These things happen. We'll bounce back tonight. It's our time. Winners only. But first, let's take a quick look at yesterday's action…
NBA
The Heat went into Cleveland and pulled out a really nice win in a 100-97 rock fight. The Cavs had a chance to create some real breathing room, but instead the Heat will pull within a game and a half of the 5 seed. They've also opened up a two game lead over the Knicks, which leaves Miami sitting pretty in that key 6 seed. The Cavs are now a game and a half back of the Nets and the 4 seed.
Jalen Brunson, LeBron, AD, and Julius Randle all put up good individual performances in a game that saw the Lakers outlast the Knicks in OT. As mentioned, the Knicks fell two back of Miami and the top six with the loss. They still have a game and a half of breathing room with the Hawks on the other side. New York continues to follow a really weird trend. They're 12-14 at home and 15-11 on the road. Not having home court in the playoffs might not matter all that much. This was a big one for the Lakers. They're within two games of the play-in and need to keep winning.
The Clips got past the Bulls in Chicago to keep their recent form going. Kawhi and Norm Powell combined for 60 in the win. LA has won seven of ten to grab sole possession of the 4 seed by a full game (that's a big lead out West). They're starting to roll at a good time. Chicago is still tied for the 10 seed despite the loss.
The Bucks took care of business against the Hornets in Milwaukee. They didn't cover by three points, but what are you gonna do? Giannis dropped 34 and 18 in the win, and the Bucks are just two games back of the Celtics at the top of the East now. LaMelo put up a 27-point triple-double in the loss, and Charlotte will pull within half a game of the Spurs in the race for the bottom three.
The Nuggets played a big third quarter and put away the Pelicans to move to 23-4 in Denver. They have a two and a half game lead at the top of the West. The Pelicans lost their ninth in a row, and they're in a two-way tie for the 9 seed now. Just one game separates them from being out of the play-in entirely. Zion was apparently cleared to start running today, which marks progress. But they need to find some footing without him before the ship sinks here.
CBB
Alabama beat Vandy 101-44 (!!!). They're 19-3 (9-0). The Tide are really good.
Kansas pulled even with Kansas State at 6-3 in the Big 12 after avenging their loss to them from a few weeks ago. I'm a big fan of both teams.
TCU is down their leading scorer, but they held on to top West Virginia last night. The Mountaineers are 2-7 in Big 12 play. Their tourney hopes are all but dead. TCU is in a really good spot to grab a good looking seed.
Clemson falls to 10-2 in ACC play after losing to Boston College. This was a tough one for them. BC isn't very good, and this isn't a loss you want to take in a title race. Virginia is just a half game back now.
Maryland and Indiana are both 15-7 (6-5) after Maryland stopped Indiana's hot streak with a comfortable home win last night. Both teams are in a good spot right now bid-wise.
Nevada stayed undefeated at home and picked up a massive win over San Diego State. This is huge for their tourney hopes. Huge. Props to them.
Miami kept things looking pretty good with a win over Virginia Tech. Tech falls to 3-8 in ACC play, and they're tourney hopes are all but gone. The margin for error is basically zero.
UConn let DePaul push them, but they held it together to pick up a road win. There might not be a more confusing team in the country, but wins like this are a step in the right direction towards proving their ability to compete at a high level come March. Taking care of business matters.
Mississippi State also took care of business, winning at South Carolina to move to 14-8 (2-7). They have plenty of work to do, but this was the first step of taking advantage of a favorable conference schedule down the stretch.
Duke held on to stay undefeated at home and rob a Wake Forest team in desperate need of a quality win of that win they needed.
Illinois played a strong second half to get past Nebraska. They've won seven of eight to get back to a really strong position after a poor Big Ten start.
Arkansas held off Texas A&M. They've stabilized a bit, improving to 5-4 in conference play. They're not safe yet, but this helps. A&M is 7-2 in SEC play but firmly on the bubble because of their poor non-con performance. They need to bounce back when Georgia comes to visit on Saturday.
VCU got past Davidson. They're 17-6 (8-2), and they're still the best shot the A10 has at an at-large bid. They need to keep winning.
St Louis's loss to Fordham will sting. They fall to 15-7 (7-2). They had very little margin for error. The Atlantic 10 isn't good enough for many losses this year.
Dayton is well on the wrong side of the bubble just like these two, but they held on to beat Loyola Chicago and at least keep some dim hope alive.
Kent State is 8-1 in MAC play after rolling past Central Michigan with a strong second half. Akron (8-2) is right there with them after blowing past Buffalo.
Iowa picked up a nice win over Northwestern. You need to win home games in conference play, and they've done a pretty job of doing that. Both of these teams are on the right side of the bubble.
Kentucky is 15-7 (6-3) after beating Ole Miss. That loss to South Carolina still looks really bad, but they continue to do well to rebound from it.
Boise State is 18-5 (8-2) and rolling after picking up a road win over Air Force.
TODAY'S PLAYS
NBA record: 124-108-3 ATS, 22-37 ML, 52-43-1 O/U, 1-7 parlay, 0-1 props, -11.54 units
The Grizzlies had their entire five-game slide happen on the road. They've lost just three games in Memphis all year. They're not losing to the Blazers here.
I think they cover too.
Neither team averages more than 230 per game. They're not getting to 240 tonight.
The total was basically the same when these two played the other day, and we took the under It hit. Let's get another under.
The Magic are really bad on the road. The Sixers get a blow out to avenge their loss from the other day.
The Nets have been fine lately, and the Celtics aren't playing all that well. I like Brooklyn to keep this one closer than this.
These two teams score.
The Spurs have been awful lately.
Give me Minnesota outright at home here. They're just as good as the Warriors.
I like the Jazz here. Feel pick of the day. They're playing pretty well, and they usually defend the home court.
CBB record: 124-110-4 ATS, 19-39 ML, 4-3 O/U, 8-11 parlay, -11.5 units
ML PARLAY: Purdue, Creighton, Tennessee, Auburn, Indiana State, Marquette, NC State, Missouri (+353) – 1.5 UNIT PLAY