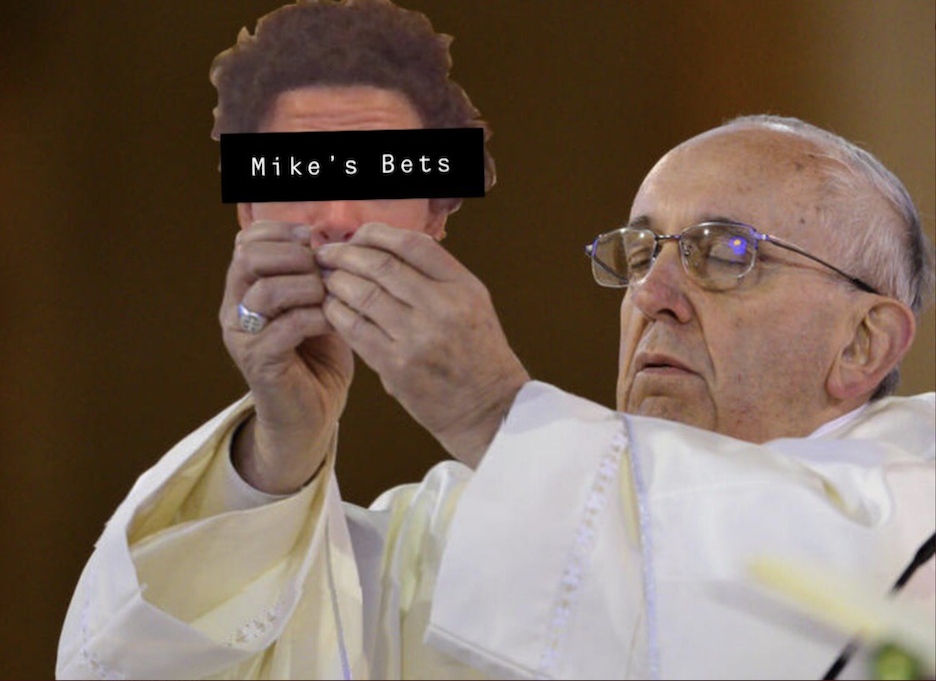 5000 trumpeters pop up out of nowhere and start playing (trumpeting?) a royal tune. The skies above clear, and a beam of light reveals 68 bald eagles flying in a circle. 4 fighter jets thunder through the blue. Then basketballs fall from the heavens. At least 12 eagles get hit. Do they survive? No one knows. The trumpets stop as everyone runs in terror. Everything is chaos. Then a fog appears, and out of it walks a man. A man with a special announcement.
Hear ye, hear ye…
Mike Bets is back.
Now, I went back and looked at the last one of these that I put up for Game 6 of the Finals, and it's only been about six weeks. It feels like it's been a lot longer. It also still feels like the months between March and September didn't really happen, so I guess that's just the way time goes right now. Normally, days go slow and weeks go fast. Since last spring, days have gone slow while weeks have melted off the face of the earth. Out of that mess comes the perfect holiday for our current situation: Thanksgiving. It's easy to dip into clichés when the fourth Thursday of November comes around, but the simple reality is that we all have our blessings, as hard as it may be to focus on them. There's still life to be lived, and that will never be anything but a good and sacred gift.
Today, we can also be especially thankful for the return of college basketball, the sport that we lost prior to its best moments last March. There are games to be played today, tomorrow, and, God willing, all the way through the first few days of April. There will be upsets, rivalries, and buzzer beaters. There will be madness in March. Of course, there will be cancellations, postponements, and empty arenas too, but college basketball will be played. If we've learned anything since the season ended before the conference tournaments could begin last spring, it's that we should appreciate what we used to take for granted.
And with that, let's get to the games. The first slate of the season is a big one, and there will be picks galore. Let's feast.
College Basketball Record: 0-0 on individual bets, 0-0 on parlays, +$0.00
I would like to point out that this is an undefeated record.
NBA Bubble Record: CLASSIFIED
Today's picks:
THE BIG EAST PARLAY: $10 to win $100
Xavier (-18) v. Oakland
Xavier 38-29 during Travis Steele era. Down 3 players due to COVID (not basketball related). Had another have his waiver denied. Lots of new guys. Max 300 fans in the building. But, Oakland 49-50 last three years, 14-19 last season. Lots of new faces as well, and they won't keep up here.
Providence (-19.5) v. Fairfield
Fairfield 21-42 last two seasons. Terrible offense. Returning players won't be enough to come close to a Providence team that closed an above average '19-'20 season strong.
Butler (-19) v. Western Michigan
WMU an iffy MAC team with a new coach and down their two best players from last year. Might not be as bad as that might suggest, but will struggle early against a good Butler team that is very good defensively. 
St John's (-10.5) v. St Peter's
St Johns pretty consistently a middling Big East team, now in their second year under Mike Anderson. After a decent season last year despite little returning talent, they should be set to push for a spot on the bubble with more players coming back this season. St Peter's finished second in the MAAC last season, but lost to Providence by 20+ and St Johns and Uconn by 10 each. I'll give St Johns the points here.
THE ACC PARLAY: $10 to win $60
Virginia (-18.5) v. Towson
Towson hasn't made tournament since 1991, but 19-13 last year. Over .500 in 6 of 8 seasons after not doing it from 1997-2012. Lost to Florida by 6, Xavier by 22 last year. UVA is #4 in the country and went 23-7 last year but really struggled offensively. Defense will be way too much for Towson here.
UNC (-17) v. College of Charleston
C of C fell to 17-14 last season after a 75-27 run the three seasons prior. They lost three of their top four scorers to graduation, including draft pick Grant Riller, who scored roughly 30% of the team's points last year. They should be decent again, but not good enough to repeat the type of performance they've shown against the Tar Heels in recent years (1-1 record with a 5 point loss). UNC will start off their comeback season with a bang by rolling here.
Louisville (-21) v. Evansville
Evansville started 9-4 last season, an opening that included a win over Kentucky, but they never won another game after scandal brought down head coach Walter McCarty. They also have to deal with a good amount of roster turnaround this year. Louisville does too, but they simply have a huge talent edge here, and Evansville is far away from the stability they would need to seriously compete despite that disadvantage. The Cardinals should roll.
Clemson (-4.5) v. Mississippi St – $11 to win 10
The other ACC team in action today is taking on a far more formidable foe, but I still like them to get the job done. Mississippi St had a slightly better season last year, but they bring back just four players. Clemson has been a gritty, middle-of-the-pack team under Brad Brownell, and they get the job done here.
THE BIG TEN PARLAY 1: $10 to win $100
Ohio St (-17.5) v. Illinois St
IL St 10-21 last year to continue slide after 28-7 season in 2017. Losing plenty from last year. OSU had up-and-down route to 21-10 last year. Losing talent but also bringing a decent amount it. Hard to not roll with Buckeyes here
Maryland (-7.5) v. Old Dominion
ODU 13-19 last year after going 122-49 the five years prior. BUT, 12 of 19 losses came by 8 or less. Decent return/addition of talent. MD split B10 title last year but lost a good amount of talent. Still think they return enough to handle a team like Old Dominion without much difficulty.
Michigan (-14) vs. Bowling Green
Bowling Green a very good MAC team, but that doesn't matter. Go Blue.
Michigan State (-21) v. Eastern Michigan
EMU has been within four games of .500 in six of the last nine seasons. MSU won this game by 53 last year, and they have the talent to cruise again this season.
THE BIG TEN PARLAY 2: $10 to win $100
Minnesota (-18.5) v. UW Green Bay
UWGB returns just seven players to a team that went 17-16 last year, and they'll be breaking in a new head coach as well. Minnesota has a good mix of returning and incoming talent, and they should roll here.
Indiana (-22) v. Tennessee Tech
Tennessee Tech has gone 17-45 over the last two years, and their head coach is out for this game due to COVID. A promising Indiana team will come out of the gates strong and take care of business.
Wisconsin v. Eastern Illinois (+19.5)
We're taking the points here. Eastern Illinois will bring a veteran team into this match-up, and they stuck around .500 last year. There's no doubt that a strong Wisconsin team wins, but EIU will do just enough to keep it somewhat competitive against a slow-moving Badgers squad.
Purdue (-9.5) v. Liberty
Liberty is 59-11 over the last two seasons, and have now won at least 20 games in four consecutive seasons. They also lost their top three scorers (and four of their top five) to graduation. They will struggle early against a decent Purdue team that fell victim to a tough schedule last year.
SOME INDIVIDUAL PICKS
Abilene Christian (-3.5) v. ETSU – $11 to win $10
AC 47-18 over the last two seasons, made tourney in 2019 and were T-2nd in conference last year. ETSU 130-43 over last five and 30-4 last year, in position to make tourney for second time in that stretch last year. Talented but new coach, roster, etc. In this setting, I'm leaning toward AC to grab a win.
Memphis (-7) v. Saint Marys – $11 to win $10
Memphis now 43-24 under Anfernee Hardaway. Lots of talent here, and that should carry the day against a solid St Marys team that has some top players to replace
Western Carolina (-4.5) v. UNC Wilmington – $11 to win $10
UNC Wilmington 31-66 since a great two-year run in 2016 and 2017. New coach this year. WCU went 19-12 last year and returns 9 players. Have to like them here.
Kansas St v. Drake (+5.5) – $11 to win $10
Drake 44-24 last two seasons, will look to build on that here. K St has just two upperclassmen and was terrible last year, might struggle early. I like Drake to keep this one real close and potentially even win. 
THE BIG 12 PARLAY – $10 to win $60
West Virginia (-9.5) v. South Dakota St
South Dakota St is one of the consistently good mid-majors in the country right now, and they return most of last year's 22-10 team. They lost to Nebraska and Indiana by 17 and 14 last year but stuck with Arizona in a seven-point loss. Against what is supposed to be a very good WVU team, they falter a little bit and lose by double digits.
Oklahoma v. UTSA (+17)
UTSA returns four starters and a senior duo that averaged more than 44 points per game last season. That scoring will be key given their defensive issues, which were the driving point behind a losing record last season. Oklahoma is a solid team that returns three starters and a decent amount of talent. UTSA lost this game by 18 last year, and they score just enough to keep it a little bit closer this time around.
Texas (-19.5) v. UT Rio Grand Valley
Rio Grande Valley lost their top two scorers from a 15-16 team, and they have to face a Texas team that returns all 12 scholarship players and adds elite recruit Greg Brown. Horns up.
THE SEC PARLAY- $10 to win $60
Kentucky (-23.5) v. Morehead St
Morehead St is 48-76 over the last four seasons, and they lost their top two (and three of their top five) scorers from last season. Kentucky is way too big of a challenge here, and the Cats roll.
Missouri (-13) v. Oral Roberts
Missouri returns quite a bit after two disappointing seasons, and I'm not picking an Oral Roberts team that lost their top two scorers after a 17-14 finish last season. The Tigers make a statement here.
Alabama (-20.5) v. Jacksonville St
JSU fell to 13-19 last year after a good three year run, and they lost their top scorer and ten other players. They will look to transfers to help keep the ship afloat, but it won't be enough at the start against a talented Alabama team looking to take a big step in their second year under Nate Oats. Roll Tide.
PAC 12 PARLAY – $10 to win $60
Arizona St (-8) v. Rhode Island
Remy Martin is a preseason All-American, Alonzo Verge averaged just under 15 points per game last season, and Bobby Hurley added two high-level recruits to a team that finished 3rd in the Pac 12 last year. The Sun Devils might have a hole in the middle, but they match up well against a solid Rhode Island team that lost two key seniors but returns two very good guards. Arizona St. pulls away in this one.
USC (-19) v. California Baptist
California Baptist has gone 37-25 since stepping up to Division 1, but they lost almost everyone from last season. USC also lost plenty, but their ability to restock the cupboard outpaces CB's by a few country miles. The talent gap here is going to be wide, and the Trojans should roll.
Colorado (-15.5) v. South Dakota
South Dakota finished 3rd in the Summit Conference last season, but they return just one player who played more than fifteen minutes per game last year, as well as just one player who scored more than four points per game. Against a veteran Colorado team looking to send a message after a poor finish to their 2020 season, they will likely struggle. The Buffs should take care of business here.
UCLA (-3.5) v. San Diego St – $11 to win $10
Mick Cronin's first season in LA ended very well, and the Bruins will look to build on that progress with a team that returns most of its 2020 talent. UCLA is up there with anyone in the Pac 12 this year, and they will handle a San Diego St team that will need to adjust after losing some of their top talent. The Aztecs went 30-2 last season, but they start 0-1 today.
Oregon St v. Cal (+1.5) – $11 to win $10
Wayne Trinkle has built a respectable program, but his Beavers are losing two key players. It's going to take some time to adjust, and a Cal team that took some major steps last year and returns their best player will take advantage.
QUICK FIRE ROUND
Bradley (-3.5) v. Toledo – $11 to win $10
Utah St v. VCU (+4) – $11 to win $10
UNLV v. Montana St (+12.5) – $11 to win $10
Pepperdine (-2) v. UC Irvine – $11 to win $10
Western Kentucky v. Northern Iowa (+2.5) – $11 to win $10
Oklahoma St (-8.5) v. UT Arlington AND Georgia Tech (-8) v. Georgia State – $10 to win $26
BEST CASE: +$686
WORST CASE: -$212
Let's have a day so we can continue the feast tomorrow.