Mike Bets #467
6 min read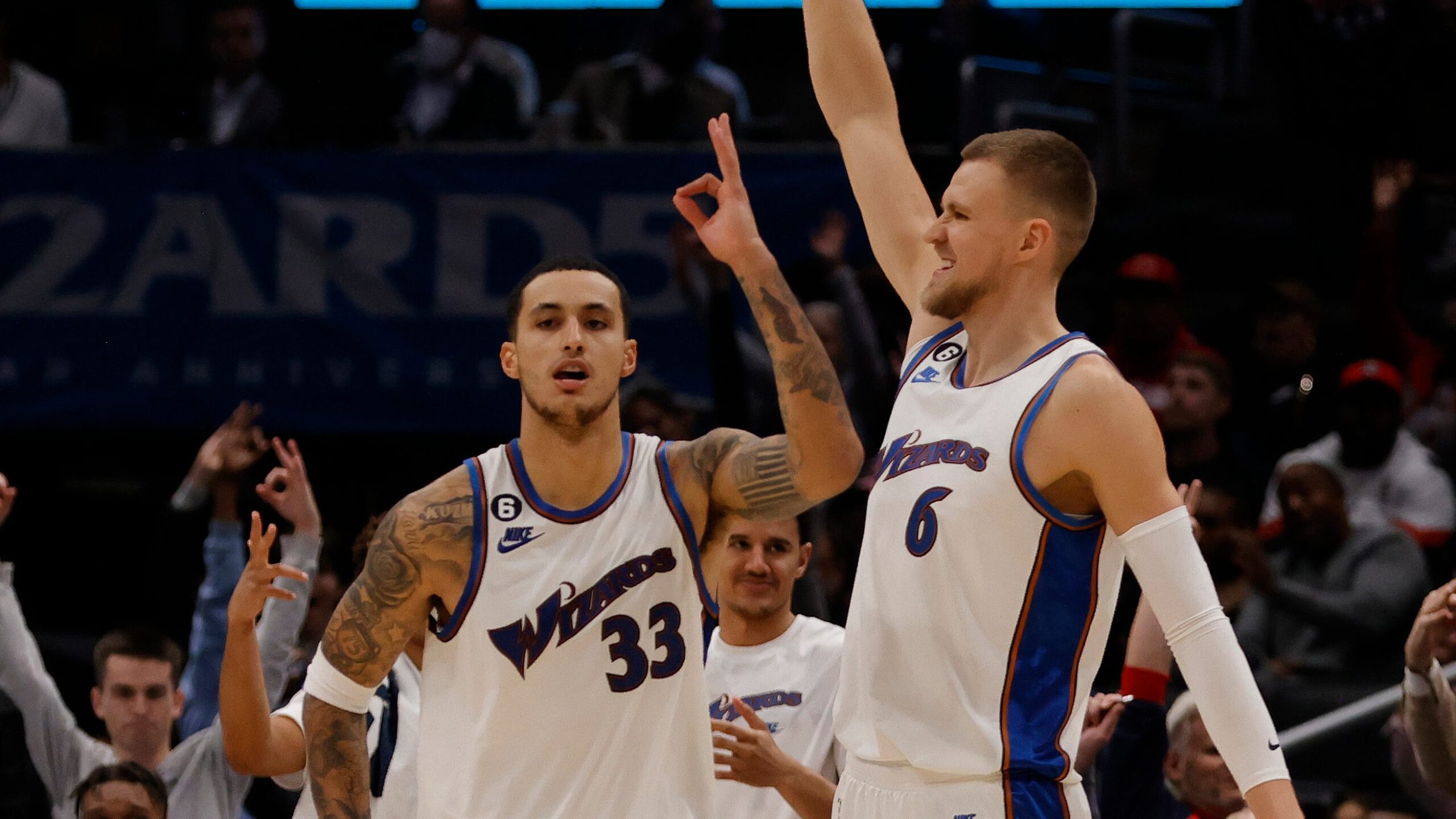 Happy Tuesday. The NBA record was a disappointing 2-3 yesterday. The Heat were up 6 with four seconds left but managed to fall short of covering -2.5 in a brutal turn of events. I stopped following that one seeing them up 6. It stung to see that one as a loss scrolling through the results. The CBB record was 4-4 with both of the multi-unit plays hitting for a positive day. We'll take that. Let's find some more momentum today. But first, let's take a look at yesterday's action…
NBA
The Blazers held off a late Pistons charge to win in Detroit. Damian Lillard put up a 31-point triple-double and got 26 points of support from Jerami Grant. Portland sits in a three-way tie with the Jazz and Lakers for the West 10 seed after the win. The Pistons, meanwhile, have finally made their way back into the league's cellar and are the league's first 50-loss team. They're half a game back of the Rockets and have lost eight in a row.
The Cavs held the Celtics to 17 fourth quarter points, spooked Grant Williams into missing two free throws in the final seconds, and went on to win in OT. Jaylen Brown dropped 32 for an undermanned Celtics team, but it wasn't enough to overcome Donovan Mitchell's 40-point night. Boston has now lost four of five to fall a full two games back of the Bucks at the top of the East, and they only have sixteen games to go. Cleveland has a game and a half of buffer over the Knicks and the 5 seed after the win.
The Sixers held off the Pacers in a 147-143 shootout in Indy. Joel Embiid dropped 42, James Harden dished out 20 assists, and Tyrese Haliburton put up 39 and 14. Thirteen different players scored in double figures, which was five more than the Cavs and Celtics had in a game that featured five extra minutes. Philly is only two games back of Boston, and they'll maintain their two and a half game lead over the Cavs. The Pacers will fall two games out of the play-in, though they should be encouraged by their recent form. They've been much more competitive in their last seven games, going 4-3 with four-point losses to the Celtics and Sixers mixed in. They're not dead yet.
The Hawks started strong but ultimately couldn't hold on in Miami. The Heat got a huge 59 points from their four-man bench, including 43 from Victor Oladipo and Cody Martin. Miami was just half a game up on Atlanta on Saturday morning, but they're now two and a half up after two consecutive wins over them. They needed these wins, and they got them. They're two games back of the Nets and the 6 seed. Atlanta will hold on to the 8 seed, but they remain just half a game ahead of the Raptors.
Toronto missed that opportunity to move up in the standings when they let one slip away in Denver. The Raps led by 5 heading into the fourth but couldn't hold on. Jamal Murray led the Nuggets with 24, Michael Porter Jr, Aaron Gordon, and Nikola Jokic all scored at least 17, and Denver ended up getting just a little more scoring production from the top of their lineup on the way to increasing their lead over the Grizzlies to seven games. Their league-best home record is now 30-4, which will come up big in the playoffs. One race that might end up mattering quite a bit is the one for the overall number one seed. The Bucks (third in home record) are half a game up on the Nuggets. There's obviously no guarantee these two meet in The Finals, but that home court advantage may be a big factor if they do. Toronto remains in the 9 seed with the loss; they're a game up on the Wizards.
The Kings are just half a game back of the West 2 seed after using a huge third quarter to blow past the Pelicans. They did it without De'Aaron Fox too. Domantas Sabonis put up a 19-point triple-double, and Kevin Huerter continued to impress with 25, 8, and 5. He's having a really solid year. The Pelicans fall into a four-way tie for the 9 seed. Those four teams are two games back of the 8 seed but just half a game ahead of the Thunder in the 13 seed. Good news from Zion's MRI this week would be ideal. New Orleans has slipped again, losing seven of ten.
CBB
Gonzaga didn't have the easiest time with San Francisco, but they pulled away late to move into a third, tie-breaking meeting with St Mary's, who got off to a great start against BYU and then held them off late. The Zags are probably locked into a 3 seed with their wins over Alabama, Xavier, St Mary's, Kentucky, and Michigan State. But could the Gaels potentially grab a 4 seed with a win?
Louisiana is going dancing after holding off a tough South Alabama team in the Sun Belt final.
Furman earned a well-deserved bid by beating Chattanooga in the Southern final. They've won twenty games in six of seven years. Now they have the trip to the dance to show for it. Props to Bob Richey and Co.
Hofstra saw a twelve-game winning streak snapped in a surprise loss to UNC Wilmington. They were up big early and looked headed for another blowout, but the Seahawks fought back and deserve a lot of credit. Their backs were against the wall, and they delivered.
That sets up a title game meeting with 30-3 Charleston, who fought past a good Towson team. 30-4 probably won't be enough for the Cougars given the zero Quad 1 wins on the resume. This should be a good one tonight. They've beaten UNCW twice this year – by 32 at home and by 2 on the road.
Oral Roberts survived St Thomas to move to 29-4. They've won twenty-six of twenty-seven. The same no Quad 1 win issue is here (I personally would put both teams in regardless), and they probably need a win against North Dakota State tonight.
Northern Kentucky and Cleveland State will play for the Horizon title after beating the 1 and 2 seeds, respectively (Youngstown State and Milwaukee). The Horizon had four teams finish within a game of each other this year, so it's no shock to see the 3 and 4 seeds playing for the title. Cleveland State went dancing in 2021. Northern Kentucky has won the auto bid twice since joining the conference in 2016, technically won it again in 2020, and lost the conference championship game last year. That's five trips to the title game in just eight years. Pretty impressive stuff.
TODAY'S PLAYS
NBA record: 170-144-7 ATS, 27-52 ML, 88-70-1 O/U, 1-9 parlay, 0-1 props, -13.21 units
CBB record: 201-188-8 ATS, 47-71 ML, 4-4 O/U, 14-25 parlay, -26.75 units
CBB regular season record: 198-181-8 ATS, 46-72 ML, 4-4 O/U, 12-24 parlay, -30.85 units
CBB conference tourney record: 3-7 ATS, 3-1 ML, 0-0 O/U, 2-3 parlay, + 4.10 units
ML PARLAY: Charleston, Vermont, Oral Roberts (-200) – 5 UNITS TO WIN 2.5
CONFERENCE TOURNAMENT PICKS
Record: 3-6 (1 loss in title game)
ASUN Champ: Liberty (lost title)
Sun Belt: Southern Miss (lost in QF)
Patriot: Colgate (play in final Wednesday)
Horizon: Milwaukee (lost in SF)
Big South: UNC Asheville (WINNERS)
NEC: Wagner (Lost first round)
OVC: Morehead State (lost in SF)
MVC: Drake (WINNERS)
WCC: St Mary's (play in final tonight)
CAA: Charleston (play in final today)
Southern: Furman (WINNERS)
Summit: Oral Roberts (play in final today)
America East: Vermont (play in SF today)
Big Sky: Eastern Washington (lost in QF)
Southland: Northwestern State (play in SF today)
A10: VCU
ACC: Miami
WAC: Sam Houston State
MAAC: Iona
Big West: UC Irvine