Mike Bets #510
4 min read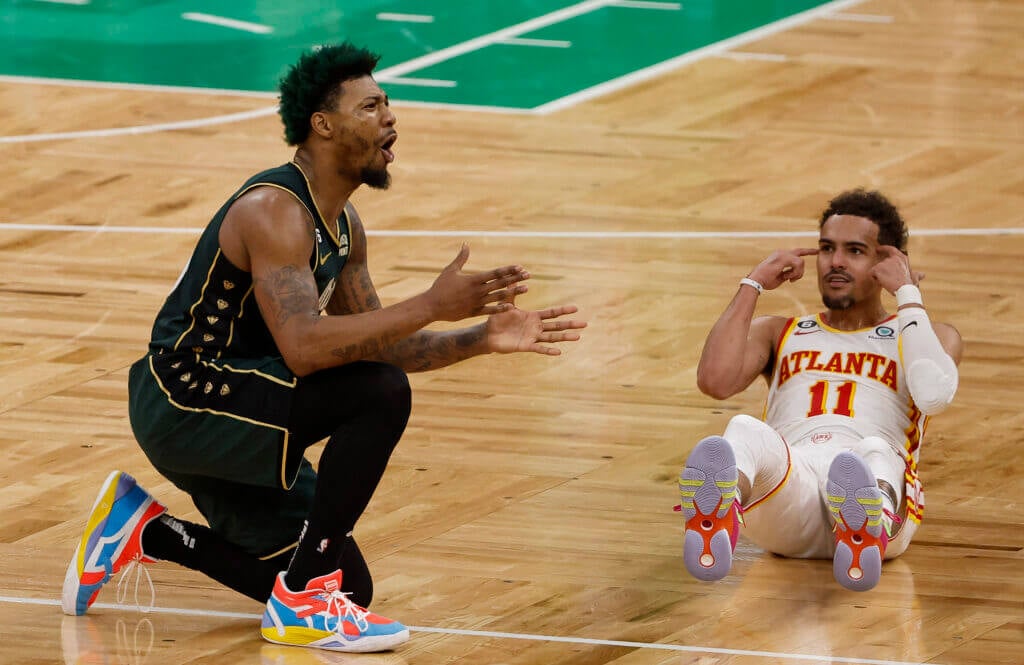 Happy Thursday. Yesterday was a positive 3-2 day. We'll take that, and we'll look to keep it moving tonight with the Celtics and Hawks playing a key Game 6. But first, let's take a look at last night's action, including a disastrous flameout from my Bucks…
Knicks 106, Cavs 95 (Knicks win 4-1)
The Knicks made quick and unceremonious work of the Cavs, winning this series in five games even though they were pretty close to awful offensively. Julius Randle averaged just 14.4 points per game on pretty brutal efficiency, and the Knicks are 15th and 16th among playoff teams in FG% and 3PT%, respectively. New York's effort on the offensive glass was the key to this series; they're pulling down almost 40% of their misses, which leads the league by almost 2.5% so far in the playoffs. They also won the transition battle with ease, outscoring Cleveland 15.6-11 there, on average. The Cavs simply didn't have enough depth or experience. Darius Garland wasn't quite ready to be a lead playmaker in the playoffs. Donovan Mitchell just wasn't good enough; shooting under 42% from the floor over the last four games. Evan Mobley and Jarrett Allen got destroyed on the boards, and their inability to spread the floor on offense makes that type of interior inferiority absolutely unacceptable. The roster doesn't have much versatility, and that reared its head in this series. It was a clinical destruction by a Knicks team that was very far from perfect, and the young Cavs will have plenty to work with as they go into an important off-season. There weren't really any heavy playoff expectations this year. That won't be the case next year.
Grizzlies 116, Lakers 99 (Lakers lead 3-2)
The Grizzlies staved off elimination with a comfortable Game 5 win. Ja Morant and Desmond Bane combined for 64 points, 20 rebounds, and 12 assists in an impressive showing for both. This was an ugly offensive showing for the Lakers, who only made about one-fourth of their threes on the night. LeBron was especially poor, shooting 1-9 from deep. This series isn't over yet. Don't count Memphis for dead. Winning in LA for Game 6 won't be easy, but it's certainly doable. One warning sign for the Grizz: Dillon Brooks was once again awful offensively, going 3-15 from the field and 2-10 from three. He's not an efficient scorer, and he never has been. His career high in FG% for a full season was 44%, which would have ranked 98th out of 123 qualified players this season (Brooks was actually 119th at 39.6%). It just makes zero sense to have him take as many shots as he does.
Heat 128, Bucks 126 OT (Heat win 4-1)
Embarrassing.
Props to Miami. The Bucks have some questions to answer. They should have a new coach next year. The only question is whether the roster changes should be on the edges or in the Brook-Khris-Jrue zone. I, for one, am a fan of Lopez's return. Holiday's playoff efficiency is a real issue.
Warriors 123, Kings 116 (Warriors lead 3-2)
Neither team shot particularly well in this one, but the Warriors held on to the ball a little better and were more efficient inside the arc to overcome a free throw deficit. They won this game in the second and third quarter, where they were +12. Klay Thompson's efficient 25-point night was huge for Golden State; Steph dropped 31 but was just 2-10 from three, and Jordan Poole missed five of six threes. Draymond also came up big as a scorer with 21 points in 32 minutes off the bench. De'Aaron Fox struggled to be efficient in his first game since breaking his finger, especially in the second half. He, Malik Monk, and Davion Mitchell were a brutal 6-23 from three. Golden State broke the pattern of the home team winning games in this series; Sacramento will have to do the same in Game 6 to keep their season alive.
SERIES PREDICTIONS VS ACTUAL OUTCOMES
✅✅✅ = right team, right number of games
✅✅ = right team, one game off
✅ = right team
❌ = wrong team
Bucks in 4 (Heat won 4-1) ❌
Cavs in 6 (Knicks won 4-1) ❌
Sixers in 5 (Sixers win in 4) ✅✅
Celtics in 4 (Celtics lead 3-2)
Nuggets in 6 (Nuggets win in 5) ✅✅
Suns in 7 (Suns win in 5) ✅
Kings in 5 (Warriors lead 3-2)
Grizzlies in 5 (Lakers lead 3-2)
TODAY'S PLAYS
NBA record: 242-213-7 ATS, 33-76 ML, 131-102-4 O/U, 2-10 parlay, 0-1 props, -29.07 units
NBA regular season record: 225-198-7 ATS, 32-67 ML, 116-90-3 O/U, 2-10 parlay, 0-1 props, -23.62 units
NBA postseason record: 17-15 ATS, 1-9 ML, 15-11-1 O/U, 0-0 parlay, 0-0 series price, -5.45 units
SERIES BETS
Kings to win series (+225)
Grizzlies to win series (-145) – THREE UNIT PLAY
CBB record: 254-229-12 ATS, 57-83 ML, 5-5 O/U, 17-25 parlay, -9.83 units