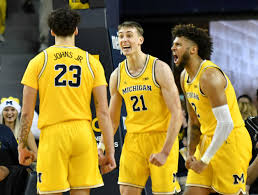 Happy Sunday. It's late because I slept through the early Mass and had to go the second one, so let's go right to the picks here. Gotta keep the momentum going after a +$7 CBB day yesterday. I'm going to start slow today with football going on as well, but I'll update with more plays after the early NFL slate if I'm in position to do so. Stay tuned.
College Basketball Record: 90-74-2 on individual bets, 4-27 on parlays, +174.00
All Involved CBB Picks: 130-104-5 ATS, 8-8 Dog MLs
The Sunday Morning Parlay – $10 to win $154
Villanova (-1) v. Texas
It tends to be very hard to keep the momentum going in the immediate aftermath of an early-season tournament win. Texas might struggle here, and Nova stabilized against Hartford last time out. They win.
Missouri (-4.5) v. Wichita St
Mizzou has a win over Oregon to their name, and they beat Oral Roberts 91-64. Wichita St really struggled with the same opponent in their opener, winning just 85-80. They have a new coach and are in a very chaotic position right now with virus issues and more. Take the Tigers.
Cincinnati v. Xavier ML (+135)
Xavier has struggled a little more than the average 5-0 team, but they still have those 5 wins in five games. In a heated rivalry game against a Cincy team that has played just once (an underwhelming performance against Lipscomb), I'll take the Musketeers. They have more experience with close game so far as well, something we could very easily see here.
Oklahoma (-4.5) v. TCU
Love the Sooners. They looked fantastic in their opener (a 105-66 thrashing of UTSA) and TCU is due for a loss after some very close calls on their way to a 4-0 start. Love the Sooners.
$11 to win $10
This is the pick. Book it.
MORE PLAYS
Kentucky (-6.5) v. Georgia Tech
Ga Tech is terrible. Kentucky bounces back here.
$12 to win $11
LSU (-9) v. Louisiana Tech
I don't know if I've seen enough from LSU yet to hand them 10 points here against a solid La Tech team. But they looked good last time out, and their close loss to St Louis looks better and better. I'll ride with the Tigers.
Bowling Green (-2.5) v. Buffalo
Buffalo is 1-1 with a close loss to Army and a 74-65 win over Towson. Bowling Green is 3-1, with their only loss coming in Ann Arbor. On their side of things, their best win came in a two-point game with App St. I'm still giving them the edge here. Their offense has looked great all season, and they start their charge to a MAC championship with a bang.
Michigan St v. Western Michigan (+23.5)
MSU has played Eastern Michigan and Detroit in their non-major conference games so far. I bet on coverage twice, and they failed to cover twice. Not again. I'm going with WMU here, so Sparty coverage is all but guaranteed.
Notre Dame (-13) v. Detroit
Call this a feel pick. I see Notre Dame coming out hot after they fell apart in the second half of their opener against MSU, and I doubt Detroit competes for the second consecutive game against a major conference team after they gave MSU a scare the other day.
Cal isn't particularly good, but 10 points is a lot to ask for in an early conference game. I'll still take it. Can't bet on Cal, and UCLA appears to have found their groove after a dominant showing v. Seattle.
Penn St v. Seton Hall ML (+125) – $10 to win $13
The "trust me" pick of the day