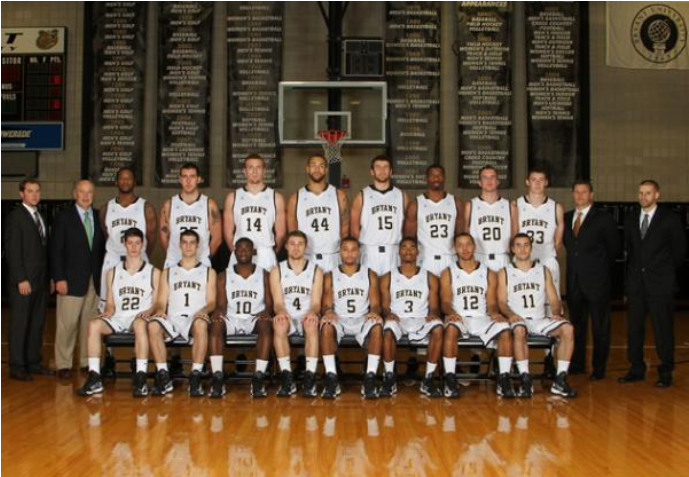 I lost four bets by a single point yesterday and another by just 2. In the other direction, just two bets went my way in that 2-or-less range. A 2-5 record in bets decided by less than 3 points seems unsustainable, both in volume and success rate. That means we're destined to have a huge day here at Mike Bets. Let's get to it.
College Basketball Record: 108-94-2 on individual bets, 4-30 on parlays, +116.00
All Involved CBB Picks: 155-129-5 ATS, 12-11 Dog MLs
Today's picks:
Bryant (-5.5) v. Saint Francis Brooklyn – 🚨🚨🚨LOCK OF THE WEEK🚨🚨🚨 – $33 to win $30
Bryant is red hot. They're averaging 104.3 points per game in all games and 93 against D1 competition. They almost beat Syracuse in their opener, and they beat this same team 101-82 yesterday. Bet the house. Twice.
$11 to win $10
Fairleigh Dickinson v. Central Connecticut St (+9)
Central CT St won this game by 7 yesterday. A note – all four of these teams play in the NEC, which is playing its conference games in a back-to-back doubleheader format. Neither one of these teams is good (the game yesterday was the first win for either side), but I'd bet on Central keeping it closer than 9 based on how the first match-up just went.
Texas Tech v. Abilene Christian (+15)
Tech has been really impressive against inferior competition this season, beating Grambling St, Troy, Sam Houston St, and Northwestern St by an average margin of 37.5 points. The lone stain on their early resume was a loss against Houston, but it wasn't all that pretty against the only good team they've played so far. As the diehard Mike Bets fans know, Abilene Christian isn't your average mid-major team. They're 5-0, and they've been coverage warriors so far against the likes of ETSU, Austin Peay, and Omaha. Does that mean they can stick within 15 of TTU? Maybe not, but this is a pro-ACU establishment. I won't bet against them.
I bet on A&T yesterday, and they responded with a 17-point loss to Longwood. Out of spite, and because I really like VCU, I'm going with the Rams to roll here. A&T has really struggled so far, and they're not recovering from a beating at the hands of Longwood in 24 hours.
Chattanooga (-4.5) v. Bellarmine
Chattanooga is 4-0, and, while they haven't beaten anyone of note, they've done a fine job against D1 competition, beating Tennessee Tech, MTSU, and Northern Kentucky by 7-10 points. Bellarmine is playing in their first season as a D1 program. It's a little hard to get a read on them, but they're 1-1 so far with a 20-point loss to Duke and a 20-point win over a depleted and struggling Howard team. I think they experience a bit of a letdown here after such a huge win for the program their last time out, and Chattanooga gets to 5-0 without too many issues.
Lipscomb v. SE Missouri St (+7)
SE Missouri St won when these two teams played on Monday. Lipscomb is awful. Add those two things together, and there's no reason not to take the points here.
Missouri v. Liberty (+9.5)
The Tigers are another team I'm all-in on, and I expect them to win this game. They've beaten Oregon by 8 and Wichita St by 10 already. However, I can't predict a double-digit win here. Liberty has already played Purdue, Mississippi St, South Carolina, and TCU, and they went 2-2 with only loss by more than 4 points (Purdue by 13). Missouri has looked great, but the coverage odds are simply in Liberty's favor here.
Baylor is a freight train. They beat Washington by 34. They beat Illinois, who just handled Duke without too many problems, by 13. Stephen F. Austin, meanwhile, got their only D1 win of the season by 8 over a McNeese St team that lost to Nebraska by roughly 50. Take the Bears.
Michigan (-14.5) v. Toledo
Oh, Michigan is playing? Coverage.
This is a good Toledo team, but Michigan appears to have found its groove after a bit of a rough start. With Big Ten play coming this weekend, they won't take their foot off the gas here.
Washington v. Seattle (+11.5)
Let me tell you a story about the 2020-2021 Washington basketball team. They're not good. The end. Washington has yet to lose by less than 14 points against Baylor, UC Riverside, and Utah. Now, that's a rough stretch of opponents, but you simply cannot bet on Washington to win a game by 12 points right now. They have yet to show any semblance of competitive basketball. Seattle has lost three in a row after a 3-0 start, but this pick is more about Washington. Don't take the Huskies.
Santa Clara (-10) v. Cal Poly
Santa Clara is 4-0 despite early offensive struggles. Cal Poly is terrible. They lost to San Francisco by 28 in their only D1 game so far. Take Santa Clara.
Washington St (-18.5) v. Idaho
Washington St is a rather unconvincing 3-0 with their wins over Texas Southern, Eastern Washington, and Oregon St coming by a combined 11 points, but they're still a major conference team that's come out of the gates relatively well. Idaho is 0-2. Both their games came against Sacramento St, and they lost by 22 and 16. They should get blown out here.
Maryland has dominated a weak schedule so far, going 4-0 with big wins each time out. That stops here against a tough Clemson team that already has double-digit wins over Mississippi St and Purdue to its name. Take the Tigers.
Richmond (-8) v. Northern Iowa
Richmond might be the pick here in any circumstance, but UNI is down two key players for this one. Take the Spiders.
Texas (-17.5) v. Texas St
Texas St lost to a poor Mississippi St team by 17 in their only game against a major conference team so far. Texas, after a frustrating loss to Nova, will take that frustration out here.
THE BIG TEN CONTINUES TO DOMINATE THE ACC PARLAY (IGNORE THE CLEMSON PICK) – $10 to win $93
Georgia Tech v. Nebraska (+115)
Don't trust Tech's win over a Kentucky team that is really struggling. I don't really trust Nebraska either, but the value is on their side.
Northwestern (-3) v. Pitt
Both teams have played an easy schedule so far, but only Northwestern can say they looked good doing it.
Florida St v. Indiana (+150)
Indiana has looked really good this year outside of the rough loss to Texas. I'm willing to take the risk here against a Florida St team that has only played North Florida so far.
THE SECOND PARLAY – $10 to win $60
Rhode Island (+10.5) v. Wisconsin
Rhode Island is good. They've won three straight by double-digits over South Florida, San Francisco, and Seton Hall, and they lost to Arizona St and Boston College by 6 or less in their first two games. Wisconsin will be looking for blood after a tough loss to Marquette, but it's hard to see them winning this one by 11+.
TCU (-1) v. Providence
TCU hasn't been super impressive on the way to 4-1, but they beat decent teams in Liberty and Tulsa and hung with Oklahoma in a close loss last time out. Providence is 3-2, but they're 0-2 with an average margin of defeat of 19 points in their two games against fellow major conference opponents. Take the Horned Frogs to win here.
Cincinnati (-3) v. Furman
Furman is a good mid-major team. They're 4-0 to start the year, but they also haven't been tested. I like Cincinnati here to recover from a loss to Xavier that came down to the final minute.
WONT LOSE, NO QUESTIONS ASKED PARLAY – $15 to win $60
Richmond ML (-480)
Tulane ML (-270)
Pepperdine ML (-170)
Oklahoma (-2.5) v. Xavier
GAMES TO KEEP AN EYE ON
I want nothing to do with a -27.5 line here, but it will be interesting to see how dominant the Ducks can be in this game. Can they continue to build momentum after an opening loss to Missouri? They've looked good in wins over Seton Hall and Eastern Washington, and maintaining that ahead of Saturday's Pac12 opener with Washington will be key.
I have no idea which way this game goes, but the results should tell us a lot about both teams. Boise struggled in their lone test against Houston but has really dominated lesser competition while BYU has struggled offensively despite a 5-1 record.