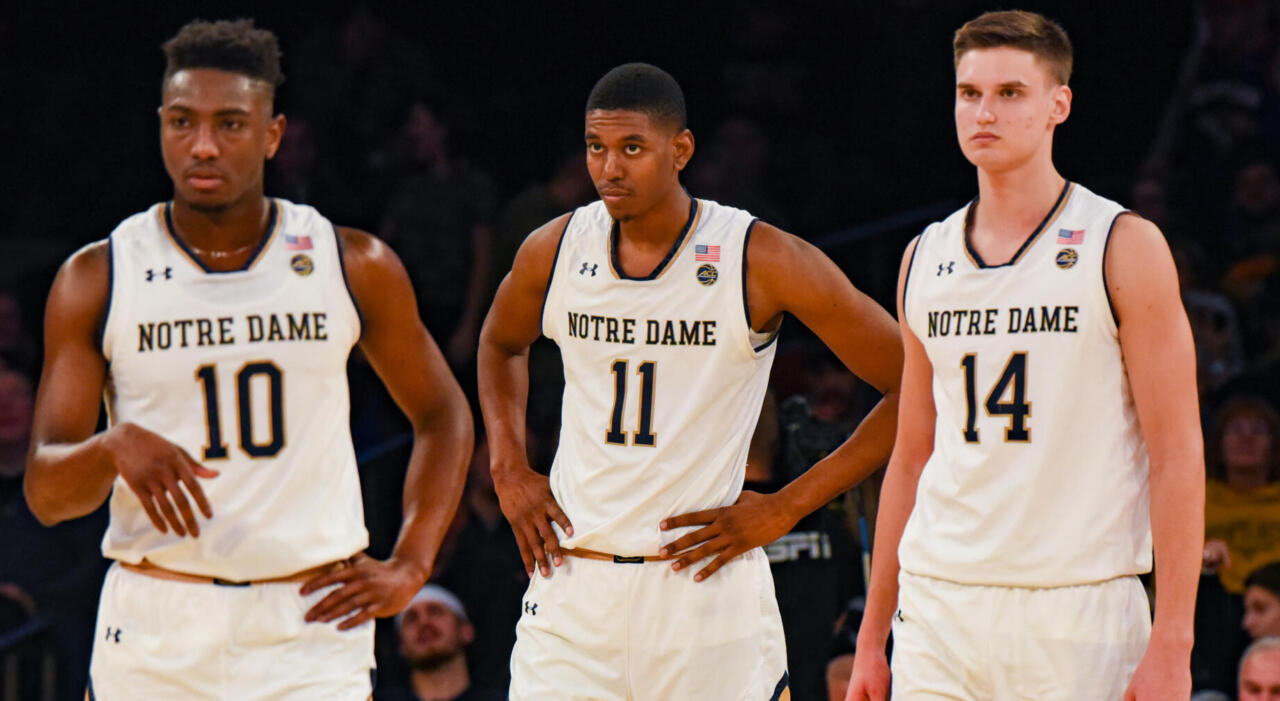 It's Saturday. Tons of action today. Let's get to it.
College Basketball Record: 130-109-2 on individual bets, 4-34 on parlays, +$134.00
All Involved CBB Picks: 179-148-5 ATS, 14-15 Dog MLs
Today's Picks
$12 to win $11
Toledo was run off the court in a patched together game at Michigan in the mid-week, but this is still a very solid MAC team that has been good more often than not this season. I like them to rebound and cover here against a bad UMKC team that is coming off a 30-point loss to Minnesota.
I like Drexel. They're 3-1 with their only loss coming to Pitt by 9 in their opener. They beat Quinnipiac by 18 and 12 in a double header, and they beat Coppin State by 15 last time out. La Salle has gotten off to a slower start, losing to St Johns by nearly 20 in their opener before losing to St Peters and Army. They haven't beaten a D1 team yet this season. Take Drexel.
South Alabama (-3.5) v. Southern Miss
How's Southern Miss doing right now? In two games against D1 opposition, they're 0-2 with an average score of 44.5-62. That's ugly, and the fact that those two games came against Jacksonville and Tulane doesn't help matters. Southern Alabama is no juggernaut, but they hung with Auburn and split close games against Jacksonville St and Florida Atlantic. Ride them here.
Wyoming (-7) v. Utah Valley
Wyoming is 4-1 and playing well. They cruised past Denver and beat Oregon State last week. Against a Utah Valley team that is 0-2 and -32 in two games against D1 opponents (BYU, Southern Utah), they should have enough to cover.
UAB is 5-0, and they haven't won by less than 20 yet. A slate of Alcorn State, SE Louisiana, Kennesaw State, Troy, and Tuskegee isn't exactly killer, but any run like this is impressive. ETSU is 1-2 with their only win coming against a 1-3 MTSU team. It's a rebuilding year of sorts for them, and UAB should get the win by 5+ today.
Valparaiso (-3) v. Central Michigan
Valpo is hot after a poor start to the season. In their last three games, they've pushed Purdue to the final minute and beaten Judson and SIUE by 40 and 22, respectively. This is a solid team, and they should continue to play well against a CMU team that's gotten off to a terrible start with losses to Illinois Chicago, FIU by 20, and D2 Flagler by 19.
Eastern Illinois v. Western Illinois (+13.5)
In their last two games, Eastern Illinois has split close games against bad teams in Green Bay and Evansville with a combined margin of -1 points. That's simply not good form, and I can't pick them to win a game by 14+ right now.
Bryant (-5.5) v. Stony Brook
The "you better not blow this one too Bryant or it's the end of our betting relationship" pick of the week. Bryant's defense is abysmal, but they should score enough to cover here after a truly disappointing loss the other day.
Texas Tech (-26.5) v. Texas A&M Corpus Christi
Tech is 4-2 on coverage this year, and they've yet to lose by less than 30 against a bad team like this. It's not clear just how good they are given their struggles in those other two games, but it is clear that they can beat up on inferior teams. A&M Corpus Christi is certainly that, with their 1-4 record, which includes a 37-point loss to SMU and 0 wins against D1 opponents.
UNC v. NC Central (-25.5)
I just don't see UNC winning this game by 26. They're coming off a number of close and tightly contested games and a less competitive loss to Iowa, and they were just 1-1 at this number against Charleston and UNLV in their first two games. Central isn't particularly good, but they only lost to Iowa by 30 and have been competitive in splitting their most recent games. Again, I just don't see 26 happening here.
Arkansas (-24) v. Central Arkansas
Arkansas has earned my bet here. They're absolutely rolling. 5-0. Three wins by 35+. No games within 10 points. This is a very good team right now, and the lack of tests on the schedule, while significant, shouldn't impact this game. CA is 0-3 with a 17-point loss to Memphis and a 23-point loss to St Louis. Trust in Arkansas here.
Oklahoma v. Florida A&M (+27)
This is a bad line. A&M is 0-3, but they've kept losses to FGCU, Georgia, and Oregon within 21 points. Oklahoma isn't trending towards a 28 point win here, especially with the way they played against an okay Xavier team last time out.
$11 to win $10
South Dakota St (-11) v. South Dakota
The Dakota showcase continues with day 3 today. South Dakota is the worst of these teams, having lost to North Dakota and ND St by 4 and 7 the last two days. SD St is 1-1 on coverage so far against the two North Dakota teams, and they make it 2-1 here.
North Dakota St (-5) v. North Dakota
The States win the day. ND St and ND have both been pretty good despite their poor records with close losses against good teams. I like ND St a little bit more and think they control this one.
This young Arizona team has found their groove, winning their last two games by 43 and 25 after a slower start. UTEP is 0-1 against D1 competition with a 12-point loss to St Marys. I like Arizona to cover here and continue to build momentum.
Memphis has cruised against poor competition in their last three, but they struggled against good teams early. Auburn hasn't been great either, but I like their chances to keep this one close.
Tennessee (-7) v. Cincinnati
Tennessee opened their season by stifling a good Colorado team. They have more than enough to cruise past Cincy here.
Dayton (-3) v. Mississippi St
I really don't like this Mississippi St team right now. Take the Flyers.
DOG MLs – $10 each
Kentucky v. Notre Dame (+260)
Notre Dame has not been all that impressive with a 1-2 start that saw them beat Detroit Mercy by just 8, but they have played relatively close games against Ohio State and Michigan State. Both of those teams are better than Kentucky right now. At some point, UK is going to find its groove and start playing better, but it's hard to bet on that happening at any given moment until it actually does happen. They just got destroyed by Georgia Tech and have really struggled offensively against quality competition. At +260, Notre Dame is worth the play here.
South Florida v. Wofford (+145)
South Florida simply isn't good. They're 3-2 with a single digit D2 win, a single digit win over Stetson, and two losses by 15+ against Rhode Island and Virginia Tech. They played well in a 19-point win over FGCU, but they just don't look good overall. Wofford is 2-1, though the wins came over D2 opponents (by 39 and 74). They gave Richmond everything they could handle the other day, and they give USF a little more than they can handle today.
Denver v. Dixie State (+130)
The first bet on a D2 team so far this season. Denver is coming off of consecutive blowout losses against UC Riverside and Wyoming, and Dixie State is already 1-0 against D1 teams this year with a one-point win over North Dakota, a team that hasn't lost a D1 game by more than 14 this season. Take Dixie State, who also won by 38 in their first D2 game of the season.
Alabama v. Clemson (+115)
Alabama is playing good basketball this season outside of a bad 64-82 loss to Stanford. They rolled past Jacksonville St and then beat UNLV and Providence by 29 combined. I just love Clemson. They beat Mississippi St and Purdue by 11 each to start their season and then rolled past Maryland the other day. Ride the hot hand with the Tigers.
Loyola Marymount v. UC Santa Barbara (+110)
I picked UC SB the other day in the first game of this double header, and they won by 11. Let's ride with them again.
Utah has started with two 15-point wins over Washington and Idaho St. I like BYU, but they've played a lot of close games and haven't been overwhelming so far. Utah makes a statement with a win here.
THE WONT LOSE PARLAY – $10 to win $212
Illinois (-3) v. Missouri
Oregon (-8.5) v. Washington
VCU (-6.5) v. Old Dominion
South Alabama, UAB, Wyoming MLs
Illinois is too good for Missouri, though I really like what the Tigers are doing this year. Oregon cruises past a terrible Washington team that is 1-3 with all of their losses coming by 14+ and their only win coming against Seattle. VCU is hot right now, and that continues against Old Dominion.
THE WILL NOT LOSE PARLAY – $10 to win $60
Syracuse (-3.5) v. Boston College
Oklahoma State (-3.5) v. Wichita State
TCU (-1) v. Texas A&M
I like Syracuse to rebound from a loss to a good Rutgers team against BC. BC has played a tough schedule so far and have struggled to get through it. Syracuse has shown enough for me to like them here.
OK St is 5-0, and while they haven't been blowing anyone out, four points isn't all that many here. Wichita State is a program in transition right now, and they don't have enough to win this one.
TCU rebounds from a quick two-game losing streak against Oklahoma and Providence to take down A&M, who has gone 3-0 but produced relatively unimpressive performances against a weak schedule.
GAMES TO KEEP AN EYE ON
This one is early, and I'm not going to get this up in time for it. So I'll just put it here. Both teams have been great to start the season. I'm leaning FSU because they just played – and won – a tight game against Indiana while Florida hasn't had that experience against a good team, but Florida did steamroll Boston College. They haven't just played nobodies. Keep an eye on how these two teams look against each other.
This just isn't worth a play for me at -19, but it will be interesting to keep an eye on Miami here. This isn't a great FGCU team, but it's no pushover either. Can the Hurricanes continue to build momentum after a huge comeback win over Purdue or will they come out flat?
Tulane v. Arkansas Pine Bluff
How good is Tulane? It's hard to tell despite a 3-0 start. Their performance here against a terrible APB team that has been beaten up by anyone of quality could be telling. Keep an eye on it.
Pitt has been up-and-down to start the season, but they're coming off a big comeback win over Northwestern. Keep an eye on how they come out here against a Gardner Webb team that pushed Western Kentucky to the limit in their opener.
St Bonaventure v. St Francis
The Bonnies won 19 games last year and return the majority of the production from that team. This is their first game of the year, and they have just four to get into form before A10 play starts. Keep an eye on how they get that process started here.
Georgia is 4-0 and has looked pretty good against inferior opponents. They haven't been rolling through teams by 20+ each time out, but they've consistently gotten the job done. Keep an eye on their ability to continue that here.
Ole Miss v. UNC Wilmington
Ole Miss opened with a 35-point win over Jackson State in their opener. Keep an eye on this one as they look to produce another strong performance against an inconsistent UNC Wilmington team.