Mike Bets #73
11 min read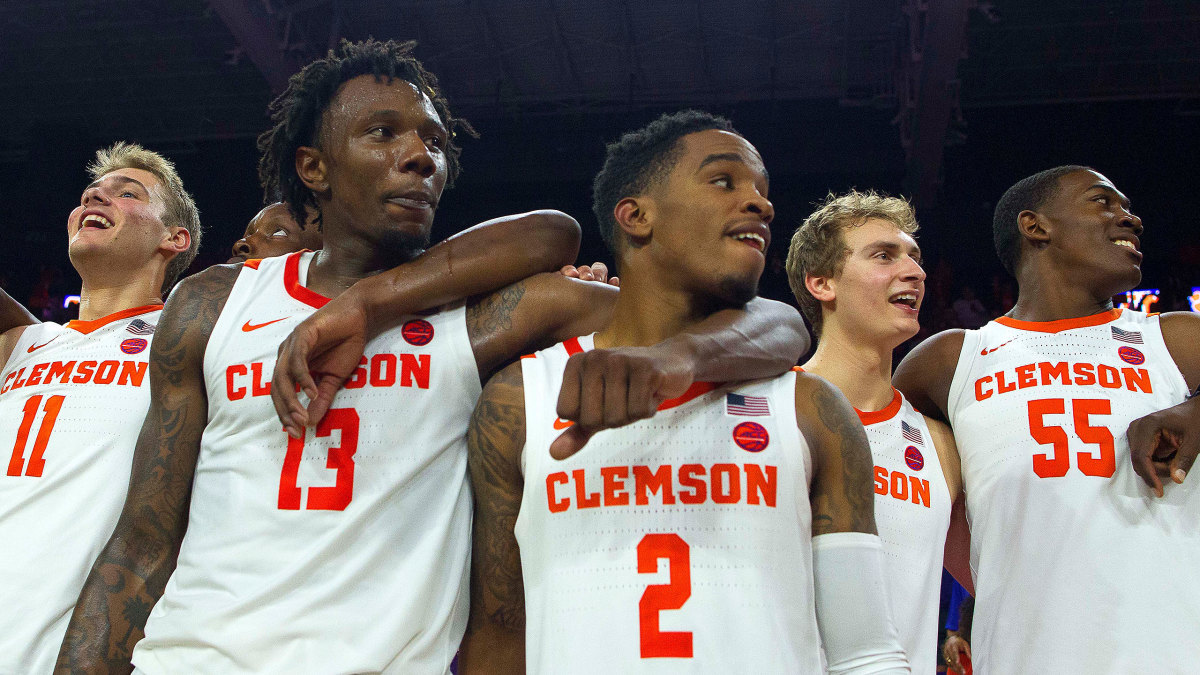 I forgot to add an intro for this. I have nothing to say today. We got back around even yesterday. Let's build on that here. Go Bucks.
College Basketball Record: 175-177-3 on individual bets, 6-42 on parlays, -$132.00
All Involved CBB Picks: 254-240-6 ATS, 20-27 Dog MLs
NBA Record: 3-4, -$7
Joint Parlays: 0-1, -$10
TWO UNIT PLAYS – $22 on spreads
Clemson (-1.5) v. Florida State
I really like Clemson. Their only loss came by 6 to Virginia Tech, and they've beaten Mississippi State, Purdue, Maryland, and Alabama by an average of 11.5 points. This is a good team. Florida State is also good. They've beaten Florida and Georgia Tech by double digits, but Florida lost their best player early and Tech was much closer late in the second half. They were also rolled by UCF and beat Indiana by just 2. Florida State could be great, but they're not quite there yet. Clemson is better right now, and they show it.
Rutgers is going to bounce back from a terrible finish on the road against Ohio State in their first loss last time out. They've beaten Syracuse and Illinois already at home, and they add Purdue to the list here. Purdue is on a good run with a 3-1 stretch against Ohio State, Notre Dame, Iowa, and Maryland, but Rutgers is simply the better team here. At home and coming off the loss, the Scarlet Knights get the job done.
Iowa v. Northwestern (+11.5)
The Cats deserve more respect than this. They're 3-0 against Ohio State, Indiana, and Michigan State in their last three. They crushed the Spartans. They'd be 7-0 if it weren't for a terrible blown lead against Pitt. Iowa is a very good team with an elite offense, but they're also struggling right now. They couldn't keep up with Gonzaga and then suffered a terrible defeat to Minnesota the other day. Minnesota isn't bad by any means (they're actually very good), but Iowa tossed the game away late. In a game between a team with all the momentum and a team looking to find theirs, the Cats keep it closer than 12.
Memphis v. South Florida (+9.5)
South Florida has, in their last three games, beaten Wofford by 2 and Cincinnati by 3 before losing to Wichita State in overtime. They also have wins over Stetson and Florida Gulf Coast since double digit losses to both Rhode Island and Virginia Tech opened their D1 season. This is a solid team playing good basketball right now. I don't know why Memphis is favored by so much. The Tigers have beaten just four teams by more than 6 this season. One was St Marys way back on opening day. The other three were Arkansas State, Central Arkansas, and Mississippi Valley State. Against VCU, Western Kentucky, Auburn, Tulane, and Tulsa, they're just 1-4 with that six-point win over Tulane. Take USF here. It's the only play.
I don't think Miami is very good. Since starting 2-0 with wins of 40 combined points against Stetson and North Florida, they've lost to Florida Gulf Coast, lost to Pitt by 15, and beaten Jacksonville by 9. They did beat Purdue, but they were also down 14-32 at half. It's hard to take much away from that game. Virginia Tech is 7-1 with wins over Nova, South Florida, and Clemson. They've won their last two games by more than 60 combined. Outside of a bizarre 20-point loss to Penn State, the Hokies have been really good. They should cover here.
The Bulls stink. They blew a late lead against a struggling Warriors team last time out and went 0-2 and -39 against the Hawks and Pacers. This team is terrible, and the Wizards finally put together a complete effort to get their first win here. All three of their games have been lost in the fourth. They lost to the Sixers by 6 after going -16 in the fourth. They lost to the Magic by 10 after going -9 in the fourth. They lost to the Magic again by 7 after going -24 in the fourth. That won't happen here.
Warriors v. Pistons (+160)
The Warriors lost to the Nets and Bucks by 65 combined points before somehow managing to beat the Bulls in a game they likely should have lost. This team is terrible right now, and while they can't be this cold forever, there's no reason to bet on them changing in a big way today. The Pistons get Blake Griffin and Derrick Rose back today, and they pick up their first win after some close calls early. Like the Wizards, they've let some leads slip late in terrible fourth quarters. They're due for a win.
New York lost to Indiana and Philadelphia by 14 and 20 before shooting the lights out against an ice-cold Milwaukee team last time out. They haven't shown all that much so far. The Cavs have, even if they should really be 2-1 after a pretty lucky win over the Pistons. Colin Sexton is scoring 27 points per game. Darius Garland is averaging 20 points and 8 assists. Andre Drummond is averaging 20 points and 15 rebounds. Cedi Osman has been scoring well too. Kevin Love, who will be out tonight and for a few weeks, really hasn't contributed all that much on the court so far. Cleveland is hot, and I'll bet on them to keep that up here.
The Magic are killing the fourth quarter so far with a +43 margin in the final frame and a +23 margin overall. That would suggest that their 3-0 record might be a little bit inflated, and they're due for a closer game here. The Thunder have done really well so far, playing games against the Hornets and Jazz that were decided by 2 and 1 points. I like them to keep it close again here.
WONT LOSE PARLAY – $15 to win $93
Bucks, Cavs, Wizards, Rutgers, and Va Tech MLs
GAMES TO KEEP AN EYE ON
Texas Tech v. Incarnate Word
Texas Tech is a good 7-2 team without too many resume-building performances. They split close games against Kansas and Oklahoma in their last two and also lost to Houston by 11 in their other game against a major conference team. That puts them at 6-0 against the rest, and, while they've had few issues in those games, they've won just two by 36+. The +35.5 line here is massive. Incarnate Word is not particularly good, but they've kept Rice, Wyoming, and Texas State within 15 in their only three D1 games. I'm staying away because they also haven't played since December 5, so who knows what we see from them here. Keep an eye on this one to see if Tech can dominate and put together some decent momentum in this short break from Big 12 play.
West Virgina v. Northeastern
WVU is 7-0 against teams other than Gonzaga and Kansas, who they lost to by 5 and 14, respectively. That seems good, and it's certainly not bad. But it's hard to figure out this Mountaineers teams given their inconsistency in those performances. They thrashed a good Richmond team, easily handled another good team in VCU, and picked up nice wins over South Dakota State and Western Kentucky. They were also down at the half against North Texas, a terrible Iowa State team, and a struggling Georgetown team before saving themselves in the final twenty minutes. With a relatively tough Big 12 stretch coming up, a big win – and a halftime lead – against Northeastern would be nice.
Update: WVU is up 66-45 right now with a few minutes left. A job well done for the Mountaineers.
This is a fairly important Southern Conference opener. Wofford is just 1-3 against D1 teams with the lone win coming against Coastal Carolina. They lost to South Florida and Richmond by just seven combined points, however. Can they bounce back from a bigger loss to Texas A&M here? Mercer, on the other side of things, is 7-1 but not quite as impressive as that record might sound. Three of those wins have come against subdivision opponents, and, outside of a very nice win over Georgia Tech, they've split games against Georgia State and beaten Georgia Southern by just 2. Neither team has drawn a particularly clear picture for themselves so far. Keep an eye on this one because it might be enlightening.
Kansas State is awful, but they've been looking less awful recently. They started 2-4 with four double-digit losses (Drake, Colorado, UNLV, Fort Hays State) and two wins of five combined points over UMKC and UWM. Since, they've gone 2-1 with a 24-point win over Jacksonville and a win over Iowa State, who also belongs in the awful category. They split those two wins with a 33-point loss to Baylor, so this is no contender. But can they at least be competitive against some Big 12 teams? Keep an eye on this one because another big Kansas State win could be a big deal.
Eastern Michigan v. Central Michigan
This is an early MAC game between two teams that aren't very good. Eastern is 0-2 against D1 teams with a -33 margin against Michigan State and Toledo. Central is 2-3 against D1 teams, but they haven't played the same caliber of opponents with FIU, Illinois-Chicago, Western Illinois, Valparaiso, and Western Michigan. They lost to Western by 15 to open MAC play. Neither of these teams figure to be major players in the conference, but keep an eye on this one because we could still learn something about where they stand.
This one was cancelled. Don't try to keep an eye on it. You won't be able to.
Dixie State is a first-year D1 team in the WAC (along with Tarleton State), and they've done pretty well so far. The Trail Blazers are 4-1 with two D1 wins and their only loss coming by 7 against a decent Southern Utah team. Gonzaga is obviously a different beast. The Zags are winning this one, but keep an eye on Dixie State's ability to keep it relatively respectable. If they do, it would be a great sign for their chances within the WAC with conference play right around the corner.
Baylor v. Central Arkansas
There's not a whole lot to keep an eye on with this one. We know that Baylor is great and that Central Arkansas isn't very good. I'm staying way because the line is a little thick with UCA never having lost by more than 25 this season. Still, a stumble is always possible. Just check the score to make sure Baylor is still rolling.
USC hasn't played in three weeks. Keep an eye on this one to see how they look ahead of their jump into Pac 12 play on Thursday. I refuse to bet on an unknown USC team or a 6-1 Santa Clara team that just lost to Colorado State by 13, so this is just one to check in on.
Houston has yet to lose, or win by less than 9, but they have wins of 9, 10, 10, and 11 against the better teams on their schedule. Against a solid Tulsa team that got off to a relatively inconsistent start, the -8 line isn't appealing enough here. Keep an eye on this one to see if Houston keeps rolling or if Tulsa can make a key statement, but I don't love the line.
This, to me, is one to watch rather than bet on. Ole Miss is 5-1. They've dominated lesser opponents, but they lost to Dayton by 3 in their toughest game (and really only tough game) of the season. Keep an eye on how they open SEC play here against a talented Alabama team that has struggled a little bit so far. They are 5-3, but they've lost half of their games against decent competition. After splitting close games against Furman and Western Kentucky in the last two weeks, can they grab a win over an unproven Ole Miss team?
I want nothing to do with this game. Both teams are 5-1 and almost completely unproven. LSU lost to St Louis but has largely dominated lesser teams outside of a 6-point win against Nicholls State last time out. Texas A&M crushed Wofford but lost big to TCU. They struggled with Tarleton State but rolled over other lower-conference teams. Keep an eye on this one because it could tell us some important things about the shape of the SEC early on.
The T-Wolves are 0-1 and -36 without KAT, and they will be without him again tonight. That loss came to the Lakers without AD too. Keep an eye on this one to see how the Clippers respond after they were murdered in broad daylight by the Mavs. Kawhi will be back, but there are deeper issues in LA at the moment than his absence. Can they show that the 50-point loss was a one-time crazy event, or will it continue to affect them here against a team that they should dominate?
This should be a really good game. Indiana opened with big wins against the Bulls and Knicks and then beat the Celtics by 1 two days ago. The Celtics are 1-2 after a back-and-forth win over the Bucks, a blowout Christmas loss to the Nets, and that 1-point loss to the Pacers. I would think that the Celtics might bounce back here and take this one, but it's too close to call. Keep an eye on this important game between two likely playoff teams, but I don't feel too confident in picking either side.
I want nothing to do with this one. The Sixers came back late to beat the Wizards, crushed the Knicks, and were crushed by the Cavs in their first three games. The Raptors are 0-2 after a terrible second half against the Pelicans and a close loss to the Spurs. It's hard to get an early read on either team. Keep an eye on Toronto here to see if they can fight to their first win. No one wants to start 0-3.
I won't be betting against the Bucks, but this -5.5 line is confusing to say the least. I don't understand it at all given the history between these two teams. The Knicks loss was a complete fluke for the Bucks, and they have a very good shot at winning this game. But six points? I'm not taking it. Keep an eye on this one to see if the Bucks can put together a better performance against a Heat team that has had their number recently.
The Kings have started really well with an overtime win over Denver and a split with the Suns. The Nuggets cruised past a short-handed Rockets team last night after losing by double digits to the Clippers in their second game. I like Denver to avenge their opening loss here, but I'll stay away on a back-to-back. Keep an eye on this one because another Kings win would be quite the early statement for Sacramento.
Keep an eye on this one because it's a fascinating game between Western Conference playoff hopefuls. We don't have a good read on either team yet, but both have started 2-1 with some good wins. Who picks up a key win over a close competitor here?