Mike Bets #90
10 min read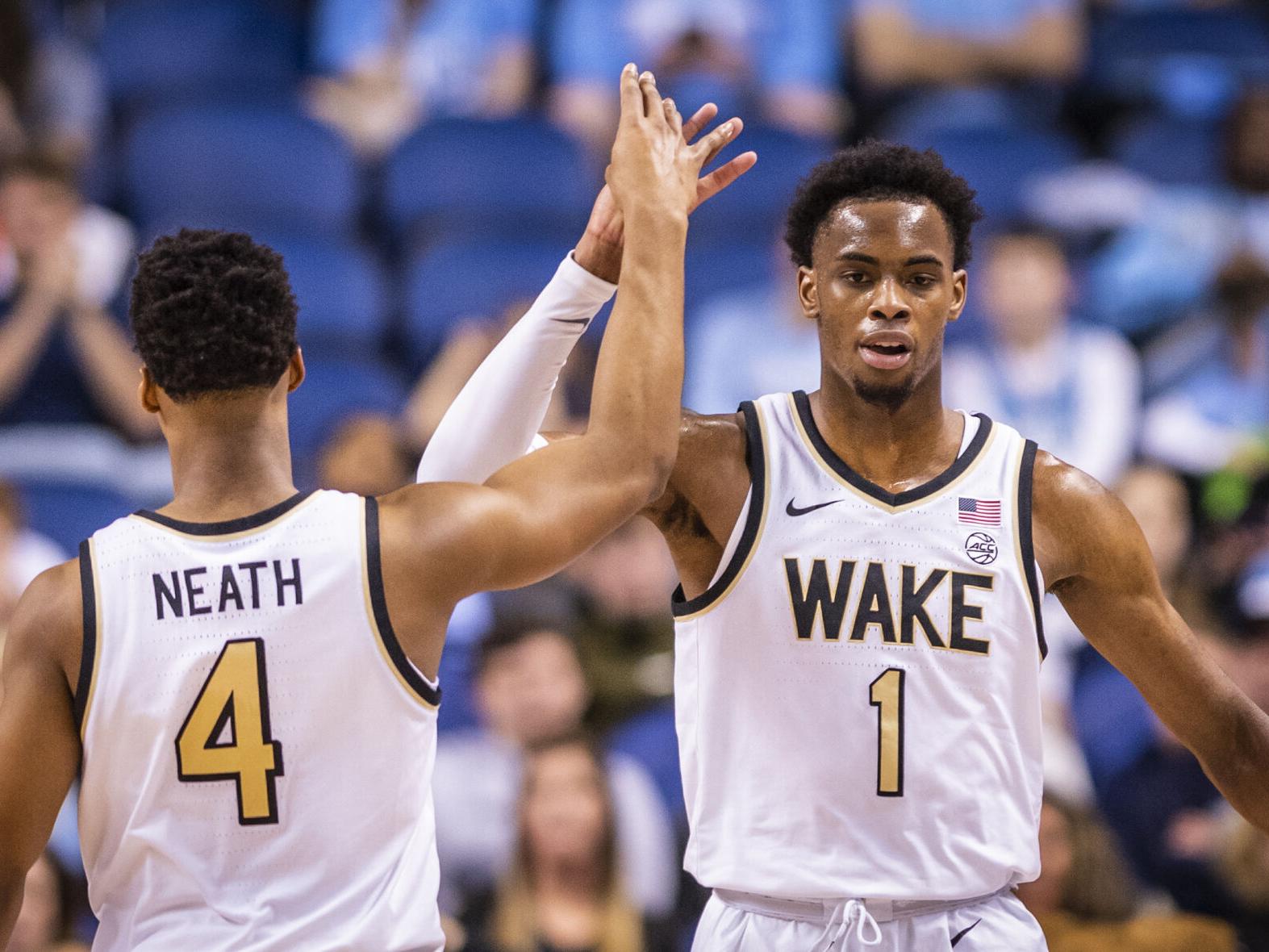 Let's take a quick look at everything that happened in the world of basketball yesterday. There were only two NBA games, both of which ended in blowouts, but there was some good college action –
The Jazz (10-4) won their sixth straight to move into a tie for second place in the West. The Lakers are half a game ahead of both Utah and the other LA. There are six teams between 2.5 and 3.5 games back, two more within four games, and another within 5 games. Only the Kings and Rockets (5.5 back) and Timberwolves (6.5) fall outside of that range. Donovan Mitchell led the way with 28 last night. For New Orleans (5-8), this was the sixth loss in seven games after a 4-2 start. What happened? A defense that started the year in the top five by defensive efficiency has cratered outside of the top twenty. That side of the ball was always going to be a project for Stan Van Gundy, and there's clearly a lot more time needed. The more immediate issue might be the offense. Zion Williamson and Brandon Ingram have been very good, but the rest of the team – Lonzo Ball especially – needs to step it up.
Then there's the Nuggets, who got back to .500 at 7-7 with a 119-101 win over the Thunder (6-7). One thing to watch with OKC is the absolutely awful schedule they have to play through over the next few weeks – @Clippers (twice), @Trail Blazers, @Suns, Nets, Rockets (twice), Timberwolves (twice), @Lakers (twice), @Nuggets, Bucks, Trail Blazers, @Bucks. That's a fifteen-game stretch with seven games against the Clippers, Lakers, Bucks, and Nets (all top-five by pretty much any overall metric) and then six games against the Rockets, Nuggets, Trail Blazers, and Suns. If OKC has any chance of exceeding expectations for the second straight year, they need to survive this stretch by picking up at least 4-5 wins.
In college basketball, Michigan and Alabama both picked up dominant wins to remind everyone of their presence at the top of their respective conferences. Michigan has been one of the most impressive teams in the country, but the talented Crimson Tide have started to roll after an uneven non-conference slate. They'll be a dangerous team in March.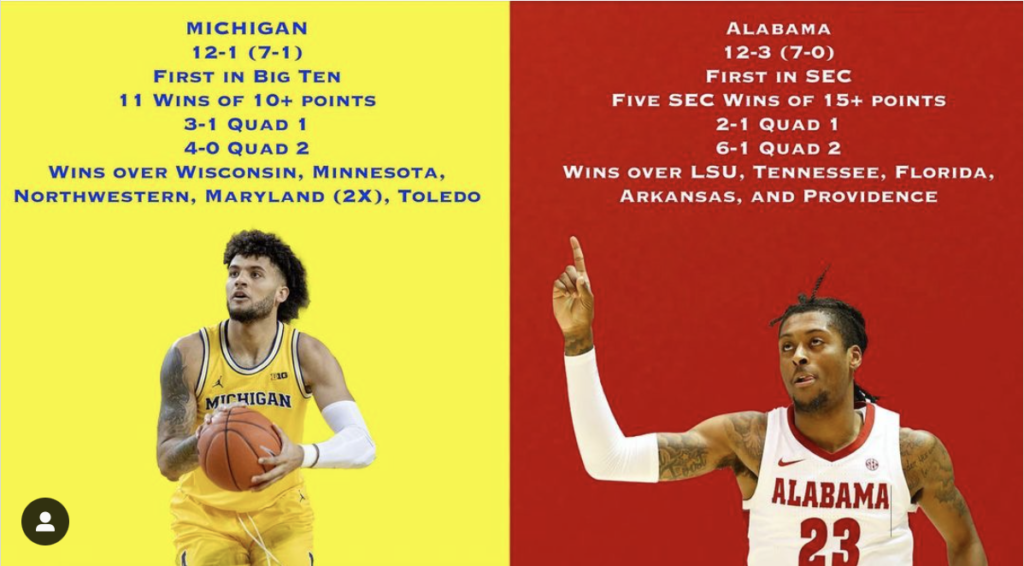 Villanova returned from a covid break of almost one month, and they squeaked by Seton Hall when a full-court pass slipped through Sandro Mamukelashvili's fingers in the closing seconds. It was an unfortunate end to the game for the big man, who led Seton Hall to the near-upset with 23 points, 9 boards, and 5 assists. The Pirates are still in decent shape at 9-6 (6-3) with wins over Xavier and Marquette and no really bad losses, but this was undoubtedly a missed opportunity. There's still more work to be done. For Nova, this was a big win against one of the better teams in the Big East. The Wildcats are now 4-0 in conference play, and no one else has less than two losses so far. It's their conference to lose, and making it through upcoming tests v. Providence and @ Seton Hall would put them in a great position.
Florida blew the doors off of #6 Tennessee. The Vols have now lost two of five, and they needed a second half comeback to beat Arkansas in one of the wins. It's been a shocking turn of events for a team that started 7-0 with wins over Colorado and Missouri, the latter coming by 20 points. Both Missouri and Kansas will be visiting Knoxville over the next ten days, so there's not much time to figure things out before seeding becomes a real issue. For 7-4 Florida (4-3 SEC), this was a potentially season-changing win. Losses to Kentucky and Mississippi State don't look great, but the Gators now have wins over LSU and Tennessee. They will have road chances against both teams down the stretch, and they will also face West Virginia (road) and Missouri (home). Win one or two of those and handle your business against the rest, and there might not be much to worry about come Selection Sunday.
Boiler up because Purdue picked up another huge win, this time over Ohio State for the season sweep. They're tied for fourth in the Big Ten, and they've won four in a row after a 2-3 start. I'm still not completely sold on the team that lost to Miami after leading 32-14 at half. Or the team that's 0-2 and -25 in games against the other teams in the Big Ten's top five. But there's no question that Purdue has established themselves as a very good, tournament-level team. They're 4-1 against Ohio State, Michigan State, Indiana, and Rutgers. That's really impressive.
Illinois picked up an expected win over Penn State, but it was still important after two consecutive losses. The Illini are now 10-5 (6-3), and they have their work cut out for them when it comes to contending for a Big 10 title. This next stretch (Iowa, @Indiana, Wisconsin, @Michigan) is make-or-break.
Missouri continued to rebound from a shock loss to Mississippi State (they lost the second half 24-51) with a win over South Carolina. The Tigers are now 9-2 (3-2), and they visit Tennessee on Saturday before hosting Alabama in about two weeks. If they want to contend for the SEC crown, there's not much room left for error. These are must-have games.
Oklahoma murdered Kansas State to further solidify their at-large position. The Sooners are 8-4 with no bad losses and wins over West Virginia and TCU (twice). The job isn't done yet though. Seven of their remaining eleven games come against ranked teams, and an eighth comes against in-state rival Oklahoma State. That starts with a brutal stretch of Kansas, @Texas, Alabama, @Texas Tech. You really don't want to be 8-8 by the end of it.
USC lost to Oregon State 56-58 in a game that they should have won. It's not a killer for the Trojans (11-3 and 5-2 in conference), but this is the kind of loss that takes a big chunk out of your margin for error. When you don't take care of business against the bad teams, you can't afford as many losses against the good teams.
Syracuse did take care of business, beating Miami, and their season-defining stretch is here – Virginia Tech, @Virginia, NC State, Louisville, @Clemson, @NC State. They're 8-4, but the best win is either Georgetown, Buffalo, or Boston College. Quality wins are needed, and this is the time to get them.
Toledo got back on track with a 17-point win over Central Michigan. They're now 7-1 in the MAC, and they play Kent State, Bowling Green, and Akron over the next two weeks. If they emerge from that stretch, which also includes Miami (OH), at 11-1 in conference play, the MAC might be all but decided.
Akron might have something to say about that though, as they beat Bowling Green last night after beating Toledo in OT this past weekend. The Zips had suffered terrible losses to Eastern Michigan and Northern Illinois, but they've toppled the best two teams in the conference to give themselves another shot. Now they just need to avoid tossing it away with another bad loss before they get their second crack at Toledo on February 2.
Pitt beat Duke. Duke has zero quality wins this season, and their tournament hopes are looking dire, to say the least. They'll be 5-5 if they lose @ Louisville this weekend. Pitt, meanwhile, is 8-2 with wins over Northwestern, Syracuse (twice), and now Duke. The loss to St Francis PA (now 2-7) back in November is just awful, but Pittsburgh will have a good shot at the tournament if they keep winning.
Utah State continued to roll with an 83-64 win over Colorado State. The Aggies are now 9-0 in the Mountain West with three wins over San Diego State (2) and Colorado State (1). Eight of those wins have come by 12+, and seven have come by 19+. Non-conference play was a struggle, but this is a team gearing into great form. They're playing as well as they can right now. For Colorado State, the tournament might end up being out of reach. They're 10-3, but they just have one top 100 win. That came after a monster comeback against San Diego State, but CSU is 0-3 and -52 in their other three chances. If they lose their next three to Utah State and Boise State (two games), they'll be 10-6 with the one quality win. Would winning out to get to 20-6 with two of your top three wins coming against Nevada be enough? I don't know, and that wouldn't be an easy task either. Getting one of these next three would be huge.
I'll end with Mississippi State, who suffered a really disappointing loss to Ole Miss to fall to 9-6 (4-3). They also lost to Texas A&M last week, and they're undoing all the momentum created by their win over Missouri. An empty week against Tennessee and Alabama would put them on the very edge of at-large elimination here.
College Basketball Record: 241-226-3 on individual bets, 9-47 on parlays, +$239
All Involved CBB Picks: 309-280-6 ATS, 26-34 Dog MLs
NBA Record: 15-29, 0-7 on parlays, -$436 (absolutely brutal)
Joint Parlays: 0-2, -$25
Abilene Christian (-4) v. Sam Houston State
SH State is red hot offensively, and they've won eight in a row. But loyal fans of Mike Bets know that we ride with the Abilene Christian (AC) Wildcats no matter the circumstance. AC has still only lost to Texas Tech and Arkansas, and they've been coverage kings all season. Let's ride.
ETSU (-1.5) v. Western Carolina
ETSU is 3-1 in Southern conference play with their only loss coming to top-of-the-league Furman. That includes an eight-point win over Western Carolina, owners of a 0-3 conference record. WCU is on a four-game losing streak, and they've won just one D1 game by more than six points this season. Take ETSU.
Rhode Island (-4) v. Duquesne
URI is a solid team. They're top 70 in both the NET and KenPom rankings. Duquesne has only beaten George Washington (3-8) and Fordham (1-5) so far in A10 play. This line is small enough. I like it a lot.
Clemson (-2) v. Georgia Tech
This is a tough, gritty, and very good 9-2 Clemson team that was just embarrassed by Virginia. They're going to bounce back with a bang in this one. Take the Tigers
This is a ridiculous line. UNC is 3-3 in the ACC with wins of 1, 3, and 6 points against the likes of Miami, Notre Dame, and Syracuse. Wake Forest is bad, but they compete really hard. There's no reason not to take them here.
Tulsa gave Houston their only loss this year. I don't really see that happening again, but they have the defense to keep it respectable. This is a good team, and they've only lost by more than 12 points once this year. They're not prone to blowouts. I like Tulsa.
Colorado (-12.5) v. Washington
Colorado is good. They're 11-3 with four Pac 12 wins of 10+ points, including a 92-69 win over Washington. Washington is not good. They're 1-11, and they've lost by 20 four times. They've lost by 13 or more seven times (over half of their games). The Buffs are a good pick today.
Wisconsin v. Northwestern (+12)
We're looking at a Wisconsin team that caps out at 10-15 point wins even when they're on their game. They're still very good, but the odds of them blowing someone out just aren't high. Northwestern has been getting smacked around their last five games by the top of the Big Ten. They should be angry, and they show enough fight to keep this one under 12.
Boise State (-14.5) v. Fresno State
I'm pro Boise. The Broncos are fantastic. Throw in the fact that Fresno just lost to Nevada (worse than Boise) by 16 and 14, and we've got ourselves a good line here.
St Bonaventure v. VCU (+110)
NBA Picks (they're free for a reason)
I got nothing today. None of the lines speak to me. I apologize for the lack of fade content.
GAMES TO KEEP AN EYE ON
Arkansas (10-4) has lost four of five. They were crushed by LSU and Alabama in their last two. This is a team that dominated a poor non-conference schedule, but they're sitting here with only two semi-quality wins (Auburn, Georgia). The resume really can't afford home losses to a team like Auburn, so keep an eye on this important bubble game. Can the Razorbacks bounce back?
Georgia (+4.5) is probably the play here, but I just don't trust either team. Keep an eye on this one because Kentucky has an unbelievably brutal stretch coming up with LSU, Missouri, Arkansas, Tennessee (twice), Alabama, and Texas all on the schedule (not in that order). There's no hope for them there if they can't win here.
Providence needs a resume boost to help them in their quest to stay on the right side of the bubble. Creighton needs to rebound from a rough loss to Butler. Keep an eye on Creighton here. They could really use some momentum before UConn visits for a huge weekend match-up.