Mike Bets #92: The Bucks and More
16 min read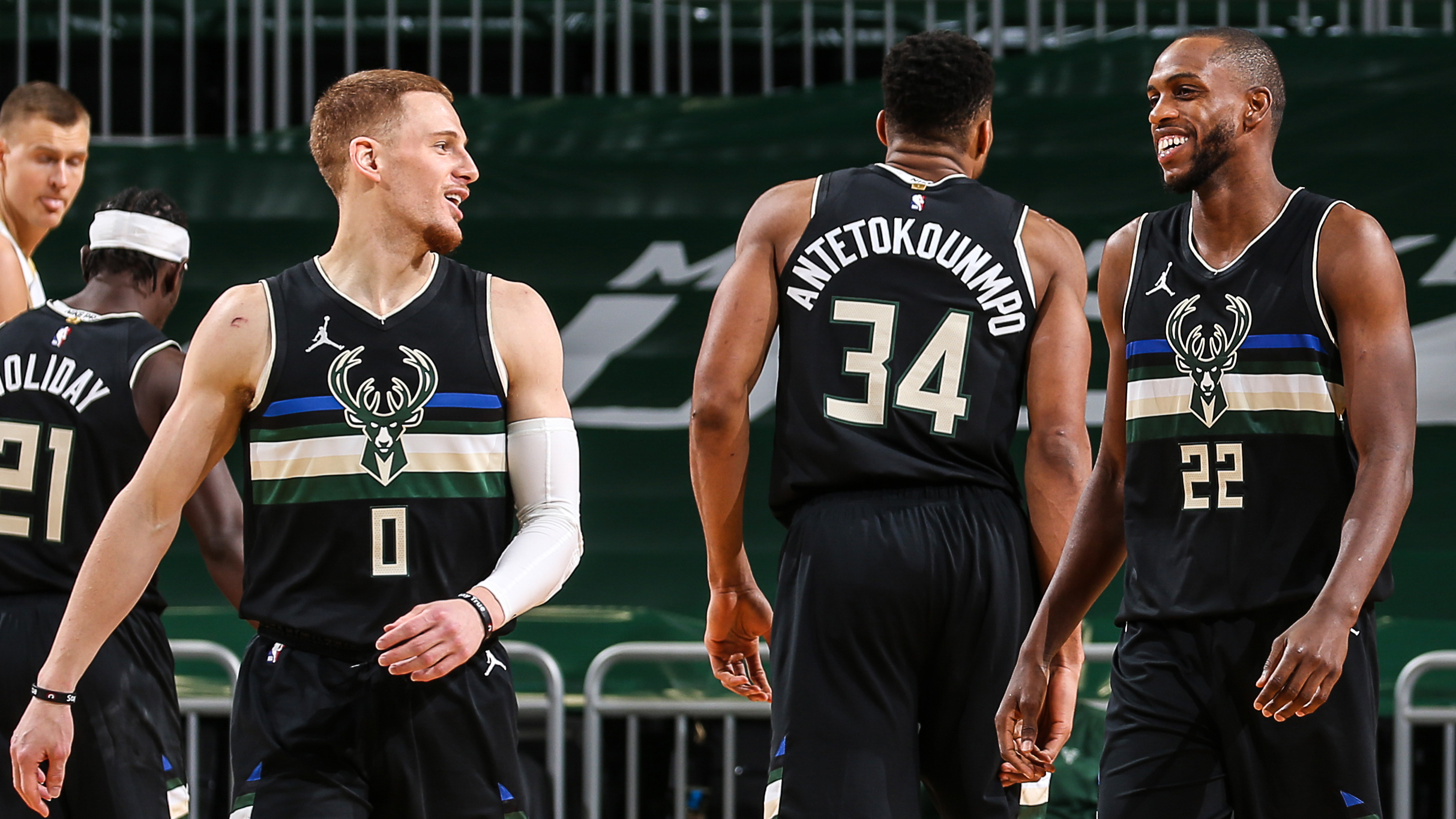 Yesterday we saw a change at the top of the Big Ten and a number of important results for the bubble. We also had three NBA games, and the primetime match-up between the Bucks and Lakers is worth a closer look. Let's get to the recap.
Indiana invaded Iowa City and picked up a much-needed signature win behind a 50-32 second half. The Hoosiers ended the game on a 26-14 run, and they're now 9-6 (4-4). A road win over a top ten team will be the crown jewel of any tournament resume, and they can now add it to quality wins over Stanford, Providence, and Maryland. The job isn't done yet though. Of Indiana's last eleven games, six come against ranked opponents (Iowa, Illinois, Ohio State, Minnesota, and Michigan twice). Two more come @ Rutgers and @ Purdue. The easiest three games on the schedule involve a trip to Northwestern and home games against Rutgers and Michigan State. That's a really tough closing stretch, and the win they picked up last night likely won't save them if they finish around 13-13.
For Iowa, the loss pushed them back to second in the Big Ten at 6-2. There, they are tied with Wisconsin, one game back of Michigan, and half a game ahead of Purdue and Illinois. Michigan and Purdue play tonight. Wisconsin hosts Ohio State (sixth place, one game behind Purdue and Illinois) tomorrow. Illinois is off until next Friday, when they host … Iowa. The Big Ten is brutal, and the Hawkeye's next three games are @ Illinois, v. Ohio State, and @ Indiana. If they make it through those games, they have a brief "reprieve" of Rutgers and @ Michigan State before four of their final five games come against Wisconsin (twice), Ohio State, and Michigan. Three of those games are on the road. There's no doubting the offensive brilliance of this team, but a conference championship will be an uphill climb. If they win a piece of the trophy, they will have earned every bit of it. On the bright side, everyone else in the Big Ten is facing the same road.
In other Big Ten news, Rutgers suffered a crushing loss to Penn State. The Scarlet Knights were poised to make their first tournament appearance since 1991 last year, and it's becoming less and less likely that they make up for its cancellation with another tourney-worthy season this time around. They're just 7-6 (3-6) and have now lost five in a row. The road win over Maryland and the victories over Syracuse, Illinois, and Purdue will certainly boost the resume, but you do need a decent enough record too. The good thing for Rutgers? They only have four remaining games against ranked opponents, and two of those are against Minnesota. This is nothing against the Golden Gophers, but they're likely a more favorable opponent than certain other teams. Road trips to Michigan and Iowa will be tough, but there are a lot of winnable games left on this schedule. Before yesterday, I would have backed Rutgers. After last night's effort, they have some more to prove. The path starts with a Sunday trip to Indiana.
Memphis crushed an ice-cold Wichita State team that I may or may not have bet on to give Houston sole possession of first in the AAC. Of course, the quality win is probably just a little more important than the title chase ramifications for the Tigers, who are now 7-5. That's not an ideal record for an AAC team, but Memphis does have the wins over Wichita State and St Mary's now. While there's a lot of work to be done, this is the kind of win that keeps the hope alive. A two-game series with fellow bubble team SMU next week looms large.
For Wichita State, this was a chance to really push themselves into the current field by moving to 9-3. Instead, they're 8-4. The two wins over Tulsa and the lack of bad losses (so far) will go a long way, but the Shockers can't come close to relaxing either. They need to keep winning, and they need to find a way to avoid shooting 2-23 from three like they did last night. (At this point I'd quickly like to point out that Memphis shot over 60% from three yesterday which makes this a crazy outlier shooting game that no one could have predicted so my pick wasn't really that bad of a pick if you really look into the stats behind the game and think about things from that perspective and I probably deserve my money back because Wichita State basically won if you take out the three-pointers which were clearly rigged).
Let's quickly break down what happened in the MAC yesterday. Akron (confusing), who has beaten Toledo (very good) and Bowling Green (used to be good but might not be too good anymore) but also lost to Eastern Michigan (bad) and Northern Illinois (absolutely awful), beat Central Michigan (also bad) to move to 5-2 in conference play. Got it? If they take care of business in their next three games, Akron is guaranteed to enter their February 2 rematch with Toledo within a game of first place even if Toledo also makes it through the next ten days without an additional loss. Bowling Green was crushed by Miami (OH) (maybe good?). The loss dropped BG to 6-3 in conference play, and they now have their work cut out for them in the title race after three losses of 12+ points in their last four games. The good things is that they still play Toledo twice and Akron and Kent State (pretty good) once, which means they still control their destiny. The bad news is that they don't look to be anywhere near the form they need to be in to actually go out and win all of these games. Then there's Buffalo (seemingly decent), who beat Eastern Michigan by 15 yesterday. The good news for Buffalo (4-3 in conference), is that they've had no issue with the lesser teams, and they have plenty of those games coming up. They have a decent shot at taking their title hopes into a February 20th game with Toledo.
Colorado State picked up a huge win over Utah State. The Rams now have split games with both USU and San Diego State, and that should be enough to pair with their record (11-3) if they keep winning games at a decent rate. A win against Boise State in next week's two game series would all but seal an at-large bid, but so would a 7-2 run through their last nine games after Boise. An 18-7 team with wins over SD State, USU, and (presumably) Nevada would be in a very good spot. This was the first conference loss for USU (12-4), and it doesn't mean much as a one-off event. It could, of course, make it harder to catch Boise and their 9-0 conference mark, but USU will be fine in the grand scheme of things as long as they don't let this loss carry over to next week's trip to face 5-6 UNLV.
Belmont deserves a shutout. They moved to 15-1 (9-0) yesterday with a 79-66 win over Eastern Illinois. The line was -12.5, so good job all around. Now comes the hard part. Of their remaining eleven games, eight come against teams with conference records above .500. That includes two against 13-2 Eastern Kentucky, who won by 40 yesterday, and another two against Morehead State, who is 7-2 in OVC play. If Belmont wins nine or ten of those games and finishes 24-3 or so, it would be very hard to see them not getting an at-large bid even with the lack of quality wins. If they stumble a little bit and finish 22-5 or worse, the conference tournament might be their only path.
UCLA moved to 8-0 in the Pac 12 with a close win over Cal. Their defense stepped up in the second half, only allowing 21 points. Only Oregon also has less than two conference losses, and only USC has two and not more. The Bruins have beaten Arizona and Colorado, so they're not just beating up on the bad teams. What they have been doing is winning a lot of close games. Six of their eight conference wins have been decided by six points or less. That seems like an unsustainable formula. We'll find out over the next two weeks with games against Stanford, Oregon (twice), and USC on the schedule.
Arizona moved to 11-3 (5-3) with a buzzer-beating win over Arizona State. The good news for Arizona is that they're 11-3 (5-3). The bad news is that ten of those wins have come against teams outside the top 120 of the NET rankings. There's not a whole lot in the way of quality wins here, and that includes last night's win (Arizona State is 123rd). Arizona does have the win over top 20 Colorado, but this is simply a young team that has yet to find their groove against the highest level of competition. If that changes before March, this will be a team to watch.
Now for the NBA. The Jazz beat the Pelicans to pick up their seventh straight win and pull into a tie for the second-best record in the league. They're seventh in both offensive and defensive efficiency after finishing 9th and 13th in those two areas last year. Can they hold on to these improvements? I also briefly talked about these two teams the other day when they played, so I won't say much more here.
The Knicks beat the Warriors to pull back to .500. They're playing great defense, and it's been enough to carry a sputtering offense. That offense was just fine yesterday in the 119-104 win. Julius Randle had 16 points, 9 assists, and 17 rebounds, and he deserves some recognition for his insane start. Randle is averaging over 22 points, 6 assists, and 11 rebounds per game while playing more than 37 minutes a night. The only other players averaging 20, 5, and 10 so far? Giannis, Luka, Jokic, and Domantas Sabonis. How's that for data? Give Randle the respect he deserves.
Then there is the unfortunate case of my Milwaukee Bucks, who lost to the Lakers last night. I'll get the easy stuff out of the way first. The Lakers dominated the perimeter, and that was enough to overcome Milwaukee's domination of the paint –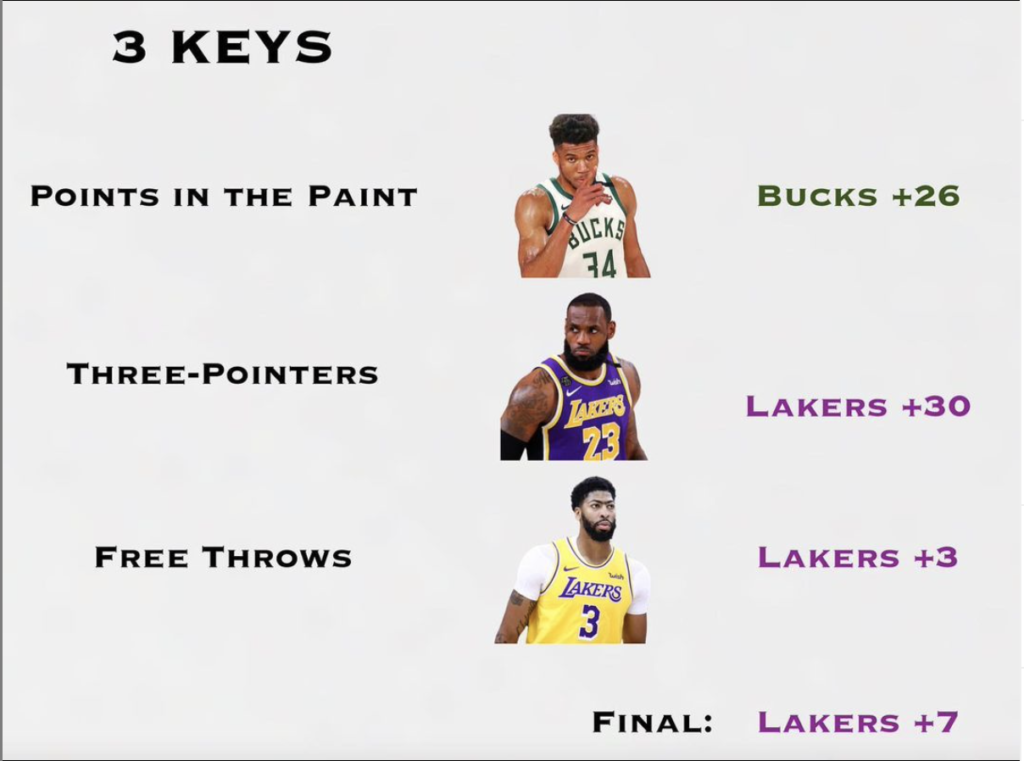 And the Lakers deserve a lot of credit. This is a really great, well-rounded team, and they appear to be just as focused as they were last year. LeBron is still LeBron, KCP is shooting like a man possessed, AD is doing AD things (and shooting pretty well himself), and Dennis Schroder and Montrezl Harrel have been valuable additions so far. If someone is going to take the title from LA, it's going to take one heck of an effort.
Now to the Bucks. Here are the positives –
The Bucks are 9-6, good for a tie for fifth in the league at 2.5 games back of the Lakers (seventh by winning percentage but let me say top five)
They're 2nd in the league in scoring efficiency and 11th in defensive efficiency
They're also second in the league in net rating (offensive efficiency – defensive efficiency), average point differential, and SRS (mix of strength of schedule and margin of victory)
Jrue Holiday and Bobby Portis have been really dang good
Khris Middleton is scoring (and playing) at an elite level, and Donte DiVincenzo has taken a clear jump forward
Giannis has room to improve on his early season play, as do Brook Lopez, DJ Augustin, and Torrey Craig (who has barely played)
Shaq once won a title in a season where he shot 47% from the line. Giannis's free throw struggles (he's around 57% right now) aren't irrelevant, but they're not as big of a deal as some want them to be
Mike Budenholzer has clearly been more interested in making adjustments and trying new things so far. The jury is still out on his ability to coach a team to a title, unfortunately, but he has been trying some things that should pay off by the time the playoffs come around
In other words, anyone hitting the panic button after two losses to the Nets and Lakers by 9 combined points needs to calm down a little bit. The Bucks are in as good of a position as just about any team in the league. That doesn't meant that there aren't some potential issues here. Let's run through three for now (these aren't necessarily in order of significance).
First a general look from last year to show a more typical difference between wins and losses. The Lakers, for the record, had an even bigger gap at 7.2%:
Bucks in wins: 14.1-38.1 from three (37%)
Bucks in losses: 12.9-41.5 (31.1%)
Sometimes the shots just don't fall and you lose. It happens over the course of the year. That's perfectly reasonable and an expected outcome.
What's happening so far for the Bucks this season is far beyond reasonable, however:
Bucks in wins: 18-40 (45%)
Bucks in losses: 11.7-37 (29.8%)
That's an insane split. The Bucks have been red-hot in some games and ice-cold in others. The inconsistency makes sense for a team that swapped out the vast majority of their bench rotation. The question is which side they'll end up settling closer to as the season goes along. The off-season moves were made in the hope that the Bucks would have more dynamic shooters around Giannis. Early on, the shooting performance in wins would suggest they succeeded. There are also numbers from the losses to suggest that we might end up exactly where we were last year. It's too early to tell.
The biggest issue with the cold shooting in the losses is that the Bucks also tend to give up threes at a high clip with their defensive style. They protect the rim at all costs, and it leaves shooters open. It obviously hasn't cost them overall in the regular season, but there's reason to believe that switches need to be made. The Bucks finished with the second-worst defensive rating of the second round last year in their loss to the Heat, and they were murdered beyond the arc by the Nets and Lakers, which has become a relatively common theme in losses. My initial take on the defense was that teams couldn't possibly get that hot four times in seven games –
And that is the general idea of the defense. Milwaukee's opponents are shooting roughly 33% from three (a fine number from a defensive perspective) in their nine wins, and it's not like the Bucks are running out different defensive systems in wins versus losses. You deny the rim (Milwaukee is 4th in paint points allowed) and do a decent but somewhat limited job of contesting threes, and it should work out in a way where teams don't make enough threes to overturn your dominance in the paint. That very clearly works. The Bucks are 9-6, have had the one seed two years in a row, and have won more playoff games over the last two years (15) than any team but the Raptors (23), Lakers (16), and Nuggets (16). None of that matters as much as those individual seven-game series in the playoffs though, and it's there where the Bucks have fallen short.
At this point, I think you have to consider switching things up. It's not as easy as just shouting about not giving up threes because getting gashed in the paint is just as bad. But by now I just don't know that you can rely on an elite basketball team to not get hot four times in a series. The unfortunate reality is that the league is changing. A defensive structure that might have had very few weaknesses ten years ago is now prone to failure because teams can throw out three or four guys who can absolutely lace it from deep when they get the kind of space the Bucks give them. At this point, it's difficult to scratch the hot shooting up to luck.
The offensive system (or lack thereof)
This, more than the defense and the rotations, is my gripe with Budenholzer. Far too often, the play call is Stand Around While We Wait For The Guy With The Ball To Do Something. The most upsetting example of this was last year's fourth quarter collapse in Game 3 of the Miami series. Watch the offensive possessions at the end of the game and you'll see the Bucks just chucking up shots without even attempting to create anything.
Telling your stars to go make a play is, at this level, a necessary part of the game. You need to rely on your stars. But you also need to set up your stars in the best possible way for them to succeed. Giannis is not LeBron just because he's a tall dude who can dribble and pass. He does not need to be the point guard and the finisher. You don't need him to take on the defense from the top of the key. Use him as a screener for a lethal shooter in Khris Middleton or for a very good shooter and playmaker in Jrue Holiday. Use him in the short corner. Have him screen off-ball for Middleton and dive to the rim. What does the defense choose in that situation? The Bucks need to be smarter about the way they use one of the best players in the game. They've taken position less basketball to a detrimental extreme with Giannis, and it's just not putting him in favorable positions.
Milwaukee has a good regular season offense because they get out in space and because no one is particularly interested in expending the energy required to wall off Giannis's drives in the second quarter of a random game in January. But when those margins shrink during the playoffs, you need creativity. The Bucks were 8th in scoring efficiency in last year's playoffs, and their defense wasn't good enough to pick up the slack. You can't have both sides of the ball fall short in the biggest moments. Right now, that's the defining tale of this Bucks team. They have until May to figure out how to excel when it matters most.
Now, before I end this, I should clarify that I'm still feeling good about the Bucks. The goal of this year was to find that playoff edge that I just talked about. You can't be ripping the team because you're worried they haven't found it 20% of the way through the season. This was going to be the goal this year, and we'll see if they can make it happen.
Now to the picks. It's been a rough two days of betting. I just have one play today.
College Basketball Record: 246-238-3 on individual bets, 9-48 on parlays, +$66
All Involved CBB Picks: 314-292-6 ATS, 26-37 Dog MLs
NBA Record: 15-30, 0-7 on parlays, -$458 (this has to turn around at some point)
Joint Parlays: 0-2, -$25
Michigan (-3.5) v. Purdue
Michigan won't let the opportunity to get further ahead of Iowa slip through their fingers. Go Blue.
GAMES TO KEEP AN EYE ON
Not a terrible game to keep an eye on. Nevada is the middle team in the Mountain West. They're 108th on KenPom and 120th in the NET rankings, which makes the tourney a long shot. But, this is still a solid team, and the more they win against the teams beneath them, the better it looks for the top of the conference when they best Nevada.
Boise State v. Fresno State
Keep an eye on Boise State here. They trailed at the half in the first game of this series on Wednesday before they ended up winning by 20 with a great second half. They've won thirteen in a row. Can they get to 10-0 in Mountain West play the night after Utah State failed to get it done? Road trips to Colorado State and Nevada are up next.
The Heat are 6-7 on the league's easiest schedule. They're 3-3 with Jimmy Butler and 3-4 without him. At least they're not 5-9 like the Raptors. Miami took the first of these two games between struggling teams. Can they take the second too? Keep an eye on Miami, who will be without Butler again tonight.
Jayson Tatum's return from covid protocol won't happen by tonight. Keep an eye on the Sixers to see if they can take advantage and get to 11 wins.
Keep an eye on Brooklyn here. How do they respond after the 2OT loss they suffered to the Cavs the other day?
Keep an eye on the Suns. They're just 2-3 in their last five. Can they deal with Denver's offense tonight?
Guess who else is 2-3 in their last five? If you guessed Pacers, you win! Keep an eye on Indiana as they look to get a win against the struggling Magic (1-6 in their last seven).
The Rockets are 2-7 in their last nine. John Wall has been missing time lately. It's not great in Houston. Things would be worse with a loss to the Pistons. Keep an eye on this one if you like one of these two teams.
Keep an eye on this one because it should be a good game. I don't have much else to say about it.
Bulls v. Hornets, Hawks v. Timberwolves, Kings v. Knicks, Thunder v. Clippers