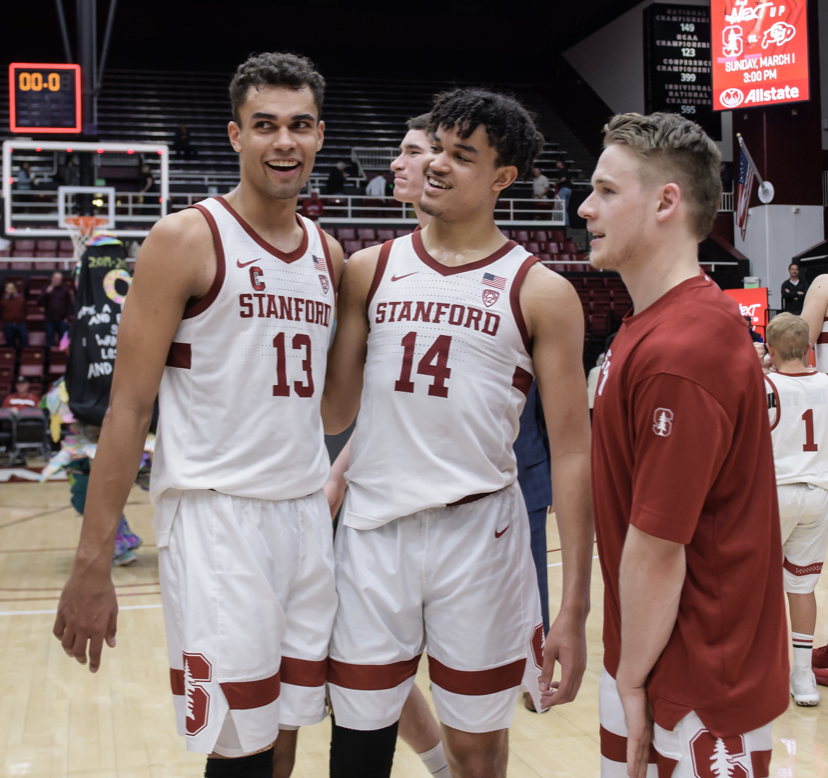 Here's your quick run down of what happened last night –
Colorado State knocked off Boise State. It was the first loss since the season opener for the Broncos, and it makes things very interesting at the top of the Mountain West, where we have Boise State (9-1), Utah State (10-2), and Colorado State (9-2). The win also all but guarantees CSU an at-large bid. They've done enough with wins over Boise, USU, and San Diego State. The only thing left is to avoid collapse.
Florida State and Virginia Tech both rolled to comfortable wins over Miami and Notre Dame, respectively. Both are within 1.5 games of Virginia at the top of the ACC. The Hokies host UVA on Saturday night. In other ACC news, NC State kept their bubble hopes alive with a win over Wake Forest and Clemson hung on to beat Louisville and rebound from a three-game losing streak that saw them lose by 35, 18, and 19. Both teams are now 10-4, and the loss drops Louisville 2.5 games off the top of the conference.
Baylor beat Kansas State by 48. Baylor is very good. They're also now 2.5 games clear at the top of the Big 12 after Texas's loss to Oklahoma.
Providence toppled Marquette in overtime to keep their at-large chances alive. A weekend trip to Georgetown is essentially must-win before a Wednesday game against Seton Hall that will be huge for both sides. For Marquette, this feels like the closing of a door. They're 8-8 (4-6) and playing sluggish basketball. Would an 8-0 finish get them into the tournament. Absolutely. 6-2 would likely do the trick with the wins over Creighton and Wisconsin. It's just very difficult to see this team putting that sort of closing run together. For the aforementioned Seton Hall, yesterday was also quite a bummer. They let a huge lead slip against Creighton, and they're now just 9-7 after two consecutive losses of six combined points to Nova and Creighton. Those are missed opportunities that could come back to bite, especially if the Pirates lose to Villanova again this weekend. Creighton is still within (a long) reach of Nova after their win. They're 8-3 in Big East play with two games left against the 5-0 Wildcats. It's close to being over, but it's not done quite yet after last night.
In the Big Ten, Ohio State and Wisconsin survived against Penn State and Maryland, respectively. The Badgers pulled within 1.5 games of Michigan while the Buckeyes sit only half a game further back. For Maryland, there's still work to do if they want to play into March. The Terps have the road wins over Wisconsin, Illinois, and Minnesota, but they're also just 9-8 with zero Big Ten wins outside of those three games. They do need to pad the win column a little bit more.
Kent State topped Bowling Green in a battle of teams that entered the game with three conference losses. If Akron beats Toledo next week, Kent State will only be one game behind the MAC leaders in the loss column.
In the SEC, both Florida and Arkansas took care of business against lesser teams. They did what they needed to do to keep their bubble position in a favorable spot.
Drake beat Missouri State again, moving to 15-0. They're one of the best stories to follow over the final five-to-six weeks of the regular season. The big two-game series with Loyola is about two weeks away.
Colorado handled Washington State to move to 7-3 in conference, which is only 1.5 games off the lead. The Buffs host UCLA in their season finale, which could be a massive game if the title race stays close.
In the Southland Conference, Sam Houston State moved to 7-0 while Abilene Christian beat Stephen F. Austin to put both teams at 5-1. These are three to watch for the conference's auto-bid.
I'll end with BYU, who suffered a disappointing loss to Pepperdine. The 13-4 Cougars, with wins over Utah State, San Francisco, San Diego State, and St Marys will be fine when it comes to making the tournament. This is the kind of loss that makes it a little hard to climb up the seeding ladder though.
In the NBA, the Jazz didn't even need Donovan Mitchell to dominate the Mavs and pick up their tenth consecutive win. Jordan Clarkson led the team with 31 points, Rudy Gobert added 29 to go along with his 20 rebounds, and Joe Ingles and Mike Conley combined for 38 points and 14 assists in a strong team effort. There's no one in the league playing better basketball than Utah right now.
The Sixers held off the Lakers late despite 34 from LeBron. The three best players in Philly stepped up – Tobias Harris scored 24, Joel Embiid scored 28, and Ben Simmons went for 17 points, 10 assists, and 11 rebounds. The win puts the Sixers at 13-6, ahead of the Bucks (11-6) and the rest of the East as we hit the quarter mark of the season. It's a very promising start for a team that suffered through a brutal slog of a regular season last year.
In other relevant news, the Suns are now 1-5 in their last six after a loss to the Thunder. The Heat are 6-11 after losing at home to the Nuggets by 27. Denver is 10-3 over their last thirteen games. The Spurs picked up a nice win over the Celtics to keep themselves above .500 at 10-8. The Bucks kept pace with the Sixers after a gritty win over the 7-11 Raptors in Tampa. The Wizards fell to 3-11 despite getting 47 points from Bradley Beal.
Now to the picks.
College Basketball Record: 265-247-3 on individual bets, 9-49 on parlays, +$241
All Involved CBB Picks: 333-300-6 ATS, 26-41 Dog MLs
NBA Record: 16-33, 1-7 on parlays, -$470 (today is the day)
$22 for spread, $20 for ML
USC v. Oregon State (+12)
San Diego State v. Wyoming (+15.5)
SMU v. Memphis (+4)
Belmont (-5) v. Austin Peay
Arizona v. Stanford (+8.5)
Arizona State v. Cal (+8)
Nothing today.
Update: I just realized that I said today is the day for NBA picks at the top of the picks section. Oh well. Tomorrow is the day.