Nuggets-Clippers Preview
9 min read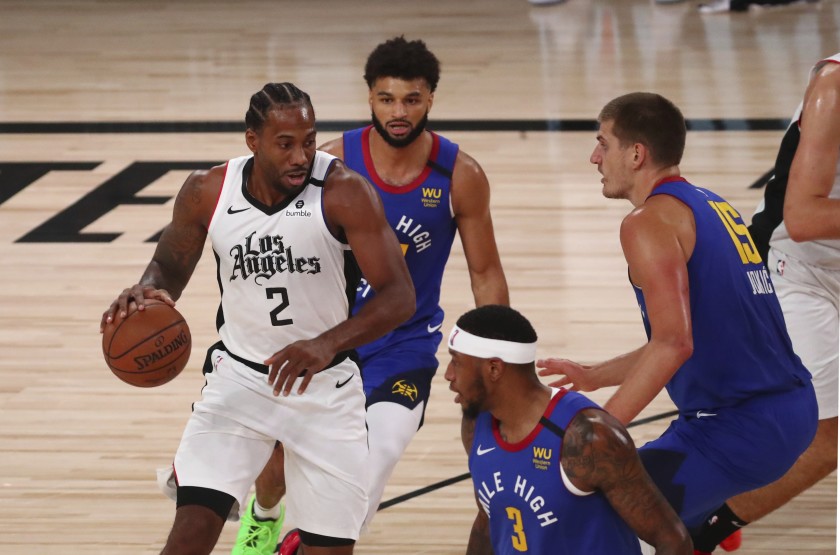 The Western Conference semis are finally ready to go after three of the four first round series lasted at least six games. The Clippers – a common title pick – got past the Mavs, but it wasn't easy. Dallas, despite being without Kristaps Porzingis for over half of the series, gave LA everything they could handle. Poor shooting from Paul George and the absence of Patrick Beverly had the Clips on the brink before they flipped a switch and took the last two games. The Nuggets came back from a 1-3 deficit against the Jazz. Both teams were missing starters, and both teams had young guards – Jamal Murray and Donovan Mitchell – that produced scoring outburst after scoring outburst. Denver won when Mike Conley barely missed a potential series-winning three at the buzzer, a sign of just how close the series was. Can the Nuggets survive the step up in competition? Or will the Clippers put some of their first round woes to bed on the way to their first ever Western Conference Finals?
Let's go through the basics –
The Schedule
Game 1 – September 3 (Today) @ 9:00 p.m. Eastern

Game 2 – Saturday @ 9:00 p.m. Eastern
Game 3 – Monday @ 9:00 p.m. Eastern
Game 4 – Wednesday @ 9:00 p.m. Eastern
No other game times are determined, but there will be a game every other day until the series is decided.
Game 5 – Friday, September 11
Game 6 – Sunday, September 13
Game 7 – Tuesday, September 15
Injury Report
Clippers –
Patrick Beverley (calf) missed the last five games of the Mavs series and the last five seeding games. He's expected back for tonight's game. After just playing the series opener last round, he will be hoping to stay on the court this time around.
Nuggets –
Starting forward Will Barton remains out with a knee injury. He left the bubble roughly two weeks ago for additional rehab, and there is no indication of a possible return at this point. Barton has yet to play since the restart.
Vlatko Cancar is out with a broken foot. He played 45 minutes for Denver this season.
On the bright side, Gary Harris is back after missing all of the seeding games and the first five games of the first round. The stats weren't very pretty in his two appearances, but he made an impact defensively.
Season Series
January 12 – Nuggets 114, Clippers 104
February 28 – Clippers 132, Nuggets 103
August 12 – Clippers 124, Nuggets 111
I'm not sure if there's much of anything that we can take away from this. Harris, Beverley, and Montrezl Harrell all missed that August game, which saw the Clippers pull away with a huge fourth quarter. Paul George missed the loss in January, and Marcus Morris missed both of the pre-bubble games. These signs would probably point to the Clippers being the favorites here just on the basis of the season series, but that's not anything new. The Clips are the better team here.
My Original Predictions for this Series
What did I predict back in my full playoff preview (http://statpadders.com/?p=1277)?
Clippers-Nuggets
Clippers in 5
I even predicted Nuggets in 7 in the first round, though I didn't think the Clippers would have as many issues with the Mavs. I still think the Clippers are in a good position, with Beverley back, to roll into the WCF without too much difficulty.
Quick Team Summaries
The Nuggets regressed slightly after coming within a game of the conference finals last season. They've yet to break into the top five or six in overall metrics during the Jokic era, and that's typically where the title winners reside. Denver was all over the place on both sides of the ball this season. They ended up 9th in scoring efficiency and 13th in defensive rating, but they were everywhere between 2nd and 23rd offensively and 1st and 22nd defensively in any given month. Those chaotic swings continued in the bubble, where they finished the seeding games 5th in scoring efficiency and last in defensive rating. In the first round, they were again 5th in offensive rating and 14th in defensive rating despite the rock fight that was Game 7.
This is a slower team, and they run a lot of their stuff through the pass. Jokic, arguably the best passing five man in league history, is at the center of it all. He was easily the best all-around center in the league this year with Joel Embiid and Karl-Anthony Towns struggling through injuries, and he has a good argument to top them regardless of everyone's respective health. Late in games, Murray and Jokic take over for Denver. Murray had four thirty-point games, three forty-point games, and two fifty-point games after averaging just 18.5 points during the regular season. All credit to him if he can keep that level of production going, but I can't see it happening. Other guys are going to need to step up.
Another issue for the Nuggets is the absence of Barton. Jokic, Murray, Paul Millsap, Harris, and Barton formed the team's best and most commonly used lineup, a lineup that played more than 500 minutes more than any other five-man grouping. While Harris has dropped off statistically since his 2018 peak, Barton was quietly putting together a very good season. Harris, again, is back, and he provided a defensive impact right away. Barton might not return, and Michael Porter Jr's offense during the seeding games wasn't repeated in the first round, when his all-around game became more of an issue. He's not quite ready to play consistent, crucial playoff basketball yet.
The Clippers have been one of the best teams in the league all season long. Only the Bucks and Lakers were better during the pre-break season, and Los Angeles hit the floor running in the bubble despite the absence of Harrell, a Sixth Man of the Year candidate. Consistent injuries and rest-based absences haven't stopped them from playing with a good rhythm more often than not this season, though the absence of Beverley – combined with George's struggles – led to some lacking rhythm in the middle of their series with Dallas.
Kawhi is arguably the best two-way player in the game not named Giannis Antetokounmpo, and he has the postseason pedigree that Giannis lacks. He'll be looking to back up the title he won last summer with Toronto. George has struggled with injuries this season, and he's only been a top twenty-five player after finishing third in MVP voting last year. He was terrible from the field at times against Dallas, and he will need to be better going forward. The return of Beverley will be a key, especially with Murray involved, and Doc Rivers has options on his bench for both offense and defense. The Clippers are really hard to beat if their best players are healthy and doing what they're supposed to be doing.
X-Factors
Jamal Murray
In Denver's first round wins, Murray averaged 36.3 points per game. In their three losses, he scored 14, 12, and 50. They lost that third game because Donovan Mitchell dropped 51 while Mike Conley and Jordan Clarkson combined for 50 for Utah. The point here is that Murray's scoring was the driving force behind Denver's performance. He was huge down the stretch of Game 1, his second half determined Game 5, and his 50 in Game 6 was enough to out-duel Mitchell. Are we going to see that performance again? I really don't think so. Murray, again, averaged just 18.5 points per game during the regular season. He averaged 31.6 during that series, and that's including the two games where he combined for just 26. There's no way that he keeps that up, but he might need to if Denver is going to stick with the (for now) healthy Clippers instead of a Jazz team without Bojan Bogdanovic.
2. Paul George
George opened the playoffs with 27 points on a somewhat inefficient night. He scored 35 in a very efficient manner in Game 5. He averaged 12.3 points per game and shot 24% from the field and 19% from three in the other four games, including the final game of the series. George had a fine all-around series with his contributions as a passer (4 assists per game), rebounder (just under 7 boards per game), and defender, but the Clippers were at their best when he torched the nets in Game 5. They won that game 154-111. If George is a legitimate offensive weapon alongside Leonard and Lou Williams, this team is really hard to stop. It allows Doc Rivers to sub out Williams late for defensive help, and it frees up space for guys like Marcus Morris when George is attracting more attention. If he continues to struggle, the Nuggets will feel a lot better about their chances.
3. Patrick Beverley
There are questions about how good of a player Beverley actually is, but he brings tenacity, effort, and energy to the court. LA is 14-12 without him and 39-13 with him. The fact that they've lost just as much in half the games with Beverley sitting points to him making a clear and positive impact even if the difference is influenced by other factors like Kawhi's rest. It's big enough to notice that Beverley is doing something for this team. His role in this series is going to be pretty clear. Do whatever you can to disrupt Jamal Murray. If he can do it successfully more often than not, the Nuggets season is going to end here.
3 KEYS
I've already gone over this in a few different spots, but it's that important. If Murray scores like he did against the Jazz, we may have a series. If the Clippers – and the law of averages – succeed in shutting him down, then LA is the very clear favorite in this series.
I'll emphasize this again too. The Clippers are not going to have a good time over the next month or so if George can't make anything two out of every three games. He simply needs to be better going forward, and the Nuggets probably can't keep up if we see an elite version of George show up in this series.
Nikola Jokic is very clearly the best center in this series, with all due respect to Ivica Zubac, who had a very good season. He needs to play like that's the case. If Jokic isn't controlling the game offensively when he's out there, then the Nuggets stand no chance. He's averaging 19.3 points, 7.3 assists, and 10.3 rebounds per game against the Clippers this season, and he needs to at least match that production in this series. Murray won't be dropping 50 to make up for an underwhelming game from Jokic.
BONUS KEY: Matching LA's supporting cast
Can Michael Porter Jr. hit some shots in this series? Can Paul Millsap make an impact after a quiet showing against the Jazz? Can Gary Harris help limit Leonard, George, or, more likely, Lou Williams? Can someone like Jerami Grant match Montrezl Harrell off the bench? Can Torrey Craig make a defensive impact on the wing. Can Monte Morris or Mason Plumlee step up behind Murray and Jokic? The Nuggets have a decent group beyond their two stars, but they will need those guys to be at their best here. The Clippers were challenged by the Mavs because of Doncic, but also because Dallas's supporting cast stepped up and made plays. Trey Burke, Tim Hardaway, Steph Curry, and more were instrumental in that series. If Denver's role players can't do the same, this one will be over quickly.
Prediction
I don't like the Nuggets at all here. I know that the Clippers didn't look great in the first round, but they were missing their starting point guard and their second star looked like a discount Kyle Kuzma every time he shot it in four of the six games. The Mavs are arguably better than the Nuggets too – pretty much every stat but record goes their way. Barton is out. Murray is coming off of an unbelievable, and likely unsustainable, run. Harris is struggling mightily offensively. The Nuggets will need to be at their absolute best and have the Clippers play some iffy basketball to win this series, and I just don't see it happening. I'll stick with my original pick.
Clippers in 5