Why the Bucks can still win this series
9 min read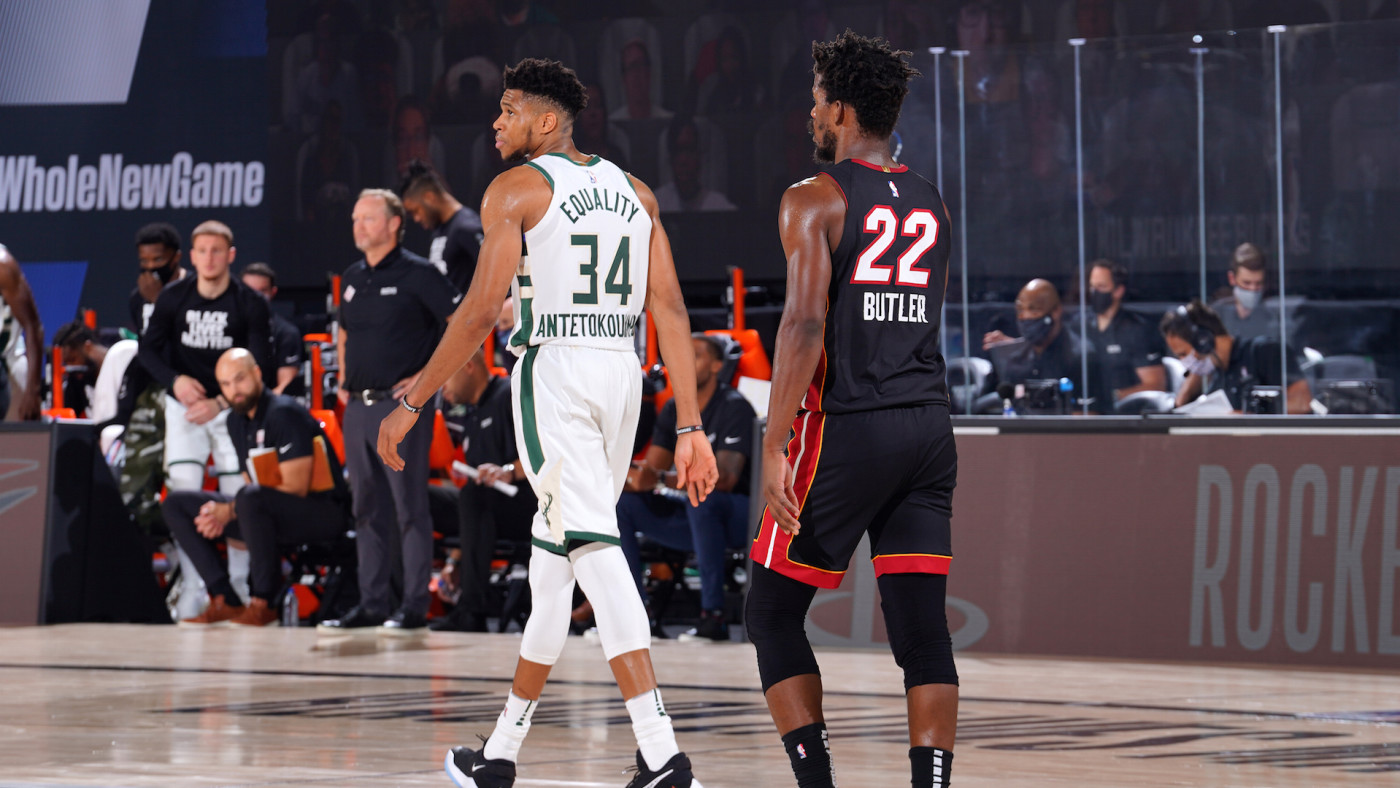 The Miami Heat are outplaying the Milwaukee Bucks right now. I don't think anyone would question that, as the rush of negative tweets pointed in Milwaukee's direction can attest. They've been largely successful in walling off Giannis Antetokounmpo for large stretches of time, and they've consistently won the turnover battle. Jimmy Butler was the best player on the floor in Game 1, and the Heat bench was far better than that of the Bucks in Game 2. If things continue at this pace, the Heat have to be the favorites to win this series.
And yet, both of these games came down to the final minutes. This is not a superior team playing okay and managing to hold on against a weaker Bucks team. This is a good Heat team playing very well and sticking it to a team that isn't playing up to their level. That doesn't mean that the Bucks will get to that point. They have, for whatever reason, been wildly inconsistent since even a few games before the break of play back in March. Some sort of switch was flipped then, and they need to find out how to turn it back on. Here's how they can.
Tighter rotations
I don't fully blame Mike Budenholzer for this, as some might. The bottom line is that guys like Pat Connaughton and Donte DiVincenzo delivered all season long for the Bucks. There's no question that putting those two guys out with Kyle Korver in a playoff lineup, as Bud did at a crucial juncture of the game last night, is incredibly questionable no matter the circumstances, but Budenholzer runs out rotations that see his starters play relatively low minutes because his bench allows him to do it. He can save some of his best players' energy because the guys behind them can keep the machine running well. That's simply not the case right now.
Connaughton is -26 in just 37 minutes this series. He was -19 in a two-point loss last night. He has a history of solid play in the playoffs – even just last week against the Magic – but he's a bench player. You don't give that guy any sort of leash in the postseason, especially when you're down and fighting to stay alive. There is simply no reason Connaughton should see the court for more than 5 minutes tomorrow.
DiVincenzo was -10 in just 8 minutes last night. He was a better statistical version of Alex Caruso – a winning player – during the regular season, but his play in the bubble has ranged from abysmal to almost invisible. This is no indictment of his career; he's a second year player with a lot of room to grow. The moment is just too big for him right now, and he shouldn't be out there at all right now.
Korver actually played some solid minutes yesterday after a poor Game 1, but why play him for ten minutes when you can instead be giving more minutes to Wes Matthews or Khris Middleton. The only thing Korver is bringing to the court is shooting, and you don't leave him out there for long stretches just so he might be able to shoot. You put him in for a quick burst when you need a shot and then you take him right out for a better all-around player.
Those three combined to play 55 minutes in Game 1 and 30 minutes in Game 2. That would suggest a learning curve for Budenholzer, and hopefully it's one that continues. Fifteen minutes for those three is pushing it given how they're playing when there are so many better options available. Here's a look at Bud's rotation so far in this series based on average minutes –
Giannis Antetokounmpo – 36.5
Khris Middleton – 35
Eric Bledsoe – 31
George Hill – 31 (26 when he wasn't starting for Bledsoe)
Brook Lopez – 29.5
Wes Matthews – 27
Marvin Williams – 21.5
Connaughton – 18.5
Korver – 13
DiVincenzo – 11
Frank Mason – 1
Again, this wouldn't be bad at all – with a few small shifts at the top – if those last few guys were actually delivering a positive impact. Here's the Heat rotation –
Jimmy Butler – 36
Bam Adebayo – 35.5
Jae Crowder – 35.5
Goran Dragic – 34
Tyler Herro – 30.5
Duncan Robinson – 26.5
Andre Iguodala – 15
Kendrick Nunn – 12.5
Kelly Olynyk – 12
Derrick Jones Jr – 3.5
One note – Iguodala would likely be right around Williams if his minutes later in Game 2 hadn't gone to Derrick Jones Jr because of an ankle injury.
What's different here?
Crowder and Dragic getting more minutes than Bledsoe and Lopez
Clearly less action for 8, 9, and 10
Those are the keys for the Bucks. Take minutes away from the bottom guys and reinvest those minutes closer to the top. I would say they should go beyond what the Heat are doing because Nunn and Olynyk have actually provided some impact. Milwaukee's bottom three have hurt the team, if anything. Here's a potential rotation –
Giannis – 40 minutes
Khris – 40 minutes
Bledsoe – 36 minutes
Brook – 33 minutes
Wes – 33 minutes
Hill – 30 minutes
Marvin – 21 minutes
Korver – 4 minutes
Connaughton – 3 minutes
I don't know that playing Antetokounmpo and Middleton 45 minutes a game is really necessary, but maybe it should happen. Why not? You've been holding these guys to 30, 31, 32 minutes per game all season. If that wasn't to allow them to go all-out now, then what the heck was it for? There's nothing to save your energy for anymore. It's all-or-nothing, and the rotation needs to reflect that.
2. Following Butler with Matthews
Whenever Jimmy Butler is on the court, Wes Matthews needs to be there too. Matthews had a rough offensive game last night, but his defense on Butler has been fantastic this series. When Jimmy went off in Game 1, it was almost entirely on Middleton and Hill while Matthews watched from the sideline down the stretch. Butler only scored 13 yesterday when there was a renewed focus in putting Matthews on him. That needs to continue. If the Heat, like they did last night, set a franchise record for most players scoring in double figures in a playoff game, then you just have to shake your head and move on. That's not a repeatable accomplishment unless there's an active curse on your head.
3. Stopping Dragic
Dragic is now averaging 25 points per game in this series. He's shooting 17-33 from the field and 6-11 from three as a continuation of the hot streak that started against the Pacers. He has six consecutive twenty-point games now, and he did a lot of his work on really tough shots last night. It looked from where I was sitting that Bledsoe was playing him fairly well. Dragic is just red-hot right now.
Here's why it won't continue –
Dragic hasn't scored 20 in six, or five, consecutive games since 2014. He's a very good scorer, but this is just a different level of scoring that typically doesn't appear at the age of 34.
He shot 44% from the field this season. He's more than 7% better than that in this series right now.
He shot 37% from deep this season. He's almost 18% better than that in this series right now.
Anything is possible over a small series, but it would be pretty unlucky if Dragic continues to shoot and score at this pace. All the Bucks can do is send Bledsoe after him and hope for the best, but it's likely that he cools off at least slightly regardless of what Bledsoe is able to do.
4. Keeping Adebayo off the offensive glass
Adebayo has 9 offensive rebounds in this series. He had six in Game 1. He averaged 2.4 per game during the regular season, and the Bucks were the best defensive rebounding team in the league. There's simply no reason this should be happening. Adjusting the rotations should help, and it needs to be a focus in the game plan. Do not let this man create extra possessions.
5. Outrun the Heat
This series is being played at the Heat's speed. During the regular season, the Heat averaged 98.7 possessions per game while the Bucks averaged over 105. In this series, both teams are averaging 98.75 possessions per game. Why are you letting the lower seed dictate how this series is being played? Fixing this is easier said then done, as the Heat are fantastic at getting back in transition. That doesn't change the fact that it needs to be fixed. You're the fastest team in the league for a reason, and you can't turn away from that just because the other teams wants to make you. Take control and get those quick looks in transition. I said this in the preview – it could determine the series. If this is a half-court battle, as it's been so far, the Heat have a much better chance.
6. Attack Tyler Herro and Duncan Robinson
These two try hard defensively, but they're just not good individual defenders. Herro is nearly playing 30 minutes per game this series, and he's been part of their closing line-up. Down the stretch, when you are struggling to find looks, ATTACK HIM. Herro cannot consistently guard Bledsoe, Middleton, or Giannis, and yet there's been very little effort to make him do that. If you end up in the half court, then you make the Heat switch a screen so that Herro is on one of those three guys. You either get a look going by him or you set up a better look for someone else when the help defense steps in. It's not all that complicated to initiate the switch. Teams do it all the time in all sorts of scenarios. The Bucks need to do it here so that Eric Spoelstra is forced to consider taking Herro – a clutch shot maker – out of the game.
7. Use Giannis differently
It's easy to sit back and yell at Giannis for not dominating these games. He is about to be the MVP for the second year in a row after all, and there's no question that he needs to be better. But why are we making him go through a wall of three to four defenders from beyond the three-point line? That's exactly what the Heat want him to do, and it's causing offensive fouls and all sorts of malarkey. Put Giannis in the post. Put him on the elbow. Put him in the short corner. And then give him the ball and let him attack. There is nothing wrong with that. Shaq, Kareem, Wilt, Hakeem, Bill Russell, and Tim Duncan are all top twelve players of all-time, and none of them were dribbling outside of the three-point line. Giannis has that ability, but no one can consistently attack a wall of three dudes off the dribble. Why are we making a near seven-footer with limited shooting do it? His driving lanes are even more stuffed than they normally would be right now. Skip that part. Every perimeter player in the league is capable of making a good entry pass, and the Bucks have some very good ones. Let Giannis catch off of cuts if he needs some momentum. Let him attack from 12 feet instead of 30 if he needs a running start with the dribble. But don't keep doing the same exact thing and hoping that it will work. You need to play to his strengths, and consistently dribbling through four defenders doesn't make that list.
8. Never have George Hill as your primary creator again
Hill is a really solid veteran that is going to be a big part of whatever the Bucks do here, but there was a point in the second quarter (I think) yesterday where he was the only ball handler on the court. Antetokounmpo, Middleton, and Bledsoe were all resting. That's just not acceptable. What are you doing with that lineup? There's simply no reason ever for all three of those guys to be on the bench at once. Honestly, it should be rare for two of them to be on the bench at once. The supporting cast being bad is something I'm sympathetic to, but that doesn't save Budenholzer's rotations from some serious criticism. They've been very questionable so far.
9. Make your FTs and your threes
In Game 1, the Bucks shot 14-26 from the line. The Heat shot 25-27, and they won by 11.
In Game 2, the Bucks shot 7-25 from three. The Heat made 17 threes in 45 attempts, giving them a 30-point edge there.
The Bucks were good from three in Game 1 (16-35), and they shot seven more free throws than the Heat in Game 2 and made eight more. Capitalizing in both areas at once would be a good way to give yourself an advantage. Even just not being terrible in one or the other, as the Bucks have been in both of these two games, would be a boost.
10. Give everything you have
The season is on the line. How do you want it to be remembered?