Quick Hitters: Top 10 Prospect Player Comparisons
7 min read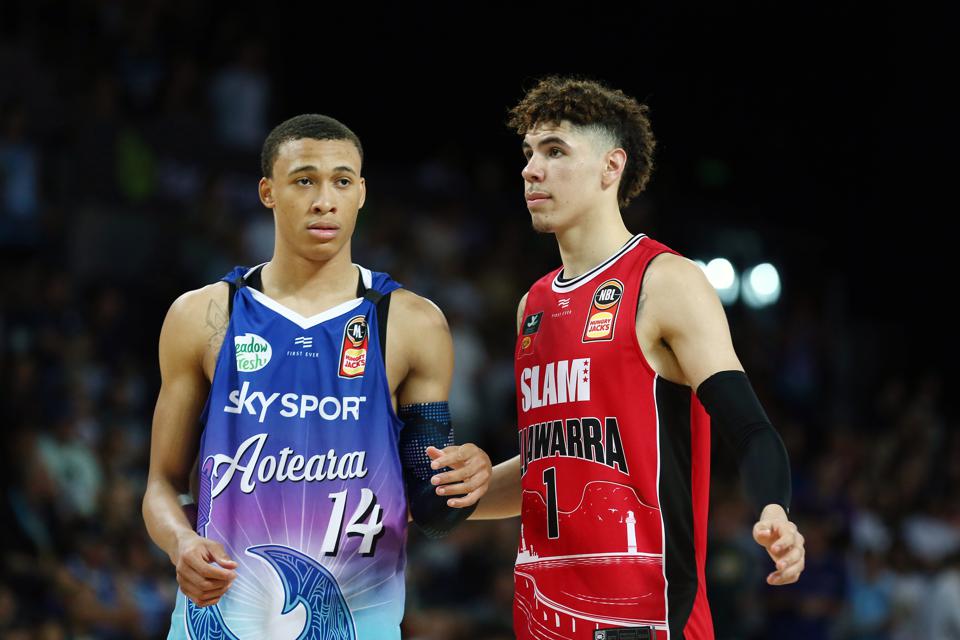 Please reference my earlier article, http://statpadders.com/?p=1318 , on my NBA Mock Draft Lottery Predictions for more information on how these players fit with each team.
The NBA will be a completely different world in a week; in two weeks, the landscape of the league will shift even more. Trades open up on November 16th, the draft is on the 18th, Moratorium starts on the 20th with actual deals being signed into fruition on the 22nd. It is an extremely exciting time to be a fan, and I personally cannot wait since rosters have basically been identical since March of this year. To prepare for these next two electric weeks, let's look at who some of the players coming into the league on the 18th have similar play styles to. If you're looking for a quick scouting report on the top young talent, you've come to the right place.
Anthony Edwards
Comparison: Andrew Wiggins
A bruising scorer that is a great athlete but not particularly efficient. The ghost of Andrew Wiggins is a scary thought for teams picking in the top three who are heavily considering the Ant Man. Edwards is a little shorter and stockier (6'5" 225lbs vs. Wiggins 6'7" 195lbs), hinting towards a Victor Oladipo archetype as well. That being said, Oladipo is a much better defender and has a much higher basketball IQ. The success of Edwards's career will come down to his ability to develop a consistent 3 ball, have a good attitude, become a better passer, and buy into defensive schemes. Worst case scenario, he will just score the ball like Mr. Wiggins does.
LaMelo Ball
Comparison: Shaun Livingston with a 3 point jumpshot
There really is no good comparison for LaMelo Ball. He is a true unicorn. Other websites have him as Jason Kidd, Mike Bibby, Jason Williams, Luka Doncic, or Lonzo Ball all in one. Knowing that, my favorite comparison for LaMelo is Shaun Livingston with an up-and-coming 3 point jumper. The body type is extremely similar: a 6'7" point guard with a 6'11" wingspan – a matchup nightmare for opposing guards. People forget how Livingston was showing flashes of superstardom before a devastating knee injury unfortunately altered his career for the worse. Like Livingston, LaMelo is a really good passer – in fact, he is easily the top passer in the draft in my opinion. Ball has also shown the ferocity to play inside and hunt for rebounds which is something that's extremely rare for point guards. The wingspan will allow LaMelo to reach into passing lanes and get many steals. He's big and quick enough to show the versatility to guard against wings. When his jump shot becomes consistent, and I promise you it will, LaMelo will be the name remembered from this draft class. Book it.
James Wiseman
Comparison: DeAndre Jordan
A lefty beast that dominates the paint, vacuums up rebounds, and is an intimidating rim protector. All these playing traits allude to a DeAndre Jordan archetype. While that's not a bad thing at all, the NBA is an evolving game, and these types of centers aren't needed as much anymore. Still, his status as one of the most athletic prospects we've seen in recent years will carry him in a successful run in the league. The ability to handle the ball and develop a jumper (at least midrange) will define his career. This will be a solid upgrade for the Hornets who currently start Cody Zeller at the center position.
Deni Avdija
Comparison: Prime Nicolas Batum
I know some Bulls fans may be upset seeing a comparison for Advija being Nicolas Batum because he currently has a negative stigma of being an overpaid player. However, there is a reason Batum is being paid that big contract: he was a productive wing that could shoot, pass, rebound, and defend. That is what Deni also has the potential to do. He may not be the best at a specific role, but do-it-all wings that have playmaking ability certainly cannot hurt a team. Avidja will have a long, productive career barring any injuries. Be warned, it'll probably take a few years for the 19 year old to start putting up big numbers.
Onyeka Okongwu
Comparison: Bam Adebayo
Many other draft websites may also have Onyeka projected to be a Bam prototype. That certainly is a good thing, and shows that Mr. Okongwu is likely going to be a valuable asset in the NBA. In fact, many scouts and fans actually have Onyeka as a better, more well-rounded center than James Wiseman nowadays. The ability to be mobile down low and create opportunities for other players as a passer and dribbler as a center becomes increasingly valuable every year. On top of being solid at these skills, Okongwu is a good athlete, which allows him to be an excellent help defender and rim protector despite only being 6'9".
Although this section is about Okongwu, I want to say that whoever gets Jalen Smith – with Wiseman and Okongwu now off the board – is a big winner in the draft. He doesn't get the same hype as the first two players, but rebounds just as well, is a better paint protector, and actually has a 3 point shot. Look for the Celtics to sneak in and possibly draft Mr. Smith at 14.
Obi Toppin
Comparison: John Collins
Offensive production will be the story of Mr. Toppin's career. As a superb athlete and skilled player, he can score the ball in a multitude of fashions like 3 point shooting, off ball scoring of putbacks and lobs, and aggressive slashing. A lot of these characteristics are extremely similar to John Collins. Both player's weaknesses are on the defensive end of the floor. If Toppin buys in on the defensive end, he might end up as one of the best players to come out of this draft.
Killian Hayes
Comparison: Goran Dragic
As a Pistons fan, I hope that Killian Hayes is still on the board when we make the seventh pick. In my opinion, he's the smoothest player on the big board. He has great playmaking ability, especially out of the pick and roll, leading to high quality, well placed passes. He's above average shooter that has consistently improved his shot over his pro career, and at just 18 year old, there is so much to like about his game. However, the one downside to his game is that he has no right hand. Additionally, though not a liability, he is not a phenomenal athlete. However, when remembering his craftiness, as exemplified by his signature James Harden-esque stepback move, this should not be a big issue. If he can develop the right hand, the sky's the limit for this young man. Detroit hopes the French Revolution is coming to the city with Sekou and Killian.
Cole Anthony
Comparison: Peak Jamal Murray, more likely Austin Rivers
In my humble opinion, Cole Anthony got hated on too much last year. He was originally slated to be a top 5 pick at the start of the season, but struggles at North Carolina diminished his stock a lot. He may have even slipped out of the lottery with the way things are looking. All that being said, his floor is being a bench scorer spark plug player like Austin Rivers. At the top of his potential is possibly a Jamal Murray or Gilbert Arenas type player – a fearless scorer that leads his team in scoring. The creativity and confidence may take him a long way. It all comes down to efficiency with Anthony, which is definitely a key concern.
Isaac Okoro
Comparison: Trevor Ariza
It's the wrong thing to say as we all want these young men to succeed, but I think whoever picks Okoro in the lottery is getting a bust. No reliable jumpshot yet is extremely concerning for a 3 and D prospect. To me, as a Pistons fan, the Stanley Johnson vibes are nightmarish. We all can like the athleticism, and defensive tenacity, but without the jumpshot and scoring ability, it'll be tough to do well at the next level. If he does get the 3 point shot though, he would be a solid role player just like Trevor Ariza.
Tyrese Haliburton
Comparison: Lonzo Ball
Just like Okoro, I am not as high on Haliburton as others in the draft. From what I've seen, he might not get past the Knicks at 8, and might go even higher. The rebounding and passing for a big, 6'5" point guard is really nice. That paired with being a solid perimeter defender hints at a Lonzo Ball type of player. However, while Haliburton was a deadly shooter in college that had extended range, I'm not a believer that the shot will transition. It's an awkward form and release point that may not allow for quick, off ball catch-and-shooting. This is the only reason that I'm not that high on Tyrese; if he can prove that his jumper is effective in the first few years of his professional career, Haliburton will be a really good player in the NBA.
Some Additional Comparisons
11. Patrick Williams
Ron Artest (Metta World Peace)
12. RJ Hampton
Ron Harper
13. Devin Vassel
Matisse Thybulle
14. Tyrese Maxey
Dennis Schroeder with Marcus Smart intensity
15. Jalen Smith
Myles Turner