Rockets-Lakers Preview
10 min read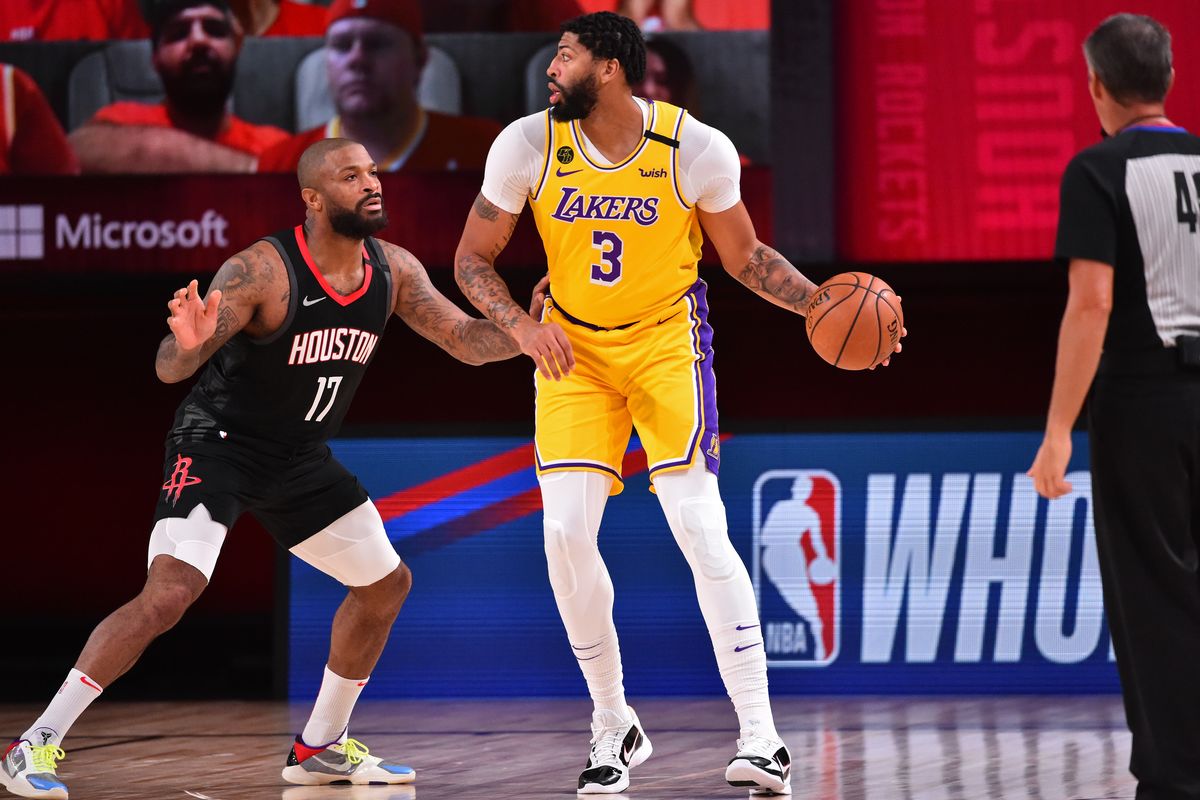 The final NBA playoff quarterfinal match-up begins tonight when the Rockets and Lakers take the court. The Rockets barely survived the Thunder in a seven-game series that came down to the final play, but they also played the first four games (2-2) without Russell Westbrook. They won't win this series unless they get more consistent and efficient offensive production from Westbrook, James Harden, and Eric Gordon. It won't be easy against the defensive-minded Lakers, who ripped off four wins in a row against a depleted Blazers team after losing the series opener. LA's offensive problems aren't quite fixed – Portland's defense is abysmal – but the Lakers are suddenly looking a whole lot better than they were about two weeks ago. Can the Lakers continue their quest for a championship after blowing up the roster to bring LeBron and AD together? Or will the small ball Rockets get hot at the right time and go one step further in their quest to exorcise past postseason demons?
Let's go through the basics –
The Schedule
Game 1 – September 4 (Today) @ 9:00 p.m. Eastern

Game 2 – Sunday @ 8:30 p.m. Eastern
Game 3 – Tuesday @ 9:00 p.m. Eastern
No other game times are determined, but there will be a game every other day until the series is decided.
Game 4 – Thursday
Game 5 – Saturday, September 12
Game 6 – Monday, September 14
Game 7 – Wednesday, September 16
Injury Report
Lakers –
Avery Bradley opted out of the NBA restart back in the spring and will not be playing at any point this postseason.
Rajon Rondo (back spasms) is probable. It would be his first game of the restart after an early practice finger injury that healed recently. The back spasms have kept him out a little longer. Anthony Davis (finger) and LeBron James (groin) are also probable, and there's zero chance they won't be playing.
Rockets –
Thabo Sefolosha also opted out of the restart. David Nwaba (achilles) is out as well.
Given that Bradley and Sefolosha have been out for months now, these are essentially two healthy teams. Everyone is a go.
Season Series
January 18 – Lakers 124, Rockets 115
February 6 – Rockets 121, Lakers 111
August 6 – Rockets 113, Lakers 97
The Rockets are 2-0 against the Lakers since they went all-in on small ball, though one of those wins came during the relatively meaningless seeding games. I don't think that the season series is any sort of definitive factor for a playoff series, but it can be telling. The Heat, for example, have followed up their strong regular season showings against the Bucks with a very impressive start to their second round series. The Rockets can win this thing.
My Original Predictions for this Series
What did I predict back in my full playoff preview (http://statpadders.com/?p=1277)?
Rockets-Lakers
Rockets in 6
I picked Lakers in 5, which happened, though I gave the Rockets one less game than it ended up taking them in their series with the Thunder. I'm probably higher on Houston than most, and I like them a lot in this series. There are improvements to be made, but the same could be said of the Lakers.
Quick Team Summaries

The Lakers, for most of the season, were the second best team in the league. They played great basketball on both sides of the court and were led by LeBron James, who produced a great age-35 season. Los Angeles ran away with the 1 seed despite being outscored by roughly one point per 100 possessions when James sat, which speaks to his greatness and the weaknesses of this roster. Anthony Davis is a fantastic two-way big who can do pretty much everything but shoot threes and pass at an elite level. He was also 196th in the league with an on-off split of -3.0. His all-time production has never quite translated into wins, and the rest of the roster is filled with role players that either have not or will not take steps towards being anything more. They get their basic jobs done more often than not, but there's no one like Kevin Love or Chris Bosh in that group.
They were at their weakest point heading into the playoffs after being outscored by 7 points per game during the seeding games, a mark that ranked 21st out of twenty-two teams. The offense was a mess. It looked a lot better in the last two games of the first round, but LA will need to face a good defensive team to really prove something. Portland doesn't fit into that category. The Rockets, since the restart, absolutely do. Davis and James will need to step up – as they did against the Blazers – to keep the offense running. The defense has been very good. That will again be a key against the Rockets and their run-and-gun offense.
The Rockets switched out Chris Paul and Clint Capela for Russell Westbrook and Robert Covington, and they went from a slower, my-turn-your-turn offensive system to a fast, free-wheeling style of small ball. Two things remained the same. They chucked up a historic amount of threes, and they were elite offensively and mediocre defensively. The threes have carried over to the bubble, but the Rockets are now playing elite defense (7th in the seeding games and 1st in the playoffs) and below average offense. It's a weird position to be in for a team that has played that elite offense and mediocre defense for the majority of James Harden's time in Houston. They will have to be hoping that the return of Westbrook will soon lead to better offense, as he should bring greater speed and variety to their offense when he stays away from the jumper himself.
Around their top duo of Westbrook and James Harden, who also could improve the current offense by being more assertive, the Rockets have a lot of wings that can shoot a decent percentage from deep and play solid defense. Robert Covington, PJ Tucker (the de facto center), and Danuel House have been leading the charge, but Austin Rivers, Jeff Green, Eric Gordon, and Ben McLemore have all played important roles as well. Gordon could be the key. He's suffered through injuries and terrible play all season, but he has as much individual offensive ability as anyone in that supporting group. The Rockets are a lot better when he succeeds at using it.
X-Factors
Russell Westbrook
I love Russell Westbrook, but he can't play like he did in OKC alongside James Harden and these Rockets. He can't shoot inefficient midrange jumpers off the dribble. He can't shoot threes just because he wants to shoot them. Russ needs to attack the hoop early and often because the guys around him are the ones that will make the jumpers. This is something that someone clearly noticed because Westbrook's three-point attempts saw a drastic cut back in the early winter. He stopped shooting from deep, and his numbers got a lot better. The offensive benefit of having Chris Paul was his off-ball shooting ability and his ability to create looks for himself inside the arc. For Paul, those tended to come in the mid-range, where he is an absolute sniper. Westbrook doesn't have off-ball shooting ability, but he is as good as anyone at getting to the rim when he focuses on it. That opens up the floor for the guys around him. The Rockets are so perimeter-focused at times that teams can just sit on the three. They know they're going to shoot it. Westbrook, when he plays like he should, changes that dynamic. You suddenly need to pay a lot more attention to the inside of the arc. He's the key for Houston.
2. Anthony Davis
Almost no one produces like Anthony Davis. He is, despite being a very questionable winner, a no doubt top ten player in the league. He can score from anywhere inside the arc. He's an elite rebounder and rim protector. There's nothing that he is notably bad at, though his shooting, passing, and individual perimeter defense fall short of elite. LeBron will be LeBron, but Davis's performance is the key to LA's postseason hopes. Can he dominate PJ Tucker? Can he consistently bring his A game? Can he prove early that this stage, which he's only reached once before, isn't too big for him? If he can, the Lakers will be in a good spot. If Davis struggles, it's hard to see them staying alive.
3. Eric Gordon and Kyle Kuzma
Here we have two third options that have struggled mightily all season long. Whether it was injuries or poor play, these two have not been the x-factors they were expected to be coming into the season. Kuzma has regressed virtually across the board, and he hasn't been the third scorer that the Lakers were hoping for. At this point, there's very little reason to believe he can, this season at least, become a very good playmaker and scorer and the clear third option for this offense. Gordon has had an awful season, but he can be the key to Houston's offense. He can shoot and attack off the dribble effectively when he's on. The problem is that he's very rarely been on this year. Can either of these two step up in this series and produce a set of performances that matches their potential? It could shift the series if they do.
3 KEYS
Finding the offensive rhythm
This will be a key for both teams, as they've each got a good rhythm going defensively right now. The Lakers will need to maintain their solid offensive showings from the first round against a better team. Davis and James have to be at their best to make it happen, and they're more than capable of it, especially against a Rockets team that doesn't quite have the elite one-on-one wing defenders that others in the West (the Clippers) might. Getting production from guys like Kyle Kuzma and Danny Green will obviously help, but everything starts and ends with the top duo. They make or break this series for LA. The Rockets might have a little more leeway. Jeff Green, Danuel House, and Robert Covington have shown that they're capable of big playoff performances, and Gordon's ability to be that third guy offensively will be key. They might be able to survive an off night from Harden or Westbrook, but they will be much better off if that duo is humming. The real keys for Houston – make threes efficiently and create looks inside the arc when they're not falling. Mike D'Antoni, like Mike Budenholzer, needs to learn how to adjust when Plan A isn't working.
This is pretty simple. The Lakers need LeBron James and Anthony Davis to be stars if they are going to advance through the playoffs. They're more than capable of it, but we've also seen some performances from them – and Davis especially – that have lacked that necessary edge. Against this Houston team, Davis needs to come out and dominate. The paint needs to be his on both sides of the court down the stretch, when JaVale McGee and Dwight Howard will likely be sidelined. For Houston, getting efficiency and consistency from their top duo is the key. Westbrook and Harden scoring 50-60 points per night should be the objective, and it will put the Rockets in a far better position if they match it. No one on LA's roster is made to guard Westbrook, but that only applies if he uses his athleticism to cut, slash, and get to the rim instead of taking pull-up jumpers and threes. Which version of Westbrook will we see? Houston's chances depend on the answer.
This is the most obvious distinction between these teams. The Rockets don't roll out anybody taller than 6'8″. Their starting center is 6'5″. The Lakers, on the other hand, have one of the best big men in the game in Anthony Davis, and they give minutes to LeBron (6'9″), Dwight Howard (6'10"), and JaVale McGee (7'0″). Both of LA's stars are taller than Houston's tallest rotation member. Can the Lakers make that mean something? It's not as easy as it might appear. Steven Adams did very little against Houston last round, and PJ Tucker will draw Howard and McGee out of the paint and away from their comfort zone defensively. Too often, this is described as a problem that Houston needs to overcome, but the issues go both ways. The Rockets need to fortify the paint with smaller guys, but the Lakers also need to either switch up their system by going smaller or live with the fact that their centers are going to have to be more mobile defensively. The Rockets have a ton of long and strong wings too; they're not just throwing out a bunch of 6'3″ guys who weigh 180 pounds and have a 6'4″ wingspan. It's going to be a battle.
Prediction
I may be high on the Rockets for no reason. I'm not sure. Their metrics have definitely dropped off since 2018, when they should have beaten the Warriors in the WCF. They're not playing particularly well offensively right now, though the defense is a great sign. It's far easier to get hot from deep or drive the ball more than it is to turn around your defense from one game to the next. I had the Rockets making the Finals before the season – with Golden State out of the picture, this is their chance to finally make something happen after years of being the second best team in the West. I also had the Rockets making the Finals in my playoff preview, and I'll stick with that now.
Rockets in 6