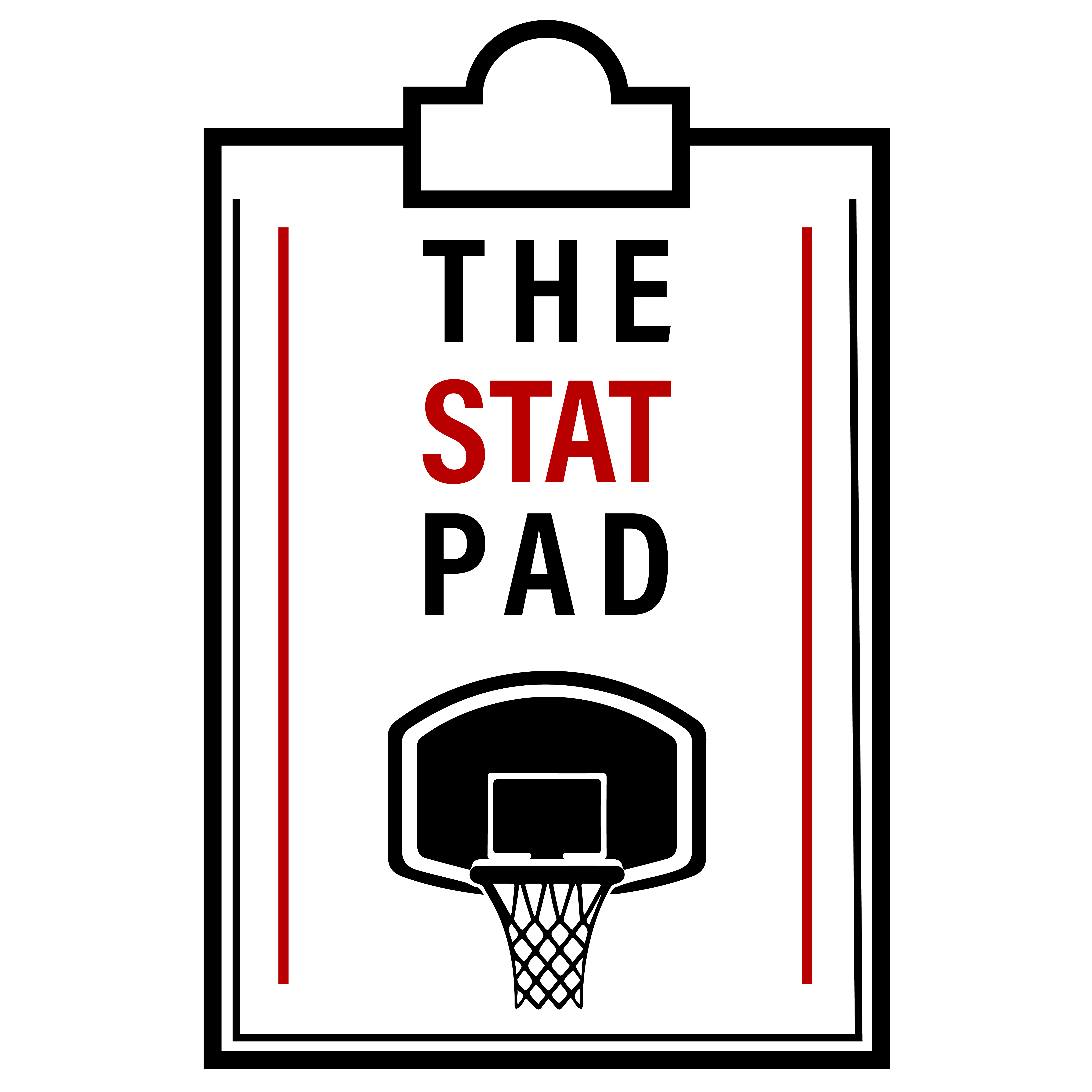 It's December 21. The season starts tomorrow. Which teams will be the last two standing this summer, and who takes home the title?
Ethan Perlmutter: The Lakers are the defending champions coming off a season where they won every series in a convincing fashion. Adding Marc Gasol, Montrezl Harrell, and especially Dennis Schroeder solidifies their position as the team to beat in the West. Since 2000, players have averaged at least 25 points per game on at least 63% true shooting only 15 times. Kevin Durant accomplished this feat 7 times, including every season from 2013 to his last year with the Warriors. Simply put, Durant is the most efficient and effective scorer in the league. In Brooklyn, KD is surrounded by a cast of characters that includes elite players of every skill, whether that's Kyrie Irving and Caris LeVert as secondary creators, Joe Harris and Landry Shamet as spot-up shooters, or Jarret Allen and DeAndre Jordan as inside finishers. Come playoff time, the Nets will have a counter for any adjustment a defense makes. LeBron James and Kevin Durant have been the two best players of the last decade, and the expectation should be for these two to meet each other in the finals on their third pair of teams.
Michael Regan: As an overly optimistic Bucks fan, there's only so many ways my answer can go here. The East is packed at the top again and should be more competitive top to 13 (sorry Knicks and Cavs), but I think the Bucks made one of the most important moves of the offseason in bringing in Jrue Holiday, who – fingers crossed – won't turn into Michael-Carter Williams in the playoffs like Eric Bledsoe. If history is any indication, the Bucks should be in a good spot as far as that goes. Turning that offensive black hole into a positive would be crucial in loosening the attention defenses are able to focus on Giannis and Khris Middleton, which has been the driving force behind Milwaukee's playoff shortcomings.
As for the West, it's just not smart to pick against the Lakers. There's a pull to go contrarian and say the Nuggets, Clippers, or Rockets (I love Houston if Harden is all-in) will break through, and they very well might. I'm also very wary to take away too much from the bubble until we see how things play out this year. That includes LA's utter domination in the postseason. But this is a team that took care of business in the face of pressure all season long. LeBron showed that he still has it, and I won't bet on him losing it until we see it happen. AD showed that he is fully capable of shining under the bright lights, albeit as a (very special) sidekick. Many of the roster questions beyond those two that existed last year were answered with a very strong offseason. This is a really good Lakers team.
Giannis was right in saying that LeBron is still the best player in the league, and it will remain that way until someone (and not a four-star superteam with two of the five best players in the league) knocks him off the throne. In my opinion, this is the year it happens. The Bucks have been far closer to the top than you might think from listening to certain fans and media, and they quiet the chatter this summer.
Josh Gordon: In the East, the return of Antetokounmpo to the Bucks is a strong sign that Giannis believes this organization will do everything they can to win a championship with him. As the reigning 2-time MVP, Giannis is as eager as ever to advance to the finals and with the addition of Jrue Holiday to run the offense, this could be the year. Holiday is one of the top point guard defenders in the league, which only adds to last season's top defensive team. He is also a solid scoring option for the Bucks. With Giannis, Middleton, and Holiday leading the team, all as potential All-Stars, the Bucks will be difficult to contain in their run to the finals.
In the West, as the defending champions who have added Montrezl Harrell, Dennis Schroder, Wesley Matthews, and Marc Gasol, along with re-signing their star duo in LeBron and Anthony Davis to multi-year deals, the Lakers have only improved. They more than replaced Danny Green, Dwight Howard, and Rajon Rondo and will easily have the best shot in the West at heading to the finals again. Matthews will provide an upgrade in three-point shooting off the bench and their overall depth makes them poised for repeat championship. I would choose the Lakers over the Bucks or any Eastern Conference team they face.
Who's your pick for most surprising team?
Ethan Perlmutter: Given that Luka Doncic is the current favorite for MVP, the Mavericks aren't catching somebody by surprise so to speak. People expect Luka and Co. to be good. However, their season long over-under for wins is set at 42.5, only the 9th highest in the league. Here's a list of players to average 25 points per game in their age 20 season: Lebron James, Kevin Durant, Luka Doncic. Luka's season at that age was superior in terms of points, PER, and eFG%. In the bubble, Luka was even better. People might not expect a 21 year old Luka to lead his team to a top 2 seed, a deep playoff run, and a chance to win a title. After all, this would be unprecedented for a player of Luka's age. However, up to this point, precedent has not been a factor for Doncic. With some solid defensive additions this offseason and Trey Burke back to replace Seth Curry's production, I expect the Mavericks to win a lot more than 42.5 games and finish with better than the association's 9th best record.
Michael Regan: I think the Sixers could be a lot better after a great off-season to better match the needs of Joel Embiid and Ben Simmons. I think the Pistons could surprise some people if Blake Griffin is back and fully healthy. I think the Rockets could also be a lot better than anticipated, though I'll avoid them here because of the make-or-break uncertainty around Harden. Instead, I'll go with the Mavs. The Mavs were a good deal better than their 7 seed finish would have suggested last year. By most overall metrics, including SRS, net rating, point differential, and expected record, they were the sixth-best team in the league. A porous defense and general lack of experience among their most important players left them short of their true quality. This year, with another season of experience – and a hard-fought playoff series – in the books, things could change in a hurry. Throw in the addition of Josh Richardson to aid the defense, the return of Dwight Powell and Jalen Brunson, and the potential Seth Curry replacement in Tyrell Terry, and we have a Mavs team that could take a jump into the top three out West. I think it happens.
Josh Gordon: Last season, the Oklahoma City Thunder defied all odds and finished as the 5th seed in a loaded Western Conference under the leadership of Chris Paul. Now, with Chris Paul teaming up with Devin Booker and the Suns, who went an incredible 8-0 in the Bubble, the Suns will outperform expectations. Currently, they are 8th or 9th most likely to make the playoffs in the Western Conference according to betting sites, but I believe they will land in the top 5 or higher by the end of the season. Booker showed his terrific scoring ability and clutch play throughout the Bubble and the Suns shocked everyone with their performance to end the 2020 season. With Paul's leadership and experience to lead this young team, I believe the Suns will be even better than the Thunder were last season.
Who's your pick for most disappointing team?
Ethan Perlmutter: One team that might continue to decline this year is the Toronto Raptors of Tampa. Their over-under for wins is currently set at 41.5. Last year Toronto finished the regular season with the second most wins in the league. In terms of the "four factors", eFG%, turnover percentage, rebounding percentage, and FT/FGA, the factors most correlated to winning games, the Raptors finished no higher than eighth on the offensive end. Their success should be attributed to their defense, the league's second best last year in terms of eFG% and turnover percentage. With Serge Ibaka and Marc Gasol in LA this year, Toronto should continue to decline.
Michael Regan: I think the Raptors are a potential candidate here, though they should still make the playoffs and some regression has to be expected after switching out Ibaka and Gasol for Baynes and Len. Would a 7 seed really be disappointing? The Wizards and Hawks are two teams with suddenly high playoff expectations, though I expect both to make the play-in tournament without too much difficulty. There's no getting out of disappointment in the West for at least a few teams, and the Suns, Pelicans, Warriors, and Trail Blazers could each realistically miss the playoffs, which would be devastating in all four cases. It's hard to see all of them getting in. Another year at the bottom for the Kings and/or Timberwolves would be very disappointing as well.
The problem in the West is that it's so hard to say which teams will end up missing out on the playoffs, so I'll go with the Magic here because I think they end up having a very dreary season and miss out on a play-in spot entirely. There could and likely will be bigger falls from expectation to reality than the Magic going from the 9-10 range to the 11-13 range, but I see a really tough season coming in Orlando with Jonathan Isaac out and an overall sense of gloom seemingly settling over the team. They're a solid basketball team, but there's a rock-hard ceiling right above where they've been the last two years. It can be difficult to motivate a perennial champion to keep giving their all year after year. Imagine how hard it is to get yourself going for yet another shot at a low playoff seed. Losing out on a play-in spot to the Hornets, Bulls, or Pistons qualifies as disappointing to me. 
Josh Gordon: The Philadelphia 76ers just hired Doc Rivers as their new coach. With the additions of Seth Curry, Danny Green, and Dwight Howard (while losing Al Horford) the 76ers appear to have improved on paper. Curry will fill the sharpshooter role they missed after JJ Redick left and Danny Green and Dwight Howard are great additions for role players and depth. However, year after year the 76ers have not been able to make a run in the playoffs with Ben Simmons and Joel Embiid. I don't think these additions will change enough to bring them to a top 3 seed in the East or make a run in the playoffs that they desperately need. Other Eastern Conference teams have made big moves too, so unless Simmons develops a three point shot or a crazy trade unfolds, the 76ers will have another season of falling short.
With Klay Thompson out for the season, can the Warriors make a serious run at the Finals?
Ethan Perlmutter: No. The Warriors will be good this year, but unless James Wiseman is better than anybody expects right away, defenses will have a lot of attention to focus on Steph Curry in the playoffs. The Warriors will be fun again, but without Klay, I don't think they can hang with the best teams in a seven game series.
Michael Regan: No. I think Steph is in line for an MVP-type season if he can stay healthy, but Golden State's path to a championship was going to be tough even with Thompson available. Draymond has been out of form for quite some time, the bench is completely unproven, and there were some pretty serious questions in my mind about how effective the typical "pass, pass, pass again" Warriors offense would work with this cast of players. Replacing Thompson with Kelly Oubre isn't going to help matters. I think Golden State is a playoff team that will either just avoid the play-in or have a favorable path to the playoffs in that four-team tourney, but it's hard to see them going the distance.
Josh Gordon: Steph Curry is back and healthy and so is Draymond Green, but the Golden State Warriors are not the same with only one Splash Brother. Curry is a two-time MVP and this is a team with championship experience and aspirations. However, without Thompson, who I would consider a top 5 pure shooter of all time, the Warriors do not have enough pieces to compete with the Lakers or the Clippers with their two superstar players each. The additions of Kelly Oubre and Kent Bazemore along with the 2nd overall pick James Wiseman will definitely land them a spot in the playoffs, but the finals are a bit out of reach without Thompson healthy.
Kevin Durant and Kyrie Irving are back. Where does that leave the Nets in the grand scheme of things?
Ethan Perlmutter: Look back to Question 1, where I explain why the Nets should be the favorites to come out of the East.
Michael Regan: I think the Nets are a top challenger in the East as long as Durant and Irving play up to their past standards. Joe Harris will slot in perfectly, and there's no shortage of playmaking with Caris LeVert and Spencer Dinwiddie, though I think the Nets might be better off moving Dinwiddie for a wing more suited to an off-ball role. Jarrett Allen and DeAndre Jordan should be able to handle the center position, and Brooklyn did a pretty good job of adding depth with guys like Jeff Green, Landry Shamet, and Bruce Brown to go with holdovers like Timothe Luwawu Cabarrot. It's fair to question whether this team can go all the way, just as it's fair to question whether KD and Kyrie will be back in full force. If they are though, it's pretty hard to look at this team and say they won't be a top 4-5 team in the East and a tough out come the playoffs.
Josh Gordon: Kevin Durant is one of the greatest scorers of all time. Him being healthy on a team that made the playoffs with no All-Stars last season cannot be underestimated. Add in Kyrie Irving who appears to have a solid relationship with Durant, and the Nets are competing for the top spot in the Eastern Conference this season. It may take a few weeks to really get rolling, but I think based off of pure talent, the Nets are as good as any team they play. Kyrie Irving's media presence will always be in the spotlight, but if he can establish a relationship with teammates including Caris LeVert and Spencer Dinwiddie, then the Nets are in a great position to make a run at the Eastern Conference Championship. They can and will be a top 3 seed if Durant and Irving stay healthy throughout the season.
The Wizards, Suns, Hawks, Hornets, Pelicans, and Timberwolves all made some major changes this offseason in an effort to spark a playoff push. How many of those teams end up accomplishing that goal?
Ethan Perlmutter: The Wizards and Hawks should be better than the Magic and Pacers this year, especially if Oladipo is traded by midseason, so they should have a shot to make the playoffs. The West is much tougher. However, Chris Paul's Suns team looks a lot better than last year's Thunder team on paper, and Paul carried the latter to the 5 seed in the West. Phoenix narrowly missed a shot at the play-in game last year, but with Paul, they should have a good chance at the playoffs.
Michael Regan: Less than half. I think the Wizards and Hawks both make the play-in tournament and that at least one makes the playoffs. I don't think that Indiana is due for a fall barring a trade and Brooklyn will obviously rise so I see a secure top six again with the Raptors acting as a 7 seed that will be tough to pass over as well. I don't think Charlotte has enough in the tank to make the playoffs unless things go really well for them, but I do think they will be measurably better. I really like Hayward if he's healthy, Devonte' Graham deserves far more attention after a breakout season, and LaMelo Ball is poised to make an impact from day one. I just don't think they jump the Raptors, Wizards, or Hawks, never mind the Pistons with a healthy Blake Griffin.
On the Western side of things, it's shaping up to be a stacked race for the postseason, but I would say the Suns have the best chance of that threesome at making the playoffs with the Pelicans not too far behind. The Timberwolves will have a shot but simply don't deserve trust at this point. The Nuggets, Lakers, Mavs, Clippers, Rockets (assuming Harden stays), and Jazz figure to be locks for the playoff barring catastrophe, and that leaves very little room at the bottom with the Warriors, Trail Blazers, Grizzlies, Spurs, and Kings also pushing for a spot. It's really hard to see the Suns, Pelicans, and Timberwolves all making it, and it's not as hard to see them all missing it. Are they really going to beat the Trail Blazers or Warriors in a must-win play-in game? Maybe. The Suns certainly did all they could to give themselves a shot.
Josh Gordon: The Suns, Wizards, and Pelicans have the best shot at making a playoff push this season, while the Hawks, Hornets, and Timberwolves are not quite there yet. The Suns were close last season and Chris Paul knows how to lead a team. This is a major pick up and with Booker and Ayton still improving, I think the Suns have done enough. The Wizards swapped Wall for Westbrook, which may not seem like much but Westbrook is constantly underrated because of his sometimes poor shot selection. With the right team around him, he can lead a team to the playoffs. With Westbrook paired with Bradley Beal, I think the Wizards have a strong shot at the playoffs in a top-heavy East. The Pelicans added Steven Adams and Eric Bledsoe while losing Jrue Holiday. With a young team who has had the past year to improve, I think Ingram and a healthy Zion will be a dangerous duo. Lonzo's shot appears to be improving, so with these adjustments and new players, the Pelicans are in a good position to make a playoff push.
For the Hawks, Hornets, and Timberwolves, I don't think these teams are experienced enough or strong enough to make a serious playoff push. The Timberwolves are the closest with KAT, D'Angelo Russell, and young talent including 1st pick Anthony Edwards, but they have not played enough together and KAT's production has not been able to translate to wins over the past few seasons. The Hawks will have no problem scoring with Trae Young leading the offense along with their addition of Bogdan Bodganovic, but they have many defensive liabilities which will cost them too many games to land a playoff spot. Finally, the Hornets landed Gordon Hayward in free agency and LaMelo Ball in the draft, but they won't have enough to piece together a playoff run. Hayward should improve upon his numbers from last year in a comeback season after his injury, but he may not be ready to be the number one option on a playoff team. LaMelo Ball will not lead a team in his first season, so Charlotte is just not quite ready for a playoff push.
Let's play Quick Hitters. No analysis. Just predictions. Give me your predictions for…
Ethan Perlmutter: Luka Doncic
Michael Regan: Luka
Josh Gordon: Luka
Ethan Perlmutter: Obi Toppin
Michael Regan: LaMelo Ball
Josh Gordon: Toppin
Ethan Perlmutter: Blake Griffin
Michael Regan: John Wall and/or DeMarcus Cousins
Josh Gordon: Gordon Hayward
Most Disappointing Player
Ethan Perlmutter: Pascal Siakam
Michael Regan: Draymond Green
Josh Gordon: LaMelo Ball
Fired Coaches (during or after this season)
Ethan Perlmutter: Mike Budenholzer (after) and James Borrego (during)
Michael Regan: Luke Walton (feels like this could be a slow year for firings)
Josh Gordon: Luke Walton and Dwane Casey
Ethan Perlmutter: 1) Lakers beat 4) Clippers, 2) Mavs beat 3) Nuggets & 1) Bucks beat 4) Celtics, 2) Nets beat 3) Heat
Michael Regan: 2) Lakers over 3) Mavs, 5) Rockets over 1) Nuggets & 1) Bucks over 4) Sixers, 3) Nets over 2) Celtics – 4) Clippers over Denver if Harden is traded
Josh Gordon: Bucks v. Nets and Lakers v. Clippers in the conference finals