Sweet 16 Team Rankings
10 min read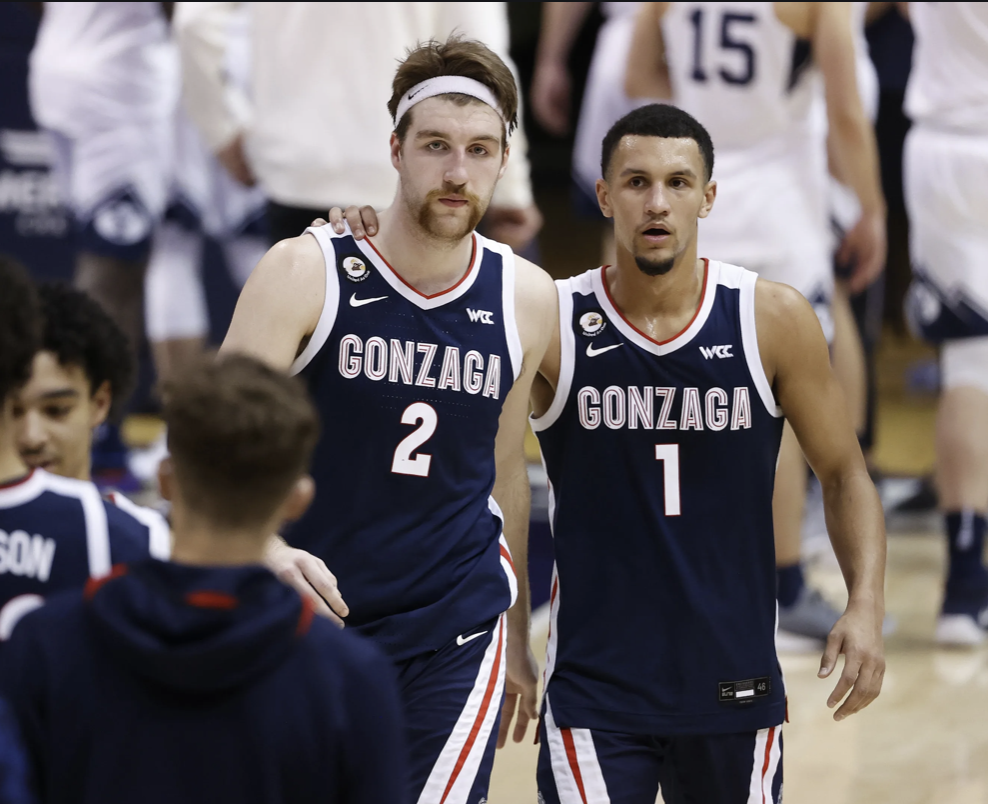 After four days of great basketball, we have to take a little break before the Sweet 16 starts on Saturday. While we're catching our breath, let's try to organize the teams that remain to see who faces the toughest path from here to the Final Four.
Overall Team Rankings –
1. Gonzaga
It's hard to debate this. The Zags are still undefeated, and they've just rolled so far. Tougher tests than Norfolk State and Oklahoma await, but this is the favorite until someone proves otherwise. Twenty-seven of their twenty-eight games have been decided by 10 or more points, and that includes wins over Oklahoma, Iowa, BYU (three times), Virginia, and Kansas. How will they fare against other teams worthy of the second and third weekends?
2. Baylor
The Bears have been right up here all year long, and they've been playing great basketball since getting over the rust of their covid break. Since that loss to Kansas, they're 6-1 with wins over WVU, Oklahoma State, TTU, and Wisconsin. Some cracks are showing – including the loss to Oklahoma State in the Big 12 tournament that followed a close win over a dreadful Kansas State team – but this is another team that has been a favorite all year. They won't desert that spot until someone takes it from them.
3. Michigan
Does Michigan have enough to go the distance without Isaiah Livers? That is the ultimate question. Last night, they showed they certainly have the grit and fight. LSU gave them everything they could handle in the first half, and they withstood the punches before calmly dissecting the Tigers down the stretch with clutch play after clutch play. It was a fantastic team win with a number of great individual performances, and now we do it again next weekend.
4. Alabama
Alabama pulled away from Iona in the first round before absolutely hammering Maryland with 96 points last night. This is a great team at their best, full of athletes that can defend and shoot the lights out. The question is the consistency. This is also a team that went 5-3 in non-conference play, lost to shorthanded Oklahoma, and allowed Vandy, South Carolina, and Mississippi State to play them within five points down the stretch. There's a reason they weren't up for 1 seed consideration. Those factors don't matter as much as the great quality they've mostly produced since SEC play started, but they do matter. There's a top tier (maybe two with how Gonzaga is playing) and then there's Bama.
5. USC
Let's give a little nod to the Pac 12. No conference has been better in March, and USC is their best team left. The Trojans have been great at times. They have a fantastic defense, and that allows them to crush teams when the offense is flowing. They murdered Kansas, which is good for momentum. The issue is that they're very prone to going cold offensively. When that happens, the other team is going to be in the game regardless of how good your defense is. When the cold streak starts to affect the defense, teams can knock you out. That's happened more often than you would like with USC. It's a little worrisome against Oregon given the show they just put on offensively.
6. Houston
Houston doesn't deserve a lower spot. They've played enough great and tough basketball to earn the top six. I just don't believe in them. This is a team that split games with Wichita State, beat Memphis twice by only six points combined, and lost to Tulsa and ECU. They really should have lost to Rutgers. They would have lost – no matter their heroics – if the late-game execution hadn't been so poor from the Scarlet Knights. You can only rely on November wins over TTU and Boise State for so long. To me, Houston still has a lot to prove, and that starts with a Syracuse team that could give them fits with their zone.
7. Arkansas
Arkansas made it to the Sweet 16 and now gets to play Oral Roberts. So that's good. A spot in the Elite 8 is theirs to lose, and I would not bet on them losing it. With that said, they haven't been great so far in March. The first fifteen minutes or so against Colgate were a mess, and then the end of the Tech game was just as rough. The good thing – beyond the situation they're in now – is that they had stretches in both games where they were just as good as they were bad in the rough moments. They were all over Colgate after the slow start, and they obviously needed to build a lead to blow against Tech. Can they put all the pieces together into a 40-minute effort? Baylor won't be as forgiving if they meet up in the Elite 8.
8. Oregon
Beating Iowa 95-80 is pretty dang impressive, and the Ducks are now 12-2 in their last fourteen games. The offense is absolutely rolling. Oregon has five players averaging double digit scoring, and all five are also shooting better than 35% from deep. This team isn't going to be an easy out for anyone. The one issue? One of those two losses came to USC exactly one month from yesterday. They lost the first half 22-43, and it was over from there. It's unlikely the Trojans score 43 in the first half again, but the key match-up will be USC's defense v. Oregon's offense. Who wins? The game probably depends on it.
9. Florida State
Florida State has played some elite basketball at various times this year. They beat Indiana, Florida, and Georgia Tech in consecutive games back in the early winter. In the second half of January, they went 5-0 in ACC play with four double digit wins, including two over Clemson and Louisville. They beat UVA by 21 in mid-February. Then they obviously rolled Colorado in the second half last night. The question for them has always been consistency. Those three early-season wins were followed by a loss to UCF, a relatively close game with Gardner Webb, and a loss to Clemson. Between the five-game winning streak and the UVA win, they lost by 11 to Georgia Tech and went to OT with Wake Forest. After the UVA win, they went 4-3 in their last seven pre NCAA Tournament games. That included a loss to Notre Dame. At their best, this is a very threatening team with a lot of length and athleticism. Being at their best is difficult though.
10. Loyola Chicago
Loyola put together what might have been the most impressive performance we've seen this year. It was almost reminiscent, coincidentally, of what Illinois did to Michigan a few weeks ago. Both teams had their opponents out of sorts from the beginning, and they never gave them a chance to find their rhythm and come back. The game plan was just incredible, and when the shooters are humming around Cam Krutwig, this is a very difficult team to beat. Here's my pitch though – with that win, Loyola moved to 4-3 against teams that have made the NCAA Tournament or NIT. They're 2-2 in games that don't involve Drake. They – and not Sister Jean – deserve all the attention they can get after what they did this weekend, but there's still a whole lot to prove before this team is considered a genuine national title contender. Can you pull off that perfect game plan again (and again and again and again)?
11. Villanova
Nova ended up with a pretty nice path to the Sweet 16 after North Texas took down Purdue. What happens now that they have to face an actual test in Baylor? With Colin Gillespie down, there are plenty of reasons to be concerned. After his injury, they lost to Providence and Georgetown in their only games before the tourney. Both losses were close, but both losses were also pretty bad given the opponents. It's hard to place this team as a result. They didn't look good against the two better teams they've played, but they've also had a lot more time to adjust to his absence since. The offense is crucial. That's what Nova runs on, and Baylor is certainly more vulnerable defensively than offensively. Stopping Baylor will be a challenge, so their ability to score at a decent rate with Gillespie on the sidelines will determine whether Nova will have a chance to keep their season alive.
12. Creighton
Creighton is really hard to judge as well. They looked very shaky against UCSB in the first round, and they were a rimmed-out lay-up away from seeing their season end. Then they went out and smashed Ohio in a game that was never really close. That same pattern occurred in the regular season, where they saw highs of a 3-0 record against UConn, an 86-70 win over a healthy Nova team, and a 72-73 loss in a road game to Kansas. The lows were losses to Marquette, Providence, Xavier, Butler, and Georgetown (twice). The good thing for Creighton is that they're more well-rounded this year with an improved defense. That could allow them to hang with Gonzaga a little bit better. If it turns into a shoot-out, however, they'll need a special offensive performance to even stay within reach.
13. Syracuse
Syracuse is now 6-6 against tournament teams after their two wins over San Diego St and West Virginia. Jim Boeheim and March go very well together, and it would be foolish to count the Orange out just because of their lower seed. The zone presents a unique game-planning challenge for any team, and this year's team has a good and efficient offense as well. They've topped 75 points in both tourney games so far, and San Diego State, at least, had a very good defense this year. Their spot down here at 13 has less to do with them and more to do with the twelve teams above them. If they can hit some big shots and confuse Houston's offense, they can absolutely go from sweet to elite.
14. UCLA
You could probably say the same of Syracuse, but this is really, for me, where the "We're happy to be here" zone starts. That doesn't mean that the remaining three teams won't be going all-out next weekend – or that they can't win. UCLA and Oregon State absolutely can. This is, however, the three teams that really pulled off one heck of a job just by making it this far. They're playing with house money from this point on. UCLA lost key senior guard Chris Smith earlier this season, and they were a pretty classic "good record but average margins" team all year. They won thirteen Pac 12 games, and nine of those wins came by six or less points. Eight came by five or less. The offense is really good, but this was an 11 seed for a reason. While it's impressive that they're here, beating this year's MSU, BYU, and Abilene Christian isn't exactly a gauntlet, and they're still just 2-6 this year against teams that ended up with an 8 seed or better in the tournament.
15. Oregon State
I have a lot of respect for what Oregon State has done. This is a team that started the year 5-3 with losses to Portland, Wyoming, and Washington State. They largely took care of business against bad teams from that point on, but they had a win over Oregon as their only win over a NCAA tournament team when the Pac 12 conference tournament began. Then they beat UCLA, Oregon, Colorado, Tennessee, and Oklahoma State in consecutive games. This is a dangerous team that's making things work on both sides of the ball right now. I would not want to play them. With that said, I'd still rather play them than pretty much any other team on this list. That's why they're down here. The rest of the season – and the comparative talent level – does matter. The good thing for the Beavers is that they have Loyola next. That's a really good basketball team, but it's also one that won't completely overshadow them with talent. If they execute, they can win.
16. Oral Roberts
It has to be done. Despite beating Ohio State and Florida in close games, they're clearly the worst team left. Here's a fun stat – Oral Roberts ranks 15th out of 16 in total losses despite only playing seven total games against major conference opponents. Only Loyola has played less, and they just absolutely suffocated Illinois in a dominant win. Oral Roberts deserves a ton of credit, but they've also heavily relied on other teams making mistakes. This is a legitimately good offensive team, and it's been a fantastic story. But it would be a significant shock to see them in the Elite 8. For further reference, Oregon State, at 50th, is 14 spots below the 14th-place team left on KenPom (Syracuse). Oral Roberts is 128th.
So, what does this mean in terms of how each region stacks up? These rankings are obviously subjective, so take them as you will. But, here's the distribution –
WEST –
1 Gonzaga v. 12 Creighton
5 USC v. 8 Oregon
SOUTH –
2 Baylor v. 11 Villanova
7 Arkansas v. 16 Oral Roberts
MIDWEST –
9 Loyola v. 15 Oregon State
6 Houston v. 13 Syracuse
EAST –
3 Michigan v. 8 Florida State
4 Alabama v. 14 UCLA
Among the top seeds, Baylor and Gonzaga have relatively similar paths (barring another Oral Roberts upset). Houston has what should be an easier road, but they have more issues of their own to work through. Then there's Michigan and Alabama, who will have to fight through each other. Michigan has the short end of the stick here, given that they pretty clearly have the highest ranked opponent in the Sweet 16 out of the favorites and then have to play Bama in the Elite 8 if they win.