The Battle For the Eighth Seed (Week 4)
7 min read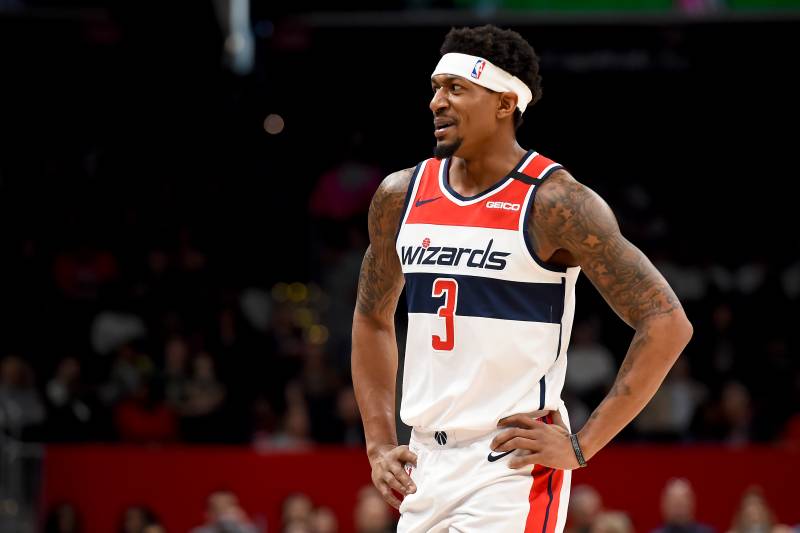 By Josh Gordon
Welcome to The Eighth Seed, a weekly article which will analyze the current eighth seed in each NBA conference, evaluating what they will need to do to remain in playoff contention. I will make predictions about whether these teams should be expected to remain in the eighth seed for another week based on their strength of schedule, injuries, advanced stats, etc, or if they should be expected to rise or fall.
Note: Because there are very few games this week due to All-Star weekend, I will be looking at the Ninth Seeds in each conference and analyzing their chances of moving into the Eighth Seed.
Eastern Conference: Washington Wizards (20-33)
Injuries: 
John Wall (Achilles, Out for the Season) – Injured last season
Garrison Matthews (Ankle, Out) – Injured on Jan. 7
Thomas Bryant (Foot, Day-to-Day) – Injured on Feb. 5
Anzejs Pasecniks (Left Hip, Day-to-Day) – Injured on Feb. 11
Relevant Standings:
Nets (25-28) 20.5 Games Back

Magic (24-31) 22.5 Games Back

Wizards (20-33) 25.5 Games Back

Bulls (19-36) 27.5 Games Back

Hornets (18-36) 28.0 Games Back

Pistons (19-38) 28.5 Games Back
Upcoming Schedule:
Fri. 2/21: Home vs. Cleveland Cavaliers (14-40, 15th in East)
Sun 2/23: Away at Chicago Bulls (19-36, 10th in East)
Mon 2/24: Home vs. Milwaukee Bucks (46-8, 1st in NBA)
Wed. 2/26: Home vs. Brooklyn Nets (25-28, 7th in East)
Fri. 2/28: Away at Utah Jazz (36-18, 4th in West)
Individual Statistics (Bradley Beal):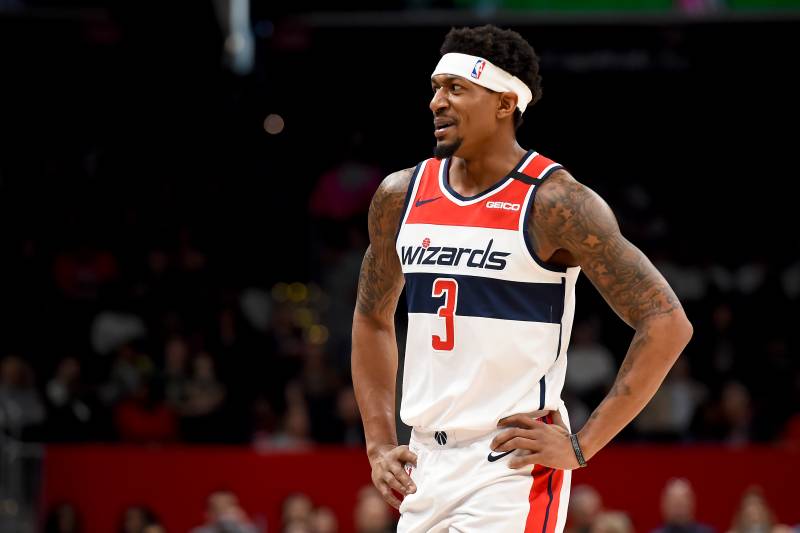 Bradley Beal is not an all-star. Of all players in NBA history who played at least 25 games before the all-star break, Beal has the most points per game at 29.1 for a player not selected as an all-star. The most in NBA history. So why isn't he an all-star?
For starters, his defensive stats are exceptionally terrible. He currently ranks 165th in defensive box plus-minus, among guards with at least 25 games played and 341st among all players (the 13th worst). Out of all all-stars since 1973-74 (when defensive box-plus minus began being calculated), there were only 8 players, accounting for 11 all-star seasons, that had a lower defensive box-plus minus than Beal. Steve Nash was the only player with multiple all-star seasons and a less than -3.0 defensive box plus minus (he had this 4 times). Additionally, there has never been an all-star with as poor a defensive rating as Bradley Beal has this season. Defensive rating is an estimate of points allowed per 100 possessions. Beal's is 118 this season whereas Joe Dumars in 1994-95 had a 117 defensive rating, the worst for an all-star.
Despite his defensive flaws, he has the Wizards within three games of a playoff spot, despite being 13 games below .500. This is largely in part of his outstanding offense. He is 6th in the NBA in points per 36 minutes scoring an average of 29.5 points. He also ranks 5th among guards in PER at 22.6, 9th in offensive win shares with 3.7, and 14th in VORP at 1.6.
Team Statistics:
It is not just Bradley Beal who has been a poor defensive player for the Wizards. In fact, just two players who have seen the court for the Wizards this season have defensive box plus-minus above 0.1: Ian Mahinmi and Gary Payton II. Not one player on the team has at least 1.0 defensive win shares. Troy Brown at 0.8 and Ian Mahinmi at 0.6 are the only two players with at least 0.5 defensive win shares for the Wizards. For reference, 210 NBA players have at least 0.8 defensive win shares and 285 players have at least 0.5.
The Wizards rank last in the NBA in opponent points per game allowing an average of 119.8 points every game. This is 8.6 points per game above league average. However, they rank 6th in pace, so a better stat to look at might be points allowed per 100 possessions. The Wizards are still last in the NBA in this category, with a team defensive rating of 115.9. It is clear from the numbers that defense is not going to help them make the playoffs with these numbers through 53 games played.
The Wizards have a mediocre offense overall, but this is where they are more likely to be able to improve upon for the remainder of the season. They are 7th in lowest turnover percentage at 12.0%. They are in the middle of the pack for many other offensive stats including true shooting percentage, 15th in the league at .566, offensive rebound percentage, 15th in the league at 22.4%, and offensive rating, 12th in the league at 111.9. 
Final Overview: 
Overall, the Wizards are a young team that just have not been able to put the pieces together to win games. Their defense is arguably the worst in the league by multiple measures and their offense, aside from Bradley Beal, has been nothing above average. At home this season, the Wizards are 13-13, accounting for 49% of their games and 65% of their wins. 
After the trade deadline, the Wizards dealt Jordan McRae and Isaiah Thomas and received Shabazz Napier and Jerome Robinson. In all likelihood, this trade will not impact the Wizards for this season. These two players each are expected to come off the bench, and with Jerome Robinson, the Wizards want to try to develop him for future seasons.
While this year is not a throw away yet, the Wizards should not have their focus on a playoff run, but rather use the rest of the season as a way to develop their young core. I see this as a great opportunity for the Wizards to try to come together as a team and fix some of their flaws. The Wizards should still try to compete and win games, but they should do so by giving more minutes to the players who they want to be the future of this organization.
Prediction: Wizards finish as 9th seed
Western Conference: Portland Trail Blazers (25-31)
Injuries: 
Damian Lillard (Groin, Day-to-Day) – Injured on Feb. 12
Mario Hezonja (Ankle, Day-to-Day) – Injured on Feb. 9
Nassir Little (Ankle, Out Indefinitely) – Injured on Feb. 4
Rodney Hood (Achilles, Out for the Season) – Injured on Dec. 6
Zach Collins (Shoulder, Targeting March Return) – Injured on Oct. 27
Jusuf Nurkic (Leg, Out Indefinitely) – Injured last season
Relevant Standings:
Grizzlies (28-26) 13.5 Games Back

Trail Blazers (25-31) 17.5 Games Back

Spurs (23-31) 18.5 Games Back

Pelicans (23-32) 19.0 Games Back

Suns (22-33) 20.0 Games Back

Kings (21-33) 20.5 Games Back
Upcoming Schedule:
Fri. 2/21: Home vs. New Orleans Pelicans (23-32, 11th in West)
Sun. 2/23: Home vs. Detroit Pistons (19-38, 12th in East)
Tues. 2/25: Home vs. Boston Celtics (38-16, 3rd in East)
Thurs. 2/27: Away at Indiana Pacers (32-23, 6th in East)
Sat. 2/29: Away at Atlanta Hawks (15-41, 14th in East)
Individual Statistics (Damian Lillard):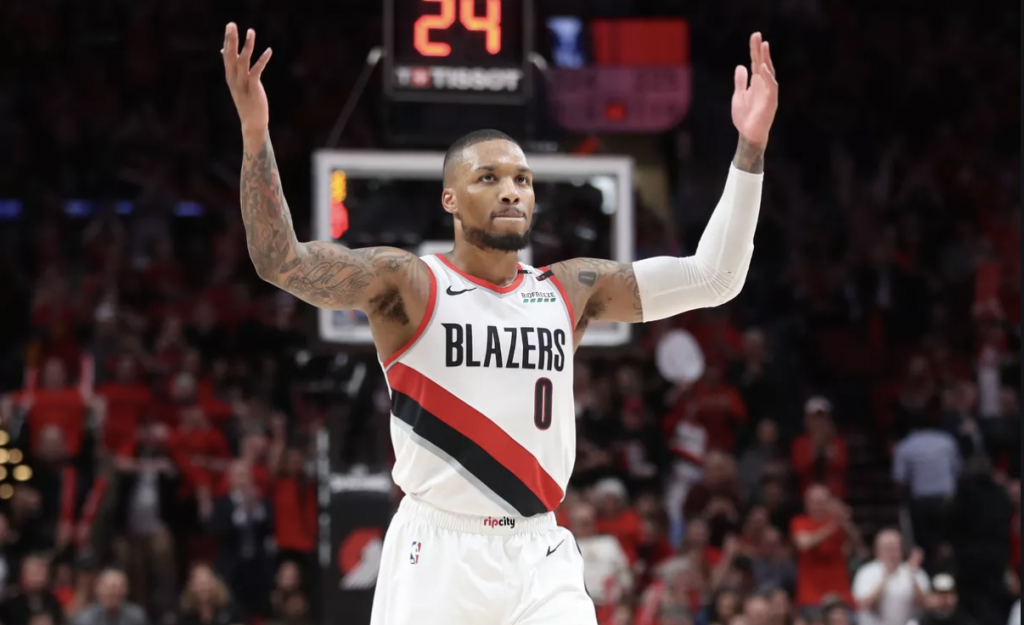 Indisputably one of the best offensive players in the league, Damian Lillard is a huge factor for the Portland Trail Blazers. He is averaging 29.5 points and 7.9 assists per game while scoring at the best efficiency of his career with a 55.6% effective field goal percentage. Looking into advanced stats, Lillard is 1st in offensive win shares with 8.7 and 2nd in overall win shares with 9.3. He is also 3rd in offensive box plus minus at 9.1, 5th in PER at 26.8, and 6th in VORP at 4.3.
Despite these incredible offensive numbers, Lillard has struggled on the other side of the ball. In three critical defensive measures, namely defensive box plus minus, defensive win shares, and defensive rating, Lillard only cracks the top 250 in the league in one of these. He ranks 328th in defensive box plus minus at -2.5 which is the worst of his career and down -1.4 from last season. He additionally is 329th in defensive rating at 116 and 247th in defensive win shares at 0.6, which are both the worst of his career, too. Ultimately, Lillard is simultaneously having arguably one of his best offensive seasons in his career and evidently the worst defensive season. 
Team Statistics:
As a team, the Trail Blazers are not good on defense. Despite Hassan Whiteside leading the league in blocks with 3.02 per game, Portland ranks 27th in defensive rating. League average defensive rating is 110.1, but Whiteside is the only player on the team who has played more than 10 games and has a defensive rating below 112. Also, only 3 players who have played more than 15 games have an overall box plus minus that is positive. Finally, they do not force many turnovers at all, ranking 29th in opponent turnover percentage forcing only a 10.8% turnover rate for their opponents. The average turnover rate is 12.8%.
There are some positives for this team, though, as they have a very low turnover rating themselves at just 11.3%, which is third lowest in the league. They also have a decent offense with an offensive rating of 112.0, 11th in the NBA. They score the 8th most points per game with 113.4, and the 4th most per 100 possessions with 113.8.
Final Overview: 
Despite their poor defense and unpromising record, the Trail Blazers still have a shot at the playoffs. With Zach Collins and Jusuf Nurkic potentially returning next month, this will add necessary depth for the Trail Blazers. However, with the way the Grizzlies have been playing lately, it is difficult to predict them finishing with an under .500 record. This would require the Trail Blazers to close out the season at least 17-11. The Blazers do have a more favorable schedule than the Grizzlies, but the odds are that teams including the Spurs and the Pelicans will be trying to stretch for a playoff spot down the stretch making the Blazers task even more difficult. I think Portland needs to be mostly healthy to make a playoff run and with Nurkic having not played since last season and Collins having not played since October, neither return is a guarantee. Overall, Portland's defense will not be strong enough for them to win enough games to catch the Grizzlies and with the Spurs and Pelicans close behind the Trail Blazers, I think they might drop instead of rise, finishing in the 10th seed.
Prediction: Trail Blazers finish as 10th seed
Citation:
Sports Reference LLC Basketball-Reference.com – Basketball Statistics and History. https://www.basketball-reference.com/. (Jan. 19, 2020)