The Piston's Dream Restoration: March 2022 Edition
7 min read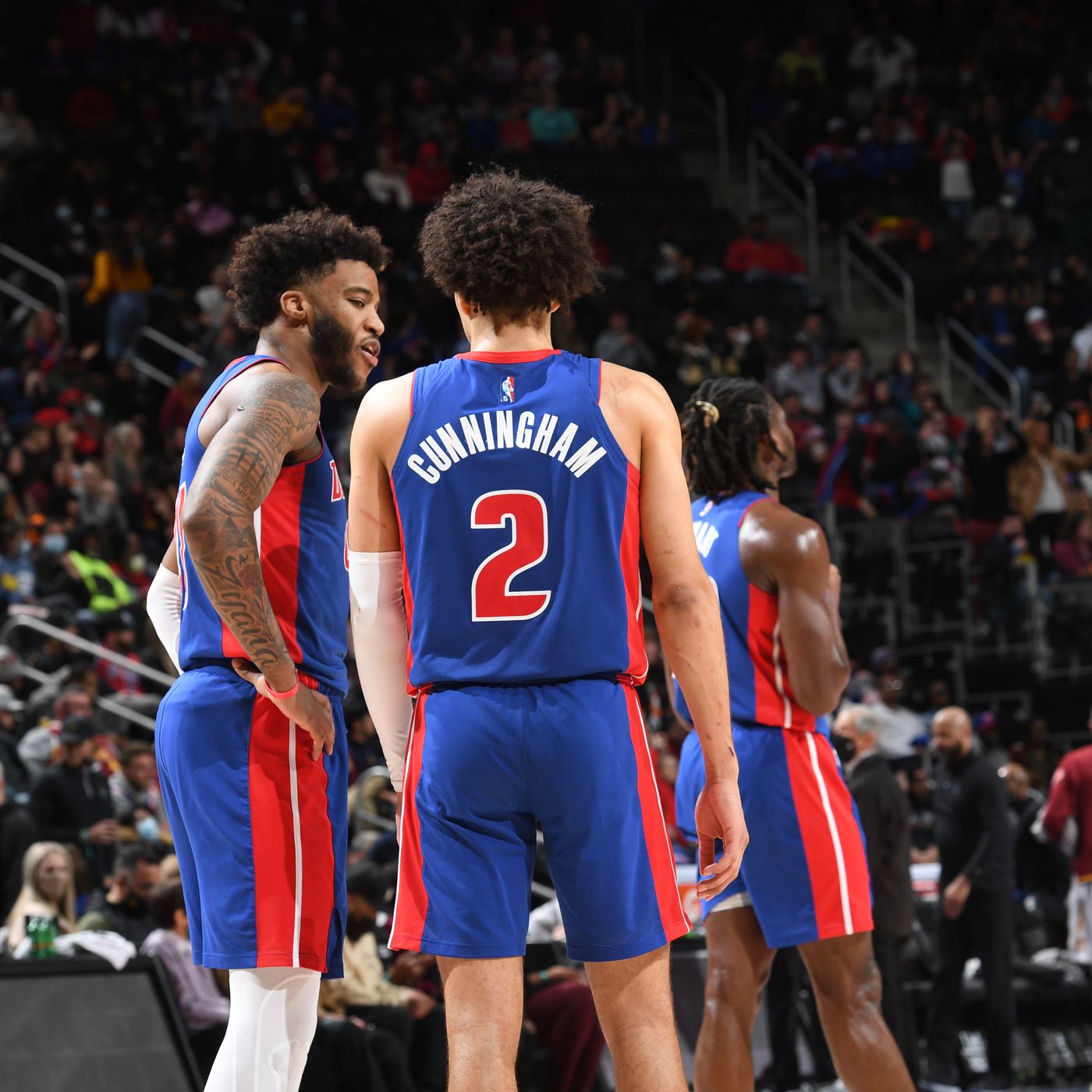 Right now, it looks like the Pistons young core is finally figuring it out. The team has been gelling together, winning six of their last eight and playing more competitively the past few weeks. Recent elite Troy Weaver draft picks Cade Cunningham and Saddiq Bey have been balling with Cade averaging 22 points per game, 9 rebounds per game, and 5 assists per game in his last six games and Saddiq averaging 19 ppg and 6 rpg on efficient shooting splits in his last thirty-seven. This duo seems to be the future of the Pistons, and fellow Weaver draft pick Isaiah Stewart is also figuring things out after hitting the sophomore slump. He can be forecasted as at least a solid future bench role player.
Weaver was patient this trade deadline, deciding not to trade Jerami Grant and instead explore the market again in the off-season. By using Grant as trade bait and having the most cap space available heading into the summer, the Pistons are in a great position to make a splash in free agency. This financial flexibility, paired with the third worst record in the NBA (which coincides with the highest odds at the #1 pick and would make their draft floor the #7 pick), puts the Pistons in a great position to draft one of this year's top four prospects: Jabari Smith, Chet Holmgren, Paolo Banchero, or Jaden Ivey. Playing competitive basketball the rest of the way and seeing growth from young prospects, including now-labeled "bust" point guard Killian Hayes, are the keys for the team the rest of the 2022 season. Looking beyond the immediate goal of finishing the season on a positive note, this article will be giving you my take on what a dream off-season for the restoring Pistons would look like. Let's jump into it.
With Cade and Saddiq comfortably taking two wing spots on this roster going forward and acting as closers in the clutch, there are some needs to plug and play around these two going forward.
Key Needs:
A long term answer at Center 

The Want: Ideally a tall defensive anchor that can protect the paint, be a lob threat in the pick and roll, and space the floor at times too.

2022 Targets: DeAndre Ayton, Mitch Robinson, or Mo Bamba through free agency or Chet Holmgren or Jalen Duren through the draft
2023 Targets: Myles Turner or Nikola Vucevic through free agency or Victor Wembanyama through the draft

A long term answer at the 4

Grant is likely on the way out as trade bait this offseason, which would leave a hole in the rotation.

2022 Targets: Extending Grant and standing pat is an obvious option, but signing Miles Bridges or drafting Jabari Smith or Paolo Banchero would be ideal if Grant is playing for a different team next year

A long term combo guard answer next to Cade

Although Cade's numbers improve when playing next to Killian Hayes, Hayes has been one of the worst players in the NBA (again) and is likely destined for a bench role going forward barring massive improvement.

2022 Targets: Anfernee Simons or Collin Sexton through free agency or Jaden Ivey through the draft
With a ton of cap space ($26 million in practical cap space according to Spotrac) and a high draft pick this offseason, why not solve all these problems going forward right now in this off-season…
The Draft:
The consensus big board for most people consists of Jabari Smith and Chet Holmgren being listed as the top two prospects with Paolo Banchero and Jaden Ivey coming after them. Assuming we keep the #3 pick (a $7.1 million cap hold) and Chet and Jabari are off the board, I would take Jaden Ivey at #3 pick to pair with Cade in the back court going forward. An excellent pick-and-roll navigator with very good athleticism and twitch, Ivey has been getting Ja Morant comparisons from some. Though I don't agree that he will become a player the caliber of Ja (who is in the MVP race right now), three-level scoring and ball handling is an elite combo in the NBA, which could make Ivey a perfect fit next to Cade. Cunningham is so good in off-the-ball sets as well, which opens the door for Ivey to fulfill the combo-guard, secondary ball handler role. Plus, I do not think we have seen the best of Ivey yet as he plays in a clogged paint offense at Purdue; the NBA system/spacing will open up his game even more. Even without spacing, he puts up a solid 17 ppg on efficient splits from all areas on the court and is a solid, willing defender. Allegedly, Weaver is high on him too. Ivey makes a ton of sense and likely solves the long-term solution of who to pair next to Cade in the backcourt. One need is checked off the list via the draft – now onto free agency.
Free Agency
With Grant being named as one of the most coveted trade deadline assets, I think the Pistons can get some solid value for him this offseason. In my mind, why not replace his fit of a secondary/tertiary scoring PF with another similar player. Enter the hometown kid, Flint native Miles Bridges. I wrote about Bridges in the past, but he was one of the most efficient players in the league last year, coming close to the 50/40/90 club. He also fits the mold of a Troy Weaver guy: uber-athletic, long, and can guard multiple positions. His three-point shooting has fallen off a bit this year, but the former Michigan State player is averaging close to 20 ppg along with 7 rpg and both a steal and a block a game. Bridges bet on himself last off-season and denied a 4-year, $60 million extension from the Hornets, and it looks like he made the right decision. I could definitely see him signing a similar deal to the other M. Bridges (Mikal) – a 4-year, $90 million deal seems right for the all-around game he provides. My solution (the money does work out) would be to do a sign-and-trade with Bridges on that new contract and trade Grant ($20.9 million) and Hamidou Diallo ($5.2 million team option) to Charlotte. The Hornets would get a similar caliber player in Grant along with a young, athletic wing piece in Diallo. This allows them to explore what moves to make next season to piece around LaMelo, and maybe even use Jerami as trade bait for a much needed center at the next trade deadline. The Pistons would do this as it finds them their long-term 4 who better fits the restoration timeline as a 23 year old. There have been rumors that Bridges wants to come back home to the D and play for the Pistons, so I could definitely see something like this happening. Additionally, this leaves Detroit basically as a wash in cap space, which gives more flexibility to sign a center in free agency as I will talk about next.  
The top center target in the free agent market right now is DeAndre Ayton. Is he attainable for the Pistons? Unfortunately, probably not. Even though Ayton and the Suns were not able to reach a contract extension this past off-season when Phoenix didn't offer him the max he wants, it is expected across the league that the Suns will match any contract thrown at Ayton this upcoming off-season as they have the best team (record-wise) in the NBA by far and have their core essentially locked up for next year besides him. In the slim chance that Suns owner Robert Sarver remains a cheapskate, it is rumored that the Pistons have made Ayton their top target in free agency this year. In all likelihood, the Pistons or another young and hungry team with cap space will throw a 3-year, +1 player option max deal at Ayton that goes up to 4-years, $127 million and the Suns will match it. In the dream scenario, the Suns don't match and the Pistons land a mobile, top 10 center in Ayton and go into 2023 with a lineup of:
PG: Jaden Ivey, Killian Hayes
SG: Cade Cunningham, Frank Jackson
SF: Saddiq Bey, Isaiah Livers
PF: Miles Bridges, Marvin Bagley
C: DeAndre Ayton, Isaiah Stewart
That is the dream restoration right there.
In all likelihood, however, both in my opinion and from what I have heard, the Pistons front office is very interested in unrestricted free agent Mitch Robinson and will make him an offer. Detroit engaged in trade talks with the Knicks for him this deadline with no deal going through due to the Knicks asking for Isaiah Stewart in return. Signing the uber efficient finisher and lob threat that blocks a ton of shots would be great for the Pistons and would come at a much steeper discount than an Ayton max deal. Mo Bamba could also be a target cheaper than Ayton, and he may fit even better with his flashes of being a pick-and-pop floor spacer on top of a solid rebounder and interior defender. The Pistons could also save their cap space, wait till 2023, and sign or draft someone to play center going forward once the current young guys develop more.
All in all, if the cards are played right, the Pistons could be an interesting playoff team as soon as next year. We will see how it plays out, but in Troy Weaver we trust.