Top 25 NBA Players – Post Finals Edition
25 min read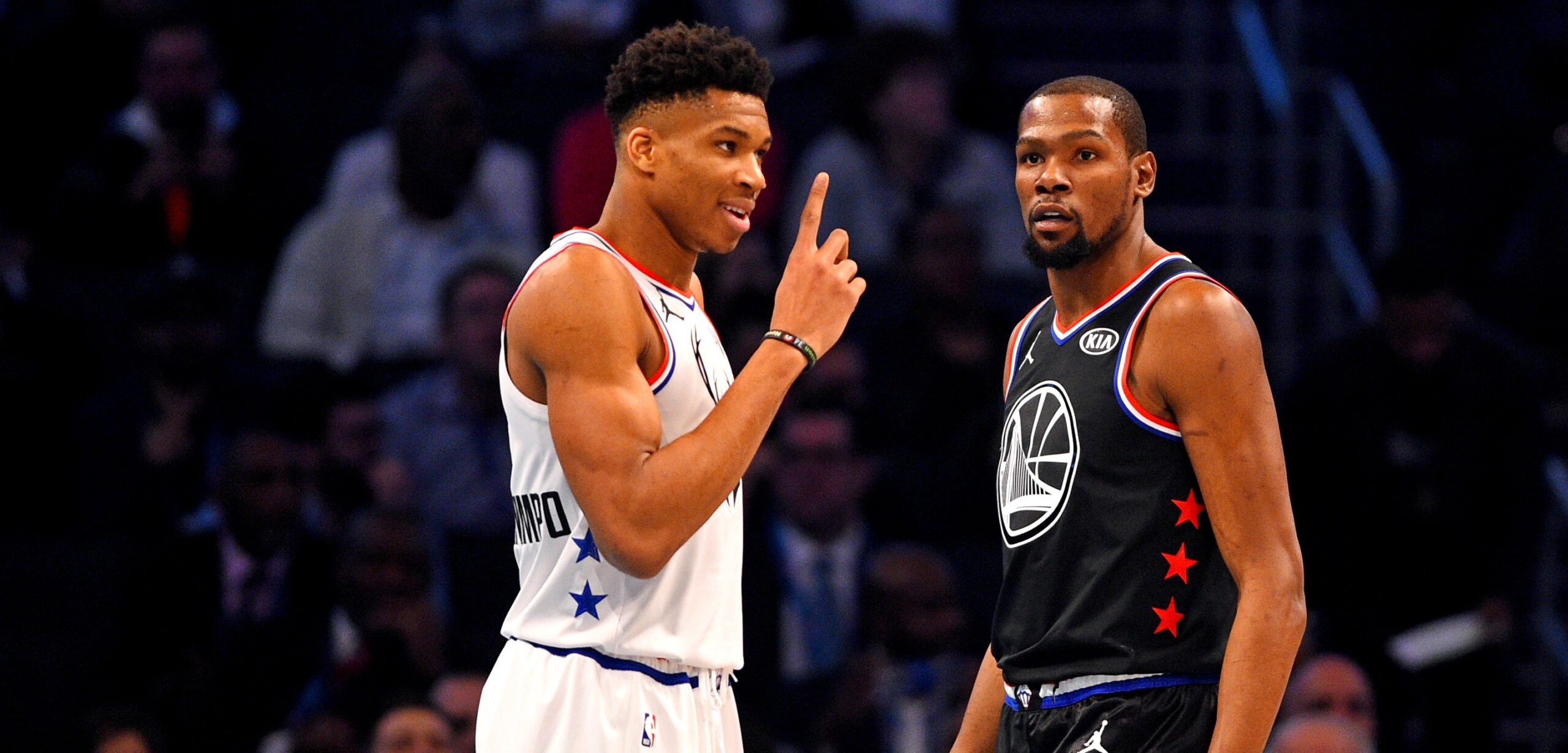 I may be slightly biased, but I'll still say that the Bucks just won one of the coolest NBA championships we've seen in a long time. It's not often you see a 50-year title drought broken by a team led by the 15th pick (a kid off the streets of Greece) and the 39th pick in their respective drafts, and it's just as rare to see that kind of duo stick around for eight years, finally growing together to the point where they could take that ultimate step and put their names down in history. This is a special moment for a team and a city that deserve it, from the oft-maligned Bud to the nomadic veterans in PJ Tucker and Bobby Portis to the under appreciated supporting cast in Brook Lopez and Pat Connaughton. That's all still soaking in, but today, at the beginning of the off-season, is a good time to get started on some fun little reflections on the state of the NBA. We'll start with a top 25 ranking of the league's players.
This is a real list based on how I would order it, but it will be somewhat superficial. We're not digging deep into stats, just pulling together a bunch of players, cutting some, and setting up those who remain in 1-25 order. To begin, let's run through every team and list any potential top-25 options, starting with your champions.
BUCKS
Giannis Antetokounmpo
Khris Middleton
Jrue Holiday
PACERS
Domantas Sabonis
Malcolm Brogdon
PISTONS
Jerami Grant
BULLS
Zach LaVine
Nikola Vucevic
HEAT
Jimmy Butler
Bam Adebayo
SIXERS
Ben Simmons
Joel Embiid
NETS
Kevin Durant
James Harden
Kyrie Irving
KNICKS
Julius Randle
HAWKS
Trae Young
CELTICS
Jayson Tatum
Jaylen Brown
WIZARDS
Russ Westbrook
Bradley Beal
RAPTORS
Pascal Siakam
JAZZ
Donovan Mitchell
Rudy Gobert
SUNS
Chris Paul
Devin Booker
NUGGETS
Nikola Jokic
Jamal Murray
CLIPPERS
Kawhi Leonard
Paul George
MAVS
Luka Doncic
TRAIL BLAZERS
Damian Lillard
CJ McCollum
LAKERS
LeBron James
Anthony Davis
GRIZZLIES
Ja Morant
WARRIORS
Steph Curry
Klay Thompson
Draymond Green
SPURS
DeMar DeRozan
PELICANS
Zion Williamson
Brandon Ingram
KINGS
De'Aaron Fox
TIMBERWOLVES
Karl-Anthony Towns
THUNDER
Shai Gilgeous-Alexander
CAVS, HORNETS, MAGIC, ROCKETS
None
That's 46 names, which means we'll have to cut about half of these players. I think we could probably debate someone like Gordon Hayward or LaMelo Ball being included here (among others) with someone like CJ McCollum, but none of those guys are ending up in the top 25 anyway. So don't take the brainstorming part of this all that seriously in other words.
Let's first separate the clear top 25 players (just working back up the list for order) –
Steph, LeBron, AD, Dame, Luka, Kawhi, George, Jokic, Paul, Booker, Tatum, Trae, KD, Harden, Kyrie, Embiid, Butler, Giannis, Khris
That's 19 names, and let's leave them here while we work through some initial cuts for the rest as move towards 20-25:
Jrue Holiday: All-NBA defender and elite playmaker who just suffered through a largely brutal shooting playoffs. Did more than enough in other aspects of the game to make up for it, and he's often better there anyway. STILL IN
Domantas Sabonis: Great passing big with very good rebounding and scoring numbers. Not always flashy or sexy, but clearly worthy of being discussed here. STILL IN
Malcolm Brogdon: Very solid guard capable of contributing in a variety of ways. Efficiency has dipped in Indiana, and durability is a real concern. OUT
Jerami Grant: Continued to break out during first season in Detroit but hadn't averaged more than 14 points per game before this season. Still questions to ask of his all-around game too. Need to see more of this level of play in the next few years. Trending up but OUT
Zach LaVine: Three consecutive years above 20 ppg. Took another step this year. Decent contributions in other areas. STILL IN.
Nikola Vucevic: If Sabonis is still in, so is Vuc. Versatile big who can spread the floor and make plays at an elite rate for his position. Good scorer. Chance to be the center of something with LaVine moving forward in Chicago. STILL IN
Bam Adebayo: Same idea here for a somewhat different player. One of the league's stronger defenders, and a very capable playmaker for the Heat, who run a lot through him at the elbow. Good rebounder as well. His offensive limitations largely involve scoring from distance, something that was heavily exposed against the Bucks in the first round. STILL IN
Ben Simmons: Not exactly flying high right now, but he's still just about as good of a defender as you'll find. That's valuable regardless of the rest. He's also a great high productivity passer, which counts for something too. The scoring is occasionally questionable and the shooting is horrendous (and both were flat out embarrassing against Atlanta), and he needs to figure those out to be anything other than a borderline top 25 player. The confidence just isn't there right now. OUT
Julius Randle: Randle is now averaging about 20, 9, and 4 over the last three seasons, and he's coming off an excellent career year where he neared 25 points per game and topped both 10 rebounds and 6 assists. He's fought his way into this discussion, even if his season ended on a sour, brick-filled note. STILL IN
Jaylen Brown: Brown has become one of the most exciting young players in the game, turning a questionable start to his career into a thing of the past. This is two straight years of 20 and 6, and he boosted his scoring up near 25 points per game while making some strides as a playmaker. Throw in some good wing defense, and you've got yourself a player. I think he's on the outside looking in here, but not for long at this point. OUT
Russ Westbrook: Still one of the game's dynamic producers, though he's pretty clearly falling off as far as his impact goes. To put it another way, a no doubt Hall of Famer who appears to be on his final downward slope. He's earned his spot in the discussion, but I'm just not taking Russ over a LaVine or a Holiday right now. An Eastern Conference play-in team doesn't get two top 25 players. OUT
Bradley Beal: One of the game's best scorers. I'm likely lower than him on most – hence his placement here and not in the first group – but he clearly belongs in any talk of the top 25. Not particularly efficient and struggles defensively at times, but his elite scoring and capable playmaking carry the day. STILL IN
Pascal Siakam: A champion who's averaged 22, 7, and 4 his last two seasons. Very good player who has seen some ill-timed struggles sink his stock since Kawhi left Toronto. Not sure he's the best player on a great team, but he does belong in this general discussion. I'd just like to see a little more from him in a larger role moving forward to put him in the top 25. OUT
Donovan Mitchell: A very good and determined scorer who shines individually under the bright lights. He averaged 34.8 points per game against the Clippers, and the Jazz still lost. Had some really good all-around performances and can contribute in a variety of ways. Lacks the signature moment or run that launches you up a tier (first and second round showings won't do it), but he belongs firmly in the top 25. STILL IN
Rudy Gobert: An elite defender that had his flaws laid bare by the Clippers in yet another playoff burnout. Gobert is special defensively and a capable offensive player who helps his team in a variety of ways. At some point, however, we have to ask the simple question – what's the ceiling here? STILL IN
Jamal Murray: Murray had a spectacular bubble run, and he took the step above 20 ppg this year. He's a very good offensive player and a great complement to Nikola Jokic. The Nuggets will be very happy to have him back when he returns. I just don't think he's done enough outside of the bubble to really break into that next level. At 24 and coming off the improvements he made this past season, there's a good chance that will change soon. OUT
CJ McCollum: A good – if relatively inefficient -scorer who is also a solid playmaker but struggles to add value in other areas of the game. Might be better suited as more of a primary backcourt option (a Simmons swap makes a lot of sense if the Sixers are done with him), but he doesn't do quite enough to really contend here. OUT
Ja Morant: I love Morant and the Grizzlies, and I've been wildly impressed by what they've done these last two years. Ja is an electric playmaker and scorer who showed with a terrific series against the Jazz that he's ready to show upon the big stage. The jumper isn't there quite yet, and the defense needs some work (Morant was scored on repeatedly against Utah). That doesn't mean he's not a very promising player who's just a few steps away from being ready to lead the Grizzlies into the fire of the West in the years to come. I'm holding him just outside this group for another summer, but he's knocking on the door. OUT
Klay Thompson: Any team would take prime Thompson – an all-time shooter that will fit into and help just about any defense. He pushes the top fifteen at his best. It'll be a shame if the microwave industry isn't included in his post-career plans. With that said, he's a 31 year old who hasn't played since 2019. Until we see how he looks in his return… OUT
Draymond Green: Like Thompson, Green was pushing the top fifteen not too many years ago. He's an elite defender and distributor at his best, though it's certainly worth mentioning that his flaws would have been far more apparent had he not spent his career playing alongside two of the greatest shooters in basketball history. We saw that in 2020, especially. That line of thinking sometimes gets carried to a point where it undervalues all of the special things Green does bring to the court, but there's no question that he has some of the clearest flaws that you'll find in this group. He's just not a scorer, and when you're a non-scorer that's not operating as the fulcrum of a dynastic powerhouse, you don't get a spot in the top 25. OUT
DeMar DeRozan: I like and have a lot of respect for DeRozan, who continues to play his style of basketball in a game that has attempted to move beyond it. He's an under appreciated all-around offensive player who's averaged just about 21, 5, and 5 in three seasons with the Spurs. The 24-34 playoff record isn't ideal, and it (along with San Antonio's recent playoff drought) is a rather telling sign of his limitations. There's a reason he was involved in Toronto's breakthrough trade. A really good player who doesn't quite hit great and falls a little short here. OUT
Zion Williamson: It's become too easy to dismiss the attention around Zion as undue hype from a media that's always starved for marketable stars. Doing that is a mistake because Williamson is an absolute force of nature as a scorer. He was eighth in the league in scoring this season, and he just joined LeBron and Luka as the only players in NBA history to average 27 or more points across a full age-20 season. He took a step forward as a playmaker too. The defense isn't great and might never be, but from a pure putting-the-ball-in-the-basket perspective, Williams is as dominant as anyone. He was one of seven players to average more than 29 points per 36 minutes, and he trailed just Steph, Embiid, Beal, and Giannis. STILL IN
Brandon Ingram: Ingram has come a long way since his time as a Laker, which wasn't a bad start to begin with. He's a smooth scorer with developing playmaking ability, and he's earned his new contract. He figures to be a key starter well into the future, though it's hard to say at the moment whether or not that will be in New Orleans given all of the chaos over there. Defense is still a question mark, but BI has clearly solidified himself as a good NBA player. The next steps could bring him even higher, but he's not there yet. OUT
De'Aaron Fox: Fox just went out and averaged 25 and 7 the year after he averaged 21 and 7. He's a special player who has the potential and time to really become something else. He's just not there quite yet, and another season without a playoff appearance (yes the Kings are a mess) makes it hard to really judge what we have here. Trae and Book put themselves all the way up and into the top 20 with their play these last few months. Fox is a postseason appearance away from potentially doing the same. OUT
Karl-Anthony Towns: Towns is an absurdly skilled offensive player who does some insane things for a player of his size and position. He's averaged at least 21 and 10 five years in a row, shoots the ball very well, and is quickly developing as a passer. The defense has always been a question, but the talent is there and very, very present in his play. Here's the issue: Towns has made the playoffs once and the Timberwolves are 29-56 when he plays the last two years. That's both a ton of losses and a ton of missed games. There are genuine and interesting questions to ask about how we evaluate young players on bad teams. For example, how much of Devin Booker's rise this season was caused by legitimate personal improvement versus a change in the circumstances around him? To make it simpler, how much of a better player is he right now than he was fifteen months ago? The same could be asked of Trae Young, and we might be asking it of KAT next year. Right now, however, after two years full of durability concerns and losses, I'm putting him outside of the top 25 conversation. OUT
Shai Gilgeous-Alexander: Someone that I believe should have been an All-Star this year. Broke the 20 ppg barrier and nearly doubled his assist numbers. He had a really great shooting season too. Defense is far from a minus. SGA is quickly rising, but he has turned in just two seasons of real high-level play after his promising rookie season in LA. He might be a year behind Fox (as things currently stand at least), which is fine for the Thunder but not enough to break into the top 25. OUT
That leaves us with ten players fighting for those six spots – Jrue, Bam, Vucevic, Sabonis, Gobert, Mitchell, Beal, Randle, Zion, and LaVine. At the end of the day, there are no right answers here. We all have our preferences and our ways of comparing players, and proving that Bradley Beal is better than Donovan Mitchell, or vice versa, simply isn't an achievable goal. Beyond the issue of subjectivity, there's the simple fact that with some of these guys, we're really just picking straws. They're the best basketball players in the world, and there isn't that much distance between them. There are ridiculous takes that can be made here (looking at those who still say AD is better than Giannis), but the reality is that there are so many different, partial ways to determine player value that we end up with no one true answer. With that said, here's how I rank 25-1 and those who fall just outside with some explanations as to why.
JUST OUTSIDE THE TOP 25
*No order here
Knocking these guys out is really difficult. It feels like any one of them could be in one of those last few spots, which I guess is the reason they're just outside. Sabonis (out) and Adebayo (in), for example, almost feel interchangeable.
Ultimately, I kept Sabonis and Vucevic out because of the relative lack of a two-way game and postseason success. I know we can talk injury issues, general team incompetence, and just the purpose of discussing team success with some of these guys, but a line does need to be drawn somewhere.
For Gobert, the lack of a high offensive ceiling and the stretching of his defense that we've seen under the bright lights in recent years is enough to keep him just outside the list. When you focus on one side of the ball, you really need to dominate there to crack the top 25. Gobert's performance against the Clippers wasn't a disaster, but it's not doing him any favors here either.
Then there's LaVine. I wouldn't waste any breath arguing over his inclusion on the other side of the line here. He's really close. So it comes down to wins. The Bulls were a play-in hopeful with LaVine. Even though they didn't crash out until he had to sit out a stretch of late season games, they were never consistently in position to be anything more than that. The best direct comparison here (Randle) has the slight edge in that regard.
JUST INSIDE THE TOP 25
25. Julius Randle
24. Bam Adebayo
23. Jrue Holiday
22. Zion Williamson
21. Bradley Beal
20. Donovan Mitchell
Like I alluded to above, Randle has (somewhat) quietly put together three straight seasons of highly productive play, culminating in last year's breakthrough. He was the best player on the East's 4 seed. Now the key will be running it back and finding a different ending. This is a fragile spot to be in; another poor offensive showing under the bright lights would be enough to sink Randle's top 25 spot.
Adebayo gets a spot for his versatility. Mike Budenholzer and the Bucks essentially obliterated the Heat in just about every way imaginable during their opening round sweep, but Bam is just one season removed from a Finals appearance. Regardless of your thoughts on the repeatability of the bubble (I have some strong ones), that counts for something. Bam does a little bit of most everything while being a great defender.
Holiday's shot was almost completely absent during the Bucks's championship run, but a 20-game sample doesn't make a player. He's a far better shooter and scorer than the playoffs would suggest, and his All-NBA defense and elite playmaking abilities were on full display over the last few months. There's not a better third option in the league outside of Brooklyn, and there aren't very many better two-way players than Jrue. I can't say enough about his defense, which shifted The Finals on its head.
It's pretty simple for Zion. The man is an unstoppable force. He is going to score on you. There just aren't many players like him. His ability to rise further up in these rankings will depend on the development of the other aspects of his game.
Speaking of people who are going to score on you, we've got Bradley Beal next. All-league scorers who can also reliably set up others aren't very common; Beal would be higher if I felt better about the rest of his game.
The bottom line is that Donovan Mitchell has been an absolute monster in the playoffs. In 33 postseason appearances, he's averaging 28.8 points per game. LeBron and KD are the only active players that have topped that 28 ppg mark across more career playoff games. He thrives when it counts, and he took another small overall step forward this season. At some point not so far in the future, Gobert won't be the only one having to deal with serious questions about his ability to be at the center of a winning playoff roster, but that moment isn't here yet.
CLEAR TOP TIER PLAYERS
19. Chris Paul
18. Paul George
17. Khris Middleton
16. Trae Young
15. Jayson Tatum
14. Devin Booker
13. Jimmy Butler
12. Kyrie Irving
11. Anthony Davis
Paul is one of the greatest pure point guards of all-time, and also one of basketball's smartest and most devious players. It's impossible to ignore the impact he has on the teams he joins too. Just look at the Thunder's 2020 playoff appearance and the full-on emergence of the Suns this season. He makes the players around him better in a way that few outside of a select group of superstars can. Of course, he's also 36. His defensive limitations were on full display against the Bucks, when he was battered on the boards by PJ Tucker and consistently beaten on-ball. After more than 42,000 career minutes, there are questions to be asked. Heading into next year, however, he's still easily among the game's elite.
George has become an easy target for casual (and not entirely misguided) slander, but he's still one of the better two-way players in the league. He's coming off a very good season in which he averaged roughly 23, 7, and 5 with some elite shooting numbers. Only Steph, Luka, Harden, and Malcolm Brogdon also averaged at least 20, 5, and 5 while making 2.5 or more threes per game this year. George is the best defender in that group too. His playoff performance was something to be proud of as he left everything out there in a high-volume role, and that should calm the waters for him. George scored 15 or less points in six of thirteen playoff games last year, but he didn't score less than 20 in a single playoff game this time around. It was a really good year. Do it again, and a rise back up the list might be in order.
Middleton is one of the game's most efficient high-volume scorers, and he showed during the playoffs that he can hit clutch shots with the best of them. He was simply masterful as a closer. His playmaking has taken a big step forward as well, and he's a very good rebounder. The defense was fantastic for much of the postseason too. Anyone still questioning his star power or his place among the best of the best isn't being serious. With all of that said, there are times when Middleton either misses his shots or doesn't take enough of them. That's not a story exclusive to these playoffs either. To rise any higher than this, the consistency needs to see some improvement.
The Hawks becoming somewhat better at hiding him doesn't necessarily make Young a better defender. He's a massive negative on that side of the ball without question. But he's also an absolutely electric scorer and playmaker who was just the best player on an ECF team. Young, Luka, and Dame became the fifth, sixth, and seventh players to ever average more than 28 points and 9 assists per game in a postseason, and Trae is one just three (LeBron, Oscar Robertson) to do it while playing at least 10 playoff games. These playoffs were the coming out party for a young player that had yet to have any sort of winning success, and Young is well positioned to step into the area currently filled by Steph and Dame.
It feels like Tatum is both older than 23 and more veteran than his four year career. He's a little hard to place. Only two of his seasons have ended with more than 16 points per game, he's never hit 5 assists per appearance over a full season, and it sometimes feels like the spoken reputation exceeds what we actually see on the court. It's clear that Tatum is a gifted scorer with good basketball instincts. He's already been through a lot of different experiences in a short period of time, and there are stretches where he plays like a superstar. Then there are moments when he doesn't. That shouldn't be disappointing for a 23 year old, but, again, it feels like Tatum's career trajectory has him in a place where more is both expected and often claimed. His fourth season was a very good one, and some steps forward as a defender and playmaker could launch him up these rankings.
Much like Young, Booker took a rather significant jump this year when his team started to win. The scoring and playmaking talent has always been there, as have some pretty impressive numbers. But Book was often tasked with an all-encompassing offensive creation role early on that he didn't necessarily fit fully into. With Ricky Rubio and Paul these last two years, he's been able to pick his spots and do what he can instead of being asked to do just about everything. That's also resulted in a little more buy-in defensively. This is a man who just dropped 40 twice in the Finals, but you'd like to see either some more defensive improvements or a little more volume playmaking before he moves up another tier.
Butler is simply a two-way stud. Not many players are capable of averaging (roughly) 20, 7, and 7 like he did this year, never mind the league leading 2.1 steals per game that he also threw in. For whatever reason, his jumper has completely crashed, but I'd still ride with the version of Jimmy we've seen in Miami over the vast majority of the league's wings. He can do just about everything, and he's unlocked an extra gear of greatness with the Heat that has allowed things like his legendary bubble Finals performance. Durability is a significant concern, and, if I haven't already mentioned it, I do have serious doubts about how much we can really take away from the on-court results of the bubble. That doesn't negate the fact that Butler has been an absolute star down in South Beach.
Kyrie is a sensational offensive player, as highly skilled as almost anyone. He has eight 20 and 5 seasons since he entered the league in 2012, tying him with Dame. Only LeBron, Russ, Steph, and Harden have more. He's an elite shooter who has continually increased his volume as well. His defense has been somewhat inconsistent and never elite, but that's not much of a knock when comparing him to guys like Booker and Young. This is a fairly tenuous position for Irving, however. Since his unbelievable 2016 Finals showing, he's struggled through durability issues, off-court distractions, and a general lack of on-court team success. I'm taking him as the 12th best player in the league because of his skill level and production, but there does come a point when you want to see more team-based results. The Nets will certainly have their shot next year if everyone stays available.
Davis is a super athlete with great two-way skill. He's an elite rim protector with strong defensive versatility to cover a variety of positions. He's also a skilled interior scorer who can dominate in the paint. What he is not – and this separates him from the true superstars – is a great shooter or playmaker. A .333 season from deep would be considered a relatively good one from AD, and he's never hit 4 assists per game over a full season. This year, he shot just 26% from deep while coming in just above 3 assists per appearance. All of the physical tools are there, but we're looking at two significant aspects of the game that are still a struggle. There's a reason he needed Jrue and prime Boogie just to make the playoffs and win a series down in New Orleans. As far as second options go, there's not much better, but there's no reason from his past play to put all your chips on Davis as a title-level primary option.
SUPERSTARS
10. Dame
9. Embiid
8. Luka
7. Jokic
6. Harden
5. Steph
In my view, there is a rather clear top ten. There are arguments that can be made about who sits where up here, but I do think there's a relatively significant gap between Dame/Embiid/Luka and the next group of players.
I'll put Dame last, though there's practically nothing separating 8-10. This group as a whole is far from strong defensively, but Lillard – at least partially due to his size – is especially ineffective. Offensively, he's a monster – elite as a shooter, playmaker, and scorer. But his teams have never seriously challenged for a title, and that has something to do with the roster issues his defensive limitations (and those of McCollum) create. It's true that Luka, Embiid, and Jokic haven't really fared any better in the playoffs from a team perspective, but we did just see Jokic's team handle Dame's despite the absence of its second best player. We've also seen less years from all of these guys, which is another way of saying that they've done the same with less time. If these sound like relatively weak reasons, it's because they aren't all that strong. Dame is a great player. Someone needs to go last though.
Embiid is an absolute force in the paint with enough playmaking and shooting ability to complement his volume scoring within the arc. He's a plus defender too, even if he's potentially trailed off a little bit on that end since his rookie season. The Sixers take a massive jump when he's on the court versus off of it. Durability is obviously a significant concern, and it may end up preventing him from reaching his full potential. For now, he'll just have to settle for being a dominant scorer, a strong two-way player, and one of the two best centers in the league.
Luka essentially walked into the league as another James Harden. In three years of NBA play, he's averaging 25.7 points, 7.7 assists, and 8.5 boards. Harden has averaged 31.7 points, 8.6 assists, and 7 boards over that same span. No one scores like Harden did over his last three (and especially two) years with the Rockets, but the similarities between the two in terms of production are quite clear. Luka is an offensive juggernaut capable of scoring and setting up others with the best of them. The efficiency has seen a steady climb since his debut. He's not all that bad defensively either. He's yet to get past the Clippers, but it feels like that breakthrough has to come soon if he continues to play at this level.
Jokic is the reigning MVP, and it's an award he absolutely deserved. You simply don't have the kind of season he just had. The full list of players to average at least 25 points, 10 boards, and 7.5 assists in a season:
Oscar Robertson (3X), Russell Westbrook (2X), and Nikola Jokic
The full list of players to post more than .300 win shares per 48 minutes over a full season (50+ games):
MJ (3X), Kareem (3X), LeBron (2X), Wilt, Steph, Boban (yes that Boban), and Nikola Jokic
The full list of players to post more than 12 offensive win shares and 3 defensive win shares in a single season since 1955:
Kareem (3X), Barkley (2X), Wilt (6X), Steph, KD (2X), Harden, LeBron (4X), Magic (3X), MJ (8X), Karl Malone, Dirk, Shaq, Bob McAdoo, David Robinson, Oscar (2X), Chris Paul (3X), and Nikola Jokic
The full list of players with a BPM of 11+ and a VORP of at least 8 in a single season:
Steph, LeBron (3X), MJ (5X), Robinson, Russ, and Nikola Jokic
That's some pretty unbelievable company for a 26 year old. Jokic is an absolute stud capable of contributing all over the court. Now the next step is the type of postseason run that will put you on the highest level.
I'll keep it simple for these next two. Harden is one of the most productive offensive players in NBA history. That's not an exaggeration. He's 10th all-time in PER and points per game, 23rd in offensive win shares, 5th in offensive BPM, and 8th in win shares per 48 minutes, usage rate, and triple-doubles. Steph is the greatest shooter of all-time and a terrific scorer and playmaker coming off his best season in 2-3 years. Both are transcendent offensive talents, but neither are without a clear flaw.
For Harden, it's postseason success. He's become an effective enough team defender, but he's never gotten back over the hump since making an early Finals trip as a supporting piece in OKC. It hasn't been the fault of bad teams, and it really hasn't been the fault of a greatly diminished version of him either (though his shooting does take a clear all-around 3% drop when you compare regular season to playoffs). It's just the hump that Harden can't get over, and it's the one keeping him from the very top tier.
Then there's Steph. The obvious flaw is his defense, which is a non-disastrous negative. The simple reality is that he requires a far more extensive support system than the next four guys on this list. They can bring everything to the table; Steph can't. That's the bottom line.
FORCE OF NATURE SUPERSTARS
4. Kawhi
3. LeBron
2. KD
1. Giannis
While you could make a decent argument to include Steph in this tier, these are the four who I see as having "clear best player in the Finals" ability. All four can take over a game, and while some have more two-way ability than others, none of these guys are limited to applying their will on one side of the action.
Kawhi is a two-way monster capable of severely bothering pretty much anyone defensively while giving the other defense fits on the other side. He's made some pretty severe progress as a scorer, and his playmaking took a significant leap this past season. I have him down at 4 because of recent postseason inconsistencies. After an unbelievable run with Toronto that had some giving him the league's crown, he has occasionally lacked that killer instinct with the Clippers.
Then there's the top three.
LeBron is one of the best players to ever walk the earth – a physical freak capable of scoring on command, making any pass, and playing tough defense. He's had his low points, but no one hasn't. For much of his career, he's been the best player in the league. Now he's in a position where he needs to reclaim that throne. His defense and effort have been visibly diminished at times in recent years, and the injuries are starting to pile up. He simply didn't have it in him this summer. The bubble run was awesome, but whispers of that being the last great hurrah should be getting a little louder. The slope might be downward from here.
Durant might be the most unfair offensive player in league history. It felt like – for good reason – that the Bucks gave him the kitchen sink and everything else, and he still just went on a rampage. Hands in all sorts of nearby positions rarely make much of a difference for one of the most gifted scorers to touch a basketball. At times he has looked like the league's best player, and he almost carried the Nets into the ECF. But almost doesn't count here.
Only one player just clinched a title with the first 50, 10, and 5 block game in Finals (and playoff) history. That would be Giannis, a two-way monster who can do just about everything defensively while sucking up rebounds, scoring at will in the paint, and capably distributing to teammates. We know his limitations, and we've seen him try to take off and fail. Then we saw him reach the highest peak, and that's where he currently stands. Being the best player by a country mile in The Finals makes you the best player in the league. Until someone comes for his throne, the crown belongs to Giannis.