Way-Too-Early NBA Rookie Power Rankings
6 min read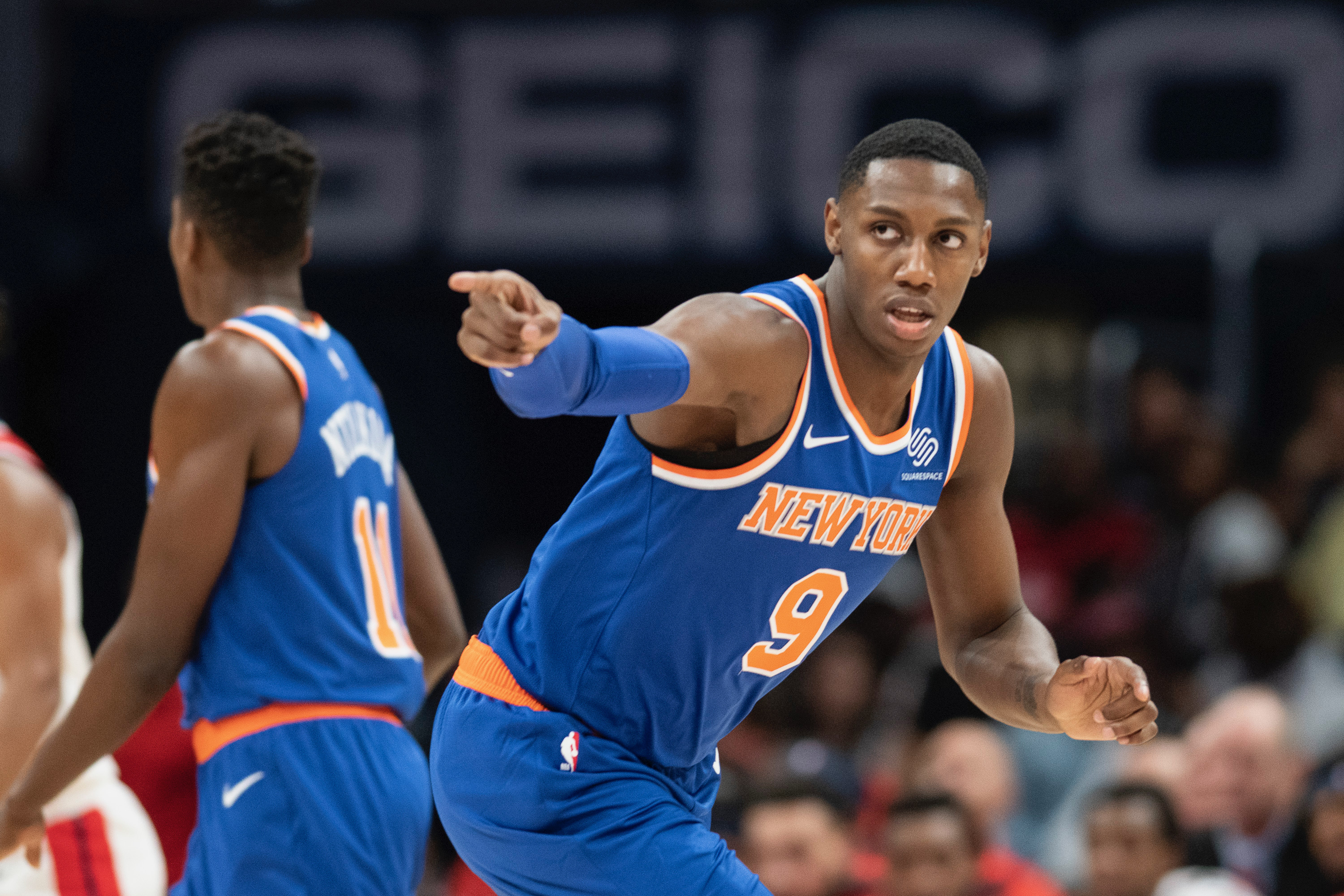 Even without the first overall selection, Zion Williamson, the 2019 rookie class has thoroughly impressed thus far. Top picks like Ja Morant and RJ Barrett are living up to sky-high expectations, while an undrafted rookie in Kendrick Nunn has shocked the basketball world.  Compiling the ten names for the rankings was not too difficult, but comparing statistics and ordering them had me very conflicted. 
1) Ja Morant, Memphis Grizzlies
Simply put, Ja Morant is an alpha. A few nights ago, the rookie went head-to-head with Kyrie Irving and put up 30 points, 9 assists, and got the win. His performance included hitting the game-tying shot, and a block to send the game to overtime. Morant is currently 3rd among rookies in scoring at 18 points per game and 1st in assists at 6 per game. The rookie point guard has a true shooting percentage of 55.9% and is shooting 50% from long-range. 
Morant is being asked to really carry his team as a rookie with a 31.5% usage rate. He's amongst the best rookies in PER at 17.2. The Grizzlies franchise is in good hands with Morant and Jaren Jackson leading the way. 
2) RJ Barrett, New York Knicks
Knicks fans are all-in on their first round selection from Duke. In last night's win over the Chicago Bulls, Barrett dropped 19 points, 15 rebounds, and 5 assists. The only other teenager in NBA history with at least 19/15/5 in a game is LeBron James. 
Barrett is currently 2nd in scoring among rookies (20.5 pts), 2nd in rebounding (7.5 rbs), and 5th in assists (3.3 ast).  He's near the top in PER at 17.2. Barrett is doing this all while with a shooting percentage of 50% from the field and 46.7% from deep in over 37 (!) minutes per game. The 19 year old is already taking control of the Knicks offense and with a high usage rate of 24.2%, you can expect him to continue on his course towards stardom. 
3) Kendrick Nunn, Miami Heat
Kendrick Nunn has been a revelation for the Miami Heat thus far. Nunn went undrafted in 2018 and spent last season in the G-League with the Santa Cruz Warriors. In his NBA debut with the Heat, Nunn dropped 24 points to build off of an outstanding preseason. He currently leads all rookies in scoring at 22.3 points per game and is the leader in PER at 21.6. He also leads all rookies in win shares with 0.4 and has a net rating of +8.8. 
Nunn has shot an impressive 51.9% from the field and 42.1% from deep. According to Synergy Sports Technology, he is putting up 1.117 points per possession on offense which puts him in the 80th percentile in the NBA. Nobody really knows if Nunn will keep this up, but for now it is one of the better stories in the entire league. 
4) Rui Hachimura, Washington Wizards
The Wizards young core looked pretty bleak entering this season. That was until we got to see Rui Hachimura take the floor. The Gonzaga product has really impressed on the offensive side of the ball, averaging 16.3 points per game on 46.9% shooting with an offensive rating of over 110. 
Rebounding has also been a strength for Hachimura early on, pulling in 7.7 boards per game. All of this has contributed to a PER of 16.3. The forward is currently seeing over 32 minutes a game. On a team that needs all the help they can get, he should continue to get every opportunity to prove he belongs. 
5) De'Andre Hunter, Atlanta Hawks
De'Andre Hunter, the 4th overall pick in the 2019 draft, is already showing the tools to become an elite NBA two-way player. According to Synergy Sports Technology, Hunter is in the 87th percentile in points per possession on offense, while in the 88th percentile on defense in points per possession. Furthermore, he has a net rating of +25.2, and a plus/minus of +14.3. 
Hunter is sporting a true shooting percentage over 68%, while shooting 50% from three. While it is still early and things change, Hunter is one of the safest bets to be an All-Rookie selection. The Hawks are impressing everyone right now and are building the foundation to become a formidable Eastern Conference team in the near future. 
6) PJ Washington, Charlotte Hornets
It could be a very tough season in Charlotte, but they have to be satisfied with the play of their most recent first round selection. The 12th overall selection dazzled from deep in his debut, going 7-11 from downtown and putting up 27 points. He's continued to be a sharpshooter, with a three point percentage of 50%, with 55% of his total shots coming from long-range.  
Washington currently ranks 5th in points per game and 3rd in rebounds per game among all rookies. His true shooting percentage is currently 62.4%. His defense needs work, but it's hard not to be excited about his offensive versatility at 6'7. 
7) Coby White, Chicago Bulls
The Bulls may be starting Tomas Satoransky at the moment, but it will not be long until Coby White is their starting point guard. White's debut was as impressive as you could ask for, scoring 25 on 10-16 from the field. He's currently averaging 13.8 points per game, 4.3 rebounds, and 3.3 assists.  Combine this production with strong defense, and the sky is the limit. 
The UNC product has one of the top rookie PER's at 18.4 and a net rating of +6.5.  White's usage percentage is one of the highest among all rookies at 25%. If there is an area to improve it's the three point shooting. He's only shooting only 31.6% from deep, with 39.6% of his shots coming from that area. 
8) Brandon Clarke, Memphis Grizzlies
All of the attention has on the Grizzlies this season has been on their other first round selection, second overall pick Ja Morant.  However, the Grizzlies have another rookie who has impressed. After winning Summer League MVP, I had high expectations for Clarke's rookie campaign. Clarke, who played college ball at Gonzaga, was the 21st pick back in June. The 6'8 forward is making the most of regular minutes, with a PER of 19.1 through the first week of the season. 
Clarke is averaging 10.7 points per game, while shooting 56% from the field. While his overall defense is in need of improvement, Clarke is leading all rookies with 1.7 blocks per game. 
9) Eric Paschall, Golden State Warriors
Prior to a win last night over New Orleans, the buzz around the Golden State Warriors has been all negative early this season. One bright spot for the team has been the play of 2nd round selection, Eric Paschall. Averaging 10 points a game and with a PER of over 15, Paschall is showing he belongs. The early production is not all that surprising, as Paschall turns 23 in less than a week and played three years at Villanova. 
Paschall is shooting 58.3% from the field with a 61.1% true shooting percentage in 25 minutes per game.  According to Synergy Sports Technology, the power forward is putting up 1.1 points per possession on offense in the half court. This puts him within the 82nd percentile of all NBA players this season.
10) Tyler Herro, Miami Heat
After Zion Williamson went down before the start of the regular season, no rookie was garnering as much hype as Tyler Herro. Herro has shown early on that he can score. He's averaging 12 a game to start the season (7th among rookies), while pulling down six rebounds a game (5th among rookies). Herro has a lot of room to grow at only 19 years old. Currently, he only has a true shooting percentage of 45.1%, while only shooting 26.7% from deep. 
He's seeing 33 minutes a night and has a usage percentage of 19.4%. One area where he has exceeded my expectations has been on defense. He has a defensive rating of 96.5. The shots aren't falling like he may want right now, but expectations remain sky-high.