The Rebirth of Kendrick Nunn
7 min read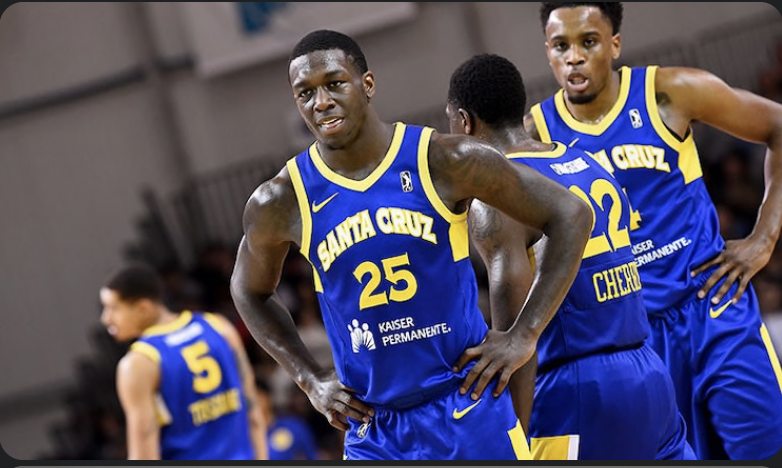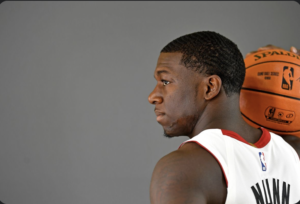 The stars in South Beach have always been very easy to see. Glen Rice, the elite scorer and national champion, helped make the Heat somewhat relevant in their first days as a franchise. Seven years after the franchise's birth, Pat Riley, one of the most famous and visible coaches in the sport, was brought in by new owner Mickey Arison to both call plays and run the front office. Riley went after Tim Hardaway and Alonzo Mourning, and that duo made the Heat true contenders. 
Then, in 2003, Riley picked Dwanye Wade, the electric shooting guard out of Marquette, ushering in a new and even brighter era of star power. There was Shaquille O'Neal, legendary rim breaker and game changer. There was Alonzo Mourning, back for round two with the Heat. There was Gary Payton, the flashy point guard of SuperSonics fame. There was Lamar Odom, the free agent from Los Angeles. Then there was Wade himself, one of the greatest 2-guards to ever play the game. This group brought home the franchise's first title in 2006, but the Heat's fire didn't stop growing.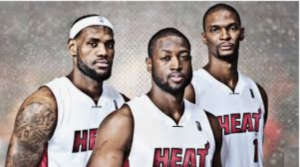 In 2010, Lebron James, the most talented player in the league, infamously declared to a huge audience that he would be bringing his talents to South Beach. Chris Bosh, the star center from the Toronto Raptors, decided to join him. Wade, James, and Bosh formed the Big Three, perhaps the greatest collection of star power the league had ever seen. They won two titles and played in four NBA Finals, and they captured the attention of the league. It all ended when James opted to return to Cleveland while Father Time began to catch up to Wade and Bosh.
For a few years, the Heat were stuck in limbo. An aging Wade left for Chicago and then Cleveland before eventually returning. The on-court product was mediocre, allowing the team to draft Justise Winslow from Duke and Bam Adebayo out of Kentucky. These guys had potential, but they were young. The biggest name in Miami was probably Goran Dragic, a relatively quiet all-star from Phoenix. Riley remained, but the star power seemed to fade. That all changed on July 2, when the Heat agreed to a four-team deal to acquire Jimmy Butler from the Philadelphia 76ers.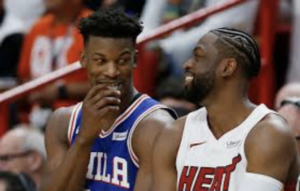 With the huge trade, the Heat shifted the league's focus right back to them. Butler, moody and intense, went to Marquette like Wade. Also like Wade, he has the chance to start a new era of competition in Miami, with guys like Dragic, Adebayo, and Winslow by his side. Tyler Herro, the confident rookie scorer, staked his claim to a major role in the preseason. He burst onto the scene last year at Kentucky, and while the speed of his adjustment to the NBA came as a surprise, he didn't come out of nowhere. Once again, the star power in Miami was clear. Still, going into the season there were questions about the depth of this Heat team. Who else was going to step up? Would the Heat trade for Chris Paul? Would they make a move for Blake Griffin? As always, the focus in Miami seemed to find its way to the stars. Then something surprising happened. An unknown player stepped into the South Beach spotlight, prompting fans to ask a question that doesn't typically get asked of the best players in Miami: Who is Kendrick Nunn?
***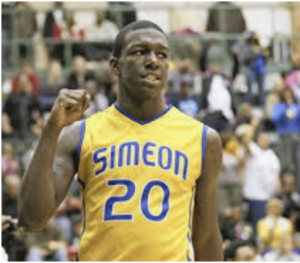 Kendrick Nunn wasn't always the underdog. Rick Majerus and St. Louis offered him a scholarship as a high school freshman, and that was just the beginning. Illinois, Marquette, Ohio State, Memphis, and more came calling during an illustrious high school career at Simeon Career Academy, the Chicago high school made famous by Derrick Rose. Like his teammate and close friend Jabari Parker, Nunn looked like someone who would eventually follow Rose to the NBA. He had the build and the skills to do it. At Simeon, Nunn and Parker took home four consecutive state championships, matching the longest streak in Illinois high school history. Nunn also won two gold medals while competing for youth national teams. In 2011, he made the FIBA U16 team and won gold at the 2011 FIBA Americas U16 Championship in Mexico. One year later, he won gold at the 2012 FIBA U17 World Championship in Lithuania alongside Parker and Jahlil Okafor.
Parker was the more heralded prospect, and he eventually became a one-and-done player for Duke. He may have been the silver to Parker's gold, but Nunn was still a great prospect. On their senior night, when the pair became the fourth and fifth in Simeon history to see their jerseys retired, the sky was the limit for the duo from Chicago. 
***
Early in his junior year of high school, Nunn verbally committed to Texas A&M, a decision that lasted roughly two months. Soon after decommitting, Nunn decided to stay close to home and play for the University of Illinois. He entered college as a four-star prospect, ranked in the top 100 across all of the major recruiting rankings. Known as a great shooter with good strength and athleticism, Nunn seemed set up to contribute right away.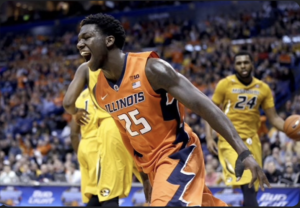 He was able to make good on that potential as a freshman, twice earning Big Ten Freshman of the Week honors and ending the season on the 2013-2014 Big Ten All-Freshman Team. He played 35 games, starting 12, and shot 39% from deep, creating a very good foundation from which he could build. Going into his sophomore year, he was ready to become one of the team leaders at Illinois.
Over the next two years, he made continual progress. Nunn started 49 of the 61 games he played in as a sophomore and junior. He improved his scoring by at least 4 points per game each year, and averaged 15.5 points per game as a junior. He also improved his rebounding by at least 1.5 rebounds per game each year, reaching 5 per game as a junior. After dropping to 36% from deep in his sophomore year, Nunn raised his average back up to 39% for his third season at Illinois. He improved his steal numbers and was a positive player in all three years, setting up a promising senior season. 
Unfortunately, that senior season for the Illini never materialized. Shortly after the end of the 2015-2016 season, Nunn pled guilty to a misdemeanor battery charge after being arrested for domestic violence. He had been accused a few months prior of striking a woman in the head, forcing her onto the ground, and then pouring water on her. Nunn avoided serious legal penalties, but the damage was done. Illinois dismissed Nunn from the team, and a promising career suddenly seemed over. The heralded recruit had become a disappointment. Nunn was no longer destined for success. Instead, he appeared destined for a life of "what ifs?". 
***
After the incident, Nunn did what he could to pick up the pieces and move on. He transferred to Oakland University in Michigan roughly a month after his dismissal. Due to NCAA transfer rules, he had to sit out a season, so he was unable to play during what would have been his senior year. Instead, he had to wait until his redshirt senior season, 2017-2018. It was a last chance to make good on his potential, a last chance to show that he belonged in the same league as Rose and Parker.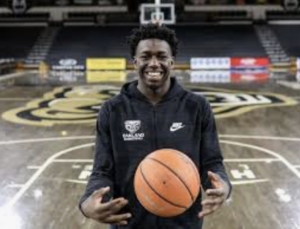 He made the most of it, averaging 25.9 points, 4.7 rebounds, and 3.8 assists per game. The assist numbers were more than double his previous career high. Only Trae Young, the current Atlanta Hawks star, scored more points per game across all of Division 1. Nunn came second to no one in made threes with 4.47 per game (on 39.4% shooting).  He was the Horizon League player of the week three times, and he looked really good. 
Despite his statistical success, Oakland finished at 19-14 and didn't make any noise in March. Nunn hadn't generated enough buzz, and he went undrafted. He was officially an underdog. 
***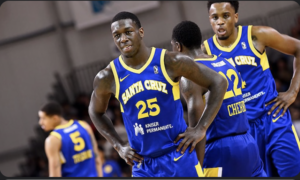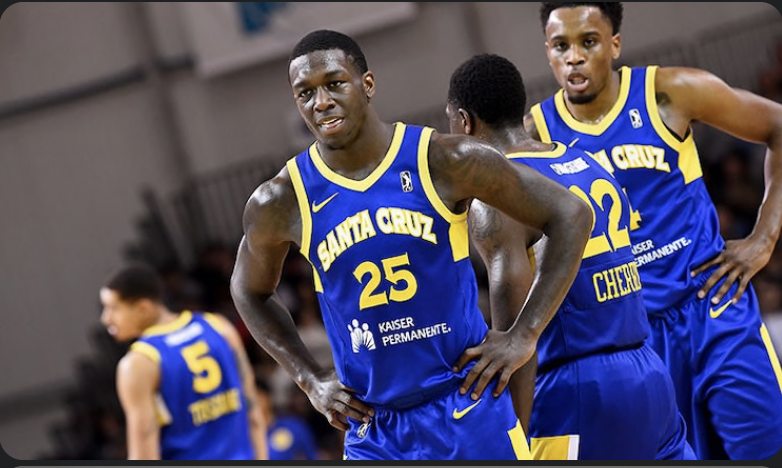 The move to Oakland did just enough to land Nunn a spot with the Warriors's Summer League team. They signed him to a partially guaranteed contract that included an invitation to their fall camp, but he was released before the season. This led to a spot on the Santa Cruz Warriors, Golden State's G League affiliate. Nunn had another chance, but there was still a lot of work ahead.

Nunn made sure that work was done, averaging roughly 19 points, 4 rebounds, and 3 assists per game across 49 G League games despite only starting once. He looked better on defense, he was more efficient despite a slight drop in 3PT FG%, and he hit 86% of his free throws. Nunn looked much closer to the player he was supposed to be, but he was still a league away from the NBA.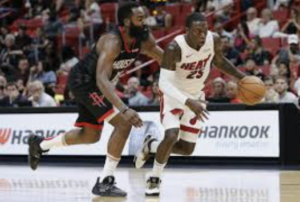 That changed after the G League season, when the Heat offered Nunn a contract. He hasn't looked back since. This preseason, he hit almost half of his threes, dropped 40 points in one game, and had 7 assists in another. Through 3 regular season games, like Herro, he has shown that his preseason was very real. He's averaging roughly 22 points, 3 assists, and 3 rebounds per game on 42% shooting from deep. He's also thrown in 2 steals per game and looks like the NBA starter he now is on both sides of the court. He's been one of the best rookies so far, and it wouldn't be much of a stretch to say he's been one of the best players in the league in the opening week. 
Going into this season, very few people knew who Kendrick Nunn was. Despite his success in high school and college, the mistake he made at Illinois cost him a lot of early recognition and respect. It almost cost him his career too. Nunn made sure it didn't. He made the NBA, and now he has a new goal: All-Star. I would say the odds are against him, but none of that matters to Kendrick Nunn. Regardless of the outcome of his All-Star quest, it's safe to say it won't be long before everyone knows who Kendrick Nunn is. He may not be the star Miami is used to, but make no mistake, he can still be a star. Once again, the sky is the limit.