Mike Bets #75 – HIGHLIGHTS OF THE YEAR
10 min read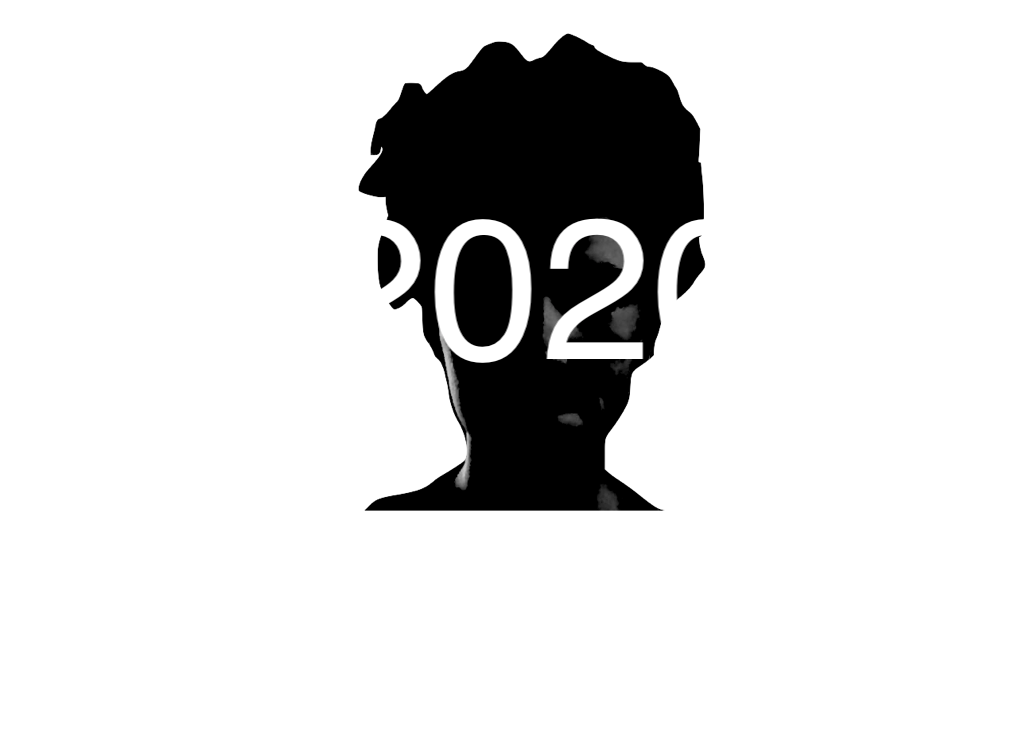 Happy New Year's Eve. The 2020 above is only half visible because it's white like the background. It's not worth the effort to change it. 2020 wouldn't put in the same effort for me. Instead of saying something about 2020 or 2021 today, I will run through the first annual Mike Bets: Highlights of the Year. Let's take a look back at the top twenty moments of the first year in Mike Bets history (these are all in chronological order).
20. The Debut – July 31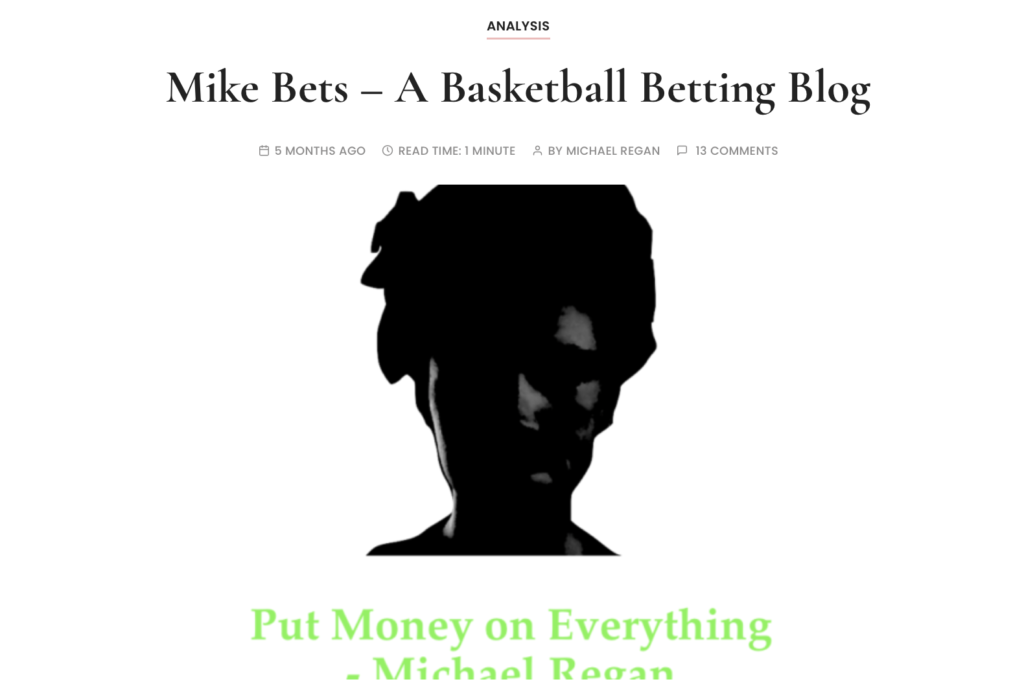 This has to make an appearance on the list. The first Mike Bets came on the first day of the bubble. The bets were $5 each. The motto was "Put money on everything". The old logo was there. I feel like this was 100 years ago, and it hasn't even been half a year. In typical Mike Bets fashion, I missed all three of the NBA picks.
19. Almost $68 Up – August 8th

This was the height of the early NBA bubble for me. Nine days in, I was sitting pretty and on a good run of wins. With just five bucks going into each bet, this was a special moment. I thought I had conquered basketball. I soon learned that I had not.
18. The First Poem After I Lose $83 in Four Days – August 12th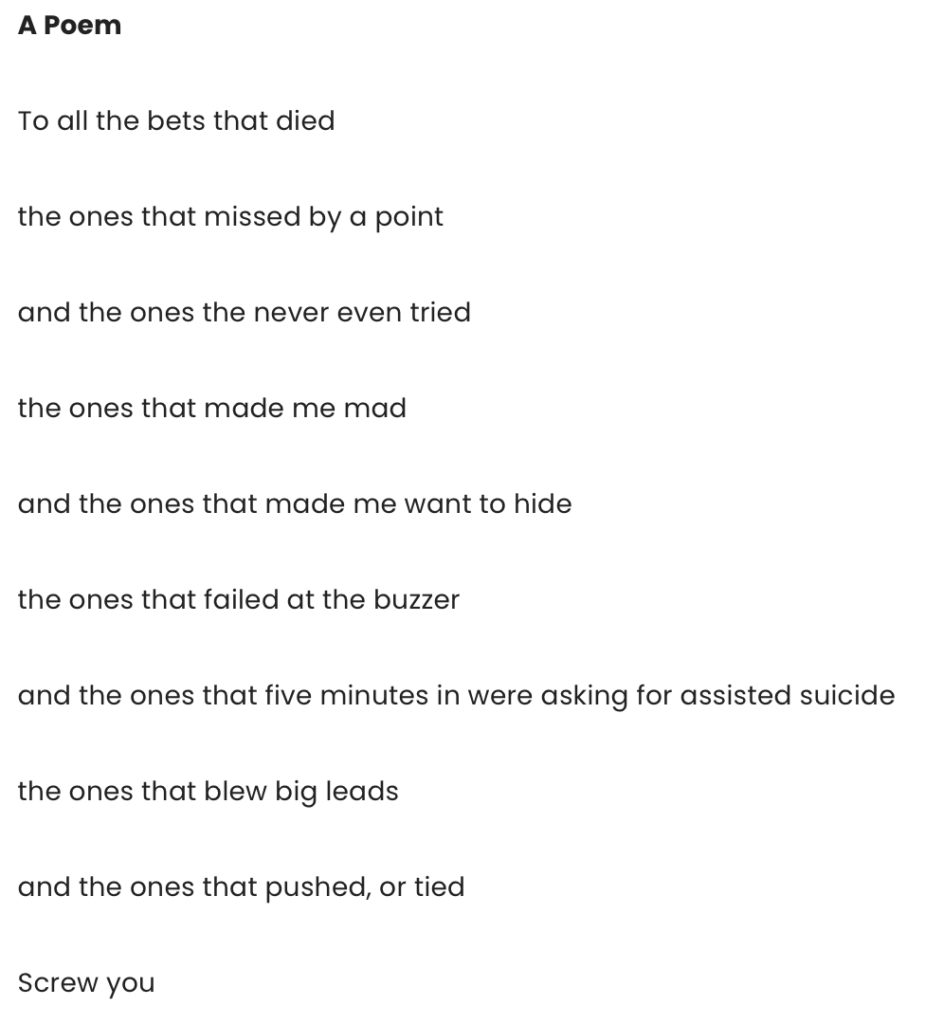 This was truly a landmark moment in Mike Bets history. After losing all of the progress from the first few days, the poem phase was unleashed in full force. The artistic ability that is so easily seen throughout Mike Bets nation really leaked out into this one. It came from the heart. It is what some might call a masterpiece.
17. I Don't Want to Talk About It – August 15th

This one captures the essence of Mike Bets, especially early on. I'm bleeding money, and I'm claiming that the winners drought will end soon. Unfortunately, I was talking to a brick wall most of the time.
16. Channeling AK After the Drought Continues – August 19th

I clearly was not turning things around. This is sad. "I will grow wings to end the plight of losing" is not something you want to write after a few weeks of betting on NBA basketball, but there it is.
15. It's Time to Pray – August 20th and 21st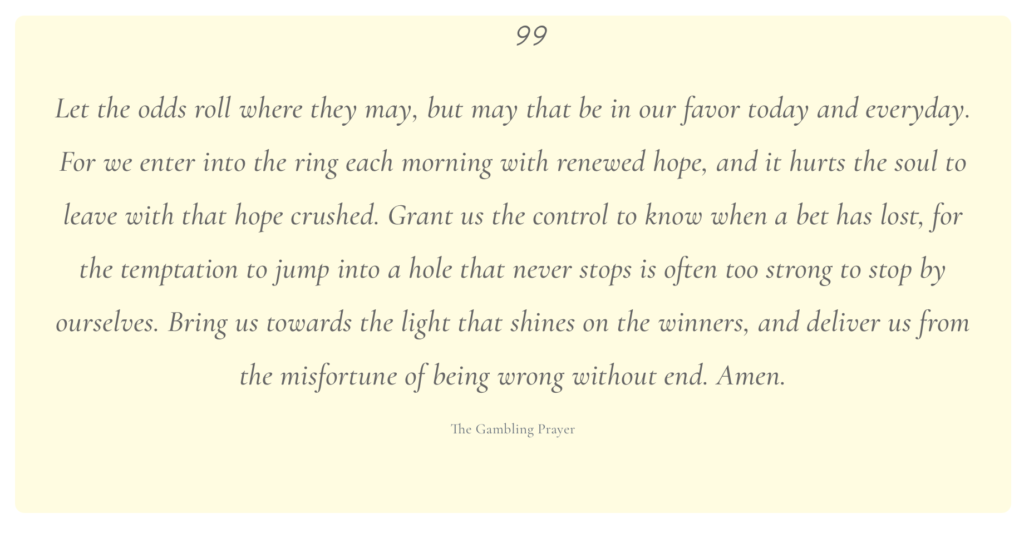 I reached desperation mode here. Praying for success in a degenerate act like gambling is maybe not a good option, but you couldn't have convinced me of that back in the summer.
14. Sorry, Part I – August 24th
I really enjoyed this one after I bet the ML of an underdog Blazers team that got crushed.
13. The Bubble Stops, and I Write About Strawberries – August 26th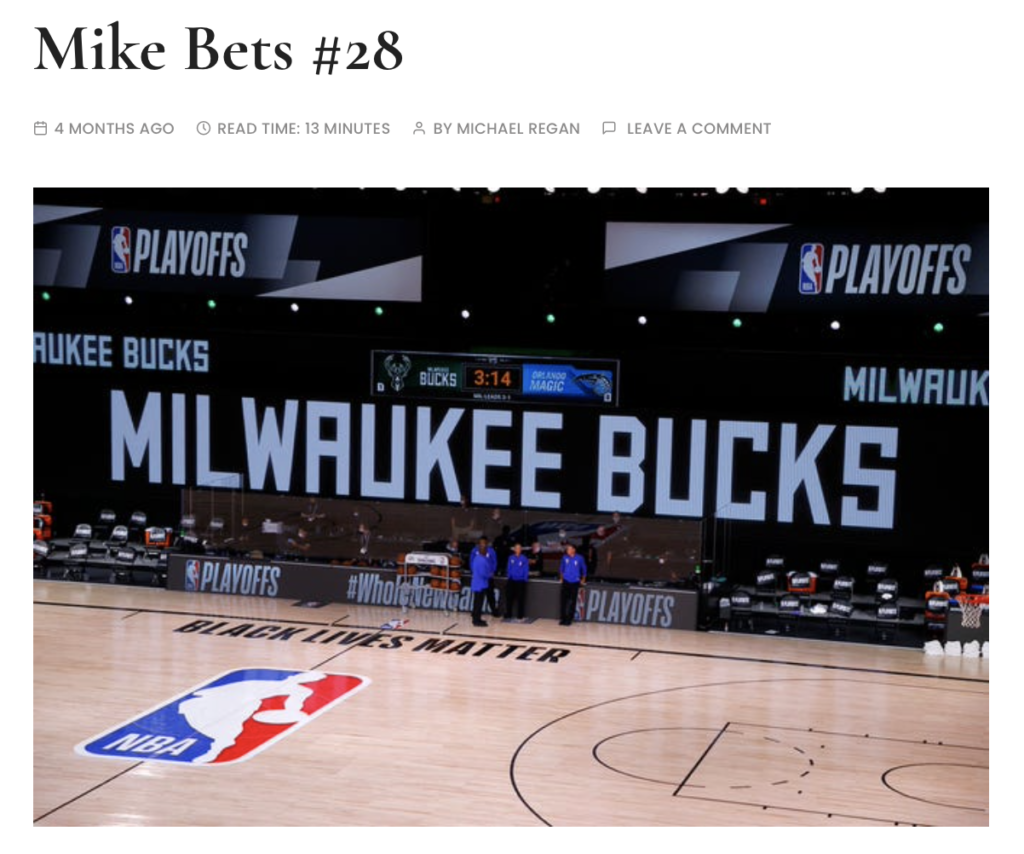 "Just like the next batch of fruit will spoil, I'm going to mess up again. The key is noticing something is wrong before I've taken a few bites." Sometimes great philosophers walk the earth and say things of unbelievable depth and significance. This might have been one of those moments. I absolutely guarantee that you won't find someone else who included a comparison to fruit refrigeration in their bubble strike write-up.
12. I Don't Want to Talk About It…Again – August 31st

I don't want to talk about it. Let's move on.
11. The Gambling Prayer Dies – September 1st

This is another sad moment. The Gambling Prayer needed to go. It did not need to go out like this. This is pathetic.
10. And Then Dies Again – September 3rd

This is my pick for inspirational quote of the decade. Some might say that it makes no sense. Those people are too narrow-minded to recognize the importance of the trench in mountain climbing.
9. Bucks Blow it in Fourth After I Say I Would Bet My Kids on Them (If I had Kids) – September 4th and 5th

This was a guarantee. A bet your kids, wife, and grandma guarantee. A bet your Honda Civic guarantee. And the Bucks lost the fourth 13-40 after entering the quarter with a double-digit lead. This was the saddest in-game moment of the year. Just complete devastation.
8. I Suck – September 10th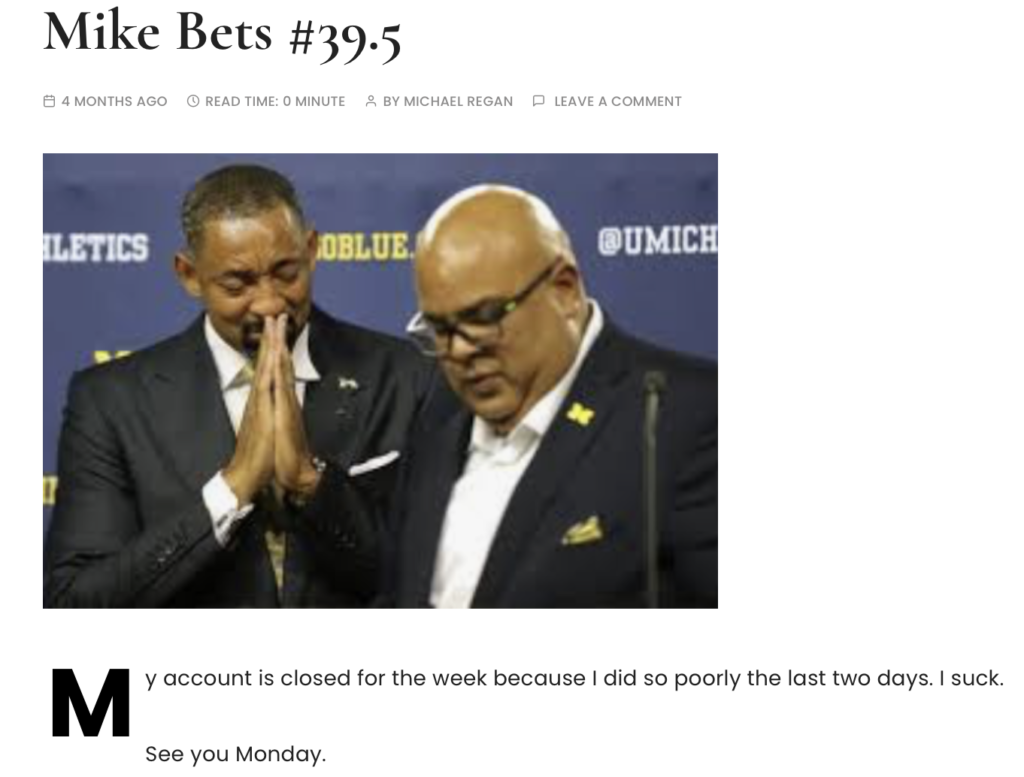 I laugh every time I see this. This wasn't all that much money on a relative scale, but it was still clearly a sad day in Mike Bets history. May it live forever as the only .5.
7. Mike's Top Three Comebacks of the Week – September 15th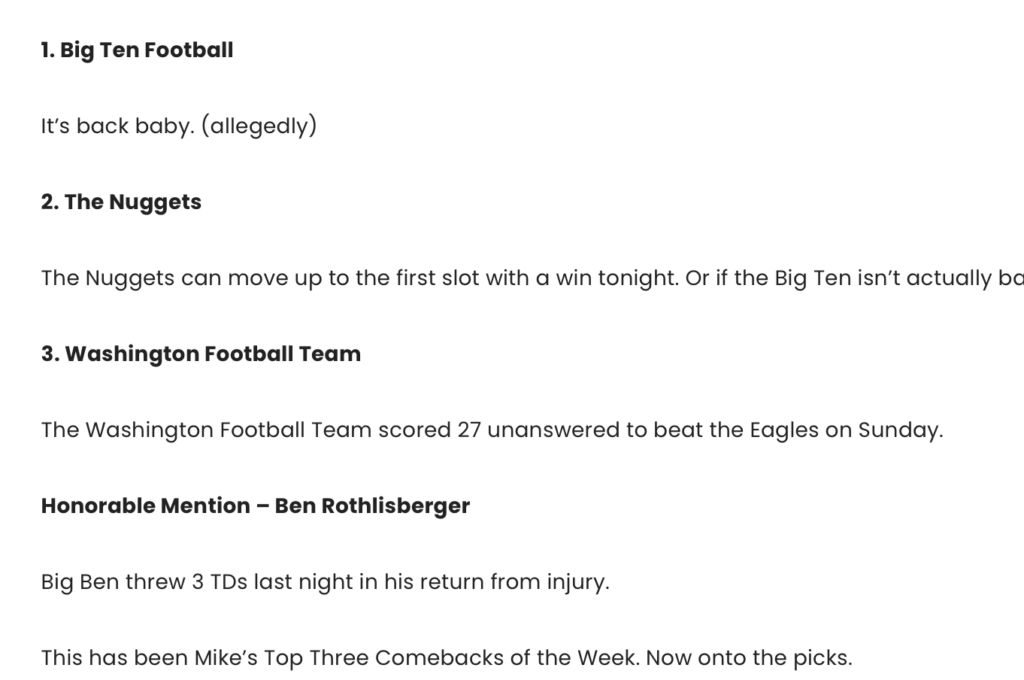 Is this the greatest one-episode feature of all time? It might be. The "back" in the Nuggets section got cut off by my copy-and-paste skills. Oh well.
6. Salvation – September 18th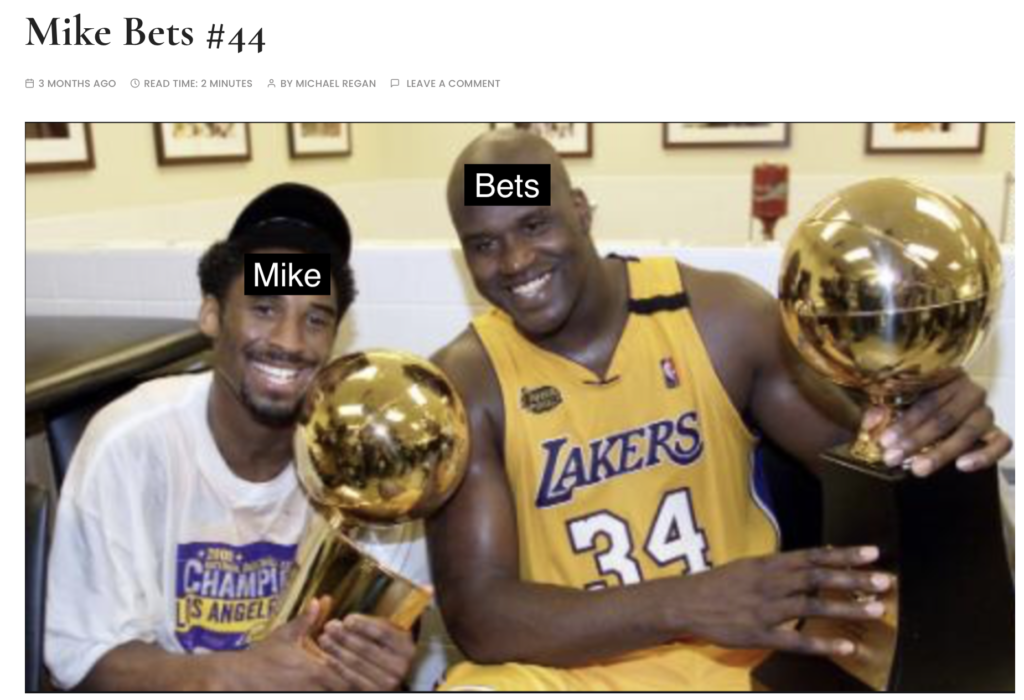 The picture tells the story here. The day before I posted this was the greatest day in gambling history. I went 4-0 on here with a bunch of Nuggets picks in the one game they beat the Lakers, and I hit on a +9340 soccer parlay. This was the highlight of the year, and I got way too cocky because of it.
5. Mike Bets Returns (With a Bang) – November 25th

The first day of the college basketball season was the other contender for best day in Mike Bets history. It was an electric day with a 67% winning percentage on one-team plays and three parlay hits. What a start to the season.
4. 50 Looks Good – November 29th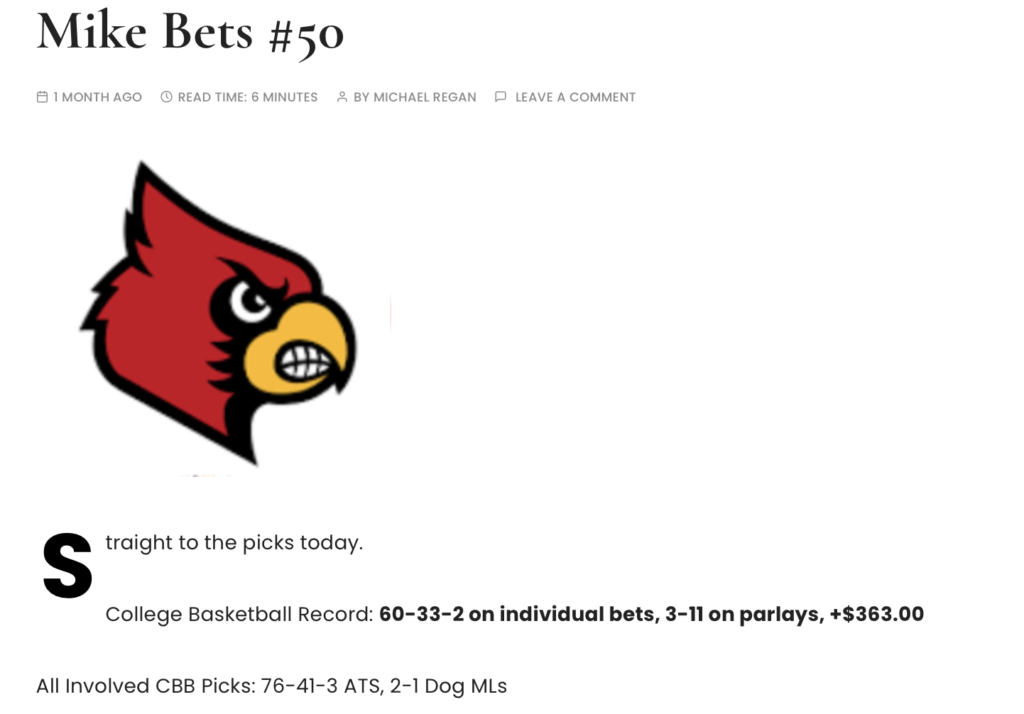 This was the highest point of the year for my basketball picks. Going +$363 on the first half-week or so of college basketball was really quite an accomplishment. So was losing it all, but let's focus on the fact that I had it at one point.
3. The Big Ten Can't Cover – December 5th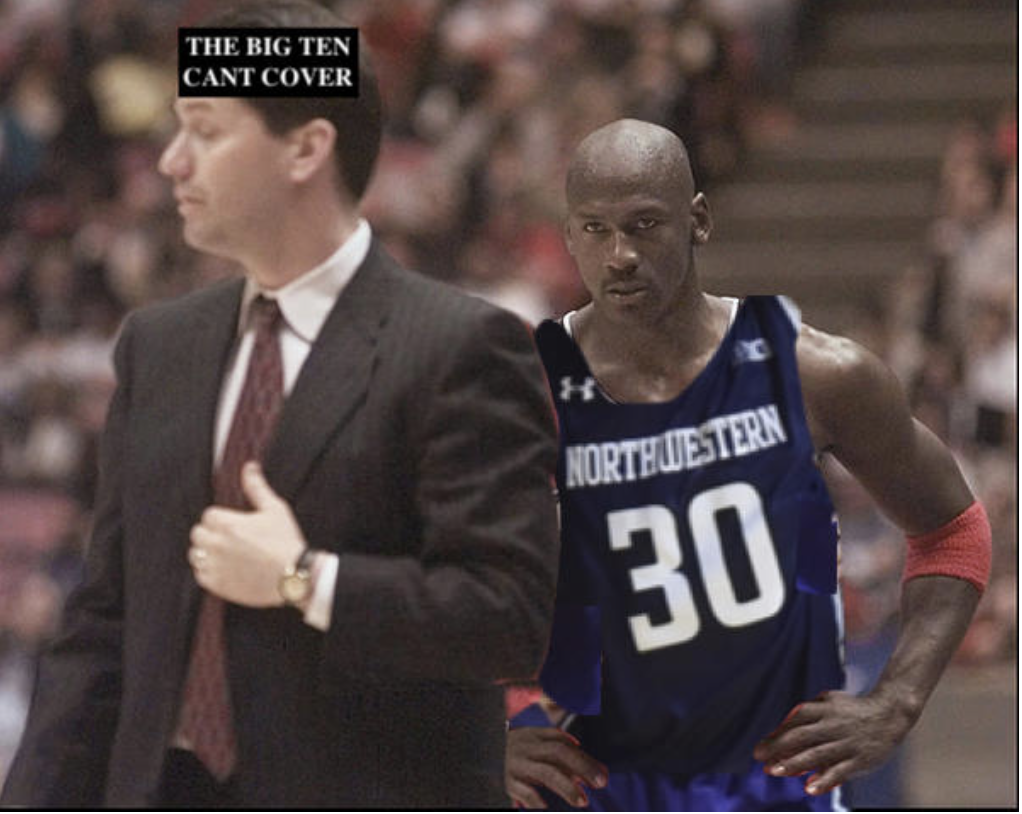 Northwestern ended something like a four-game streak of Big Ten teams not covering. Could you find 25 people on this planet that cared about or even recognized the existence of that streak? No, probably not. But this is the kind of thing that we love here at Mike Bets. The Cats came through, and they've built off that moment with some big wins in recent weeks.
2. BRYANT LOST – December 10th
My other favorite of the year. The Bryant loss was a tragedy, but something enjoyable came out of it.
1. We Stink Again – December 21st

Who could have seen this coming? After floating around the 200-300 range for a little while, I crashed back down into the red once again. It's fitting that I will end this year as I began it, though much progress has been made since I started this up in July.
Even this year, there have been highlights and good things. Through the struggles, we have found ways to improve ourselves. Lean on those improvements as we move forward into the new year. Now let's get to the picks.
I had a very good 6-1 day in CBB yesterday to get back near even. The same could not be said of my NBA picks.
College Basketball Record: 184-180-3 on individual bets, 6-42 on parlays, -$18.00
All Involved CBB Picks: 263-243-6 ATS, 20-27 Dog MLs
NBA Record: 4-10, 0-1 on parlays, -$135
Joint Parlays: 0-2, -$25
$22 for spread picks, $20 for ML
NBA Parlay – $20 to win $39
Wizards, Sixers, Pacers MLs
The Magic are 4-0. They have to lose at some point. Orlando continued their fourth quarter domination against the Thunder the other day, winning the fourth by nine in an eleven-point win. They're now +52 in fourth quarters and just +34 overall. The Sixers have three wins in four tries and are coming off a good win over the Raptors despite a slow start. The magic will finally run out today.
The Knicks are not good despite their 2-2 record. In their two wins, they've shot 30-52 from three and their opponents have shot 14-70. That's not anywhere near a sustainable path to winning games. Still, this is a massive line for a Raptors team with three losses in three tries. Toronto is better than New York, but I would bet on the Knicks to stay within 10.
The Suns have won their last two games by 16 and 25 after opening the season with a split of close games against the Mavs and Kings. The Jazz rolled the Blazers before splitting close games against the Timberwolves (with KAT) and the Thunder. This game is essentially a pick 'em, with the Jazz getting their 3-point home court boost. Given the circumstances, the Suns are worth the play at the extra value. I like them to win this one.
Wisconsin v. Minnesota (+8.5)
This line makes very little sense, even with Wisconsin at home. Last time, we had Maryland (+9.5) going into Madison. The Badgers lost because the Big Ten is an incredibly tough conference. Minnesota has three consecutive wins over St Louis, Iowa, and Michigan State. They're red hot right now, and they should give Wisconsin a great game.
Michigan (-2) v. Maryland
Go Blue. Let's get to 8-0 and secure the hold on the top spot in the Big Ten.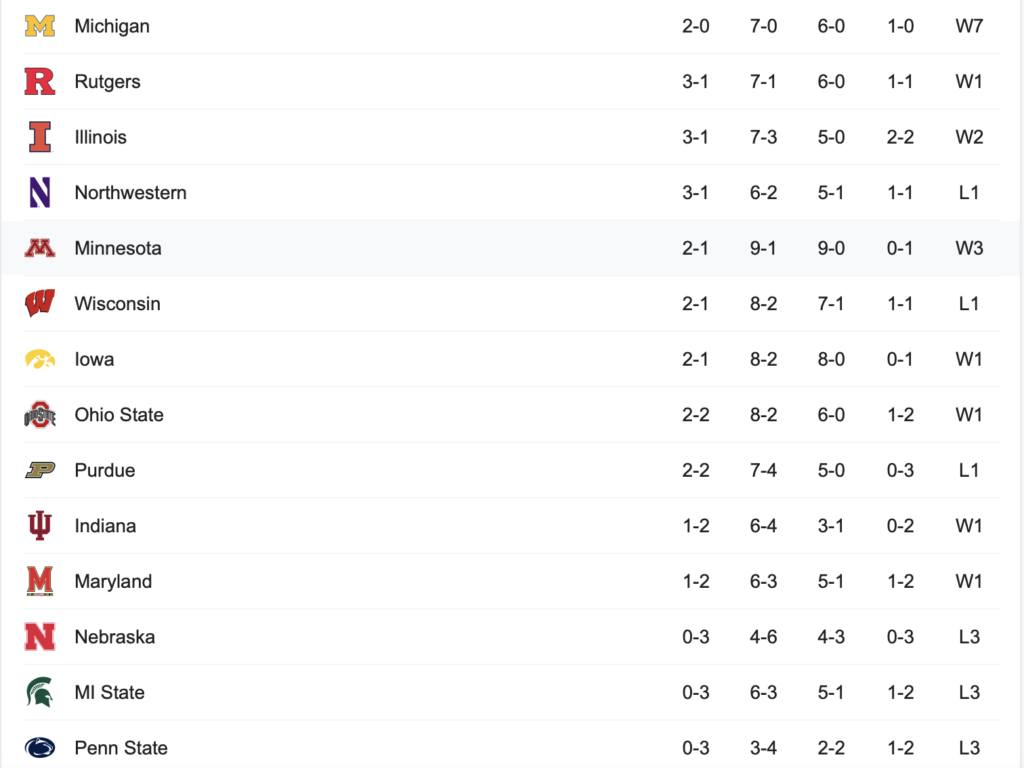 Arizona (-9) v. Washington
Washington hasn't played since they lost to Colorado by 23 about ten days ago. Arizona just beat Colorado by 14. Take Arizona.
Boise State (-23) v. San Jose State
San Jose State has lost to St Marys by 35 and Utah State by 45 and 23. Boise State just rolled through New Mexico by 24 and 37. Take Boise State.
CBB PARLAY – $10 to win $31
UCLA, Michigan, Nevada, Arizona MLs
GAMES TO KEEP AN EYE ON
The Kings are playing really good basketball right now, so this will be a challenge for Houston in their first game with DeMarcus Cousins and John Wall. Keep an eye on how they look with those two in the line-up. The Rockets need a win after two losses to open up the season.
The Pelicans have been all over the place with big losses to the Suns and Heat, a big win of their own over the Raptors, and a close win over the Spurs. Which team do we see here? Keep an eye on this one to see if the playoff hopeful Pels can take advantage of a Thunder team that has been performing relatively well so far. They're 1-2 but lost by just 1 to the Jazz and stayed very close to the Magic until the fourth.
I'm not betting on either of these teams with this line (-12 for UT St), but keep an eye on this one to see if Utah State can keep their run going. They're 4-0 with four double-digit wins and three wins of 25+ since a close loss to BYU, but they also haven't really played anybody. Air Force won't change that, but they did just split a two-game series with Nevada. They'll be ready for this one, and Utah State will need to enforce their superiority.
San Francisco v. San Diego
Keep an eye on this one to see if San Francisco can cruise to the easy win they should get here. They're just 1-2 in their last three after a rough loss to Cal, but they pulled out a win over Grand Canyon last time out. Can they build on it early on in WCC play? Gonzaga is next for the Dons, so any and all momentum they can get would be nice.
These teams haven't played in 13 and 12 days, respectively. I'll stay away, but keep an eye on this one because it's important for the Pac 12 early on. UCLA has wins over Marquette and Cal and have been good (only losing to Ohio State) since their rough two-game stretch to start the season. Utah has been impressive against lesser competition (yes, that includes Washington), but they were blown out by BYU in their toughest test of the season. Will the same happen here?
New Mexico lost twice to Boise State by 61 combined points in their last two games. That's not good. Keep an eye on this one to see if an inconsistent Nevada team can pick up an easy win like they should. The Wolf Pack are 6-3 and beat Nebraska. They also lost to San Francisco by 25, lost to Grand Canyon by 10, and lost to an Air Force team they had previously beaten by double digits.
I think USC should be the play here. They've won their last two games by 58 points. They crushed BYU. Their only loss in six games was a close one to UConn. Colorado is coming off of a 14-point loss to Arizona. This is still a Colorado team with six double-digit wins, including three over Kansas State (18), Washington (23), and Grand Canyon (10). This should be a good game. Keep an eye on it to see if Colorado can make a big statement after struggling against Tennessee and Arizona, their two best opponents.
Oregon is playing well, with a six-game winning streak since the opening loss to Missouri. They beat Portland by 39 last time out and have wins over Seton Hall, Washington, Eastern Washington, and San Francisco. Cal isn't good, with 8-point losses to Arizona State and Oregon State, a 12-point loss to Pepperdine, and a 20-point loss to UCLA, but they have looked better recently. They came back late to beat San Francisco and have now won three in a row. This -12.5 line just isn't worth it in either direction, but keep an eye on this one to see if Oregon can handle their business. They struggled to put away an equally poor Washington team a few weeks ago.