Mike Bets #184
4 min read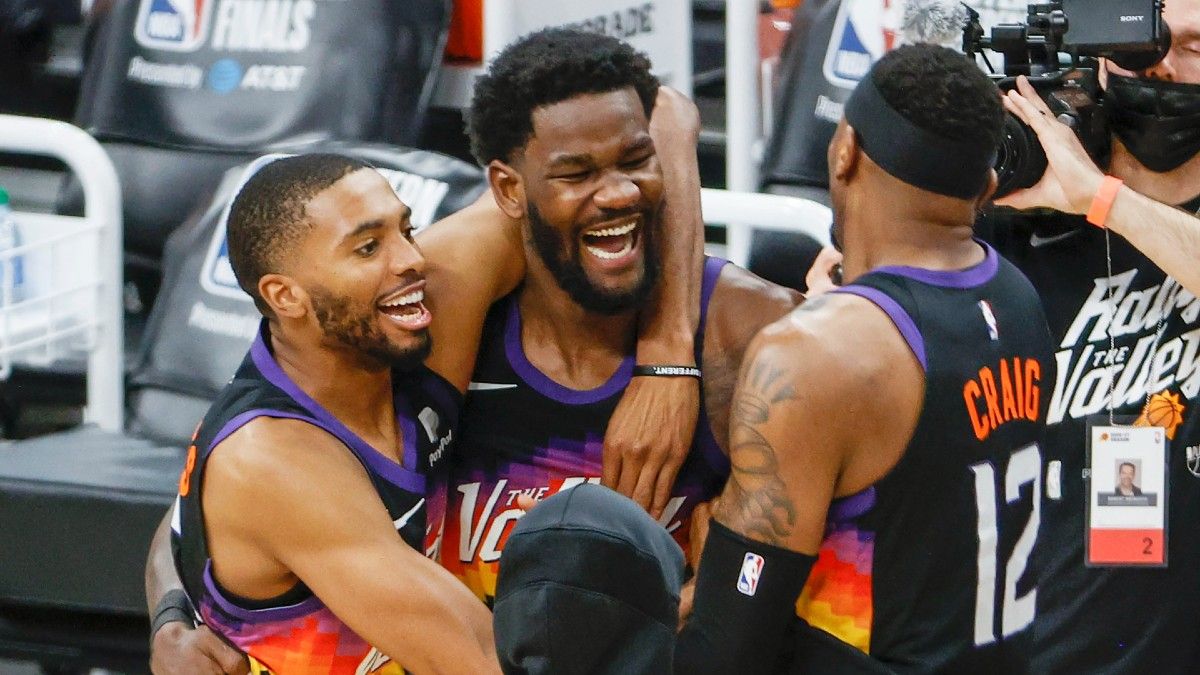 The Suns survived a Clippers comeback last night to take a big 3-1 series lead in an absolute rock fight of a game. It was only the seventh time in the last eight postseasons that the winning team scored 85 or less points. Phoenix will go for the gentleman's sweep tomorrow night. Tonight, we'll find out how much of a chance the Hawks have in the ECF as they try to take Game 3 at home. The balance of play is shifted pretty clearly to the Bucks despite the Milwaukee split, so it's on Atlanta to respond here. For the Bucks, the goal will be maintaining their Game 2 momentum. Let's talk 3 Things.
1. Ayton's Emergence
Deandre Ayton's selection has always been judged in the shadow of Luka Doncic and Trae Young. It's the natural consequence of being drafted before that duo, as they've already become two of the most explosive offensive players in the league. There is difficulty in appreciating what you have when the grass appears to be so green elsewhere. That shouldn't be the case any longer in Phoenix because Ayton is turning in a fantastic postseason run.
Here are the numbers –
16.6 ppg
11.4 rpg
70.9 FG%
A 15 and 10 postseason is pretty noteworthy – there have only been 444 of those with Ayton and Giannis set to make it 446. Julius Randle, Russ Westbrook, Nikola Jokic, and Joel Embiid already accomplished the feat this year. That holds with the general average; about six players pull off those scoring and rebounding numbers each playoffs. That on its own is enough to suggest that Ayton has arrived in a significant way. To be on a list with the players you see above is a clear sign of his rise. He's been a dominant force during what could soon become the best Suns' run in almost thirty years. Luka and Trae will remain Luka and Trae, but the Suns should no longer worry about what might have been. They have their man.
Another note – looking at efficiency (role) and longevity (team) in regards to the numbers above is a little questionable given the lesser amount of individual control one player has over them, but we can still do it. Ayton has played 14 games this postseason. Only 89 times has a player finished a postseason of at least 14 games with averages of 15 and 10 or more (Giannis is also easily on track to make his second appearance on this list). With the Suns favored to finish off the WCF, Ayton will likely play at least five more playoff games. When the game number is extended to 19, the 15 and 10 feat has only been accomplished 38 times. Add in the field goal percentage (greater than or equal to 70%), and it's never happened before. Ayton would be the first ever to make it through a postseason of at least eight games (never mind fourteen or nineteen) while scoring 15 or more points per game, grabbing 10 or more rebounds per game, and shooting at least 70% from the floor.
Did I mention that he's just 22 years old?
2. Big Game Coming From Middleton?
This one will be quick. In Games 1 and 2 against the Nets, Middleton…
scored 15 points per game
shot 3-13 (23.1%) from three
made 13 of 43 shots (30.2%)
In Games 1 and 2 against the Hawks, he…
scored 15 points per game
shot 2-16 (12.5%) from three
made 12 of 36 shots (33.3%)
Sound familiar? Middleton dropped 35 on the Nets in Game 3, and he averaged 28 points per game over the last five games of that series. If the trend continues, Atlanta could be in some trouble.
3. Can Young Bounce Back?
Young's Game 1 masterclass was one of the best games of his career. By BasketballReference's Game Score, his 34.2 was the 11th best of his career, the third best of his season, and the best of his fantastic playoff run. It was just the sixth playoff game in NBA history of 45+ points, 10+ assists, and 5+ rebounds. Oddly enough, there were only two of those games prior to this season, as we've seen Dame, Luka, and KD pull off the feat this year in addition to Trae. Young is the second youngest to do it (Luka). Regardless, the main point here is that Young played out of his mind in the opening game of the ECF.
Then came Game 2 and the Bucks' adjustment to move Brook Lopez a little farther from the rim, and Young was absolutely terrible. He finished with 15, 3, and 2, missed seven of eight threes, and missed ten of sixteen shots. His Game Score (1.5) was his worst of the postseason, the second-worst of his season, and the sixth-worst of his career.
It goes without saying that Atlanta needs him to be far better than he was the other day, but does he have it in him? The superstar talk started after Game 1. Now it's time to prove it by adjusting beyond the Bucks' adjustments.
TODAY'S PLAYS
Pound the Bucks
Bucks 1Q
Bucks 1H
Bucks ML
Bucks -4.5
Take it all straight to the bank.