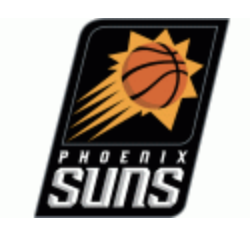 19. Phoenix Suns
Record: 26-39
Conference Seed: 13th in West
The Suns went 26-39 and have to be feeling pretty dang good about it. That's what happens when you're in the midst of a nine year postseason drought that turned from disappointing to depressing over the last four years, where Phoenix went a combined 87-241. The Suns played 65 games in 2020, lost sixty percent of them, and still won more than they had won in any of the four previous full seasons. The drought is likely headed into year ten due to the current standings, but Phoenix will go into the off-season on a positive note for the first time in half a decade regardless of what happens in Orlando. They started this season off strong, winning seven of their first eleven. The rest, which included five losing streaks of at least three games (and one of eight), didn't go so well, but the early momentum carried on to make this season feel different than the last four. It didn't hurt that the most important pieces in Phoenix were playing relatively well despite the losses. Devin Booker took another big step forward, coming within a few questionable voting decisions of being an All-Star. DeAndre Ayton posted an impressive second season, though it only lasted thirty games after an early season PED suspension. Ricky Rubio and Kelly Oubre brought some much needed support in their first full season as Suns. Mikal Bridges carried a heavy importance in his second season, and Dario Saric, Aron Baynes, and Cameron Johnson all had their moments. It feels like a new era is coming in Phoenix, Arizona.
Key Storylines:

On February 24, Oubre tore his meniscus, putting the remainder of his season in doubt. He probably wouldn't have come back if the season had gone ahead as planned, barring a surprise playoff appearance from the Suns. Reports say that Oubre wasn't healed up until mid-April, which is right around the typical playoff start time. But now, with the timeline shifted back a few months, it's pretty clear that Oubre can, and will, make his return in Orlando. Local sources have reported as much, That's a big deal for the Suns. Oubre was playing the best basketball of his career, and his contributions will be needed if Phoenix is going to have any chance at beating the odds and jumping their way into a play-in opportunity.

Before the season, I had my doubts about Booker. I wrote that "Maybe the insertion of Rubio at the 1 will give him an opportunity to better apply his skills to winning basketball games, but I will have to see it to believe it." I've seen it, and I'm now a Booker Believer ™. Outside of a boost in efficiency, Booker's statline looks very similar to the one he put up in 2019. The difference comes in the advanced metrics, where Booker stepped it up dramatically. We'll look at the specifics below, but he's on his way to becoming a star in both production and impact.

Rubio provides much needed help
Booker deserves the credit for his improvements, but it's impossible at this point to not also acknowledge Rubio's role. He stepped in and provided Booker and the Suns with the pass-first point guard they've been lacking in recent years, and it made an immediate impact. The Suns were 9.8 points better per 100 possessions with Rubio on the court, the tenth-best individual mark in the league. Booker was suddenly responsible for creating what he could instead of creating nearly everything, and Rubio stepped in to fill the gap between the two while also filling the box score with across-the-board contributions. The Suns don't make the steps they made this season without him. Rubio will be 30 next year, but there's no reason to believe he can't maintain his current level for at least a few more seasons. He's fairly durable, having played in 78.7% of all possible regular season games across his career, and he should be around to help the Suns take a few more steps in the future.

Suns here for a good time, not a long time
The Suns are six games back of the Grizzlies. They have eight games to make it within four of Memphis while also passing at least three of the four other Western Conference teams currently on the outside of the playoff picture. All of this will put them in a play-in tourney for the right to play the Lakers, who beat them by 8, 10, and 25 in three head-to-head matchups this season. Phoenix won't be in Orlando for that many weeks, but that doesn't mean it will be a useless trip. Any momentum that they can build over the season's final stretch will bring even more positivity heading into 2021. The losing over the final 50 games or so of the season didn't feel as bad as it has been over the last few years, but it still dampened spirits a little bit. A good run of play in Orlando could reverse those effects.

The mood around basketball in Phoenix hasn't been very sunny lately. See what I did there? The Suns had four objectively terrible seasons in a row, and they were average at best in the five seasons before that. They haven't been consistently good since 2010, the year of their last playoff appearance, which marked the end of a six-year run of above .500 seasons that included five seasons of at least 54 wins. I don't see this team getting back to that point next season, but, for the first time in a while, there are real reasons to believe that better, or sunnier, days are ahead for the Suns. Booker is still only 23 and already playing at or near an All-Star level. With Ayton, Oubre, Rubio, and Bridges forming a core around him, the Suns should have hope the the next few seasons will contain the playoff opportunities they have been missing.
Key Stats:

Suns get unlucky according to expected record
The Suns currently sit at 26-39, good for 21st in the league. Unfortunately for them, that record appears to be a little bit worse than it should be based on the quality of their play. Phoenix ranks 18th in the league with an expected record of 30-35. From what I understand, this is calculated by dividing total points scored by the sum of total points scored and opponent points scored, and then multiplying that number by games played. Scroll down to W Pyth on this page if that was a terrible explanation. Regardless, what the expected record essentially means is that Phoenix's actual on-court performance, measured by a combination of their points, games played, and opponent points, would be expected to result in a record four games better than their actual record. With any sort of prediction like this, there's error, and the 26-39 record does fit right around the bottom edges of that margin for error. Still, it's rather unlucky to finish with the worst record the Suns could have reasonably managed given their level of play. With their current situation, it's also a pretty big deal. Phoenix is 6 games back of the Grizzlies, and if they had played to their expected record, or if their luck had gone in the opposite direction, we'd be looking at a team with a far greater chance to make a play-in tourney. Instead, as it stands, the Suns will be stuck hoping that their luck reverses over these last eight games, and that that's enough to move them past the competition.
I'll add another note here to drive this point home. The Suns finished ahead of the Magic, Spurs, Trail Blazers, and Kings in net rating, yet they finished behind all four in the standings. They finished ahead of the three West teams in that group in average point differential as well. Phoenix really should be in a better position record-wise heading into Orlando.

Suns shoot 82.6% from the line to lead league
I'm not of the belief that free throw percentage is a major factor in deciding NBA games. The gap between the Suns and the 29th-place Pelicans is only 9.7%, which means that the Pelicans would lose roughly a point, on average, for every 10 free throws that each team attempts. The average team takes about 23 free throws a game, which would mean a shift of roughly 2.3 points in a game between the best and second-worst free throw shooting team in the game. Why second-worst? The Knicks, in last, are a full 3.5% behind the Pelicans. We're just going to pretend they don't exist here. Two or three points, in the grand scheme of things, don't mean all that much with so many other factors at play, and that's the most extreme average shift. Still, any point could theoretically matter in a close game, and if one comes down to free throws late, look for the Suns to have the upper hand.

Suns lead league in fouls drawn, but only 9th in free throw attempts
This is another weird stroke of bad luck for Phoenix. The Suns, Thunder, and Clippers are all essentially tied atop the league with 22.8 fouls drawn per game. Yet, for some reason, the Clippers lead the league in free throw attempts, the Thunder rank 5th, and the Suns rank 9th. Are stars like Kawhi Leonard, Paul George, and Chris Paul getting more fouls called as shooting fouls than the average player? Maybe, but you wouldn't think that would be a significant enough difference to show up in the stats. Stars get more fouls called in general, but I don't see them getting a noticeably higher proportion of those fouls called as shooting fouls. Instead, this is likely just unlucky for the Suns. The fouls they have drawn are probably just a little more spread out within individual games, purely by luck of the draw, leading to less time in the bonus, and less time at the line.

Suns lead league with 27.2 assists per game
The top five teams in assists per game rank 16th, 20th, 15th, 9th, and 7th in offensive rating, so this isn't a stat that will directly lead to offensive success. The Warriors, last in offensive rating, rank 10th in assists, so it doesn't even necessarily guarantee offensive mediocrity. Still, it marks a sharp departure from recent seasons in Phoenix. The Suns haven't ranked better than 20th in assists since 2013, and they spent most of the years in between a lot closer to 30th than 20th. Again, the Rubio difference is clear, and producing more assists is never going to hurt an offense, even if it doesn't necessarily help. What the Suns could use to further improve their currently average offense is a little more isolation success. They can't be any better at producing points off of assists, so the blame must fall on their ability to get buckets without the pass. Considering that Booker is really the only natural isolation scorer in Phoenix, that makes sense. Rubio and Oubre provide some help there, but both are limited in what they can do on their own as scorers. The Suns simply don't have the tools to have multiple major threats consistently producing looks for themselves off the dribble.
Booker takes steps to turn production into impact
Booker has never had an issue with putting up numbers. He produced enough as a rookie to rank 14th in points per game and 19th in assists per game among the 149 players that have played the majority of an NBA season as a teenager. His second season was one of seventeen in NBA history where a player age 20 or younger scored 20 or more points per game across a full season, and he ranked 7th among those seventeen with 22.1 points per game. His third season was one of fifteen in NBA history where a player age 21 or younger scored 24 or more points per game, and his fourth season, 2019, was one of thirty where a player age 22 or younger topped 25 points per game. He also became one of only ten players 22 or younger to average more than 25 points and 5 assists in a season. His numbers stayed constant this season, as Booker went from 26.6 points, 6.8 assists, and 4.1 rebounds in 2019 to 26.1, 6.6, and 4.2 in 2020. That made him one of ten players in the league to average at least 25 points and 5 assists per game on the season. Again, Booker has never had an issue with putting up numbers.
Where he has had an issue is turning those numbers into the positive impact on winning that they should create. In 2019 for example, Booker finished ninth out of nine in win share production per 48 minutes among those who averaged at least 25 points and 5 assists per game. His 0.076 number was far behind the next closest player (Bradley Beal with 0.120). In 2018, twenty-three players averaged at least 20 points and 3 assists per game. Booker was 23rd in win shares per 48, with his 0.063 number coming in well behind the 0.095 produced by Donovan Mitchell (22nd). This happened despite Booker ranking 9th and 15th in points and assists per game in that group of twenty-three. That all changed this season, with Booker coming back to the pack. Of the ten players to average at least 25 points and 5 assists per game in 2020, he ranked 8th in win shares per 48, and only trailed Trae Young by 0.005 win shares. That's a big step forward, and it matches almost exactly with Booker's numerical production within that group (9th in scoring and 7th in assists per game). In other words, his impact, at least on a win shares basis, was far more in line with his ability to put up numbers this season.
Booker enjoyed career highs across the board in the metrics used to determine the effect of a player's impact on winning. He posted 4.8 offensive win shares (up from 3.3), 1.2 defensive win shares (up from 0.7), 6 total win shares (up from 3.5), 0.129 win shares per 48 (up from 0.076), and a 2.1 VORP (up from 1.7 in less playing time). His offensive BPM dropped slightly from 3.3 to 3.1, but his overall BPM rose to a career high of 1.7 (previous was 1.0) because of an increase in defensive BPM. This was also the year where the Suns performed best with Booker on the court (+0.6 per 100 possessions), and he posted his best career on-off split (team performance with player on court – team performance with player on bench) with a +6.1 per 100 possessions. Booker has never contributed more to winning than he did this season, and it really isn't close. If he's figured out how to turn his elite production into an equally elite impact, then the Suns have their star.

The Baynes Train reaches record speeds in November before running out of coal (gas?)
Do trains run on gas these days? It looks like they do. Go figure. Some trains, however, do not. One train in particular runs on grit, three-point shooting, and the power of a very nice beard. That train is the Baynes Train, and boy did it take off at the beginning of the 2020 NBA season.
Baynes played thirteen games in October and November. In those games, he hit 42.8% of his threes, took 4.4 of them per game, averaged 14.7 points and 5.7 rebounds, and just played a huge role offensively as he helped spark the Suns to a 7-6 start. It's impossible to exaggerate Baynes's impact in the early stretch. I can only confirm this through eight games because I wrote about it back at that point, but through eight games Baynes ranked in the top 10 among all players in true shooting percentage, effective FG%, offensive rating, offensive win shares, win shares, win shares per 48 minutes, offensive BPM, BPM, and VORP. Unfortunately, it wasn't meant to last.
In December, January, and February, Baynes struggled through injuries, played in only 26 of a possible 48 games, shot only 25.3% from three on 3.03 attempts per game, and averaged just 8.5 points per game. He had fewer double digit scoring outings in those twenty-six games (9) than he did in the thirteen games in October and November (10). The Suns were 10-16 when he played and 7-15 when he didn't. There's not a big enough difference between those two records to claim that Phoenix is undoubtedly better when Baynes is out there, no matter how he's playing, but it is clear that the team benefits from a Baynes on the top of his game.
The issue then is that there's plenty of reason to believe that Baynes's early season run was an unrepeatable flash in the pan. He had never averaged more than 6.6 points per game in a season before this year. He had never taken more than 1.2 threes per game, or made more than 34.4% of them. He's going to turn 34 next season, and it's almost impossible to see him turning in a full season of his completely unexpected November play at that point in his career. Baynes has had some fairly effective seasons before, and there is reason to believe that the smaller overall gains he made this season in scoring and shooting can be taken into 2021. It's just unlikely that he'll ever consistently be the all-powerful world burner that the Suns had for the first 40 days of the season.
Baynes did average 30.5 points and 11.5 rebounds per game while hitting 51.2% on 39 (!!!) total three-point attempts in his first two games of March, but he followed that up with a 7-point, 2-rebound, 1-for-7 from three performance in his final game before the break. Those three games were a decent summary of his season, and probably an indicator of what is to come. Baynes seems to have turned some sort of corner as a shooter, and that is likely going to lead to some more impressive outings in the future. But he just hasn't shown any signs of being able to do it day in and day out over the course of a full season. For Baynes, this final stretch of games is going to be pretty dang important. Can he, after a few months of layoff, show signs of the player that we saw at times this year? Or will that player be stuck in the first part of the 2020 season? With unrestricted free agency looming, Baynes's financial and geographical future could depend on the answer.

Rubio comes up big at the point
Rubio averaged 8.9 assists per game this season. That's the most any Sun has averaged in a season since Steve Nash topped 10 back in 2012. Last season, the only Sun outside of Booker to top 4 assists per game was Tyler Johnson, who played 13 games in Phoenix. In 2018, Elfrid Payton (6.2 assists per game) and Isaiah Canaan (4 assists per game) only played 19 games each. Tyler Ulis, who averaged 4.4 assists per game over 71 games, was the only Suns regular outside of Booker to top 4 assists per game. Phoenix hasn't had any sort of established pure point guard since Eric Bledsoe left early in that 2018 season, and they haven't had anyone on the level of Rubio as a passer in almost a decade. That's a crucial development for Booker, who, for the first time in a long time, didn't need to run and create everything offensively. One telling stat – Booker made 44% of his twos off of assists this season. In 2019, that number was 29.5%, and he hadn't topped 34% here since his rookie season. The presence of Rubio as a playmaker contributes directly to Booker getting good shots, but his presence also shifts the attention of the defense to allow Booker more space. In a league where space comes at a premium for the league's best, any additional inches can be of major importance.
Rubio did more than pass too. He averaged 13.1 points, 4.6 rebounds, and 1.5 steals per game while shooting 35% from deep on 3 attempts per game to further enhance his spacing impact. He's never been a great shooter, so a league average season on a decent amount of attempts is exactly what the Suns are looking for from him. Rubio was one of only eighteen players this season to average at least 10 points, 5 assists, 3 rebounds, and 1 steal per game while hitting 30% or better from deep. He was one of only five (LeBron James, Ben Simmons, Luka Doncic, Trae Young) to average at least 13, 8, 4, and 1, and only Young (36%) hit a higher percentage of his threes on the season, though James was only 0.02% behind. Rubio couldn't have been much better for the Suns, and his season deserves more praise. As he heads into his age 30 season next year, Phoenix's ability to reach the playoffs might depend on his ability to do it again.

Kelly Oubre turns in career year
Oubre averaged 18.5 points, 6.4 rebounds, and 1.5 assists per game, all career highs. His 35.2% hit rate from three was a career-best mark that came on a career high 5.5 attempts per game. He also made a career-best 45.2% of his field goals on a career high 14.2 shots per game. He turned in the best offensive rating of his career (109), the most offensive win shares (1.7), the most win shares per 48 minutes (0.09), the best offensive BPM (-0.3), the best BPM (-0.6), and the best VORP (1.7). That's a lot of career highs. His defense wasn't noticeably better, but there was nothing wrong with his play on that end. Oubre was exactly what the Suns needed as a second-to-third option (depending on Ayton's availability), and, as a 24 year old, he will have the chance to build on his progress and maintain that role well into the future.
Improving his efficiency and passing are the next steps.

Mikal Bridges makes a nice impact
Bridges's career stat line – 8.5 points, 3.6 rebounds, and 2 assists per game – isn't going to jump out at anyone. He's also been average at best from deep, hitting 34.1% with an average of 3.2 attempts per game. And yet he still managed to make a significant offensive impact, posting 2.2 offensive win shares on the season. That was good for third on the Suns behind Booker and Rubio even though Bridges ranked 6th in total points, 3rd in total assists, and 7th in made and attempted threes. That's not a major jump from production to impact, but it is enough of a difference to give Bridges credit for finding ways to make good things happen with plays and moments that might not show up in the box score.
His defense shows up more in the box score – Bridges ranked 9th in steals per game last season and ranks 19th this season – and he had plenty of impact there too, leading the Suns in both defensive win shares and defensive BPM.
With his play on both sides of the court, Bridges ranked second to only Booker among Suns in win shares, BPM, and VORP. He did some really good things for Phoenix this year, even if a quick glance at the box score might not show much beyond a guy who knows how to get steals, and he should be a big part of any discussions about this team's future.

DeAndre Ayton plays well in limited action, improves defensively
Ayton only played 30 games on the season, but he delivered when he was on the court. His 12 rebounds per game put him at 7th in the league, and he averaged 19 points per game to come within an average point of joining Nikola Jokic, John Collins, Karl Anthony-Towns, Joel Embiid, and Giannis Antetokounmpo in the 2020 20-10 club. His field goal percentage dropped from 58.5% to 54.8%, but that number was still within the top third of the league. Ayton has issues with passing (under 2 assists per game in both seasons) and perimeter shooting (0-for-7 career from three so far), but he's already become one of the more dominant interior presences in the league offensively, and his defense took a big step forward this season as well.
Ayton's biggest knock heading into the draft might have been his tendency to play lackadaisical defense, and he wasn't very strong on that end last season. He picked it up this year, ranking 10th in the league with 1.7 blocks per game. That was a major improvement from his 0.9 blocks per game average from last season, and Ayton also raised his defensive BPM from -1.1 to -0.4. Despite playing 42 less games (a 58% drop from 2019), he produced 76% of the defensive win shares that he did in 2019. He was on pace to finish right around 3 defensive win shares had he played the full shortened season, well above the 1.7 he produced last year. Assuming that the defensive play from these 30 games is carried over into the future, the Suns have a rock in the paint on both sides with Ayton. Barring injuries or more self-inflicted suspensions, he's going to be that guy for a long time. However, his ability to improve as a passer and on the perimeter might end up determining how far he and Booker will eventually be able to go in the games that really matter.
Cameron Johnson shoots 39.7% from deep on 4.7 attempts per game

Johnson didn't have the greatest impact as a rookie, but his shooting ability transferred from day one. He led the Suns in 3PT%, and he's a player to watch for the Suns on the perimeter.