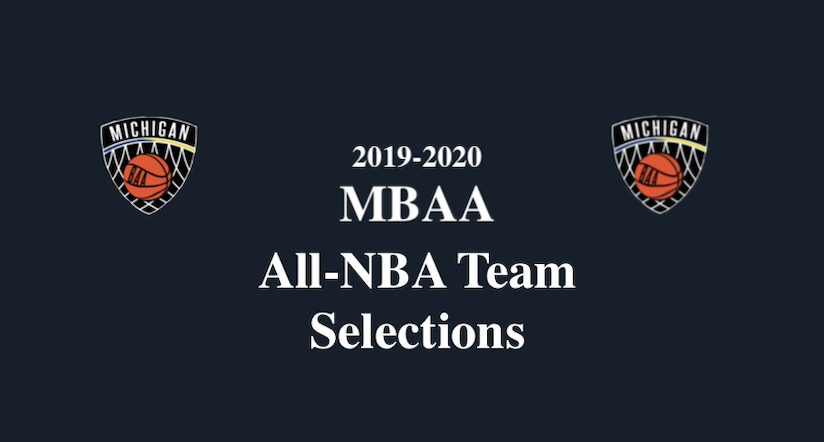 The NBA announced the official 2019-2020 All-NBA teams last week. This week, we collected 16 ballots from within the MBAA to create the official MBAA All-NBA teams. Before we get to the selections, I have a few notes –
We followed the 2 G, 2 F, 1 C format, though there was more fluidity allowed for those who play multiple positions. For example, Khris Middleton was left off the actual All-NBA teams despite having more overall voting points than both Ben Simmons and Russell Westbrook because his votes were split between the G and F slots. That's dumb, and it didn't happen here.
For the most part, we allowed everyone but the point guards – Chris Paul, Damian Lillard, Kyle Lowry, Russell Westbrook, and Trae Young – and the centers – Joel Embiid, Rudy Gobert, and Nikola Jokic – to have some flexibility. The only real benefactor of position-based maneuvering in the NBA voting was Anthony Davis (more on him later), but there was a little more wiggle room with our results.
Now let's run through those results.
FIRST TEAM


Congratulations to Giannis Antetokounmpo, LeBron James, and James Harden for being unanimous MBAA first team selections. It's a massive honor. There wasn't much debate here. These were the top three players in the league all season in combining impact with production.
I personally had Kawhi Leonard over Luka Doncic due to his all-around impact on the Clippers in comparison to Doncic barely producing a positive on-off split with the Mavs despite his offensive ability. I would stand by that selection, but I have no real issue with Doncic getting the nod. He was one of the most productive players in the league this season, and he was the face of an all-time great offense.
Davis was given one second team vote because he isn't technically a center. I would agree with this – Davis has repeatedly refused to be a full-time center – but I was willing to go along with the NBA and give him the nod at the five spot. JaVale McGee and Dwight Howard are the only real centers in LA, but just one of our members went against the league's decision to give the Lakers two first team players instead of one.
SECOND TEAM


Jokic and Leonard are the clear leaders here. Both got one first place vote, and no one put either player below the second team. These two rounded out a consensus top seven in the league this season, and they both led top three teams in the West during the regular season.
Chris Paul, Damian Lillard, and Jayson Tatum round out the top ten, and there was a significant gap between those three and the top player on the third team in terms of voting. Paul led a surprise Thunder team with an elite season, and Lillard kept an injury-stricken Blazers team afloat with a special offensive season. Tatum was the best player on a top-heavy Celtics team after a major jump from last year, and he was even better over the last month of the season. Some saw Kyle Lowry as a more deserving candidate than Paul, while Lillard's defense and poor team performance and Tatum's lack of consistency across the season as a whole also led to some votes not going their way.
THIRD TEAM


Pascal Siakam, Jimmy Butler, Ben Simmons, Khris Middleton, and Rudy Gobert finish out our All-NBA selections.
Siakam led the Raptors in scoring, and he was arguably the best player on the second best team in the East. There are some questions about his overall impact on a deep team, but there's no question that Siakam had a very good year. The more you look at the names behind him, the harder it is to leave him off one of the All-NBA teams. Butler was the best player on a top ten team in the Heat. He provided an all-around impact, doing almost everything but hitting threes at a good clip. Ben Simmons was one of the best and most versatile defenders in the league this season, and he was a capable playmaker on the other end. Khris Middleton was an elite second option for the league-best Bucks, and he combined volume and efficiency at a historic level. Rudy Gobert was Utah's most important player during the regular season, and, much like Simmons, he provided elite defense while being a positive offensive player with his screening and finishing ability.
FULL VOTING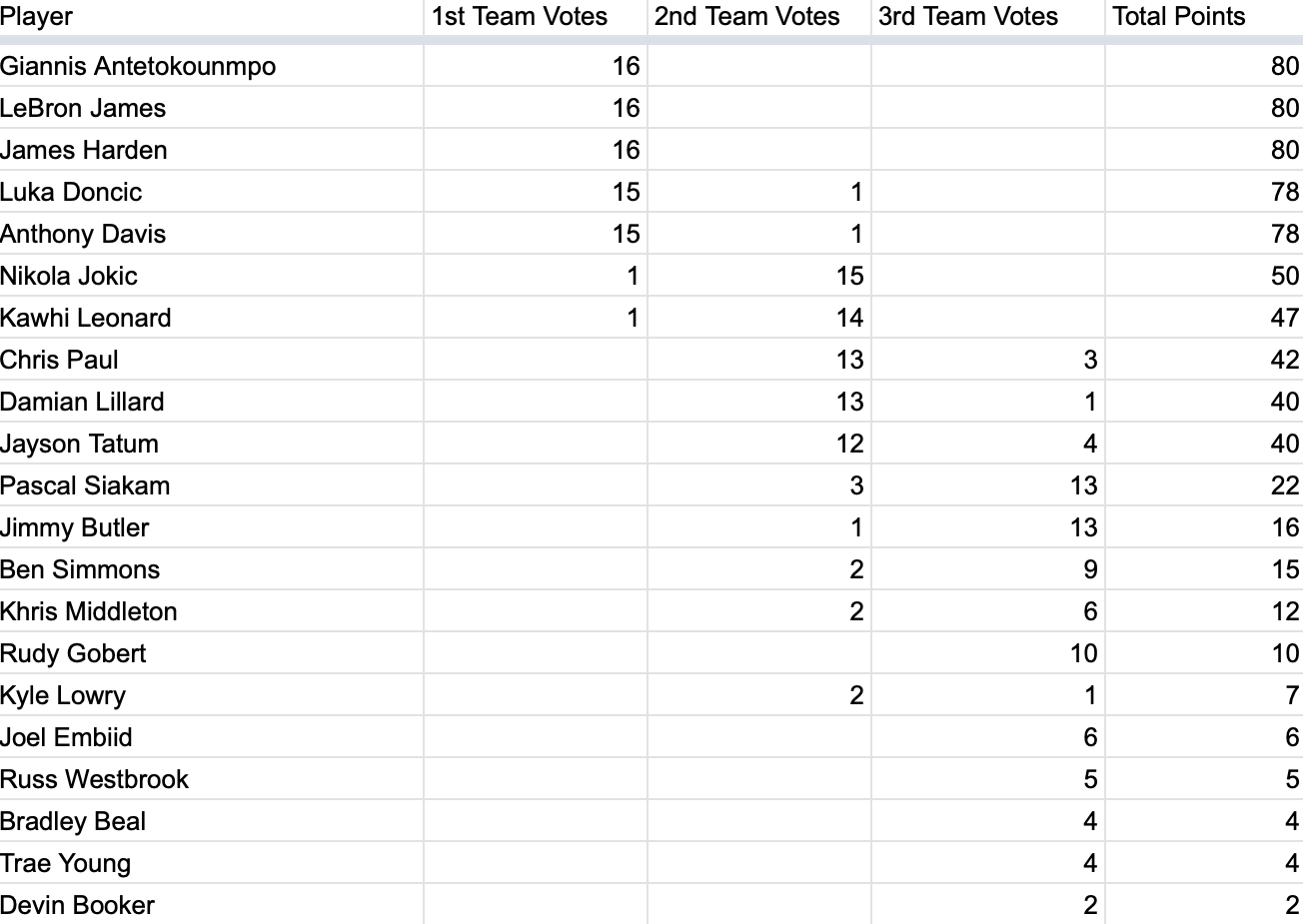 Lowry was the best of the rest, though he trailed Middleton by a full five points. He was a hugely important player for the Raptors, but the presence of Siakam, the overall depth in Toronto, and the relatively limited production kept him off a team. Joel Embiid lost the third team battle with Rudy Gobert 6-10. His injuries, some inconsistency, and a disappointing season for the Sixers were the causes there. Russell Westbrook, Bradley Beal, and Trae Young all put up huge numbers, but questions about Westbrook's impact and Beal and Young's horrendous defense kept them short of the necessary votes. Devin Booker got some votes as well, but he didn't do quite enough before the bubble to really make noise here. He's a clear candidate to watch for next season, though it's fair to question if he – and Donovan Mitchell and Jamal Murray – can maintain their bubble play in a real NBA environment. On the bright side for those three, we might not be seeing a real NBA environment for a while.