Mike Bets #166
4 min read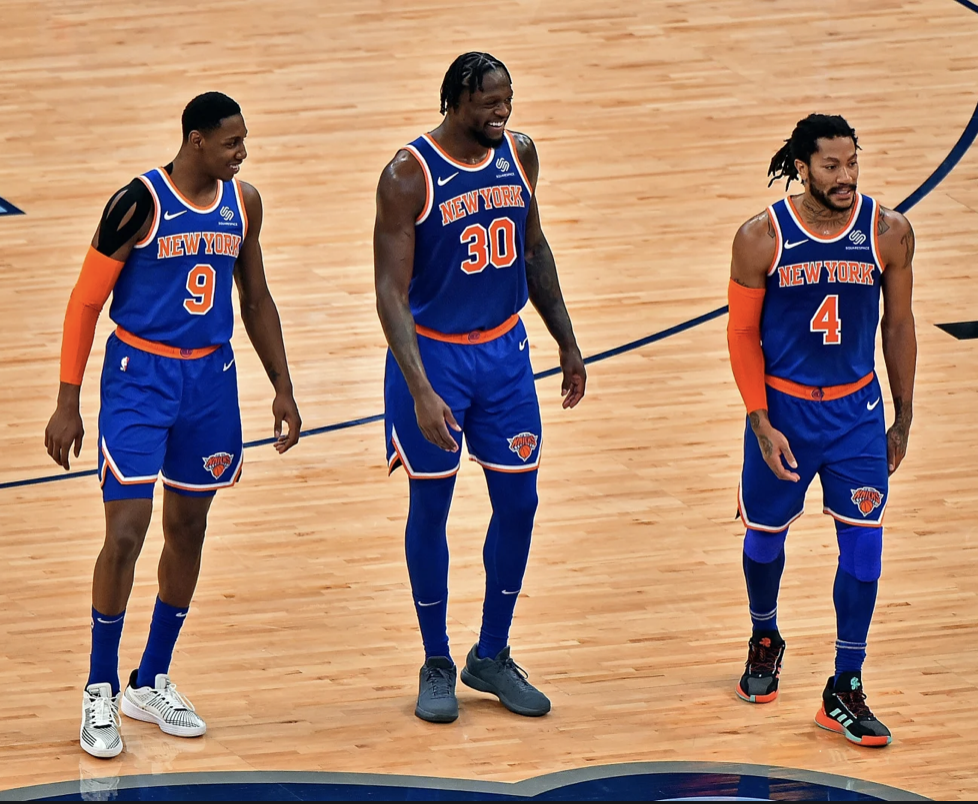 We got the first three Game 3s of the first round last night, and they all offered a rather clarifying look at the series in which they were played. One series is even more done than it was before. Another series is shifting rapidly in the lower seed's favor. A third saw a higher seed battling low expectations take a key 2-1 lead.
Any hopes of the Heat putting up any sort of fight in this series disappeared early on in Game 3. The Bucks led 26-14 after the first quarter, and it was never close again. If we're being blunt, it began to feel like this one was over when Khris Middleton finished the four-point play that put the Bucks up 6-2. Miami simply had nothing to offer in a game that might have been even more brutal than the Game 2 blowout.
The Heat shot 37.6% from the floor, missed twenty-three of thirty-two threes, and lost the boards battle by double digits. Their biggest lead was two points at 2-0. Only three players managed to reach double figures in scoring. Jimmy Butler produced his best-looking offensive performance of the series, and he managed just 19 points in 38 minutes. Bring out the brooms.
*Extra Note: Donte DiVincenzo's season-ending injury really could not have come at a worse time. He's a capable individual defender and a strong team defender, and the Milwaukee needed him to play well on that side of the ball against the Nets. PJ Tucker's presence means the injury won't be fatal, but the Bucks are now going to need to rely heavily on Pat Connaughton and Bobby Portis being passable defensively off the bench. Bryn Forbes will be ripped to shreds in isolation, so it's hard to see him getting any sort of significant run.
The LeBron and AD Lakers have a formula. Lose Game 1 in poor fashion, leading to doubts about your ability to win the series. Then turn on the jets and just run away with things from there. It looks like that might be happening again. Los Angeles made just seven of twenty-eight from three, and they still ended up in control of this one behind a 58-38 domination in the paint. It didn't hurt that they shot twelve more free throws than the Suns, who played them close early and fought back late but never had quite enough in the tank.
Dennis Schroder and Anthony Davis were both great again for LA, and that's going to rapidly shrink Phoenix's margin for error. They simply could not afford to see Devin Booker shoot 6-19 from the floor or watch Jae crowder go 1-7 from three. I do still believe in the Suns. They've had too good of a year to just go out in five. I think they can challenge for the series. But there's no doubt that they need to be better the rest of the way. The two days of rest coming up bode well for Chris Paul, who provided eleven combined assists and rebounds but really struggled to provide any scoring value in Game 3. They need him closer to full health than he has been the last two games.
This was a close fight with a lot of similarities down the two rotations. The stars dueled – Jokic had 36, 5, and 11 and Dame had 37 and 5. Austin Rivers (five threes) and CJ McCollum scored 21 and 22 points. Aaron Gordon and Michael Porter Jr combined for 28. Melo and Norm Powell combined for 35. Facundo Campazzo went for 11, 8, and 8 while Jusuf Nurkic went for 13, 6, and 13. Denver won the perimeter by 18 points while Portland won the paint by 24 points. One key difference was the bottom of the respective rotations. The rest of the Nuggets, led by Monte Morris and JaMychal Green, put up 24 points. The Blazers only got 8 points from the players not listed above. The other key difference – free throws. Denver shot 27 and made 22. Portland, at home in a game where they dominated in paint scoring, shot 13 and made 11.
My read on this series before it started was a lean towards Denver. Three games in, there's no reason for that to change. If the win Game 4, we can full shift things to the Nuggets.
We have three more Game 3s tonight, starting with the Knicks and Hawks in Atlanta. This series has been as good as any so far, both on and off the court. Trae Young walked off the floor at MSG saying "See you in the A" after Atlanta's Game 2 loss. We'll see if he can back the talk up tonight. He's been doing that just fine so far.
Celtics-Nets is second – and for good reason. There won't be many national eyes on this one unless the Knicks-Hawks doesn't live up to the billing. One thing to watch – Jayson Tatum's performance. He got poked in the eye in Game 2, prompting an early exit, and he's been abysmal from the floor in this series. It's not easy to shoot 9-32 across two games. It's all for pride at this point, but it does feel like Boston could really use one last signature performance to carry into the off-season.
Then we have Clips-Mavs. It's pretty simple for LA – win or you're done. You don't come back from 0-3 down. For Dallas, this is the chance to really step on their throats before they make this a series again. The Clippers have had no answers for Luka and the Mavs' offense so far. One more failed test, and they flunk the class.
TODAY'S PLAYS
Nets -7.5
Knicks +4.5
Knicks +160
Mavs +130
Mavs Clippers O 219.5
Knicks Hawks U211