Mike Bets #417
7 min read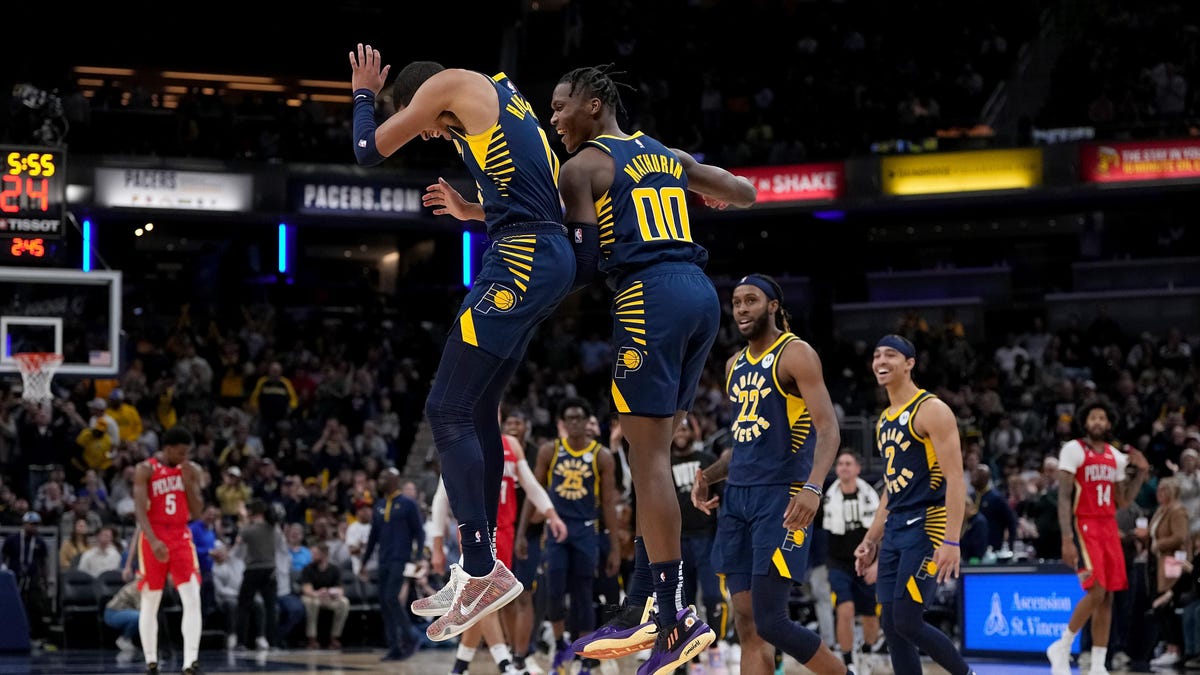 Happy Wednesday. Yesterday was a good day. The NBA record was a really solid 3-1. The CBB record was 8-3 with a +290 parlay hit. We're rolling. Let's keep it going tonight. But first, let's take a look at yesterday's action…
NBA
Joel Embiid returned to drop 36, James Harden produced a triple-double, and the Sixers smashed the Pistons in Philadelphia. Seven Pistons scored in double figures, but Detroit fell dramatically short defensively, allowing Philly to come within a bucket of 150 points. The Sixers are now tied with the Cavs for the East 4 seed.
The Thunder-Heat game featured a Josh Giddy triple-double and an NBA record stemming from Miami's 40-40 effort from the line, but it was also just a really good game. The Heat won 112-111. That helps them keep some distance from the Hawks and the 9 seed. The Thunder, meanwhile, are still just a game and a half out of the West play-in.
The Raptors ran past the Hornets in Toronto to win their second straight game. Home wins over the Blazers and Hornets won't make for the most impressive two-game winning streak you'll ever see, but it's a start for the struggling Raps. They're back within a game of the Bulls and the 10 seed, and they get the Hornets at home again tomorrow night.
Donovan Mitchell dropped 46, but the Jazz just barely hung on to win in his return to Utah. This was a really nice win for a Jazz team that needed it; they're in a tie for the 10 seed after last night.
Steph returned from his extended absence at home, where the Warriors were 17-4, against a Suns team that has really been struggling without Devin Booker. Phoenix obviously won big. Damion Lee and Duane Washington combined for 43 off the bench. The game didn't come without seeding implications. Phoenix now sits half a game above Golden State in the West's 7 seed.
The Magic went into Portland and won. The Trail Blazers are just hanging onto a play-in spot after dropping into that tie with Utah for the 10 seed. Orlando maintains some contact with the East play-in at 3.5 games back.
The Clippers rolled past the Mavs to close the night. Dallas tried to make it interesting with a strong third quarter, but they couldn't carry the momentum into the fourth. That's a huge win for LA after a six-game slide, and they're back into the 6 seed.
CBB
Oklahoma has now lost to Texas, Iowa State, and Kansas by 8 combined points. If they end up missing the tournament, this opening 1-3 stretch with some really close missed opportunities will be a moment to point to. The win helps Kansas keep pace with Kansas State and Iowa State at the top of the Big 12. They play both over the next seven days in what should be a very interesting week.
Tennessee didn't steamroll Vanderbilt, but they did enough in the second half to win comfortably. They're 4-0 in SEC play.
Kansas State got past Oklahoma State. The Wildcats are really good. They've been super impressive so far in Big 12 play. A huge week awaits with a trip to TCU on Saturday and Kansas coming to town next Tuesday. Oklahoma State, like Oklahoma, might struggle to get together enough wins volume-wise to go dancing.
Iowa State absolutely smashed Texas Tech, who might just be the worst team in the Big 12. It's been a tough conference start for the Red Raiders.
Michigan State picked up a nice win in Madison over a Badgers team down Tyler Wahl again. Someone has to push Purdue for the Big 10 crown, and, right now, Michigan State, Northwestern, and Michigan are the only other teams with just one conference loss.
Auburn got past Ole Miss on the road. Ole Miss simply isn't that good. Auburn is off to a pretty good SEC start at 3-1. They've lost some games (Memphis, USC, Georgia) that make you question their ability to compete at the top level, but this is a decent team.
Nevada picked up one of the most impressive covers of the season in their loss to San Diego State. There were some questions heading into Mountain West play, but the Aztecs once again look like the class of the conference. A road loss to them will do little to disrupt the great conference start Nevada is off to.
St John's beat Butler. I've been talking about it for a few weeks now, but they've managed to find themselves in this seemingly annual position of being clearly better than the bottom of the Big East and clearly worse than the top, which is a rather frustrating place to be in a conference that can only send so many teams dancing.
Kentucky lost to South Carolina at home. For reference, Tennessee beat South Carolina by more than 40 the other day. Kentucky is nowhere near tournament quality at this point. They have a lot of work to do. This was a bad loss.
Florida went into Baton Rouge and won, which might give them a little bit of actionable momentum here. LSU is a curious team. They're 12-4 with a win over Arkansas (and one over Wake Forest) and no bad losses, but they really haven't looked up to par so far in SEC play outside of that game against Arkansas. I have no idea where they'll stand in a month.
VCU improved to 12-5 with a win over Loyola Chicago, and Dayton improved to 12-5 with a win over Fordham. These two are the clear favorites to land bids in the A10.
Villanova lost to DePaul, which is a level of bad I didn't think they had sunk to.
Seton Hall got past Georgetown with relative ease. Do they give Patrick Ewing the rest of the season?
Illinois went into Nebraska and rolled. They're back on track, to at least some degree, after two straight wins. Nebraska just does not look like a team that's going to win enough games to make it to March. They're just 9-8. They're not terrible, but they're not good enough either.
Utah State took care of business against Wyoming to move to 14-3 (3-1).
San Jose State knocked off Fresno State, and they look to be in a good spot to claim upper middle class status in the Mountain West this year. That's not good enough for the dance, but it's a step forward.
TODAY'S PLAYS
NBA record: 83-80-2 ATS, 21-23 ML, 25-20-1 O/U, 1-6 parlay, 0-1 props, -9.03 units
The Pistons are so bad right now, and they played last night. This one might not be close, even with Anthony Edwards potentially out.
Timberwolves Pistons O230
Both teams average about 230 points per game. The Wolves play really fast. I like this one to go over.
Go Bucks. The Hawks are just so underwhelming, and the Bucks were impressive in their ability to grind one out in New York the other day.
The Bucks don't really score or allow other teams to score. Their games average just 223 points per. Give me the under.
Both teams average over 230 points per game. Herb Jones (likely) being out should harm New Orleans's defense. Give me the over.
I'll take the Pacers here. They've won eight of ten, and the Knicks (10-11) are relatively bad, some might say really bad, at home.
The Suns pulled off a win in a game they were supposed to lose big last night, which means the odds of them competing for the second night in a row are pretty low. Denver wins big in Denver, where they're terrific.
The Grizzlies are really good defensively. The over didn't get there the other day when these two played, and I don't think it gets there tonight either.
The Rockets have hit 115 points just three times since the start of December, and two of those came in the first five days of that span. Their games average just 224 points per. I don't think this ones gets to 239.
CBB record: 72-67-2 ATS, 9-16 ML, 4-2 O/U, 5-3 parlay, -0.8 units
Give me Georgia at home here. I believe in Georgia. Go Dawgs.
Mercer is awful.
Boston College has yet to play a road game within single digits. Miami needs a bounce back. I think they get it here.
I like Pitt. Duke hasn't shown me a whole lot. Give me the Panthers. They'll have some fire after losing to Clemson the other day.
Penn State could use a win, and they get it at home against a beat-up Indiana team.
Alabama has looked great so far in SEC play. We can't say the same about Arkansas. I think we get a statement from the Tide here.
This trip to UNC Wilmington will be the most difficult game Charleston will play in their conference slate. They win with a bang. I really like this team.
Creighton isn't called Greaton for a reason. Give me Xavier. They should be bigger favorites.
I like UCF to knock off Memphis at home.
FAU is really good. FIU needs to be knocked down a rung after beating UAB the other day.
I don't trust A&M quite enough yet to give them 4.5 against a good Missouri team.
This is way too many points for the Horned Frogs. Texas has been vulnerable.
ML PARLAY: Furman, Miami, Xavier, FAU (+220)