Mike Bets #162
6 min read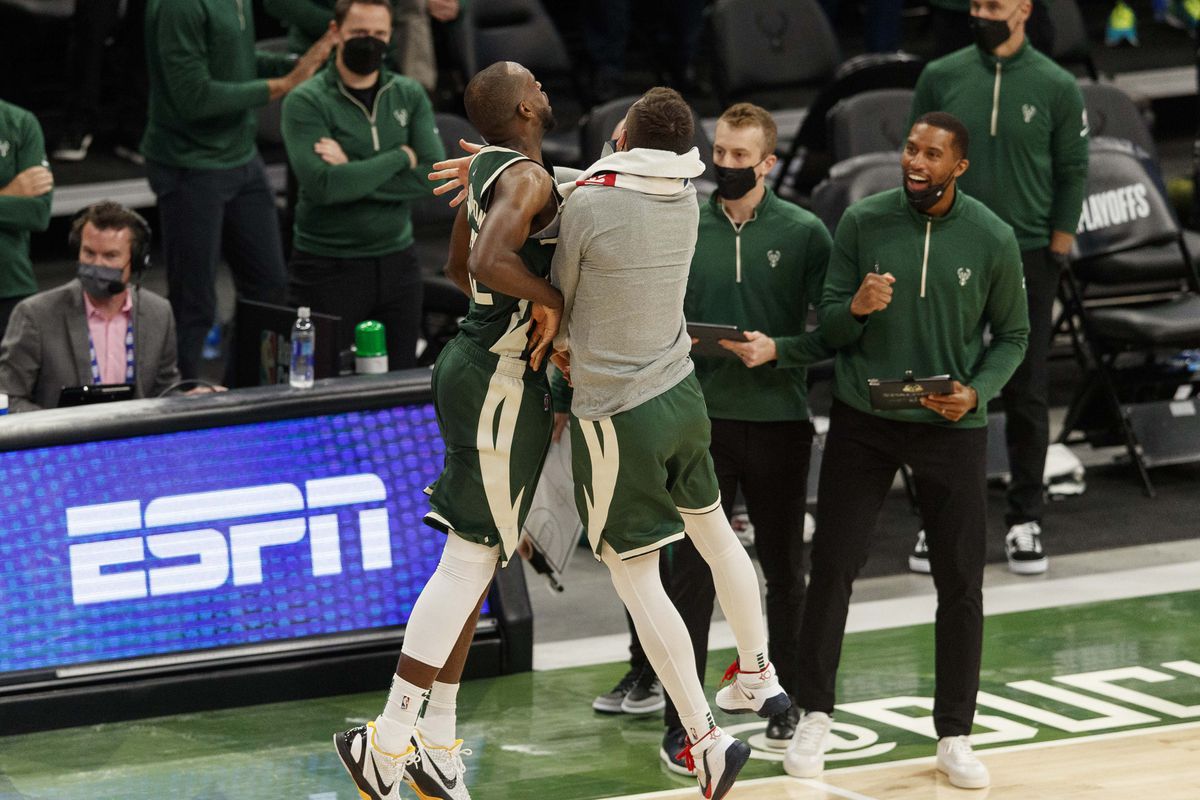 That was one of the best weekends of NBA basketball that I can remember. Three games came down to the last second, and Bucks-Heat technically made that happen twice. Eight games out of eight were up for grabs heading into the fourth. Two really strong efforts from the 8 seeds, including a Game 1 win for the Grizzlies. Upsets (of sorts) from the Mavs and Trail Blazers. We can only hope that the rest of the postseason lives up to the hype that the opening weekend set up.
We have two Game 2s today, but let's go over what happened yesterday first.
This was, as I said above, a really strong effort from the Wizards. There were a few moments, including very early on, where the Sixers got out to a lead of about 10 points, and it felt in those moments like they were ready to step on some throats and then coast home from there. Washington never let that happen.
Tobias Harris scored 37, Ben Simmons produced 30 combined assists and rebounds, Joel Embiid went for 30 points, and the Sixers shot 18 more free throws and forced five more turnovers. Despite all that, this was a five point game with ninety seconds left. Now, that doesn't mean we should expect a 20-point swing in Washington's direction next game. Embiid did struggle with fouls (though he played 30 minutes). Everyone outside of Danny Green and Harris shot 5-23 from deep. The Sixers aren't necessarily due for deep regression. But the Wizards aren't either. There's nothing especially spectacular or unusual about their box score, and they still hung tough with a Sixers team that had a lot go their way. It looks like Washington is far more capable of putting up a fight here than I expected.
It was just Game 1, but this certainly wasn't a soothing performance from a Lakers offense that has struggled mightily all year. Like I said a few days ago, the last time a LeBron-led team that qualified for the playoffs entered the postseason with an offensive rating worse than 11th in the league was 2008. LA is 24th this year, and falling a full ten points short of triple digits in the opener isn't a good sign. Anthony Davis had a miserable showing, scoring just 13 points on 5-16 shooting. It's true that the three-point shooting (7-26 yesterday) will likely get better, but Phoenix wasn't much hotter, going 9-28. They'll hit more threes too. There's simply no reason to say that the Lakers are the favorites to win this series right now.
Both Devin Booker and DeAndre Ayton were fantastic, so I'll take a moment to acknowledge that here. Booker dropped 34, dished out 8 assists, and pulled down 7 boards. Ayton went for 21 and 16, including 8 offensive boards, and he was the best big on the floor. Jae Crowder won't have many 0-7 nights from deep either. The Suns stepped up to the challenge yesterday, and they're in a great spot moving forward.
This was one heck of a game. Trae Young and Bogdan Bogdanovic were absolute killers for Atlanta, and they did just enough to get them across the finish line first at the end. I'd also point out how key Lou Williams was in coming off the bench and scoring 13 points on 6-9 shooting. Alec Burks and Derrick Rose stepped up for the Knicks, combining for 44 points off the bench.
The good thing for New York is that Julius Randle and RJ Barrett can only get better from here offensively after combining to shoot 12-38 from the field and 3-12 from deep. This game was really evenly matched, and the Knicks are far from dead in the water here. It will hurt knowing that they couldn't pull this one out at home, but, if the opener was any indication, this series will be close the whole way.
Let's start with this – this was a dang good game from the Grizzlies. This is a young team that went down 17-29 about fifteen minutes into a road playoff game against the best regular season team in the league. They responded with a 32-14 run into the half, and then they held on late when the Jazz finally kicked themselves back into gear and made one last run. Like I said a few days ago in my playoff preview – Ja Morant looks ready for the big stage. Dillon Brooks is a warrior. Kyle Anderson might just be the smartest player in the league. Jonas Valanciunas had another very nice game down low too. This is not a team that's going to go down quietly.
Now, with all that said, there's room to improve for the Jazz here. Donovan Mitchell will return and make the offense more threatening and versatile – though the reports coming out about his current mood aren't exactly encouraging. The Jazz won't shoot 12-47 from three again (it is funny that they did this and still managed to win the three-point line by fifteen points). Jordan Clarkson and Georges Niang especially will be better from deep. No one should be in full panic mode quite yet. The Grizzlies made a pretty clear statement last night though; they're here to win.
We only have two games tonight as we switch to the Mon-Fri schedule. The Bucks will host the Heat, and then the Nuggets will host the Blazers. I won't go into much detail here, but I will give a few quick things to watch for.
Bucks lead series 1-0
6:30 Central on TNT
Keys:
1. Milwaukee's shooting
The Bucks aren't going to shoot 5-31 on threes again. The question is how much better they do shoot. If they come out firing and hit 15+ threes, this game might not be very close considering their clear edge in the paint.
2. Giannis, Jimmy, and Bam from the field
Giannis couldn't make anything outside of the paint in Game 1. Bam and Jimmy couldn't make anything from anywhere. Giannis needs to start taking advantage of a Heat defense that wasn't walling him up much or anything of that sort. On the other side of things, can the Bucks continue to frustrate the Heat's two stars? If those two are off all series, Miami stands no chance.
3. The Refs
They need to be better. Will they? The league should be on notice if Miami gains a clear officiating edge in two straight road games.
Blazers lead series 1-0
9:00 Central on TNT
Keys:
Portland's shooting
This specifically refers to Dame, CJ, Melo, and Anfernee Simons, who were a combined 16-32 from deep in Game 1. That was a 13.5 point edge from their season average. Can they deliver again here? The only way Portland is going to go anywhere is if their offense is firing on all cylinders more often than not.
2. Jokic's passing
One of the best passers in the game finished with 1 assist in Game 1. He'd had at least 2 assists in 130 straight games before Saturday night. Given that, it's probably safe to say we'll see some more production from him here. Can he deliver a truly special performance?
3. Protecting Home Court
It's simple for Denver. You simply cannot go down 0-2 as the higher seed. This is a must-win, and they need to give everything they have to tie this one up.
TODAY'S PLAYS
Bucks -5
Nuggets -2
Bucks Heat O223.5